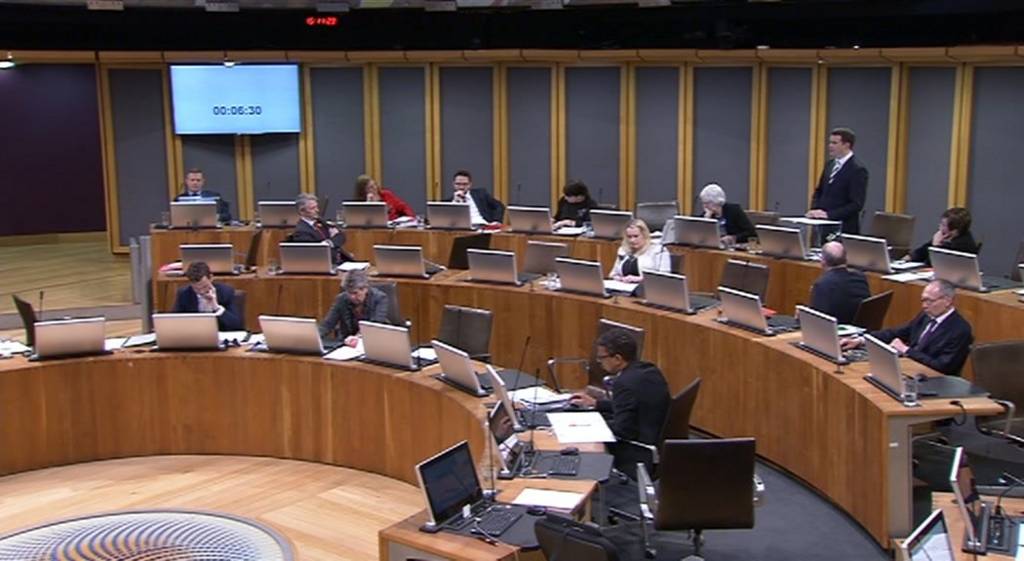 AMs call for maximising impact of 'foundational economy'
Summary
Plenary begins at 13.30 with Questions to the Cabinet Secretary for Environment and Rural Affairs
Questions to the Cabinet Secretary for Communities and Children
90 Second Statements
Motion to amend Standing Order 23 in relation to Public Petitions
Debate by Individual Members on the 'foundational economy'
Welsh Conservatives debate on child health
Plaid Cymru debate on the family fund
Short Debate: Establishing a Welsh Stock Exchange
That brings today's proceedings in the Siambr to a close.
Senedd Live returns on Tuesday 14 March.
The final item of the day is the Short Debate.
The topic chosen by  Neil McEvoy (South Wales Central)  is 'establishing a Welsh Stock Exchange'.
Yesterday the Plaid Cymru AM was suspended from the party's assembly group amid a row over bullying. The group met after a tribunal  suspended him for a month  from being a Cardiff councillor.
Economy Secretary Ken Skates says it is "not clear there is a strong enough case" for a a Welsh Stock Exchange.   
Family Fund has been allocated 'the maximum available grant'
Minister for Social Services and Public Health, Rebecca Evans notes "the Welsh Government's
a) £22m Sustainable Social Services grant scheme to support third sector organisations deliver the Welsh Government's ambitious social services agenda which includes supporting families raising disabled or seriously ill children;
b) £42.5m Families First programme, including £3m ring-fenced funding for disabled families;
c) £2.2m annual funding for Citizens Advice Cymru to support targeted groups including families with disabled children and help them access the benefits they are entitled to, which has generated  £3.3m in additional benefits between April and December 2016."
She says that the Family Fund "has been allocated the maximum available grant of £1.5m and an additional £400,000 this year to continue supporting families and adapt its funding model for the future".
UKIP's Caroline Jones calls on the Welsh Government to reverse its decision.
Family Fund, which gives out grants, will get less than £2m from the Welsh Government over three years, compared to the £2.5m each year it had received.  
About 4,000 low-income families with disabled and seriously ill children could miss out on grants due to funding cuts, charities have warned .  
'Other governments have maintained their funding'
Conservative Mark Isherwood points out that "the Northern Ireland Executive, Scottish Government and UK Government, in relation to England, have all maintained their funding for the family fund".  
The next is item in the Siambr is the Plaid Cymru debate.  
Rhun ap Iorwerth (Ynys Môn)  calls on the Welsh Government to "review the impact of its decision to cut the funding of the family fund, and to either reverse the cuts to the family fund, or establish mechanisms to provide direct financial support to low income families with disabled children at a minimum of at least the same levels previously provided".
Welsh Government to develop a new child health plan
Health Secretary Vaughan Gething announces the government will develop a new child health plan, to provide a long-term vision. 
UK ranks 15 out of 19 Western European countries on infant mortality
UKIP's Caroline Jones refers to the Royal College of Paediatrics and Child Health's report which aims to provide an "across the board" snapshot of child health and wellbeing in the UK.
According to the report, the UK ranks 15 out of 19 Western European countries on infant (under one year of age) mortality and has one of the highest rates for children and young people in Western Europe. 
'Secure housing for children'
Plaid Cymru's Rhun ap Iorwerth draws attention to "the effects of cuts to housing benefit on the ability of social housing to provide secure housing for children".
He calls on the Welsh Government to consider how schools can help to create environments to tackle obesity and ensure all schools are able to offer excellent facilities for sports.
'Improve data collection and understanding of child health'
Angela Burns calls on the Welsh Government to "improve data collection and the understanding of child health in Wales by:
a) extending cancer experience surveys to collect data for under 16s;
b) conducting research into peer bullying; and
c) re-evaluating perinatal mental health support to ensure consistency across Wales for vulnerable families."
She says that  only 4% of the NHS budget is targeted solely for women and children's health needs.
Welsh Conservatives debate
We move on to the Welsh Conservatives debate on child health. 
'Fresh look' at the government's economic priorities
Economy Secretary Ken Skates says the debate it timely as he is currently taking a "fresh look" at the government's economic priorities. 
He says the "Prosperous and Secure Strategy will contain a very strong role for the foundational economy". 
Developing local businesses and organisations
Last year the think tank the Bevan Foundation said a post-Brexit Wales needs a rethink of economic policies and not just a "business-as-usual" approach. The authors said a new approach should focus on developing local businesses and organisations - a foundational economy. 
Call for a red meat charter to promote domestic produce
"I congratulate the members for securing the debate on this subject, a subject that I hadn't previously known a great deal about", says Conservative Russell George. 
He calls for a red meat charter to promote domestic produce, particularly in terms of procurement.  
He also says local businesses should have a bigger role with schools to develop links in communities. 
Plaid Cymru's Adam Price welcomes "the space for new thinking". 
"We will replicate the failures of the past unless we are prepared to experiment in a radical way," he adds. 
Debate by Individual Members
propose that the assembly:
1. Notes that approximately 40 per cent of the workforce is employed in the 'Foundational Economy' supplying essential goods and services such as: infrastructures; utilities; food processing, retailing and distribution; and health, education and care.
2. Recognises that these sectors are often more resilient to external economic shocks and have considerable potential to generate greater local value from the provision of localised goods and services.
3. Regrets that many of the sectors within the Foundation Economy are marked by low paid and insecure jobs
4. Calls on the Welsh Government to develop a strategy to maximise the impact of the 'Foundational Economy' across Wales as part of its work on developing a new economic strategy, including measures to improve employment conditions in those sectors.
Motion to amend Standing Order 23 approved
Members approve changes to the Assembly's public petitions processes . 
The changes mean the threshold for consideration of any petition is changed to 50 signatures and only people resident in Wales or organisations with a base in Wales should be able to submit petitions. 
Issues of topical interest
We now have the 90 Second Statements, where three AMs have the opportunity to raise issues of topical interest.     
'14th consecutive urgent question refused'
Pressure for letting agency fee ban
Labour AM for Swansea East, Mike Hedges continues to pressure the Welsh Government to make progress on banning letting agents' fees. 
Mr Hedges asks for a timetable for a ban. In response, Mr Sargeant says he does not have one but suggests a backbench bill may get Welsh Government support.  
A  ban on the fees in England  was announced by Chancellor Philip Hammond in his Autumn Statement.  
Letting agents' fees have been  banned in Scotland since 2012 .  
Experiences of domestic abuse survivors
Angela Burns thanks Mr Sargeant for listening to the experiences of domestic abuse survivors earlier today. 
She calls for a shift in emphasis in society to provide greater support for victims.   
Questions to Carl Sargeant
We move on to Questions to the Cabinet Secretary for Communities and Children, Carl Sargeant.  
'Agriculture hasn't featured at all'
UKIP's Neil Hamilton says he's been "reading the minutes of the European advisory group the first minister set up six months ago and was surprised to discover that agriculture hasn't  featured at all".
Lesley Griffiths claims "the agriculture sector would tell the member how pleased they are with the stakeholder engagement" of the Welsh Government.
The costs of the dairy industry
Conservative Paul Davies asks the government to "evaluate the costs attached with the dairy industry and how the Welsh Government can provide support to dairy farmers".
Lesley Griffiths replies, "yes, it's an area we are looking into".
'Radical solutions' needed on air pollution
Plaid Cymru's Simon Thomas raises the issue of air pollution, which is a "public health crisis" and needs to be tackled urgently, a health agency has warned.
Public Health Wales said it was second only to smoking and more of a concern than obesity and alcohol.
Its figures show air pollution causes 2,000 deaths a year - 6% of Wales' total.
Lesley Griffiths said "we need a concerted effort, with radical solutions, and this is one of my top priorities".
'Number one in the UK and number two in Europe'
Lesley Griffiths says the Welsh Government is making "excellent progress" on recycling.
"We are number one in the UK and number two in Europe," she adds.
Recycling rates for Welsh councils have risen in the past year, according to provisional data.
They reused, recycled and composted 62% of municipal waste in the 12 months to September 2016, compared to 58% in the previous year.
Ceredigion was the best performing authority with a rate of 70%, while Blaenau Gwent was the worst at 52%.
The Welsh Government has set all councils a target of recycling 70% of waste by 2024-2025.
The data also showed  a quarterly rise in recycling rates, with 66% of waste recycled between July and September 2016 - an increase of 5% when compared to same quarter in 2015.
But the total amount of waste generated in Wales increased from 411,000 tonnes to 425,000 tonnes during the same period.
Plenary begins with Questions to the Cabinet Secretary for Environment and Rural Affairs, Lesley Griffiths.  
This is the first of the tabled questions :
Gareth Bennett (South Wales Central):  Will the Cabinet Secretary make a statement on performance against municipal waste recycling targets across Wales?