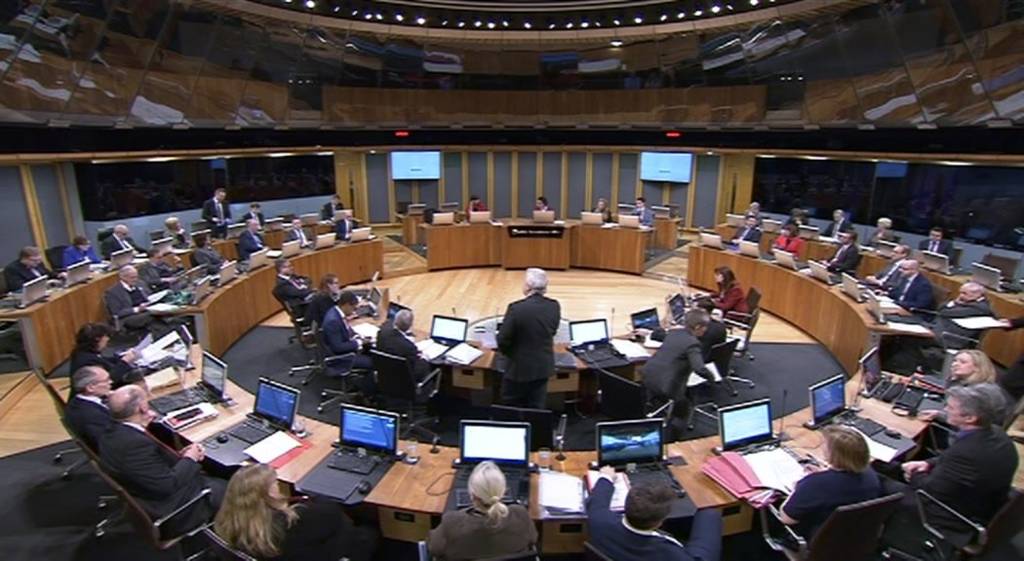 AMs reject Plaid Cymru attempt to oppose the triggering of Article 50
Summary
Plenary begins at 1.30pm with Questions to the First Minister
Business Statement and Announcement
Statement by the Cabinet Secretary for Health, Well-being and Sport: The Heart Conditions Delivery Plan
Statement by the Cabinet Secretary for Communities and Children: Working Together for Safer Communities
Debate: "Securing Wales' Future": Transition from the European Union to a new relationship with Europe
That's the end of today's proceedings in the Siambr.

Senedd Live will be back tomorrow.

Plaid Cymru amendment fails

The Plaid Cymru amendment seeking to add as new point at end of motion: 

Opposes the triggering of Article 50 without assurances from the UK Government that Wales's participation in the European Single Market will be maintained, given the importance to Wales of single market participation.

is rejected in the Senedd, 46 against with 10 for.  

Joint Labour-Plaid Cymru Brexit white paper

The motion calls on ministers to respect the position laid out in a joint Labour-Plaid Cymru Brexit white paper that called for continued participation in the single market.

But the motion does not make any statement in opposition to Article 50, simply noting the UK government's intention to trigger the mechanism by the end of March.

Plaid Cymru has tabled an amendment calling on AMs to oppose the move, which will trigger a vote.

Plaid Cymru MPs joined SNP and 47 Labour MPs in voting against giving UK government ministers powers to start the process in the Commons.  

Image caption: The white paper was launched in London at a joint press conference by Leanne Wood and Carwyn Jones last month

UKIP's David Rowlands says "the lies that took us into the European Union are the greater lies".  

'Move on from referendum'

"We've had a referendum, move on," Conservative leader Andrew RT Davies tells Eluned Morgan, Labour AM for Mid and West Wales.

Eluned Morgan brought together firms and public bodies on Friday to help develop proposals to put to ministers for a rural economic plan, saying there was a "huge amount of insecurity" after the Brexit vote.

'Good day for quotes'

BBC's Paul Martin tweets

Brexit an 'opportunity and not a threat'

There is "no point" in having a meticulously thought out plan in Brexit negotiations, says UKIP group leader Neil Hamilton.  

He says Brexit is an "opportunity and not a threat. It's ours to make the best of or the worst of".  

First minister compared to Private Frazer

The first minister is compared to Private Frazer from Dad's Army by both Mark Isherwood and Neil Hamilton 

Image caption: Private James Frazer

'No blank cheque' on Article 50

Labour AM for Llanelli, Lee Waters, asks Leanne Wood if the Article 50 amendment is more to do with internal Plaid Cymru divisions than Welsh national interest.

There are no internal divisions in Plaid Cymru "on this", she replies.

She adds that Plaid Cymru will not give the UK government a "blank cheque" on Article 50.  

'Happy to be a Welsh nationalist'

"I'm happy to be a Welsh nationalist in comparison to your British nationalism," Plaid Cymru leader Leanne Wood tells Mr Isherwood.

Plaid Cymru exists 'to weaken and divide our island'

Conservative Mark Isherwood welcomes the UK government's 12 negotiating objectives for withdrawal from the European Union and the publication of its white paper.

He says Plaid Cymru exists "to weaken and divide our island".

The first minister says, "at some point, whether we like it or not, the UK government will have to put all its asks in one Brexit".

'EU referendum result has to be respected'

The first minister says Labour will be voting against the Plaid Cymru amendment opposing the triggering of article 50 - he says the EU referendum result has to be respected.  

'Securing Wales' Future': transition from the European Union

Plaid Cymru will force a vote on the triggering of Article 50 in this debate.

The party is calling for the assembly to oppose the start of the Brexit process unless assurances are given over Wales' participation in the single market.

But Labour is expected to reject the move, which is only advisory and will not affect the process.

First Minister Carwyn Jones has said Article 50 should not be blocked.

The Supreme Court ruled in January the Welsh Assembly had no legal right to be consulted on the triggering of Article 50 of the Lisbon Treaty, which would start the process for the UK to leave the EU.

Despite this, Mr Jones later said AMs would be able to express their views in the Senedd.

Local issues cropping up more

BBC Welsh Affairs Editor's view

Review of community safety arrangements

Carl Sargeant announces a review of the way services work together to ensure the safety of communities in Wales.

The Cabinet Secretary says he intends to establish an "oversight group to review current community safety arrangements and to develop a shared vision for safer communities in Wales".

Statement by the Cabinet Secretary for Communities and Children

The next item is a statement by Carl Sargeant on 'working together for safer communities'.  

Vaughan Gething says an "out of hospital cardiac arrest plan" will be published this spring.

It will include actions to improve early recognition of cardiac arrest, immediate and high quality CPR, early defibrillation and effective post resuscitation care.

More work to tackle risk factors

Almost 1,000 fewer people are dying from heart disease in Wales every year, but more can be done, according to the health secretary.

Vaughan Gething says he wans to build on "great progress" as an updated Heart Conditions Delivery Plan is published.  

The delivery plan outlines more work to tackle risk factors such as smoking, drinking and obesity among hard-to-reach groups.

More follow-up treatment and quicker help for those having heart attacks outside hospital is also recommended.

The plan pointed to a "steady decline" from just over 10,000 deaths in Wales from all cardiovascular disease in 2010; to just over 9,000 in 2015.

But it warned that people in poorer areas still suffered more, with premature death rates from heart disease nearly twice as high in Blaenau Gwent at 106 per 100,000 people compared to the Vale of Glamorgan at 56.