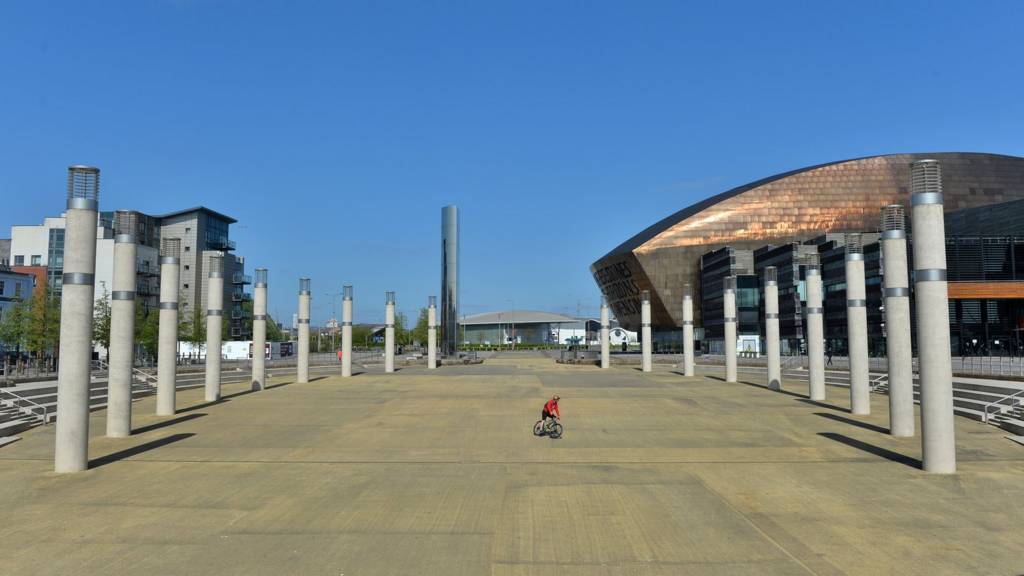 As it happened: Coronavirus in Wales on Tuesday
Thanks for staying with us to keep up to date with the latest coronavirus news in Wales on Tuesday. That's it from us, but we'll be back just after 06:00 BST on Wednesday.

The latest number of deaths in Wales

A reminder that the latest daily update on coronavirus from Public Health Wales reported 19 further deaths.

This brings the total number of deaths in Wales so far to 403.

Public Health Wales includes all deaths in hospitals and any others they are given from the wider community in their figures.

Dr Robin Howe, incident director, also said 238 new cases had tested positive bringing the total number of confirmed cases to 5,848.

Home owners taking up holiday mortgages

One in nine mortgage holders in the UK has taken a so-called "payment holiday" to help their financial situation as a result of coronavirus.

Lenders have agreed that 1.2 million homeowners can delay repayments as jobs are cut and wages reduced.

Typically, this defers a mortgage bill of £775 a month for up to three months.

Woman jailed for coughing on officer

A woman has been jailed after coughing on two officers and claiming she was infected with Covid-19, Dyfed-Powys Police has said.

Ch Insp Louise Harries said the assault happened after officers went to deal with a domestic incident.

The 44-year-old from Milford Haven, admitted assaulting emergency services workers, obstructing a police officer and criminal damage.

Swansea magistrates jailed her for eight weeks.

"Our officers had been called to deal with a domestic incident, and were assaulted as they tried to carry out their duties," said Ch Insp Harries.

"She also spat inside the police car, and wiped her nose on the headrest, causing officers to believe she might have further spread the virus.

"To purposely make our officers believe they might have become infected is not something Dyfed-Powys Police will take lightly."

The force said 10 officers have been assaulted in Pembrokeshire over the past few days.

Tribute paid to 'modern hero' nurse

Copyright: Leilani Medel / Facebook

Tributes have been paid to healthcare worker Leilani Medel from Bridgend who has died after contracting coronavirus.

Mrs Medel, 41, who was originally from the Philippines, died on Thursday at the Princess of Wales Hospital.

Her husband Johnny remains in a critical condition in hospital having also developed symptoms.

Speaking from the Philippines, Mrs Medel's aunt Shiela Ancheta said: "It doesn't seem real that she is gone from us. She was full of life.

"We just want her to know how much we will miss her, and how much her family is hurting.

"She will always be remembered as a modern hero during this pandemic."

Flowers have been left on the doorstep of the family's home in Coychurch, Bridgend.

"We've known them since they moved in," said one neighbour.

"They were always very friendly. They were lovely. Very generous, very kind."

It's understood Mrs Mendel worked as an agency nurse in several care homes across south Wales.

Helen Whyley, director of the Royal College of Nursing Wales, said: "I am devastated to learn that another nurse has passed away.

"This is the third reported death of a nursing professional in Wales due to Covid-19.

"Nurses have been at the forefront of the battle. For those who have sadly passed away, we will always remember their sacrifice and dedication to caring for their patients."

Hand sanitiser scam warning

People have been warned by North Wales Police to be careful when ordering products online.

It follows a scam where someone placed an order for hand sanitiser which never arrived.

A campaign has been launched to for residents to record the lockdown they are living through.

Flintshire council's North East Wales Archive Service is looking for diaries, photos, poems, drawings and paintings.

It also wants children to write a letter to "future children" to explain how the current lockdown has changed their lives.

It says the purpose of keeping archives is to preserve historical records to aid future understanding of events, people and places in history.

Drugs 'bound for prison' seized by police

Copyright: @NWPInterceptors/Twitter

Image caption: Some of the drugs seized by North Wales Police

A "large quantity" of drugs believed to have been destined for Wrexham's Berwyn Prison has been seized by police.

Officers intercepted a car travelling with the drugs - despite coronavirus restrictions - on Monday, North Wales Police tweeted.

The vehicle was stopped on an industrial estate, with a passenger fleeing toward a wooded area.

"If they're your drugs feel free to contact us," the force said on Twitter.

New ambulance cleaning method sought

The Welsh Ambulance Service has asked businesses to come up with new ways to speed up cleaning its vehicles during the pandemic.

Ambulances which have transported a patient suspected of coronavirus have to be decontaminated, increasing the time before the next patient can be collected.

The current decontamination process takes between 30 and 45 minutes but in some cases can be a number of hours.

More than 200 responses have been shortlisted.

Jonathan Turnbull-Ross, the interim assistant director of quality governance, said he was "genuinely excited by the ideas".

Thomas hopes Tour goes ahead later in 2020

The 2020 Tour de France looks set to be postponed after the French government's decision today to extend the ban on mass gatherings because of the coronavirus pandemic.

Geraint Thomas, who won the 2018 edition and was second in 2019, says he is hoping the Tour can be rearranged for later in the summer.

"It's the pinnacle of cycling," Thomas said.

"It represents the sport and certainly it's the thing that's keeping me going at the minute.

"You've just got that target down the line. It's hard when you don't know when it's going to be to try and stay in that positive frame of mind.

"In my head I'm just thinking the Tour is definitely going to happen. I don't know when but hopefully it does, it would be great for everyone."

Huge drop in traffic over Easter

Traffic Wales has reported a huge drop in traffic in north Wales over what would usually be a busy Easter weekend.

The key A55 route saw just 11% of the traffic on the road compared to over the same period last year.

Just 16 days to kit out new field hospital

It would normally take 16 months to kit out a 250-bed hospital.

But this field hospital being created inside a sports centre in Bangor, Gwynedd, will be ready in just 16 days.

The logistical challenge is well under way for project managers at Betsi Cadwaladr health board.

Soap and paper towels worry for care home

A care home manager has said she is worried about the lack of basic supplies needed to look after its 91 residents.

The Swn y Mor care centre in Aberavon, Neath Port Talbot, has not had any cases of Covid-19 so far.

But manager Sharon Williams said: "PPE has been our main concern, it has been very slow coming through. It seems to have gone to the English care homes before its come to the Welsh care homes.

"We are now being contacted by the local authorities and we have to let them know if we need more. We did have one delivery last Friday which isn't sufficient.

"We've been very lucky in that we've had a lot of community back up from three schools and it's not just that we're having problems with PPE, we're unable to get stocks of hand soap, paper towels because our suppliers are limiting us to how much we can order."

New weekly coronavirus death figures

We've had a set of weekly figures from the Office for National Statistics, looking at coronavirus deaths.

What do they tell us?

3,475 deaths in England and Wales mentioned Covid-19 on certificates registered in the week ending 3 April.

These include 134 deaths registered in Wales with Covid-19 mentioned. This is the lowest number of any nation or region, along with North East England.
This is 14.5% of all deaths registered in Wales.
This is one of the lowest proportions, although coronavirus is mentioned in only 10% of deaths registered in South West England.
The figures also tell us that 115 of these registered deaths in Wales occurred in hospital, nine were at home, eight in a care home and two in a hospice.
The nation or region with the largest number and proportion of deaths involving Covid-19 was London with 1,170 deaths.
This was 46.6% of all London deaths and a third of all coronavirus deaths.

You can read the full set of ONS statistics here

Nurse 'paid the ultimate price for lack of PPE'

"You don't send soldiers into combat without wearing combat gear, do you?"

Those are the words of Jeanette Leonard, whose friend Gareth Roberts, a nurse, died after contracting coronavirus.

She says her "lovely" friend "paid the ultimate price" due to a lack of personal protective equipment.