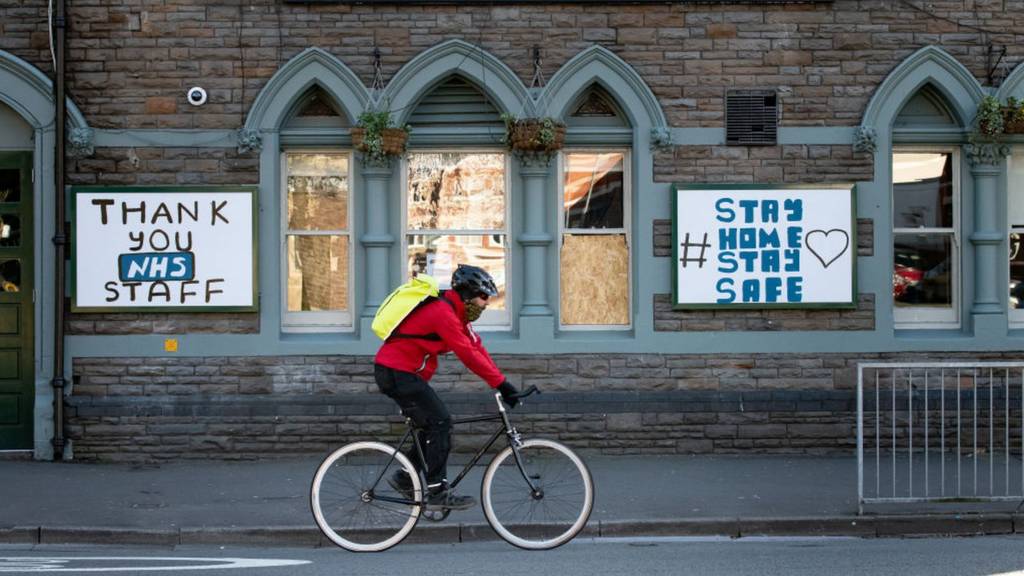 As it happened: Coronavirus in Wales on Tuesday
By The Visual and Data Journalism Team

BBC News

That's the end of our live updates for Tuesday Here's a summary of today's key coronavirus points:

The number of deaths in Wales now stands at 212, up a further 19
In total, the confirmed number of cases is 3,790 - however, the real infection rate will be much higher
Across the UK, there were 786 more deaths - a record increase in a day
In total, there have been 6,159 deaths recorded in UK hospitals
Prime Minister Boris Johnson is "in good spirits" after spending the night in intensive care being treated for coronavirus, No 10 has said
Mr Johnson, 55, was stable overnight, is being given oxygen and is not on a ventilator, a spokesman added.
Foreign Secretary Dominic Raab he was confident the the PM would "pull through" because he was a "fighter"

In other developments in Wales:

The first drive-in test centre in Wales - for frontline workers - has been completed at Cardiff City Stadium
Tributes have been paid to the University Hospital of Wales surgeon Jitendra Rathod, who died from Covid-19
All employers in Wales must keep two metres apart from today, under new Welsh Government rules

Four ways to protect yourself from coronavirus

The BBC Health team talks through the NHS advice about protecting yourself from Covid-19.

Network Rail seeking former workers

Network Rail is seeking former and retired signallers in the Wales and Border area to "help keep the railway moving".

Route director Bill Kelly said the company, which manages the UK's rail infrastructure, was looking for additional workers as it was "planning for all scenarios".

Council: 'Ignore coronavirus scams'

Scam texts demanding fines should be "ignored", a council has warned.

Bridgend council urged people to tell family and friends that messages demanding fines be paid were fraudulent.

"These types of messages are likely to cause distress," the authority tweeted.

If you're wondering why you've been having trouble buying flour in UK shops, the National Association of British and Irish Millers has put out some figures to explain it.

About 4% of the flour milled in the UK is sold to the public through shops and supermarkets – the rest is bought by bulk buyers such as food manufacturers. The average household buys a bag of flour every 14 weeks.

As with many products, there has been a considerable increase in demand from both retail consumers and bulk buyers since the coronavirus outbreak began, and millers have managed to double production for retail consumers.

That doubling has been enough to allow 15% of UK households to buy a bag of flour per week, but many shelves are still bare.

This is partly due to a bottleneck in the system, which is that most flour is sold by the tanker-full or in 16kg or 25kg bags. There is limited capacity to fill the 1.5kg bags that you see in the shops.

In response, the industry is looking at the possibility of selling larger bags of flour to enthusiastic home-bakers.

Triathlon training in lockdown

How does a triathlete cope with living - and training - in lockdown?

Let Non Stanford explain. The former world triathlon champion is in quarantine in a hotel room in Sydney at the moment.

And as you can see from this video, Stanford is certainly making the most of her limited resources.

Armed forces 'selfless commitment' in Wales

British forces are displaying "selfless commitment" to the fight against coronavirus in Wales, says the Welsh Secretary.

Simon Hart said personnel are "doing a great job at this incredibly difficult time".

About 1,500 members of the Army and other forces have been deployed on duties in Wales, including helping build field hospitals.

Sixty members of the Army are being trained to support the Welsh Ambulance Service as they combat the pandemic.

"I am humbled by their efforts and eternally thankful for their support," said Mr Hart.

Image caption: Army personnel are being trained to support the Welsh Ambulance Service

WW2 veteran and council chairman dies, at 101

Meanwhile, the former Carmarthenshire council chairman and World War Two veteran DT Davies has died, aged 101.

A county councillor between 1970 and 2003, he also served as chairman of the previous Dyfed county council.

During the war he was captured by the Nazis and escaped five times. He later joined partisans in former Yugoslavia. He was awarded the Freedom of Carmarthenshire by his former Council on his 100th birthday.

Coronavirus: The UK picture

The number of confirmed coronavirus cases in the UK is on the rise, with more than 55,000 people now testing positive across the country. A total of 6,159 people confirmed to have had the virus have died.

The actual number of people with the respiratory infection in the UK is estimated to be much higher though - as only those in hospital and some NHS staff are currently tested.

More than 213,181 people in the UK have so far been tested and found not to have the virus.

You can find out here how many people have confirmed cases in your area.

Ruth Jones thanks people for staying at home

Gavin and Stacey star Ruth Jones has recorded a video thanking people for staying in.

"I know it doesn't feel like you're doing very much, I don't feel like I'm doing very much by staying in," the actor said.

"But what we are doing is huge because we are stopping the spread of this virus."

Public Health Wales tweeted the video and thanked the star.

'Not everyone plays nice'

Gwent Police has been highlighting the dangers from scams and cyber crime during the coronavirus crisis.

The force area has the highest levels of infections in Wales.

Police are warning residents to take care, especially if people they don't know offer to do shopping or collect medication.

Sir Patrick Vallance says early signs suggest the number of new coronavirus cases could be slowing.

PA system and signs to deter seaside visitors

Copyright: Bridgend County Borough Council

Bridgend council will deploy loudspeakers and digital signs on routes near Porthcawl over the Easter bank holiday weekend after "large numbers" of people visited the town before tight restrictions were introduced.

The council said four vehicles were being fitted with loudspeakers which will broadcast the bilingual message: "Stay home, protect the NHS, save lives."

Digital signs were also being set up urging people to remain at home.

It was "absolutely vital" for people to follow this advice, according to councillor Richard Young.

Distance rule detail raised by union

One of Wales' main trade unions says it needs more information on how new rules on social distancing in workplaces will be enforced.

From today, employers have been told to make sure workers stay 2 metres apart - or face a fine.

Companies are being asked to take "reasonable measures" to keep staff healthy during the coronavirus crisis.

The Welsh Government believes the move is necessary after some employees complained they were not social distancing at work.

Police and councils will have the power to enforce the rules.

They will be able to issue fines of between £60 and £120.

GMB regional organiser Mike Payne said the principle of the new law was welcomed - but added: "But like all legislation the devil is in the detail."

He told BBC Radio Wales: "We need to look at how breaches of those rules are going to be enforced.

"If it isn't possible for employers to keep members of staff two metres apart, we need to be assured that they have been provided with the most appropriate PPE to ensure they are not being put at risk."

First Minister Mark Drakeford said the new rules are not an "absolute ban"on people working closer together than two metres.

Instead, he urged employers to take "all reasonable measures" to ensure the health and safety of workers, adding that the law will largely be "self-policing".

'Great surgeon' will be missed

A consultant who died from coronavirus in a Cardiff hospital was a "great surgeon" and people will "really miss him".

The tribute came from the chief executive of the Cardiff and Vale University Health Board, following the death of Jitendra Rathod on Monday.

Len Richards said the health board wanted to extend its deepest sympathy to Mr Rathod's family, his wife and two sons.

"We've lost a dearly loved colleague here within Cardiff and Vale, but they've lost a father and husband and that must be quite devastating for them," said Mr Richards.

"Jitendra was a great cardio-thoracic surgeon. He's been with us at Cardiff and Vale for about 25 years; he started here in 1990. He spent some time away, but most of his career has been here at Cardiff and Vale and he was a much loved character."

Earlier on Tuesday, First Minister Mark Drakeford and Health Minister Vaughan Gething both paid tribute to the surgeon, who died at the University Hospital of Wales' intensive care unit from Covid-19.

Wales star Roberts volunteers with NHS

Wales rugby star Jamie Roberts has volunteered to work for the NHS to help in the fight against coronavirus.

The 33-year-old British and Irish Lions centre is a qualified doctor, graduating from Cardiff University with a medical degree in 2013.

Now, having returned to Wales from a spell playing for the Stormers in South Africa, Roberts is offering his services to the Cardiff and Vale Health Board.

By Simon Read

Business reporter

Update: Wrong coronavirus test results for NHS staff

We have an update on the news we reported earlier that some NHS Wales staff with Covid-19 were wrongly told they were negative.

We can now report a group of 10 have been given incorrect results - including eight from Aneurin Bevan Health Board and two from elsewhere.

It is not clear how many of the 10 had Covid-19 and were told they did not, or vice versa.

The health board said the staff were contacted "immediately".