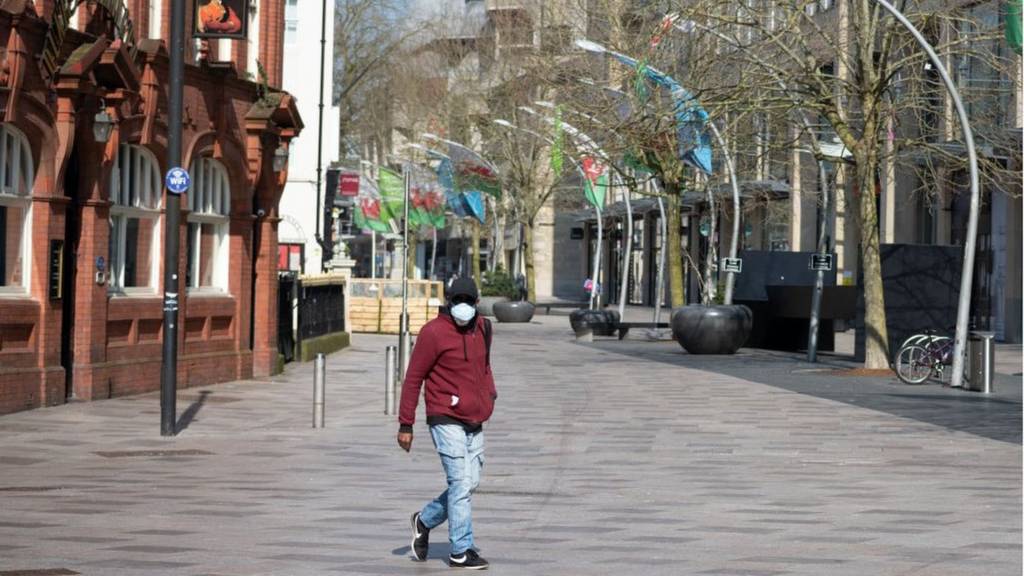 Coronavirus in Wales: Friday's updates
That's the end of our live coverage for Friday. Here's a reminder of some of today's developments:

Thanks for following our updates today. We'll be back with the latest again on Saturday.

How safe is takeaway food and grocery shopping?

If coronavirus can be transferred on to surfaces, safe food shopping presents challenges.

Chefs, bar tenders and waiters urged to consider care jobs

People who've lost their jobs in retail and hospitality are being urged to consider becoming carers during the coronavirus outbreak.

Social Care Wales said there were "urgent shortages" of care workers to help elderly, children and vulnerable people during the pandemic.

There are already over 400 jobs advertised on a new website, aimed at attracting people out of work due to bars, pubs, shops and leisure centres being shut down.

Chief executive Sue Evans said carers were a "lifeline for communities" during the pandemic and many people had transferable skills to be able to work in the sector.

"We need more people with the right skills to help, right now," she said.

'Clean home' after seven days' isolation

If you have spent seven days in isolation after developing symptoms associated with coronavirus, you might be wondering what precautions you should take now.

Alex Akin of the London School of Hygiene and Tropical Medicine told BBC Newsbeat people should clean their homes.

While you've not been outside, you've been touching things in your house while potentially infected.

But, he says, using soapy water or any kind of detergent to wipe down surfaces in the room you've been isolating in is enough to kill droplets of any virus.

Police helicopter keeps eye on Cardiff

The National Police Air Service tweet from over Cardiff.

'Walk your dog at home, not on the beach'

Police say people are still visiting a popular beach near Cardigan despite government instructions on social distancing.

Officers from the Dyfed-Powys force are patrolling the beach at Mwnt, reminding people they are supposed to take their permitted exercise closer to home.

Police now have powers to impose fixed penalty charges on people who disobey the new rules.

Act of kindness from police to NHS staff

Police have been praised for using their own money to deliver refreshments to NHS staff working in the part of Wales most hit by coronavirus.

Gwent Police officers delivered drinks to staff working in the Covid-19 ward at the Royal Gwent Hospital in Newport.

The area, covered by Aneurin Bevan health board, has nearly half of all confirmed cases of coronavirus in Wales.

'Diolch for staying home'

Tourism chiefs have thanked people for staying away from mountains and beaches in Wales, saying their actions will save lives.

The Welsh Government has set out new rules closing popular beauty spots in a bid to stop people flocking to the areas and putting themselves at risk of coronavirus.

Visit Wales tweeted: "Our beaches and mountains will always be here.

"We look forward to welcoming you back in the future, but for now, stay safe".

'This is a lockdown, not a holiday'

Police in Pembrokeshire say more than 200 motorists have had to be reminded over the last two days not to treat the county as a holiday destination despite government instructions to stay at home.

Sgt Hamish Nichols, of Dyfed-Powys Police, said: "Yesterday we turned away numerous caravans and camper vans whose owners were travelling to Pembrokeshire to self-isolate.

"We have also spoken to two campsite owners who have been open for business, and have issued stern advice to them and to all holidaymakers."

Road checks and beach patrols will be stepped up this weekend, with police now armed with new powers to impose fixed penalties on those who refuse to comply with the new rules.

Sgt Nichols added: "The message is clear – this is a lockdown, not a holiday."

Copyright: Dyfed-Powys Police

Safety equipment review welcomed

We've been reporting the concerns of medical staff about access to personal protective equipment (PPE) to keep them safe when treating patients with confirmed or suspected coronavirus.

Wales' chief medical officer says he welcomes a UK "rapid review" of guidance on how the kit should be used.

Dr Frank Atherton said: "It is essential those who need PPE have access to it.

"But we should not use it unnecessarily in order to avoid wastage and to ensure we have sufficient stocks as the coronavirus pandemic progresses."

Copyright: British Medical Association

Image caption: Some doctors have complained about the protection equipment issued

Hospital ready for coronavirus patients

Copyright: Swansea Bay University Health Board

Image caption: The new respiratory assessment unit at Morriston Hospital

Parts of Morriston Hospital in Swansea have been prepared for patients with Covid-19.

One area has been transformed into a respiratory assessment unit with a separate entrance.

The Swansea Bay health board's chief executive Tracy Myhill said: "So much has changed over recent weeks.

"The scale and pace of the range of actions is difficult to appreciate."

Copyright: Swansea Bay University Health Board

Image caption: An ambulance sterilisation bay at Morriston Hospital

Children were able to visit Chester Zoo even though it's been closed by the coronavirus pandemic.

Principality Stadium to become field hospital

The home of Welsh rugby is set to become a field hospital in a bid to deal with coronavirus cases in Cardiff.

The Principality Stadium, which hosts international rugby matches and concerts, will provide up to 2,000 additional beds for the NHS.

Cardiff and Vale University Health Board said it was difficult to know what the size or scale of the challenges faced by staff would be, but it had acquired the stadium to ease pressure on wards.

The board's chief executive officer Len Richards said: "I sincerely hope we don't need to use all of the capacity but it is far better to have developed plans upon the scientific evidence and modelling of the experts.

"The facility will allow us to free up capacity at our other hospital sites so that we can continue to provide services to patients with other health conditions."

Martyn Phillips, chief executive of the Welsh Rugby Union, which owns the stadium, said it was a "privilege" to be able to help at a time of national emergency.

Wards rapidly covering rugby pitch

The wooden beams of a new ward cover a rugby pitch, as it prepares to play its part in the fight against coronavirus.

Parc y Scarlets, in Llanelli, Carmarthenshire, is set to become a temporary hospital to provide support for the NHS.

Celebrities talk social distancing

It's not just us regular folk who are finding it hard to keep busy during social distancing.

The main points from today's UK government briefing

Cabinet Minister Michael Gove, NHS England chief executive Sir Simon Stevens and deputy chief medical officer Dr Jenny Harries confirmed in Friday's UK government briefing:

PM Boris Johnson is still leading the UK's efforts to tackle the virus despite testing positive;
UK infections are now doubling roughly every three to four days;
An alliance between government, research institutes and universities will provide more coronavirus tests for frontline workers from this weekend;
33,000 hospital beds have now been freed up, or created in field hospitals, for patients; and
Cancer patients will be able to continue treatment at private hospitals

Mr Gove also suggested "members of the central effort to defeat the virus" will receive testing as appropriate.

This comes after Boris Johnson and Health Secretary Matt Hancock were tested, despite only having mild symptoms.

Walkers 'ignore' Mwnt beach police closure

Walkers are still heading to a popular beauty spot on the Ceredigion coast, despite police closures.

Mwnt, near Cardigan, is a popular area for spotting dolphins.

Officers said that people had ignored the police tape and still driven down to the cove.

What's occurring? Barry Island deserted

Police officers watching over Wales have shared views of a deserted Barry Island on a sunny spring day, as people follow stay at home rules.