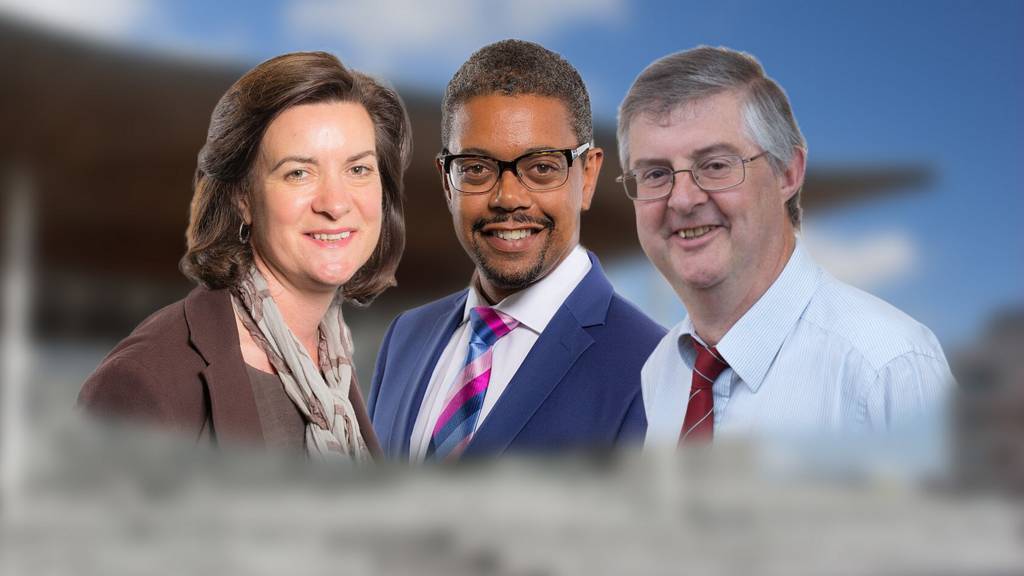 As it happened: Welsh Labour leadership election
When does he become first minister?

After today's victory, Mr Drakeford will have to wait until Carywn Jones tenders his resignation to the Queen on Tuesday before he can take the top job in Cardiff Bay.

Mr Drakeford is set to be the third first minister of Wales - and he had a very close relationship with the first.

He was a special adviser to the late Rhodri Morgan's government for about 10 years, before taking over his assembly constituency of Cardiff West in 2011.

He says he regarded Mr Morgan as his mentor.

Copyright: Mark Drakeford campaign

Welsh Labour leader-elect Mark Drakeford says the party is going through a healing process after a turbulent 12 months.

Speaking after his victory, he said: "There is a healing process and the [leadership] election is part of that healing process.

"The spirit in which it's been conducted, the thousands of people that have taken part in that election gives me the best possible platform for me to bring the party together again."

Mr Drakeford said his role would be to energise Welsh Labour so the party would come "stronger".

"That's the task I've been set and I'm looking forward to getting on with."

'Disappointed but grateful'

Second-place candidate Vaughan Gething has tweeted his reaction to the result.

Labour has become the fourth party in Wales to change leader in 2018.

The Welsh Conservatives swapped Andrew RT Davies for Paul Davies, UKIP replaced assembly leader Neil Hamilton with Caroline Jones, who lasted just six weeks before Gareth Bennett took over, and Plaid Cymru's Adam Price won the contest to oust Leanne Wood.

But, unlike new Labour leader Mark Drakeford, none of them will take the top job next week.

Relief road 'should be built'

One of Mr Drakeford's first tasks will be to make a decision on whether the £1.4bn M4 relief road should be built.

The new Welsh Labour leader is believed to be sceptical of the project, but the Confederation of British Industry (CBI) says he should approve the so-called black route across the Gwent levels.

CBI Wales director Ian Price said: "The new first minister should publish the public inquiry into the M4 relief road so everyone can make an evidence-based decision on the Black Route.

"For the CBI, the decision is clear. Due to the pressing need and strong return on investment, the Black Route should be built."

Decisions, decisions...

Copyright: Welsh Government

BBC Wales political editor Felicity Evans said: "Either way this result is not the resounding victory many predicted. One senior Labour figure and Drakeford supporter whispered to me: 'That was close.'

"Another said: 'A win's a win... Who can remember what Carwyn's margin of victory was nine years ago'?"

'Significant period of change'

Welsh Secretary and Conservative MP Alun Cairns says he "looks forward" to working with Mark Drakeford as the UK embarks on a "significant period of change".

He says they will work closely together to "secure a stronger economy in communities right across Wales".

Welsh Liberal Democrats leader Jane Dodds added her congratulations, but says the most "important and pressing" issue facing Mr Drakeford is Brexit.

Both Vaughan Gething and Eluned Morgan backed a referendum on the final deal - whatever that may be - but Mr Drakeford did not declare a position.

Ms Dodds said: "We urge Mark to seize this momentous opportunity to stop Brexit and join the campaign for a people's vote with the opportunity to choose an exit from Brexit."

Congratulating Mr Drakeford on his win, a Plaid Cymru spokesman said: "The mountain of issues he faces is great and it is a mountain largely of their own making.

"They were part of a Labour administration that has left us with an economy that still bounces across the bottom of league tables and public services crying out for help.

"Unfortunately after 20 years of Labour-led governments we can't expect much to change, even if the face at the top does."

Corbyn confident of Wales' future

UK Labour leader Jeremy Corbyn has given his congratulations to Mr Drakeford.

He said: "I am confident that Mark will demonstrate what Labour in government can achieve by building a more equal society, even in the face of the Conservatives' callous austerity agenda."

He added his thanks to losing candidates Vaughan Gething and Eluned Morgan, as well as thanking Carwyn Jones for his service.

'Still has to convince the Welsh public'

Political analyst Roger Awan-Scully says there is plenty of work ahead for Mark Drakeford when it comes to convincing the electorate.

Who is the man in the top job?

Moo-ve over Carwyn

Here are five things you didn't know about Mark Drakeford

Moo! He says he's the only Welsh minister to have milked a cow
In harmony - he can play the ukulele
Howzat? He's a cricket fan
Knows his onions - he has an allotment
Et tu...He studied Latin at university

Trade union Unite Wales - which backed Mr Drakeford in the campaign - has "warmly welcomed" his win.

The union says he ran a "positive and inspirational election campaign".

Regional secretary Peter Hughes said: "His experience at the highest levels of government will be invaluable as he seeks to guide Wales through the fog and uncertainty of Brexit created by a UK Tory government in perpetual crisis."

Quote Message: He is the ultimate government insider - an adviser to the late former First Minister Rhodri Morgan before succeeding him as the AM for Cardiff West and holding a variety of senior positions at cabinet level. But while he is well known in political circles, many voters have never heard of him. This will be a challenge for him. Mr Drakeford is an intelligent and experienced politician. But he will also need luck and good judgement. from Felicity Evans BBC Wales political editor

Copyright: Wales News Service

First order of business after Mr Drakeford's victory speech? A quick chat on the phone with his counterpart in Westminster, Jeremy Corbyn, who has congratulated him on his victory.

Mr Drakeford is likely to be first minister until the next assembly elections in 2021, but the Welsh Conservative leader Paul Davies is calling for an early vote.

'Radical socialist traditions'

Mr Drakeford is addressing the crowd after his election victory, saying Labour will follow "radical socialist traditions" in the style of Aneurin Bevan, Michael Foot and Rhodri Morgan.

He added: "The Labour party here in Wales will do everything we can to get a Labour government in Westminster to work with a Labour government in Wales."