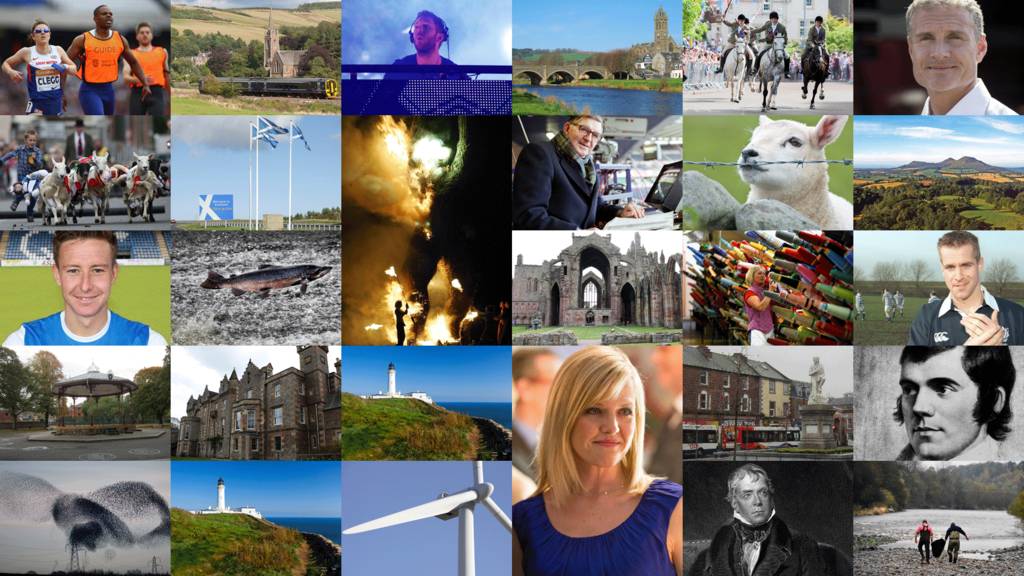 Summary
Updates for Thursday 26 November
More news, sport, travel and weather from 09:00 on Friday 27 November
Nichola Rutherford

BBC Scotland

That's it for the Live page today.

We'll be back with more from 9am tomorrow.

A man caught up in a legal fight over the right to a Scottish Borders baronetcy says he is glad judges have "finally" been asked for a decision.

Murray Pringle, 74, of High Wycombe, and Simon Pringle, 56, who lives near Hastings, both lay claim to the baronetcy of Pringle of Stichill.

The launch of the first Rural Food Waste Collection Pilot in West Linton takes place tomorrow.

West Linton and Newlands primary schools are taking the Zero Waste Challenge aimed at reducing their food waste to zero and have been working with the community growers at Whitmuir Farm at Lamancha. Sixty families from the schools have signed up.

MSP Christine Grahame is to attend the event.

Curling club celebrations

A Peeblesshire curling club which was founded by a friend of Robert Burns is celebrating its 200th birthday.

Broughton United Curling Club was formed in 1816 by the Rev Hamilton Paul.

Scottish Borders Council's Executive Committee will meet next week to consider Scottish government proposals to create a new Southern Scotland statistical area which could be used in relation to European regional policy development and funding allocations.

The council has been campaigning for the move for some time.

Borders College mountain biking students were lucky enough to have a special guest join them at Glentress recently.

Copyright: Borders College

French born Loic Bruni, UCI Mountain Bike Downhill World Champion spent the day riding with the students.

He said: "I had a great time meeting the Scottish version of mountain biking. This is a reason why the UK is such a talented nation. I met really skilled young rippers, good luck to them."

BBC Scotland Weather

Latest

It'll be a cloudy evening and night across Dumfries and Galloway, with outbreaks of rain - most of it light and patchy.

The clearest skies in the Borders will be towards the Berwickshire coast tonight.

Fresh winds will become strong over the coasts towards dawn, keeping it very mild. Temperatures will hold up around 8 Celsius.

Don't forget our local radio bulletins are coming up at 16:30 and 17:30 with all the latest news, sport and weather for our region.

Tune in on 92-95FM or 810MW.

A meeting of the Wigtown Area Committee has been arranged as part of the current consultation on the draft Wigtownshire Locality Plan for Health and Social Care Integration.

The meeting will take place at 6.30pm on Thursday 10 December in the Assembly Hall at Stranraer Academy.

Drink driving decrease in Dumfries and Galloway

Heroin with a street value of £8m was found in a drug courier's car after he was stopped on the A74(M).

Copyright: Ciaran Donnelly

Traffic officers signalled Nathan Cook to pull over on a routine stop on the A74(M) at Lockerbie in March last year.

He travelled at speed for 33 miles before he was boxed in by four police cars at Elvanfoot in Lanarkshire.

At the High Court in Edinburgh, Cook, 28, of High Wycombe in Buckinghamshire, admitted being concerned in the supply of Class A drugs.

Nichola Rutherford

BBC Scotland

Three orphaned otter cubs are being cared for by a Scottish animal charity after they were found alone without any sign of their mothers.

Two of the cubs are sisters who were found together on a flooded river bank in Earlston on Thursday.

The third cub was very weak and underweight when it was found in Brechin on Tuesday.

The Scottish SPCA said it was the charity's "busiest year" for otter cubs. It is currently caring for 14.

The Berwickshire News is out today and its back page looks at the tough task facing new Berwick Rangers boss John Coughlin.

Copyright: Berwickshire News

Three branches of the Edinburgh Woollen Mill in the south of Scotland will close, the company has confirmed.

Stores in Peebles, Moffat and Langholm, where its parent group is based, are expected to shut in December.

The criteria for funding aimed at closing the attainment gap between disadvantaged pupils and their better off peers could be changed after the Education Secretary Angela Constance agreed to look at the issue following a letter from a local councillor.

Jeff Leaver, who chairs Dumfries and Galloway Council's education committee, claimed the system used for distributing the cash was too narrow and weighted in favour of central belt towns and cities and areas of multiple deprivation.

He says he's pleased that a new way of calculating how much each local authority receives, could be based on the number of pupils taking free school meals.

The donation by Tunnock's owner Boyd Tunnock to help bring back a lifeboat to St Abbs makes the front page of the Berwickshire News today.

Copyright: Berwickshire News

Police in the Borders are appealing for information to help trace a man reported missing in Jedburgh since Tuesday.

William Notley, 58, was last seen at his home address in Bongate Gardens around 5.15 am on Tuesday.

Mr Notley sometimes sleeps outdoors or in remote farm buildings and barns and has been known to travel on public transport around the Jedburgh area.

Nichola Rutherford

BBC Scotland

A sketch of a Borders landmark by LS Lowry has been sold for £35,000 at auction in London.

Copyright: Christies Images

The Bear Gates achieved twice as much as auctioneers estimated when it went under the hammer at Christies.

The level of Scottish Government commitment to help beleaguered Eyemouth crab factory Burgons has been criticised by MSP John Lamont.

Earlier this month Burgons announced it was starting a redundancy process, affecting 81 jobs and local MSP Mr Lamont immediately urged the Scottish Government to do all it could to prevent the closure.

The back page of the Galloway News, which is out today, is dedicated to St Cuthbert Wanderers good run of form.

Conservationists are asking for the public's help in building up a picture of the movements of a rare bird of prey this winter.

More than a hundred sightings of Hen Harriers were recorded over the spring and summer throughout Scotland but conservation groups want to know more about what happens to them during the colder months.

Adult males are grey in colour and the females are brown, both have white rumps.

Chair of the Dumfries and Galloway Raptor Study Group, Chris Rollie, said there was a good chance of seeing the birds in this region.

Police in the Borders are appealing for witnesses after valuable tools were stolen from three Ford Transit vans.

The incident happened in Galashiels between 12am and 4am on Tuesday.

The vans belonged to local tradesmen and were parked in Balmoral Road, Stanley Street and Forest Road.

Tools to the value of £4,000 were stolen from within the vehicles.

Another cloudy afternoon on the way by the looks of the latest forecast.

Lunchtime weather snapshot

Remember our radio bulletins for Dumfries and Galloway and the Borders are coming up at 12:30.

Borders-born trainer Keith Dalgleish is back in action at Southwell today.

He has Tarando running at 12.45pm with Joe Fanning on board.

A plan to develop a new poultry unit near Sandhead Village in Wigtownshire has been given the go ahead.

The project involves the construction of three linked buildings at Altain Glen to house around 20,000 birds.

Four planning applications for new quarries to support work on upgrading the electricity pylon network in Dumfries and Galloway and Ayrshire have been approved by councillors.

The sites near Carsphairn and Sanquhar will be subject to strict conditions.

Taxi stewards plan for Dumfries

At the recent National point-to-point awards dinner in Gloucestershire, Tony Hogarth from near Galashiels was recognised for his hard work and commitment to the sport.

Tony, who lives at Mosshouses, received the Sir Michael Connell award for his outstanding contribution to point-to-point racing. The Lauderdale point-to-point is run at Mosshouses, and Tony has been secretary for some 45 years, as well as Northern Area secretary for a similar period.

Plans for a massive barrage across the Solway make the front page of today's Galloway News.

European semi-final for curlers

Drop-in events are planned at Grantshouse village hall over plans for an eight-turbine wind farm nearby.

Reading-based Livos Energy has submitted a pre-planning notice to the council for the 100-metre high turbines. The company has already carried out a local newsletter drop.

Festive cyber crime warning

A warning has been issued that online Christmas shoppers could fall victim to cyber crime.

Dumfries and Galloway Council's Trading Standards Service has issued advice for Internet shoppers to ensure they are aware of their rights and what they can do to protect themselves.

It includes buying from known traders, checking that the trader has a genuine address and landline number so that you can contact them directly if things go wrong, and to always use a secure form of payment.

Trading standards say that every festive season they receive complaints about online fraud and counterfeit goods.

A Borders property made the shortlist for the RIBA House of the Year award, announced last night.

Southside Steading is collection of disused farm buildings that nestles into a steep hill.

The brief was to convert the mill to create a modern, rural holiday home that retained much of its historic character.

The overall award went to Flint House in Buckinghamshire.

Cloudy for most, particularly across Dumfries and Galloway where the bulk of the rain is expected, perhaps turning heavier towards late afternoon.

Brighter in the east particularly for the eastern Borders initially. Winds freshening later. Mild.

Giancarlo Rinaldi

South Scotland reporter, BBC Scotland news website

Good morning and welcome on board to another day of news, sport, travel and weather for the south of Scotland.