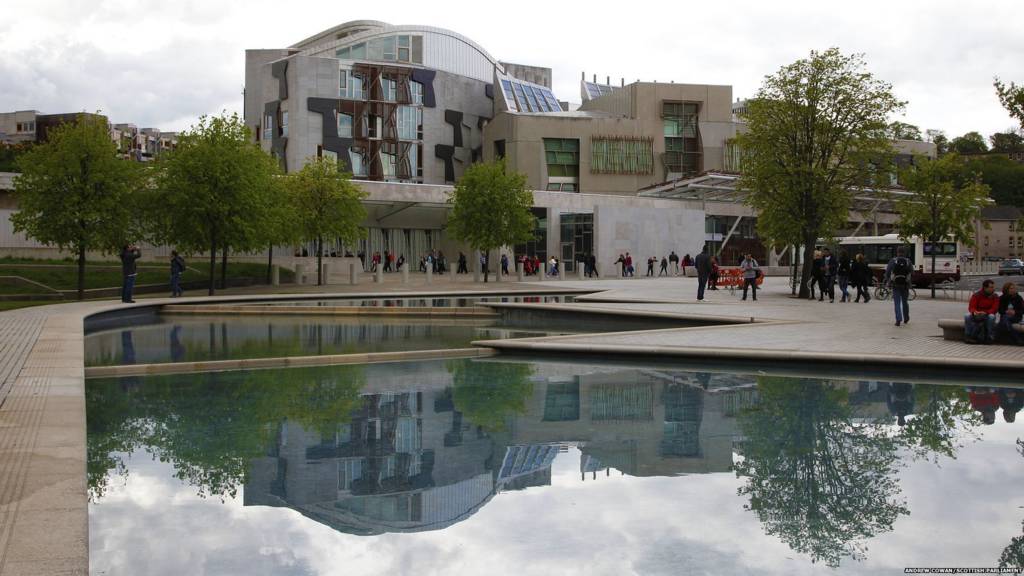 MSPs vote to halt P1 tests
Celebration of BBC Alba next..............

Image caption: BBC Alba

Tory MSP Donald Cameron is now leading a member's debate celebrating 10 years of BBC Alba.

Copyright: Scottish Parliament

Point of order...will the governent respond to this vote?

Image caption: Presiding Officer Ken Macintosh

Scottish Labour leader Richard Leonard stands to make a point of order asking if ministers will ignore the will of parliament.

He calls for immediate plans on how it will respond to this vote.

Presiding Officer Ken Macintosh says there is an expectation that the government will respond to the vote.

Labour MSP Johann Lamont also raises a point of order calling for the government to respond to the will of the parliament and points to potential reform on how this is done.

It is for the parliamentary bureau to decide when this issue is brought back, say Mr Macintosh.

Breaking

MSPs back calls to 'halt' P1 tests

Image caption: Tory education spokesperson Liz Smith

MSPs have backed the Scottish Conservative motion which urges the government to "halt" P1 testing by 63 votes for to 61 votes against.

Copyright: Scottish parliament

Breaking

Government amendment defeated

MSPs vote against the Scottish government's amendment to the Primary 1 motion with 61 votes for and 63 votes against.

Copyright: Scottish parliament

Government urged to 'start listening' on P1 assessments

Mr Mundell says it is time for the Scottish government to start listening on P1 tests.

He urges ministers to start assessing whether their own assessments are working.

P1 is not the right place to start tests says Tory MSP

Image caption: Tory MSP Oliver Mundell

Tory MSP Oliver Mundell says: "I am disappointed we were promised a fact based debate but we have spent the time politicking as usual."

Mr Mundell says his party is willing to listen and says his party are not calling for the scrapping of all standardised tests, juts arguing P1 is not the right place to start.

Mr Swinney intervenes accusing the Tory party of contradictory positions.

The Tory MSP accuses the minister of starting on poitics rather than looking at the evidence.

Tests have adapted and changed in response to feedback says Swinney

Mr Swinney quotes a teacher from the EIS survey highlighting the how useful they had found the tests to be.

He insists he has adapted and changed the assessments in response to feedback.

The education secretary highlights only 94% of children took these tests, reflecting how teachers have discretion to not have a young person sit them if it would not be in their best interest.

Why are school teachers, carers and parents expressing concerns?

Image caption: Labour MSP Johann Lamont and Education Secretary John Swinney

Education Secretary John Swinney reiterates his point that the government followed the evidence from the OECD, from their report on Scottish education.

Mr Swinney highlights their view that there was a need to improve progress and learning outcomes for children.

Why are school teachers, carers and parents expressing concerns asks Labour MSP Johann Lamont.

Mr Swinney insists: "I am not impuning anyone's motives."

He goes on to say the government has gravitated from 29 different forms of assessments in councils to a standardised assessment across the country.

'Children in P1 should learn in a stress-free and welcoming environment'

Labour MSP Mary Fee says she will vote in favour of the motion at the behest of parents and teachers who have contacted her in the last weeks.

We have no problem with teachers assessing pupils, she tells the chamber.

But she argues the standardised assessments are not the way to do this and these tests will not help boost attainment.

"Children in P1 should learn in a stress-free and welcoming environment."

Ms Fee says the "blinkered view" of the education secretary is wasting resources.

She urges the Scottish government to scrap the assessments.

Background: Are the assessments stressful for small children?

Jamie McIvor

BBC Scotland education correspondent

If the assessments are actually being carried out in the way the government wants, this would seem unlikely. They are meant to be carried out informally and not under anything which remotely look like exam conditions.

Teachers can carry out the P1 assessments at any point in the school year and can carry them out individually. Ideally, the government says, they should be enjoyable for the children. Children do not need to prepare or revise.

The assessments normally take about 45 minutes but there is no time limit.

However, it's been claimed that some children have found them distressing.

If this is happening, given how the assessments are supposed to be designed and carried out, it is worth asking why. For instance, has an adult transmitted their fears or concerns about the assessments onto the child?

Could the the distress actually be a sign of some issue in the child's academic or emotional development? Was good practice not being observed? Or was it wrong to put that individual child through the process?

The parents' organisation Connect says some children were told by teachers they were going to get "a test". Inevitably this language may have added to a child's nerves - or even created them. It also cited cases where children didn't know the person who was carrying out the assessment - again this may have made it seem more nerve-wracking than it should have been.

Even some teachers who are sceptical about the value of the assessments or opposed to them in principle have told BBC Scotland that they were surprised and saddened to hear that P1 children had actually found them distressing.

Spat over tests for neuro-developmental conditions

SNP MSP Maureen Watt points to the US kindergarten study which highlights screening for sensory, language and cognitive abilities to be able to refer children with disabilities for early treatment.

Ms Watt asks what she is supposed to say to the constituent who comes to her and says their child's possible autism has not been picked up, or their ADHD, or their hearing difficulty, or their sight difficulty, or their dyslexia, or any other conditions, because the opportunity to pick them up in P1 tests has been scrapped "because of the blatant politicking of the opposition parties".

Labour MSP Daniel Johnson hits back at the start of his speech, saying it is "simply a mistake" to equate tests for neuro-developmental conditions with P1 tests.

Blurring the lines will not help people with conditions like dyslexia and ADHD get the help they need, he argues, adding these tests are a barrier to identifying such issues.