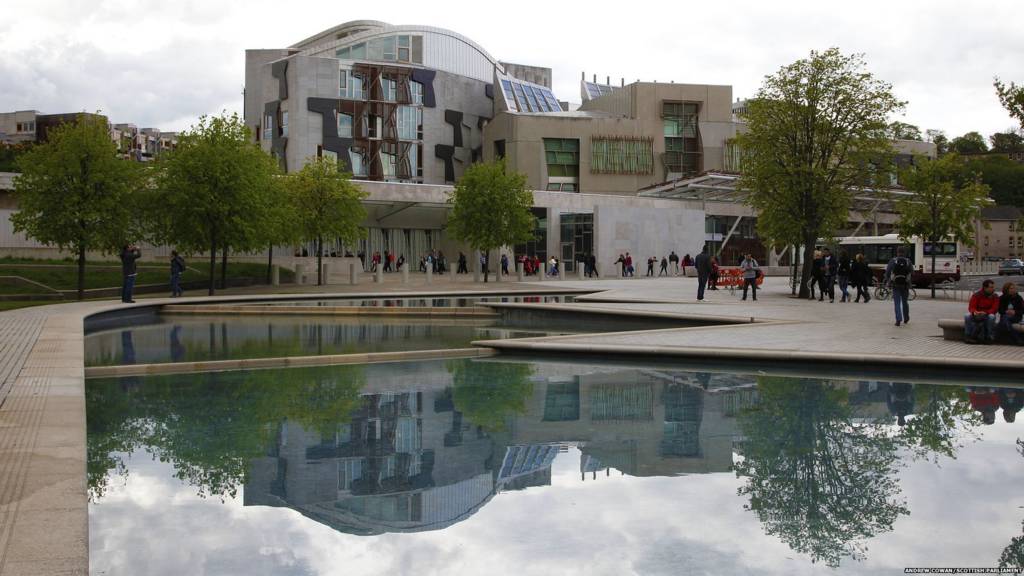 Scottish minister pushes for UK-wide online knife sales crackdown
Summary
The Health Committee takes evidence on Scotland's Healthcare Improvement Plan and the Transplantation Bill
The US travel ban and the Joint Ministerial Committee on Brexit are raised during topical questions
The Scottish government issue a response to the independent review of the circumstances surrounding the death of Bailey Gwynne
The Scottish government lead a debate on celebrating Scotland's year of history, heritage and archaeology
SNP MSP Graeme Dey leads this evening's member's debate on Scotland's veterans
That's all from Holyrood Live
That's all from Holyrood Live for Tuesday 31 January. 
We'll be back tomorrow.
Have a good night. 
SMEs recruiting veterans 'is essential' - Minister
The minister addresses the point made during in the debate about the ability of veterans to transfer qualifications acquired during their service into civilian life. 
He tells the chamber that the government is examining this issue at a strategic level and that there are discussions underway "right now". 
On the issue of small and medium enterprises (SMEs) being encouraged to employ veterans, Mr Hepburn says "this is essential". 
The minsiter says that the government funds a recruitment incentive to provide employers with funding to encourage them to take on young people and service leavers.
He says that this support is open for veterans but admits that perhaps access to this funding source could be better understood by veterans.  
The minister says veterans should be seen as an asset and a resource
Employability Minister Jamie Hepburn says the ambition is to make Scotland the destination of choice for service leavers.
Mr Hepburn says veterans are a true assset for Scotland. 
He welcomes the The Veterans Community - Employability, Skills and Learning report.
The minister says veterans should be seen as an asset and a resource.
Report has vindicated the role of the Scottish Veterans Commissioner
The SNP's Richard Lochhead rises to speak in the debate.
He says that his constituency of Moray probably has more Scottish veterans per head of population than anywhere else in the country, and tells MSPs that they are a huge part in the local community, and help underpin the local economy.
Veterans should be viewed as an enormous resource that could fill the skills gap in parts of Scotland's economy, Mr Lochhead argues.
The MSP also tells the chamber that the report and the debate vindicate the decision to create the role of Scottish Veterans Commissioner. 
Tory MSP calls on UK government to stop pursuing Northern Ireland veterans
Conservative MSP Edward Mountain says he classifies as a veteran as he spent five years in the army and his son will, with time, also become a veteran.
Mr Mountains says he wishes to take the chamber back to London in 1982 on 20 July when soldiers rode to Hyde Park where some of his fellow soldiers were killed.
Two blasts in Hyde Park and Regent's Park were timed to cause maximum devastation and left 11 soldiers and seven horses dead.
He says it is time the UK government stopped pursuing Northern Ireland veterans.
MSP calls for specific programmes for female veterans
SNP MSP David Torrance says that despite billions of pounds a year being spent on the UK's defence budget, only "a tiny fraction" is spent ensuring that veterans are employed. 
He says that it is the obligation of policy makers to help veterans adapt to economic, political and social life after service.
Mr Torrance says that although figures show improvement in this area, they continue to highlight the gap between veterans and non-veterans in employment.
He also speaks about female veterans - saying that they experience military service in different ways to men and that there need to be specialised programmes to address the specific needs for female veterans. 
Scottish veterans at greater risk of deprivation, finds study
New research has found strong links between mental health issues among ex-service personnel and high levels of deprivation.
The study by Combat Stress found Scottish veterans were at a higher risk of deprivation than those in other parts of the UK.
On average, it takes 11 years for a person to seek help for mental health issues after leaving the military.
Andy Smith, the charity's regional operations manager in Scotland, says more veterans are coming forward to ask for help due to better education on the issue and increased access to services.
Call on the Scottish government to have a veterans debate every year
Labour MSP Jackie Baillie welcomes the report from the Veterans Commissioner.
She says it is important to regenerate the opportunities for employment and increase skills.
The Labour MSP says it is right to highlight the importance of transition and we should not be failing veterans.
She calls on the Scottish government to have a veterans debate every year.
Reluctance to hire veterans is "worrying" - Tory MSP
Tory MSP Maurice Corry says that employment is one of the most important factors in ensuring a positive transition from military life to a civilian one.
He says that this is not a group that should have any difficulty in finding work; telling MSPs that veterans are an "incredibly highly trained group".
Veterans often have experience in highly skilled work that business is screaming out for, he says - suggesting that this could be used to fill the skills gap that we know Scotland has.
He also says that the reported reluctance in hiring veterans is "worrying". 
Call for help in transition to civilian life
SNP MSP George Adam says veterans worked in an envirnonment like no other and leaving the services can be a culture shock.
Mr Adam says veterans must have an opportunity to work together and be given help in their transition to civilian life.
Using veterans as an asset
Mr Dey says that he hopes the government takes up ideas to help Scotland's veterans and their families, such as using the Scottish veterans fund to prioritise proposals that promote employability in the veterans community.
He says that veterans and their families should be seen as an asset rather than merely being catered too, going on to suggest that veterans could be well suited to fill employment gaps in education and healthcare. 
Background: Armed forces veterans in Scotland to receive £600,000
Organisations in Scotland supporting veterans will be able to apply for a share of £600,000 funding, delivered over the next three years.
The Scottish Veterans Fund helps projects provide services in areas such as employment, housing, and wellbeing.
Veterans Secretary Keith Brown said the Scottish government had pledged £360,000 - its largest contribution yet.
The fund will open for applications this autumn.
The boost includes a three-year £240,000 contribution from Edinburgh-based investment company Standard Life for employment schemes.
What can be done to help veterans into work?
SNP MSP Graeme Dey says the report looks at what needs to be done for veterans to help them get into work. 
Mr Dey says the commissioner identified issues with the public sector who do not tend to employ veterans.
Leadership on veterans' issues is required
The SNP's Graeme Dey kicks of the debate by congratulating Scotland's Veterans' Commissioner for his report and its recommendations, but also by warning that turning it into something tangible requires leadership. 
Background: Scottish veterans need 'more help' to find jobs
Veterans of the armed forces should be given more help to find meaningful employment after they have left the services, according to a report.
Scotland's Veterans' Commissioner said employers could benefit from the talents and skills of former servicemen and women.
Eric Fraser, published 19 recommendations in his report.
They include an employability pilot scheme and a plan to increase the number of veterans at colleges.
Scotland's veterans debate begins
Here's SNP MSP Graeme Dey's motion.
Gender balance on the Parliamentary Bureau and SPCB motion is agreed to.
The celebrating our past motion, as amended, is unanimously agreed to
The celebrating our past motion, as amended, is unanimously agreed to.
The Labour amendment is unanimously agreed to
The Labour amendment is unanimously agreed to.
The Tory amendment is unanimously agreed
The Tory amendment is unanimously agreed
Gender balance for SPCB and Parliamentary bureau
SNP MSP Clare Adamson says the presiding officer wrote about the lack of gender balance on the bureau and the SPCB.
Ms Adamson says there will be new rules incorporating gender balance and she moves the motion in her name. 
Minister encourages every MSP to help with the authentic promotion of Scotland
Ms Hyslop says every person in the chamber has talked about Scotland's spirit.
She encourages every MSP to help with the authentic promotion of Scotland.
Stories are part of the fabric of Scotland - Fiona Hyslop
Culture Secretary Fiona Hyslop responds to the debate for the government.
She says that the stories recounted by MSPs today are part of the fabric of Scotland "and we are the better for it". 
She adds that there are 200,000 people employed by tourism and our history heritage and archaeology underpins all of that.
MSP calls for support for Tory amendment
Mr Greene says a cross sector approach to conservation can improve achievements.
He asks for support for the Tory amendment. 
Tories hopes councils will not cut culture because of funding cuts
In closing for the Scottish Conservatives, Jamie Greene says the history of Robert Burns is no longer confined to readings and people can now walk the hills that he walked.
Mr Greene says the cabinet secretary said that clans are one of the main reasons visitors come to Scotland but he would say it is also because of whisky and golf.
The Tory MSP says his party hope culture is not first on the list when councils are considering cuts and he will support the Labour amendment. 
Stewart Stevenson's family tree
Labour MSP Neil Findlay says that the chamber has been spared the full account of SNP member Stewart Stevenson's family history in the debate.
SNP MSP Bruce Crawford intervenes to say that it might be of interest to know that during the debate Mr Stevenson passed him a note explaining his relation to Robert Bontine Cunninghame Graham.
The socialist politician was a great uncle of the spouse of a great nephew of a spouse of a second cousin once removed, to Mr Stevenson, Bruce Crawford tells MSPs. 
"Beat that one" he tells Mr Findlay before sitting down.
Neil Findlay replies by saying: "You started that off by saying you may be interested to know - you were incorrect on that point". 
Councils ability to fund culture becoming more difficult in the face of cuts - Labour MSP
In closing for his party, Labour MSP Neil Findlay says we have been round the country this afternoon.
Mr Findlay says this debate has had him thinking about past and present events that mark Scottish history.
The Labour MSP says councils are being threatened with further cuts and the ability to fund culture in Scotland is becoming more difficult.
He says local authorities have called on the ability to impose a tourism levy and asks if the minister would care to expand on this. 
Mr Findlay asks how many projects the cabinet secretary supports with funding at grass root level in certain areas. 
Roman legionaries not welcome in Aberdeenshire
SNP MSP Gillian Martin tells the chamber of her battles to keep Aberdeenshire East's culture on the map.
She says that she had to "have a wee go" at Buzzfeed on the weekend for omitting Slains castle in an article they wrote on 25 Scottish locations that could easily be in Game of Thrones.
"They know now" she says. 
The MSP says that Aberdeenshire has more castles per acre than anywhere else and also speaks about the many stone circles in the area. To reiterate her point, she tells MSPs that her parents have a stone circle in their back field. 
Ms Martin also speaks of Roman remains from where the Picts drove them away, boasting that the imperial armies of the Caesar's didn't make many inroads into her area "because we are hardy folk". 
Will the budget be rejected?
Dumfries and Galloway rich in heritage and history says Tory MSP
Tory MSP Oliver Mundell says he would feel remiss if he wasn't doing his part to talk up the "Solway-riviera".
Mr Mundell says Dumfries and Galloway is rich in heritage and history.
The Tory MSP says you cannot visit the Dumfriesshire constituency without finding yourself on the Burns trail. 
He commends the efforts of Visit Scotland in highlighting Scotland's assets. 
A castle, an old Roman road, and 7,000 year old whale bones - MSP recounts Stirling's history
The SNP's Bruce Crawford begins his contribution to the debate by hailing the "outstanding success" of the two previous themed years - 2015 being focused on Scottish food and drink, and 2016 recognising Scottish innovation, architecture and design. 
He calls the themed years "a phenomenal success for Scotland". 
Speaking of his constituency Stirling, Bruce Crawford tells MSPs that the town is built on history; speaking about Stirling castle, the remnants of an old Roman road, and even of whale bones that were left after a tsunami in 5000 BC. 
Mr Crawford recounts the history of Stirling castle, saying "Edinburgh eat your heart out". 
Support for regional archaeologists is required as many are under threat says Lib Dem MSP
Lib Dem MSP Liam McArthur says he "strongly supports" the cabinet secretary's motion.
Mr McArthur says support for regional archaeologists is required as many are under threat. 
The Lib Dem MSP says Scotland is hugely fortunate to have six world heritage sites. 
He says he warmly welcomes this year of history, heritage and archaeology and says the challenge will be making sure it has a lasting legacy. 
Here is the Scottish Labour amendment
'We should celebrate the mixed palate that makes Scotland the place we all love'
Labour MSP Elaine Smith says the safe keeping of our heritage is a responsibility we should take seriously and she supports the government motion and the Labour amendment.
Ms Smith says we have great examples of worker's heritage in Scotland. 
She recommends some of the visitor attractions in Coatbridge. 
The Labour MSP says "we should celebrate the mixed palate that makes Scotland the place we all love."
SNP MSP a 'self confessed geek' in genealogy
SNP MSP Stewart Stevenson says he is a "self confessed geek" as a genealogist. 
Mr Stevenson says in Scotland we have a rich access to family history archives.
The SNP MSP says his family, like many others, is rich in migration. 
He says all for us are likely to have relatives out there who are interested in what we do here in Scotland and this year is a good opportunity to discover these interests.