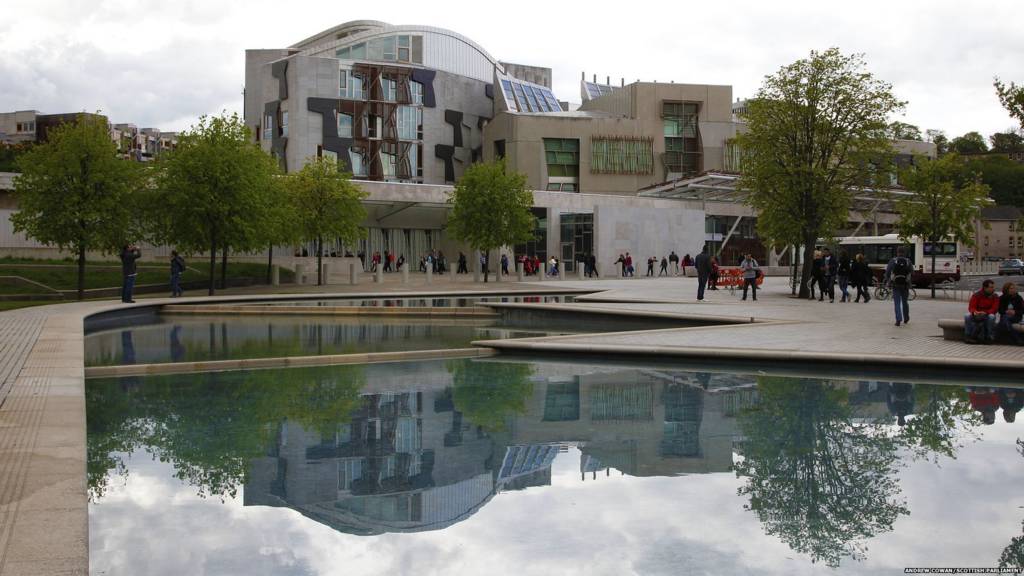 MSPs debate post-Brexit vote economy
Summary
Health professionals give evidence to MSPs on GP and other staff recruitment shortages
The issue of teacher training students is the focus of this week's topical question
The Scottish government leads a debate on the effects of the Brexit vote on the country's economy
SNP MSP Stuart McMillan leads this afternoon's member's debate entitled 'Eye Health Week'
That's all from Holyrood Live this evening

Copyright: Scottish Parliament

That's all from Holyrood Live on 20 September 2016.

Minister says raising awareness of eye tests will be considered

Public Health Minister Aileen Campbell welcomes the chance to mark Eye Health Week and praises all the eye health professionals.

Ms Campbell says free eye tests have increased the uptake to two million but accepts more has to be done to get to the hard to reach people.

She says everyone should have a full eye check.

The public health minister says the government will consider raising awareness of eye tests in the current review.

More needs to be done to reach out to some in society

SNP MSP Sandra White says there are those that are hard to reach, in terms of getting free eye tests, such as the homeless and asylum seekers.

Ms White asks if the minister may have a project in mind to target these people. 

Conservative MSP Donald Cameron says he supports Vision Matters in its campaign this week. 

Copyright: Vision Matters

Free eye checks a 'tremendous asset to all'

Scottish Labour MSP Colin Smyth says Eye Health Week allows everyone to raise awareness but also to act and take advantage of the free eye checks.

Mr Smyth says free eye checks are a "tremendous asset to all". 

The Labour MSP says eye specialists make a tremendous contribution as do the third sector. 

SNP MSPs share cataract stories

SNP MSP Kenneth Gibson says there are two million people with some degree of sight loss in Britain.

Mr Gibson says his grandmother suffered from a cataract thinking sight loss was shameful.

Stuart McMillan his neighbour by constituency and by chair choice at Holyrood, intervenes to ask Mr Gibson to wish a constituent well after his constituent had a cataract operation today.

Mr Gibson duly does.

Important to recognise the work of eye specialists

Scottish Conservative MSP Miles Briggs says, at a time when there is a growing burden on health services, it is important to recognise that eye specialists take some of the burden off other services.

Mr Briggs says RNIB have a good working relationship with Specsavers encouraging people to have eye check-ups every two years.

SNP MSP says if eye health is protected there will be social and economic benefits

Copyright: SNP MSP Stewart Stevenson

SNP MSP Stewart Stevenson says: "Sight is but one of our senses and they all add to life's riches.2

Mr Stevenson says if eye health is protected there will be social and economic benefits.

The SNP MSP says wealth is a long way secondary to health. 

Eye health challenges to come says SNP MSP

SNP MSP Stuart McMillan thanks and welcomes the members of RNIB in the gallery.

Mr McMillan says he is very pleased to bring the issue of Eye Health Week to the chamber as it is an opportunity for us all to reflect on a sense we often take for granted.

He says the impact of loss of sight can be devastating.

The SNP MSP says the ageing population brings more eye health challenges, as does the rise in diabetes.

Background: Third sector organisations helping people with sight loss

The Royal National Institute of Blind People (RNIB) is a charity for everyone affected by sight loss. 

Image caption: RNIB

Optometry Scotland is a non-profit making organisation established to develop and represent the views of the entire Optometry sector.

The Scottish Council on Visual Impairment is an umbrella organisation committed to promoting equality and opportunity for people affected by serious sight loss across Scotland.

Guide Dogs says it will not rest until people who are blind or partially sighted can enjoy the same freedom of movement as everyone else.  

Here's the motion from Stuart McMillan's member's debate:

Copyright: Scottish Parliament

SNP MSP Stuart McMillan will now lead a member's debate entitled 'Eye Health Week'.

Government motion, as amended, is agreed to

Copyright: Scottish Parliament

Copyright: Scottish Parliament

The Scottish government motion, as amended, is agreed to with 87 MSPs backing it and 29 against.

Scottish Labour amendment agreed to

Copyright: Scottish Parliament

Scottish Conservative amendment rejected

Copyright: Scottish Parliament

Mr Russell says the government will accept the Labour amendment, but rejects the Tory amendment, somewhat deflating the tension at decision time, to which we now turn. 

Minister accuses Tories of being 'born again Brexiteers'

Mr Russell, the minister for UK negotiations on Scotland's place in europe, says the disappointment in the debate was the Tories becoming born again Brexiteers.

The Scottish government minister says Murdo Fraser's "reasons to be cheerful" were just whistling in the wind.

Mr Fraser intervenes and asks why business confidence has recovered everywhere in the UK apart from Scotland since Brexit

The minister says Scotland realises it is not had Brexit yet and the worst is yet to come. 

Debate about Brexit not another independence referendum

Scottish Brexit minister Mike Russell says this debate is about Brexit and not Scottish independence. 

Mr Russell says the single market based of free movement is vitally important and the idea that it can be negotiated away is "nonsense". 

MSPs welcome news Brain family can stay in Scotland

Mr Lockhart goes on to say the real issue is the level of access to the single market and the negotiations to achieve that access.

The Conservative MSP says the SNP plans to leave the UK and then join the EU makes no economic sense whatsoever.

He points to the opportunities arising from Brexit in farming, fishing, drink and tourism.

Image caption: The Home Office has said the Brain family can stay in the UK

SNP MSP Kate Forbes welcomes the news the Home Office has granted the Brain family the right to remain in Scotland and calls on the Tories to give assurances to EU citizens living in Scotland

Mr Lockhart says that will be one of the priorities in negotiations and he welcomes the news about her constituents.

Gregg and Kathryn Brain and their son, who live in Dingwall in the Highlands, have had confirmation from the Home Office that they can stay in Scotland.

Economic under performance due to uncertainty over indyref2 says Tory MSP

Closing for the Scottish Conservatives, Dean Lockhart says Economy Secretary Keith Brown never really answers questions put to him by the Tories.

Mr Lockhart says Brexit is not to blame for the current under performance in the Scottish economy.

The Tory MSP says Mr Brown has also failed to deliver on the Scottish government's productivity targets.

He says the divergence in the Scottish economy has been shown to be largely due to the uncertainty over the independence referendum.