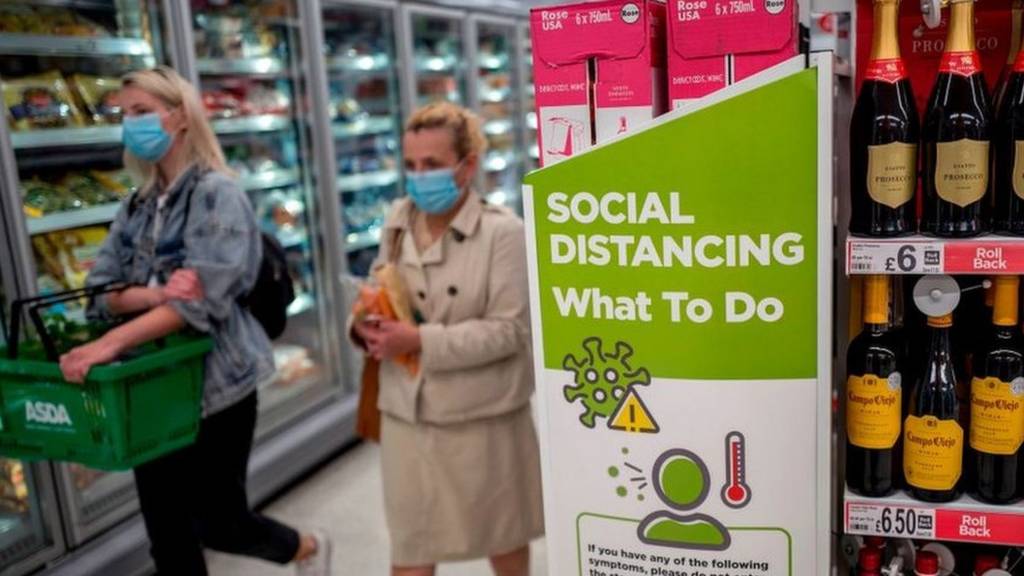 Coronavirus in Scotland - Face masks to be compulsory in shops
That's all from us here on the live page for today.

Here is a summary of the key announcements from the first minister at today's Scottish government briefing:

The 2m physical distancing rule will be eased for some premises from 10 July
The general advice on physical distancing remains unchanged - that, as far as possible, people should remain 2m away from other households.
However, exemptions for specific sectors like hospitality, retail and public transport will be made where a 1m (3ft 3in) distance could be used if other safety measures are introduced

Image caption: Nicola Sturgeon has announced face coverings will become mandatory from 10 July

Bridge building needed between Loch Lomond businesses and residents

Image caption: Communities like Luss will open up again for visitors

With the relaxation of the five-mile rule for travelling coming tomorrow, the country's beauty spots are bracing themselves for visitors arriving over this weekend.

Stirling Council is to reopen routes at Callendar and from Drymen to Balmaha after emergency closures to keep people away from Loch Lomond and Sandy Fraser admits that businessmen like himself and the local communities have to work more closely together.

"We have generally had a good relationship between the businesses and the locals, but I would have to say that has been severely stretched in the last 14 weeks and we've got some bridge building to do and we really need to recognise that I like it to be sunny with lots of people coming to the national park, some of our neighbours must dread it and wish for rain," he tells BBC Radio Scotland.

James Fraser, chair of the conservation group Friends of Loch Lomond and the Trossachs, adds: "It is a real milestone day tomorrow and it's one that businesses in the park and throughout Scotland have looked forward to."

"People have been coming here, flouting the rules for weeks and residents have suffered greatly with people coming and with car parks and toilets closed."

What are the new rules for kids and teenagers meeting up?

Dumfries and Galloway now has 11 confirmed coronavirus cases

Drivetime with John Beattie

BBC Radio Scotland

NHS Scotland clinical director Prof Jason Leitch has confirmed that one more person in Dumfries and Galloway has tested positive for the virus that causes Covid-19.

Speaking on BBC Radio Scotland, he said: "I've just left the most recent incident management team.

"It's now 11 positive cases and a number of contacts from there. It's an ongoing process to contact trace these elements.

"It's going really well and I have a lot of confidence in the process."

Cases have been found associated with two business premises in the region, including Young's Seafood.

Compulsory face coverings in shops can be home made

Drivetime with John Beattie

BBC Radio Scotland

Image caption: Scotland's Clinical Director Professor Jason Leitch

Scotland's clinical director tells BBC Radio Scotland the face coverings people will have to wear in shops do not have to be purchased.

"It can be a buff you might wear on a bike, a scarf or even the bottom end of a cotton T-shirt that you've adjusted in some way," he says.

"I've even see online one that was made from a pair of socks."

Prof Jason Leitch also points out that face coverings can be picked up at bus and train stations.

The use of face coverings will become mandatory in shops in Scotland from 10 July.

Preparing for tourists on Sutherland's north coast

Communities on Scotland's north Sutherland coast are among those preparing for the arrival of tourists again with lockdown restrictions on travel easing on Friday.

Some holiday accommodation owners have decided to delay reopening for just a few weeks longer.

Among them is James Keith, of Sango Sands campsite. He said: "I am very reluctant to open this year full stop. I would rather protect the local community.

"But now that the Scottish government has announced you are allowed to travel, this corner is going to be inundated with people.

"I would rather give them somewhere to get rid of their toilet and rubbish and waste than dump it into the countryside."

However other accommodation providers say they have complied with government guidance by completing self assessments on safe reopening and they are ready to go.

Air bridge row rumbles on

Why aren't advisors recommending visors instead of masks?

Image caption: Tour guides in this Moscow museum wear visors

With the Scottish government making face coverings mandatory in shops from next Friday, an anaesthetist is urging health bosses to recommend plastic visors.

A report last month in the Journal of the American Medical Association concluded: "Face shields, which can be quickly and affordably produced and distributed, should be included as part of strategies to safely and significantly reduce transmission in the community setting."

Crawford Reid tells BBC Radio Scotland that he realised their worth when being required to wear a visor on top of his surgical mask.

"I found the mask uncomfortable to wear and it steamed up my glasses, but the visor was remarkably comfortable and easy to wear," he says.

"They do allow visibility of expression and could be of use in the care home setting and I am surprise that they haven't been given much mention by the people giving us advice. I think they have the potential to be widespread in society to help reduce the chance of infection."

Coming up...Professor Jason Leitch

Drivetime with John Beattie

BBC Radio Scotland

Scotland's national clinical director will be on Drivetime with John Beattie shortly.

Face coverings to become mandatory in Scottish shops

The use of face coverings will become mandatory in shops in Scotland as coronavirus restrictions are eased, Nicola Sturgeon has said.

Non-essential shops have reopened in Scotland and bars and restaurants are due to open up again later this month.

The first minister said the 2m physical distancing rule would be eased for some premises when the country enters the next phase of its routemap on 10 July.

And she said face coverings would be mandatory in shops from that date.

1,900 jobs to go at Bella Italia, Las Iguanas and Cafe rouge

Advice over bogus doctors wanting money for Covid-19 tests

Drivetime with John Beattie

BBC Radio Scotland

Scottish GPs have been sending messages to patients warning about scam texts trying to dupe people into parting with money to bogus doctors for Covid-19 tests.

Patients are being told to report the matter to their bank and police - and TV presenter and consumer affairs expert Dominic Littlejohn says that is sound advice.

"It's the same meat, different gravy," he says, referring to similar scams prior to the pandemic.

"The thing to remember is that receiving texts and emails like this will not harm you - unless you interact with it. Any text you get from a number you don't recognise, immediately assume it is a spam. Never click on the link."

Mr Littlejohn says that, if you get an email you think is suspicious, especially if it asks for account details or password information or credit card details, it is very likely a spam message. He recommends that the receiver should copy and paste the message and send it to your network provider on 7726 and they will look into it.

Any text you get from a number you don't recognise, immediately assume it is a spam. Never click on the link.

Latest guidance on easing of lockdown and Covid advice

1. Update on the approach to physical distancing in Scotland as we move through the COVID-19 crisis.

Continued progress in suppressing the virus means Nicola Sturgeon could confirm the indicative dates for the remainder of Phase 2, concerning:

relaxation of the 5 mile guidance
the re-opening of self‑contained, self-catering accommodation and the re‑opening of outdoor hospitality.
Changes concerning the rules on children and young-people meeting up are also set out.

If you have Covid-19 symptoms go immediately to NHS Inform online or phone 0800 028 2816 to book a test

3. NHS Inform

The latest from NHS Scotland and the Scottish government, including social distancing, face covering and stay at home advice.

4. COVID-19 - 'shielding' guidance for children and young people | RCPCH

New evidence indicates that a large percentage of children and young people may no longer need to shield. However, no child or young person will be removed from the shielding list until a discussion has been held with their clinical team.

5. Clear Your Head: It's ok to not feel yourself right now, here's some tips to help get you through it.people through the pandemic.

How to make your own face covering

The use of face coverings will become mandatory in shops in Scotland from 10 July as coronavirus restrictions are eased.

Here's the BBC's guide to different types and step-by-step instructions on how to make them.

RAF Lossiemouth suspected cases have tested negative

Summary of the changes to Scotland's lockdown announced today

Coming up on Drivetime...

Drivetime with John Beattie

BBC Radio Scotland

Border cluster cases of COVID-19 mean Scotland uses local restrictions for the first time.

Guidance not to travel more than five miles for leisure purposes is to be kept in place around Annan, Gretna, Dumfries, Lockerbie, Langholm and Canonbie.

John will talk to residents in these areas, as the travel restriction is being lifted for the rest of the country from tomorrow.

Image caption: Guidance not to travel more than five miles for leisure purposes is being kept in place for some communities

Also tonight Drivetime understands fraudsters are masquerading as doctors in order to dupe Scots into giving cash for Covid-19 tests.

Text messages have been sent out to patients...

Meanwhile The UK and Scottish Governments take swipes at each other over air bridges.