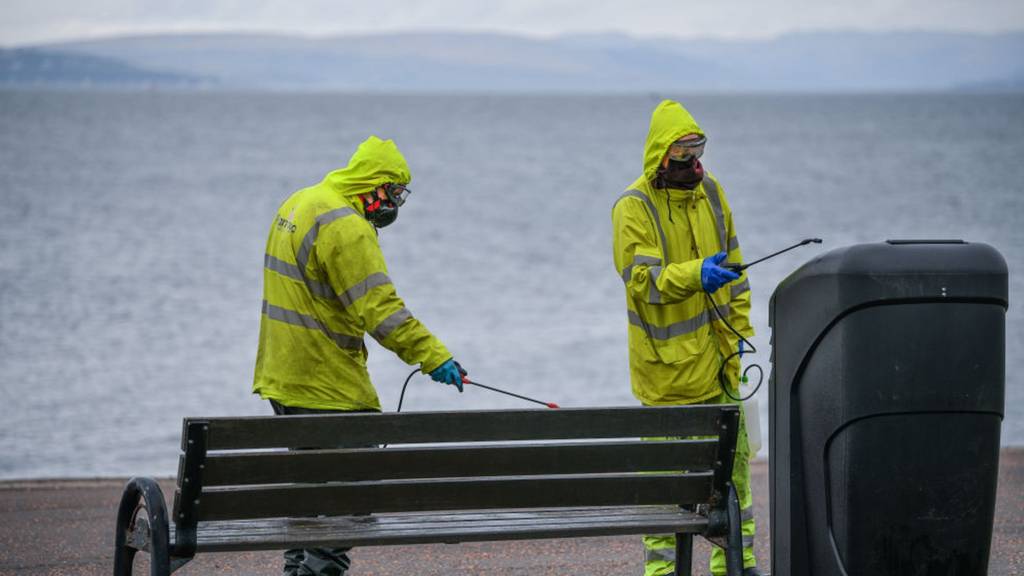 Coronavirus in Scotland - More deaths & PPE concerns
Not trying to cramp anyone's fun - Sturgeon

Nicola Sturgeon points out that yesterday she admitted being nervous about the changes and says that it is still the case.

"The reason for that is this - if too many of us change our behaviour a bit more than these changes are designed to allow then we could see the virus spread quickly again and take us back to square one," the first minister says.

"The consequences of that are not just more time spent in lockdown but also measured in lost lives."

Quote Message: "I am not trying to cramp anyone's fun this weekend. I want you to enjoy these changes, but I am asking you to do so responsibly." from Nicola Sturgeon First minister

National Trust reopens selected gardens and parks

The National Trust will begin a phased reopening of some of its gardens and parklands across the region from 3 June but booking before visiting is essential.

A small number of other gardens and parklands would reopen over the coming weeks, the trust said.

Copyright: National Trust

People will be able to book their tickets in advance on individual properties' web pages. They will be free for trust members, and other visitors will pay an admission fee.

All houses, shops, holiday cottages and campsites remain closed in line with government coronavirus guidelines.

Places to visit in the East are:

First minister sets out guidelines for meeting other households

First Minister Nicola Sturgeon starts by recapping the changes to social interaction and leisure announced yesterday ahead of "the first weekend for quite some time that people will be able to meet up".

You and your household can meet another household out of doors, but to a maximum of eight people.
You must not meet with more than one household at a time - and not more than one household per day.
Need to stay two metres away and avoid touching the same surfaces.
If the distance travelled is so far you need to use someone else's bathroom, "don't go".

Glasgow research reveals ethnic disparity in Covid-19

Research led by Glasgow University suggests that black and South Asian people are at higher risk of developing Covid-19.

The findings are based on information about patients in England.

Being male, older and having pre-existing medical conditions have already been established as making you more likely to get Covid-19 more seriously.

Ethnicity was less well understood, but the Glasgow University research shows that not only were black and South Asian people in England more likely to get Covid-19 but they were more likely to get it more severely, needing hospital treatment. That was even taking into account deprivation, which only partly explained the differences.

Black people in England were at highest risk of having a confirmed infection - more than three times more likely than white people.

By Kevin Peachey

Personal finance reporter

Middlesbrough parks to return to normal hours

Middlesbrough's parks will return to normal summer opening hours, Mayor Andy Preston has announced.

The change will come into effect on Monday and will also see the re-opening of the car park at Stewart Park.

The town's parks have been subject to both closure and varied opening hours during the coronavirus outbreak.

Children's play parks and equipment will remain out of bounds and fenced off, while visitors are reminded that social distancing must still be maintained.

Council street wardens will monitor the parks, Mr Preston said, adding: "We've got to remain careful and cautious and aware the virus is out there it will spread - socially distance and be safe."

Visitors urged to 'stay safe' in new message

The slogan being used by Cumbria's emergency services and other agencies to advise tourists coming to the county has changed.

Over the past few weeks, the people at the top of agencies such as the Lake District National Park or the police have urged people not to rush back in large numbers.

Copyright: Carolyn Farthing

But now the message from organisations involved with the Local Resilience Forum is "protect our communities, observe social distancing and stay safe".

In the Lake District, a website being updated by national park wardens shows which areas are busy, and as importantly, where public toilets are open, and police are enforcing a ban on overnight camping.

Quote Message: If you do visit, please use a car park, plan ahead using saferlakes.co.uk, don't light barbecues and take your litter home when you leave." from Richard Leafe Chief executive, Lake District National Park Authority

By Kevin Peachey

Personal finance reporter

A women's refuge in Northamptonshire fears domestic abuse is going unreported during lockdown.

Children at 'less' risk in school, than out of school

A teachers' union leader says the risk to children "is less" if they are in school, than out of school.

Marina Mauger of the NASUWT told the BBC the risk to children's mental health and well being will be reduced when they return to school.

She said the Medical Officer of Health had advised the Jersey government that "children are better in school than out of school".

But the union leader said parents should use their instincts to decided whether to send their children back.

Pupils in their final year of primary school and those in year 10 and 12 will be returning to school from 8 June.

There will be safety measures in place to ensure children and teachers remain safe.

Asking someone round to do house repairs 'still too risky'

Good Morning Scotland

BBC Radio Scotland

Asking a neighbour or tradesman round to do minor repairs is still not advisable despite Scotland easing the Covid-19 lockdown rules.

Jillian Evans, Grampian's head of public health, tells BBC Scotland: "Can you keep physically distant? You are going to be touching a lot of surfaces, you are going to be using the bathroom.

"I would say that is a risk you shouldn't take."