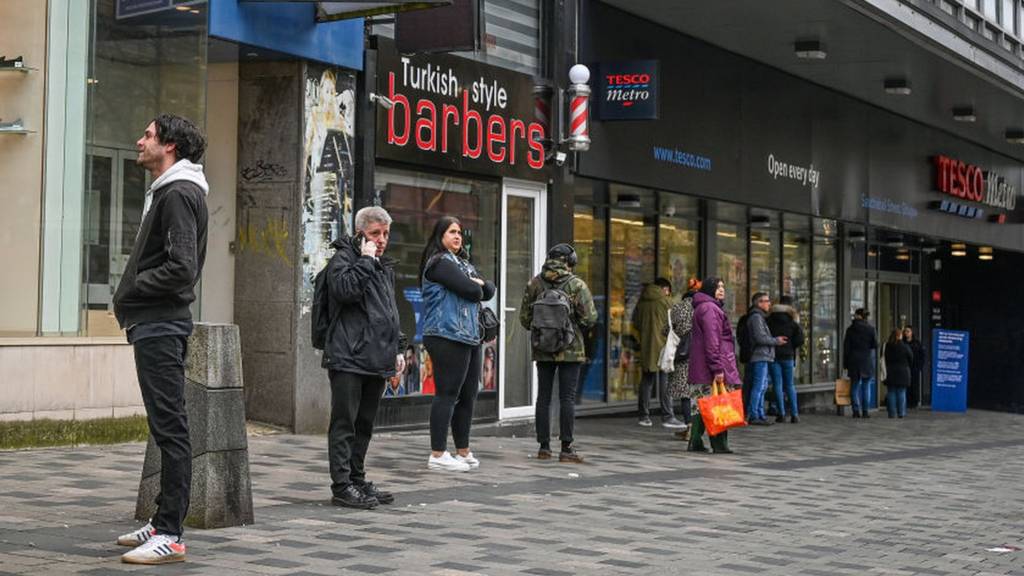 As it happened: Coronavirus in Scotland on Easter Sunday
'Virtual church' and lockdown on Loch Lomond

We'll wrap up our live coverage today with a few pictures from around Scotland on this Easter Sunday.

Image caption: Father Tom Devlin prepares for a virtual Easter Sunday mass at St Bridget's Catholic Church in the parish of St Ambrose in Baillieston, Glasgow

Image caption: A deserted Duck Bay on Loch Lomond alongside an empty A82, normally a busy road for tourists on holiday weekends

Image caption: The shoreline at the village of Luss, next to Loch Lomond, was mostly deserted

Image caption: Paddle steamer the Maid of The Loch, usually a magnet for tourists, remains one of the many businesses unable to operate during the crisis

Thanks for your company today.

Stay safe and join us again tomorrow for all the latest coronavirus developments.

Sikhs use langar to help the NHS

Graham Fraser

BBC Scotland News website

The coronavirus pandemic has seen communities from across Scotland help each other.

Sikhs in Glasgow's south side would usually have langar - a community kitchen that provides free food to all - from their gurdwara.

Now, they make the food at home and deliver it to front line NHS staff at the nearby Queen Elizabeth University Hospital, and also to vulnerable people in the area.

Copyright: Sukhpreet Singh

Copyright: Sukhpreet Singh

Copyright: Sukhpreet Singh

Copyright: Sukhpreet Singh

Man runs 700 laps of his garden to complete marathon

As lockdown measures force most people to stay at home, a landscape artist from Kinross-shire ran a marathon round his own garden on Saturday.

Andy Laycock, a member of a local running club, Kinross Road Runners, completed 700 laps of his garden in Milnathort, the same small town from where Scottish running star Laura Muir hails.

Mr Laycock, who works at the University of Edinburgh, took just over four hours and 39 minutes to complete the 26.2 miles marathon distance.

'There is clearly a need for more surgical gowns'

How do you roll your Easter egg?

Angie Brown

Edinburgh and East reporter

Children across Edinburgh have been coming up with ingenious ways to roll their Easter eggs during the coronavirus lockdown.

They have used drainpipes, slides, tubes and stairs to recreate slopes in their houses and gardens.

Parents said their antics had caused passers-by to stop in the street during their daily exercise.

Coronavirus cases in care homes to be revealed 'later this week'

Health Secretary Jeane Freeman says the Scottish government hope to be able to share figures for the number of coronavirus cases in care homes later this week.

About half of Scotland's privately-run care homes have suspected coronavirus cases, according to industry leaders, with several reporting multiple deaths in recent weeks, but official figures only include cases recorded in hospitals.

"We have tried to make sure the information we share is as transparent as possible but it is really important that we have confidence about the robustness and accuracy of that information," Ms Freeman said.

"So we are working with the Care Inspectorate to check and double-check the information they are working with before we have the confidence to do that. We intend to be able to do that later this week."

Image caption: Burlington Court Care Home in Glasgow reported 15 deaths in just over a week

Church congregation grows under lockdown

Angie Brown

Edinburgh and East reporter

A virtual congregation set up during the coronavirus lockdown has caused an Edinburgh church's numbers to be eight times their normal size.

St Paul's and St George's Church in York Place has been reaching more than 8,000 people during each online service.

Associate rector the Reverend Libby Talbot said people were looking to the church during what they felt was a "hopeless time".

Number of coronavirus hospital deaths in UK passes 10,000

Numbers of coronavirus cases in each Scottish health board

This is the number of confirmed cases in each Scottish health board area, plus the number of people in hospital with confirmed or suspected Covid19, with the number in brackets those who are in intensive care.

Ayrshire and Arran 390 confirmed cases, 90 in hospital (14 intensive care)
Borders 199, 50 (8)
Dumfries and Galloway 186, 43 (9)
Fife 379, 122 (9)
Forth Valley 337, 91 (9)
Grampian 291, 91 (14)
Greater Glasgow and Clyde 1,449, 597 (74)
Highland 151, 53 (8)
Lanarkshire 758, 247 (29)
Lothian 915, 245 (35)
Orkney 5, * *
Shetland 43, * *
Tayside 803, 113 (8)
Eileanan Siar (Western Isles) 6, * *

* = fewer than 5

There are also five people with either confirmed or suspected Covid-19 in the Golden Jubilee National Hospital in Clydebank, a Special Health Board appointed by NHS Scotland.

Boris Johnson singles out individual names while praising the "astonishing" care he received in hospital.

What did we learn from today's Scottish government briefing?

Here's a summary of developments from today's briefing from the Scottish government:

A further 24 people have died in Scottish hospitals from Covid-19, although the government says this number should be treated with caution.

There has been a drop of 100 in the number of patients in hospital with either confirmed or suspected Covid-19 to 1,755, although "it is too early to read anything into that".

Adult social care workers will get a pay increase to ensure they all receive the minimum living wage of £9.30 per hour.

More than 8,000 health or social care workers have been tested across Scotland so far.

More than100 taxi and car hire firms have offered to help transport people to Covid-19 community assessment centres.

Don't be scared to take kids to hospital, says clinical director

Image caption: Professor Jason Leitch

Scotland's National Clinical Director Prof Jason Leitch says parents must not be scared to take their children to hospital if any underlying health conditions - such as asthma, diabetes, or a neurological condition - show signs of deteriorating.

"You must access the health care your child needs," he stresses, adding if people need advice, they should phone their GP, or 111 out of hours.

There appears to be some confusion between self-isolation and social distancing, Prof Leitch says, reiterating that:

If you have any coronavirus symptons, you should stay at home for seven full days, and shouldn't go out for any reason
the rest of household should stay at home for 14 days

His main message is that the safest place for individuals and their families is at home.

Quote Message: "The best protection against this virus is your front door. You are not stuck at home, you are safe at home." from Professor Jason Leitch Scotland's national clinical director

Rest of NHS services 'have not changed course'

Image caption: Chief Nursing Officer Fiona McQueen

Fiona McQueen, Scotland's chief nursing officer, says she has been "bowled over" by more than 16,000 doctors, nurses, midwives, and other medical professionals offering to rejoin the NHS to help tackle the coronavirus crisis.

She stresses that just because the service is focusing on Covid-19, it "doesn't mean the rest of the NHS has changed course".

Community nurses are continuing to provide palliative and end-of-life care, while midwives remain on call for expectant mothers, even if some meetings may be done electronically rather than face-to-face.

Birthing partners will still be able to come and support mothers during the birth of their children, she adds.

Government 'still on target' to achieve 3,500 tests a day by end of month

More than 60,000 people volunteer to help tackle coronavirus

As of lunchtime on Friday, more than 60,000 people had registered to volunteer for the government's 'Scotland Cares' campaign.

Jeane Freeman says not all volunteers will be used immediately, but that all offers to help are very welcome.

"At a time when so many of us have anxieties and concerns, it lifts our hearts to see so many people stepping forward to help others," adds the health secretary.

Taxis and car hire firms offer help to take people to assessment centres

Image caption: Taxis queue up in Glasgow's George Square

While ambulances have so far been used to transport people suspected of having Covid-19 to community assessment centres, Jeane Freeman says the Scottish government is keen to free up those vehicles and crews.

After talks with Transport Scotland, Public Health Scotland and NHS Scotland, she says they have received more than 100 offers of help from taxi companies and car hire firms to help take people to the centres, subject to social distancing guidelines.

"I am grateful to all the companies who have volunteered their vehicles and drivers to help our NHS," she added.