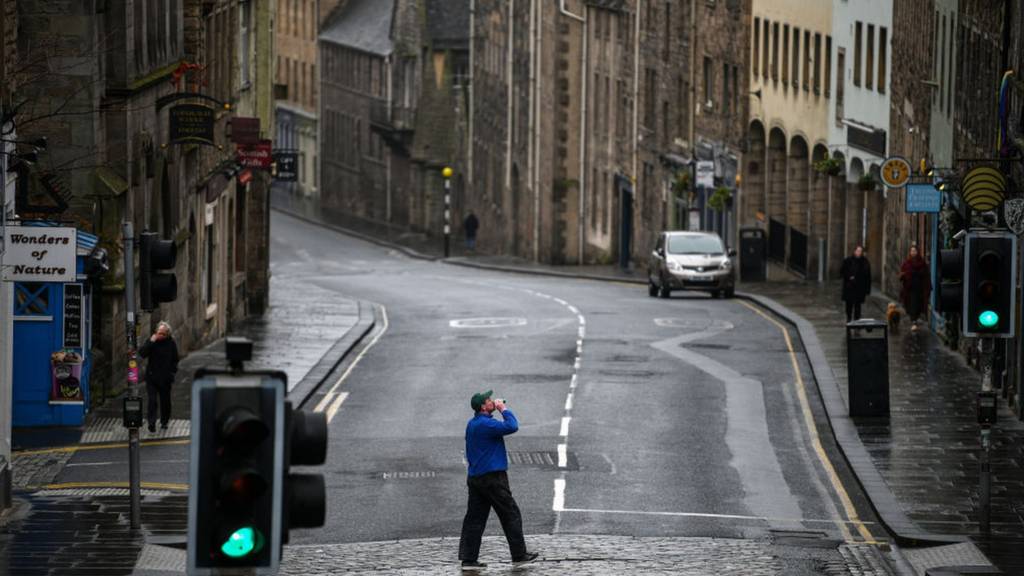 Coronavirus in Scotland - Easter in lockdown
By Michelle Roberts

Health editor, BBC News online

Traffic Scotland reports quiet roads on holiday weekend

Most people appear to have stayed close to home on the holiday weekend.

Doctors' representative says equipment supplies 'improving'

Dr Graeme Eunson, chair of BMA Scotland's consultants committee, said on Saturday afternoon: "We can't generalise for every doctor in Scotland, but while there is no doubt still some concerns in places, supplies have improved.

"After a relatively slow start we are seeing progress following a concerted effort by the Scottish Government and health boards, with perhaps some encouragement from those of us who represent the NHS workforce.

"There is more to do to make sure the supply is sustained and we'll continue to monitor the situation and push for assurances about the long term supply of PPE (personal protection equipment)."

He added: "We must have the right PPE and sufficient PPE, today, tomorrow and for the foreseeable."

League demands evidence from Rangers

Image caption: Rangers want SPFL chief executive Neil Doncaster suspended

The Scottish Professional Football League has demanded "compelling evidence" from Rangers after the Premiership club called for an independent investigation into its handling of the vote on how to finish the season.

Rangers also demanded the suspension of chief executive Neil Doncaster and legal adviser Rod McKenzie because of "serious concerns" about the voting process, which has yet to be concluded.

SPFL chairman Murdoch MacLennan said: "It is extremely concerning that Rangers have chosen to make a number of very serious allegations against the SPFL, its corporate governance, its culture, its office-bearers and its business operations.

"In the often-heated atmosphere of Scottish football, rumour and misinformation can very quickly reach fever-point.

However, allegations of a lack of even-handedness and fair play go to the very integrity of the league and I would expect Rangers interim chairman Douglas Park to present compelling evidence to back up his claims, or to withdraw them.

"I anticipate that the SPFL board will convene early next week to discuss a wide variety of issues and I will be writing to Mr Park asking him to urgently communicate any and all information he possesses in order that the board can take whatever steps are necessary."

Rangers demand league probe and suspensions

Rangers have called for an independent investigation of the Scottish Professional Football League's handling of a vote on how to finish the season - and the suspension of chief executive Neil Doncaster and legal adviser Rod McKenzie.

The club claim they have been given evidence that raises "serious concerns" over the league body's voting process.

Rangers say Doncaster tried to "silence" their attempts to discuss these grievances.

The outcome of the SPFL's resolution on ending the lower-league season, already suspended because of coronavirus, rests on Championship club Dundee, who have yet to vote.

If passed, the motion would also lead to the Premiership being declared on the same points-per-game basis if the SPFL board determines the remaining games can't be played.

'No regrets' over lockdown timetable

Scotland's national clinical director insists he has no regrets about the timetable of the country's Covid-19 lockdown.

The UK yesterday exceeded the worst daily death figures suffered in Italy and Spain.

"Retrospect is a fantastically powerful tool," Jason Leitch told BBC Scotland's Off The Ball. "The amateur epidemiologists on social media have a wonderful luxury and that's they don't have to make the decisions.

"When history is written, of course we won't have had it right all the time and the First Minister has said openly that she will make mistakes and she looks at me often and says I will make mistakes.

"The counter measures have harm attached and are not without cost. We're not just having to take into account the harm from the coronavirus but also from the counter measures. Domestic violence is up, addiction is up, so you have to think what you're doing to the whole population."

Postmen urged to use hand sanitiser

Postmen - and people filling up their cars at petrol pumps - have been advised to regularly use hand sanitiser by Scotland's national clinical director.

Jason Leitch was asked by a postman on BBC Radio Scotland's Off The Ball whether he should wear gloves on his rounds.

"If you want to wear gloves, knock yourself out - that is doing you no harm," he replied, "But touching your face is a problem whether you've got gloves on or not.

"If I were a postman, I would carry hand sanitiser in my pocket and I would use that every so often on my rounds."

Mr Leitch revealed that he had been involved in discussions this week with postal trade union representatives and added: "I think the Post Office is doing a remarkable job and they're doing it without complaining.

"The thing they are concerned about is social distancing in the sorting offices, so we have tried to help them with that to make sure the sorting offices are safe."

Ice-cream and Easter eggs 'not essential'

Leaving the house especially for ice cream or an Easter egg is not viewed as an "essential journey", says Scotland's national clinical director.

A listener contacted BBC Radio Scotland's Off The Ball suggesting an ice-cream van had been visiting his area and wondered if that was following government guidelines.

"It doesn't feel like essential supplies to me," Mr Leitch replied."Now, if you require to go there for bread and milk, or if he's selling something that's essential to you, then that's probably legit,

"But it's a bit like Easter. If you can get in your essential shop, your bread, your milk, your mince and sneak in an Easter egg at the same shop, that's allowed. What's not allowed is going to the shop especially for your Easter egg."

Virus leak suggestion dispelled

Image caption: Scientists have suggested Covid-19 reached humans via a pangolin

Lingering rumours circulating on social media that the Covid-19 virus could have leaked accidentally from a laboratory have been dismissed by Scottish Government national clinical director Jason Leitch.

"It could not," he replied when asked the question on BBC Radio Scotland's Off The Ball. "We know that this virus came from a wet animal market in Wuhan, China.

"It is a nasty place for viruses to grow. It came from a bat and then probably to a weird looking animal you'll have to Google called a pangolin and then probably jumped and mutated to a human."

Ebola, SARS and HIV are among a series of previous viruses that are believed to have mutated to humans from other animals.

Different exit strategy for Scotland possible

Scotland could adopt a different exit strategy from the Covid-19 lockdown than the rest of the UK, suggests national clinical director Jason Leitch.

The Scottish Government advisor stresses that "we're going to try to do that at four-country level and when appropriate to do so".

But, asked on BBC Radio Scotland's Off The Ball if different exit strategies might be adopted, Mr Leitch said: "You might have a scenario in a few weeks or months where we would do that differently."

He thinks it very possible that the shielded group of vulnerable people, of which there are 140,000 in Scotland, will be in lockdown longer than the rest of the population.

"I can't imagine them coming out of that process earlier than three months and, in fact, it could be we have to make it longer," he adds. "They will be different from those who are perhaps younger or in other industries."

Support worker brings Easter cheer

Copyright: Action for Children

Family support practitioner Christine Leslie is going the extra mile to help children in West Lothian's vulnerable families and make sure they have some Easter cheer.

The Action for Children worker has refused to lose touch during the Covid-19 lockdown and not only makes video calls most days but has delivered family advice and even food.

Now she has made special cards for the children and delivered more than 50 Easter eggs, sourced from local shops, to their homes.

The lockdown unfortunately means she has not been able to cuddle her daughter and six-month old grandson and, although she is able to wave through the window, she finds that "heartbreaking".

Copyright: Action for Children

Extra £7.2m of support for Scottish coastal businesses

Copyright: Euan Nelson/Geograph

Coastal businesses and voluntary groups are to be given £7.2m of funding to support them during the coronavirus lockdown.

The money comes from the Scottish Crown Estate Fund, which is devolved to councils.

Environment secretary Roseanna Cunningham said: "Given the unprecedented pressures, which businesses are currently facing as a result of the COVID-19 pandemic, we are doing everything we can to support them."

'I thought, because I was young, it wouldn't affect me'

A Paisley man who is recovering from coronavirus has called on young people not to underestimate the impact the virus can have.

Calum Wishart said, when news of the pandemic first broke, his "naive arrogance" led him to believe he would be OK because he is only 25-years-old.

But, within days of the lockdown, Mr Wishart started displaying symptoms of the virus and was hospitalised. He described it as "the most horrendous experience".

Football club and hotel feed NHS staff

Celtic Football Club have teamed up with Cathedral House Hotel to deliver 100 hot prepared meals to frontline NHS staff at Glasgow Royal Infirmary from Monday.

An initial £10,000 from the Scottish champions' Celtic FC Foundation's Football For Good fund has been invested into the feeding project.

Another 47 coronavirus deaths in Scotland

New figures show that a further 47 people with coronavirus have died in Scotland, bringing the total to 542.

The Scottish government said 5,590 people had now tested positive for the virus, an increase of 315 from Friday.

In total, 29,903 patients have been tested across the country.