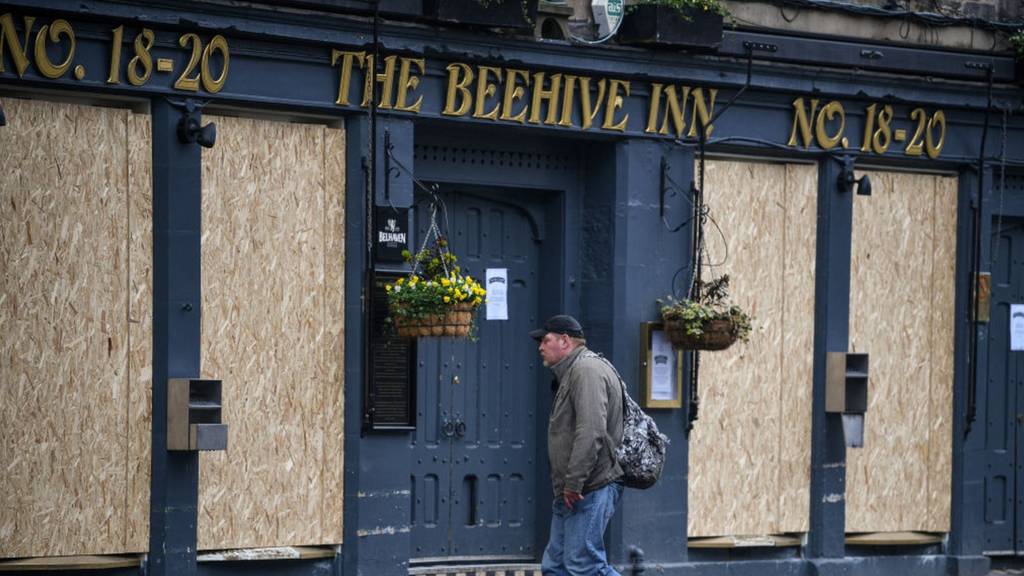 Coronavirus in Scotland - Lockdown continues & deaths rise
We'll be back with all the latest coronavirus news affecting Scotland tomorrow morning.

Images from Clap for Carers

Image caption: Hospital staff joined in the celebrations

Image caption: People went out on balconies to show their appreciation

Johnson's fiancee posts Clap for Carers message

As the UK applauded NHS workers, Boris Johnson's pregnant fiancee, Carrie Symonds, posted several clapping emoji along with an image of a rainbow.

Earlier this evening it was announced that the prime minister had been moved out of intensive care at St Thomas' Hospital in London.

Too soon to say when Johnson will be back in charge

Jessica Parker

BBC political correspondent

I don't think we'll hear any more from Downing Street on Boris Johnson's condition. Their approach has been wanting to give updates where they are necessary, not a running commentary on his health.

Clearly it's positive news for the prime minister after that stay in intensive care. His recovery is clearly going to continue over a number of days. Dominic Raab, the foreign secretary and first secretary of state, continues to deputise for the PM.

It's too soon to speculate how much time this situation will last. It'll be up to the prime minister's medical team what his recovery period is and when he can start working.

He has not been working since Monday - before his move to intensive care, when he was on a ward. He was given the red box - a ministerial box of government documents - but that changed when his condition worsened on Monday evening.

The expectation is that Raab will continue to deputise for the prime minister. He's been chairing the meetings. This is positive news but it clearly doesn't mean Johnson is back in Number 10 now. He's still recovering.

'Clap for Carers' starts in UK

All across the UK applause is ringing out in the third "Clap for Carers" event, as people in lockdown show their appreciation for NHS workers and other staff on the front line of the pandemic.

Shortly before the 20:00 BST start, a plane was seen flying over Liverpool with a banner bearing a message of thanks.

UK gets ready to #ClapForCarers

For the third week running, people across the UK are gearing up to applaud NHS staff and other key workers for their bravery during the pandemic.

The "Clap for Carers" tribute is due to start at 20:00 BST, with people gathering on their doorsteps - at least 2m apart from other households - in gardens or on apartment balconies to make some noise in appreciation.

In previous weeks, buildings have been lit up in NHS blue as people clap, play musical instruments or just bang pots and pans to ensure their gratitude can be heard.

On social media, people were urging others to take part and saying how much it means to NHS workers they know.

'Brilliant news' - reaction to Johnson leaving intensive care

The news that UK Prime Minister Boris Johnson is out of intensive care is being widely welcomed across the political spectrum.

"Good news," tweeted Scotland's First Minister Nicola Sturgeon, "brilliant news" said International Trade Secretary Liz Truss and "hooray!" was the reaction from Environment Minister Zac Goldsmith.

Labour's shadow justice secretary David Lammy said: "Pleased Boris Johnson has been moved out of intensive care- the whole country is willing him on to make a full recovery as soon as possible."

'Don't ignore heart and lung problems'

Scottish heart and lung specialists are urging patients not to ignore symptoms of other critical health conditions during the coronavirus pandemic.

The NHS Golden Jubilee Hospital in Clydebank says it continues to provide "critical to life" heart, lung and cancer services and is urging anyone who feels seriously unwell to seek early treatment.

Consultant cardiologist Professor Hany Eteiba said: "The unintended consequence during a pandemic is that people fail to seek timely medical help for other conditions.

"We are noticing that patients with acute cardiac symptoms are waiting longer at home before seeking medical care, putting their life at risk.

"We know that people may not wish to place what they might perceive as an unnecessary burden on the NHS, but the risk of developing serious or life-threatening conditions remains unchanged.

"We want to reassure the public that the NHS remains available and well-equipped to provide care for these patients and that it is okay to leave your home for medical reasons."

Military tests NHS workers for virus

Copyright: Defence Imagery

Copyright: Defence Imagery

Soldiers have been testing NHS staff at facilities in Glasgow, Manchester and Birmingham.

Some soldiers were trained in carrying out the tests by specialist staff.

Breaking

UK PM moved out of intensive care

We have a new update on Boris Johnson's health.

A spokesman for the UK prime minister said: "The prime minister has been moved this evening from intensive care back to the ward, where he will receive close monitoring during the early phase of his recovery."

"He is in extremely good spirits."

Joint service and tickets for Glasgow bus rivals

West of Scotland bus rivals First Glasgow and McGill's are to run "a reduced, coordinated service" between Glasgow's Buchanan Street Bus Station and the Paisley area from Sunday.

They say it will "make life easier for key workers" during the Covid-19 crisis.

The agreement means they will also accept one another's tickets, although First Bus is unable to accept McGill's GoSmart card, while McGill's is unable to accept First Bus tokens.

Andy Murray to play virtual tennis tournament

Tennis star Andy Murray will take part in an online computer game version of the Madrid Open, which was postponed because of coronavirus.

Murray is one of 16 male and 16 female tennis players who will play from their own homes in the Mutua Madrid Open Virtual Pro from 27 to 30 April.

The tournament will be shown on television and online.

Some money will be raised for charity from the event.

'Stay at home and we can get through this together'

Charity boss says at-risk children will suffer during lockdown

The head of a Scottish charity believes the emotional pressures being felt by families during lockdown could lead to the death of children.

Mary Glasgow, who is chief executive of Children 1st, says her organisation, other charities and the police are very aware of the urgent need during this crisis to protect youngsters who will face abuse.

She told the BBC: "I think we know that domestic abuse, child abuse, child sexual exploitation, all of these things, will be increased at times of crisis like this when the normal and ordinary safety nets have gone."

Quote Message: When families are ever more isolated, when families are under intolerable pressure we know that behaviours will isolate and that children's lives will be at risk – we know that women's lives will be at risk because of the increase in domestic abuse and violence and children will inevitably suffer as a result." from Mary Glasgow Chief executive of Children 1st

Ms Glasgow said she understood the need for the lockdown, but she added that there was "no doubt" that it would have an "incredible impact" on the emotional well-being of the whole population, and for children at risk that impact would be much increased.

May's pandemic thriller released 15 years on

Peter May is a best-selling crime writer, with multiple literary prizes to his name, but back in 2005 no publisher wanted to know about his thriller Lockdown.

Fifteen years later, the novel, set in London - against the background of a global pandemic, has just been released as an ebook.

"When I originally wrote Lockdown,no matter how well researched or accurate the dystopian picture it painted, no one could identify with it.," said the 68-year-old Glaswegian. "Now everyone can."

Lockdown well into May is best-case scenario

David Shukman

Science editor, BBC News

Amid all the speculation about when and how the UK's lockdown may be relaxed, it's worth looking back at the original scientific advice that led to the measures in the first place.

It makes clear that nothing is likely change soon.

The government's scientific advisory committee SAGE has always suggested that a 13-week programme of interventions will be needed.

And although that sounds like very precise timing, it all depends on how the British public respond.

The scientists made a fairly pessimistic assumption: that only 50% of households would observe the requirements.

So what might a timetable look like? Once the peak in daily deaths has been reached – possibly in the next week or so – even the best-case scenario suggests that it will take a month or two for the numbers dying to fall to low levels.

That gets us well into May and maybe to early June, and it'll be a brave political decision to ease the restrictions any earlier if there's a risk of a "second peak", a resurgence of the virus.

What did we learn from today's UK press conference?

Foreign Secretary Dominic Raab, chief scientific adviser Sir Patrick Vallance, and chief medical officer Chris Whitty have held their latest Downing St press conference. Here's what they told us:

A total of 7,978 patients have died in hospital after testing positive for coronavirus in the UK
We should not expect any decision on changing the lockdown restrictions until the end of next week
Social distancing is working, with the numbers of new cases much lower than they would otherwise be. The number of people in intensive care is also not rising exponentially. The death toll will continue to rise for about two weeks after intensive care admissions stabilise, as deaths lag behind admissions
Mr Raab has not spoken to Prime Minister Boris Johnson since he was taken to hospital on Sunday
The government is planning to formally recognise the work of frontline workers but does not yet have specific plans for how it will do so

'Sensitivity issue' with private tests

But just how accurate are these private antibody tests?

Dr Christine Tait-Burkard from the University of Edinburgh tells BBC Scotland's John Beattie that there is evidence of people displaying mild symptoms showing up as "false negatives" in these kind of tests, explaining that there may be a 50-60% error rate in such cases.

"It's a sensitivity issue," she says. "The levels of antibodies are just so low that these tests are not detecting them."

A 10-minute antibody test for £99

BBC Radio Scotland's Drivetime presenter John Beattie has taken an antibody test to see if he's already had Covid-19.

The service, found online, is offered by a Glasgow-based company and cost £99. The paperwork describes it as an IgG / IgM Rapid Test by a Chinese bio-tech firm and claims to have a "98.6% accuracy level".

It involves a pinprick of blood and takes just 10 minutes to get a result, which in John's case was negative.

The company say they are averaging around 15 customers a day, some from the medical profession, with an average of two positive results.

"I feel guilty and I find it odd that I can buy a test when the people who need them can't get them," says John.

Scottish football season suspended until 10 June

The Scottish football season has been pushed further back until 10 June at the earliest.

The SPFL campaign was halted on 13 March due to the coronavirus pandemic and then stopped until 30 April.

However, no football will be played for at least three months, with member clubs also set to vote this week on ending the lower league season now.

The rule applies to professional and recreational levels of the game.