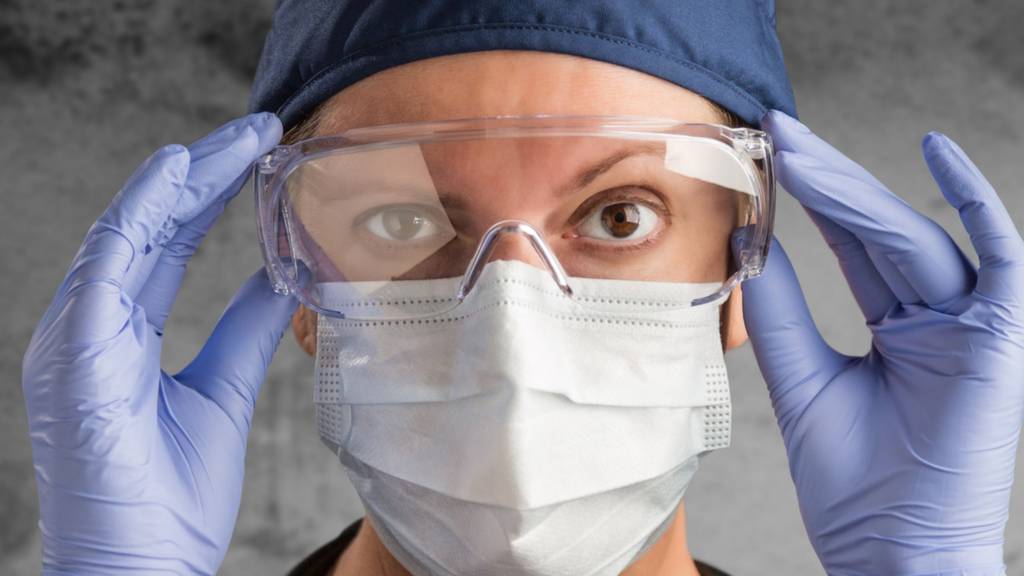 Coronavirus in Scotland - True picture on deaths & PPE worries
Thanks for following the latest on Scotland's coronavirus live page today.

Here's a summary of the main news:

Join us again for more updates on Thursday morning.

'Not all those with MND should be on vulnerable list'

Responding to Doddie Weir's calls for those with MND to be added to the list of vulnerable people which allows them to access extra help, Prof Leitch said that the shielded group was for those who were immunologically compromised. He said not all of those with MND were in this category.

Prof Leitch explained that individual care teams for each patient had been asked to decide if that individual belonged in the vulnerable category.

"Remember that shielded group has got to follow very, very rigorous rules - it's not something we want to do to anybody lightly", he said.

He added that anyone with respiratory symptoms or whose care teams felt they should be on it would be on it.

Agreement reached over PPE for social care staff

An agreement has been reached over what PPE social care staff should wear.

The GMB union had earlier accused the Scottish government of gross negligence for "forcing us to work with insufficient PPE".

But now unions, the Scottish government and Cosla - the umbrella body which represents Scotland's councils - have reached an agreement on what protective equipment social care staff should wear, and when.

The GMB union said that their expectation now was that social carers would get the "full and proper protective equipment", including masks.

And the Scottish government said they would re-issue a statement making it clear that social care staff can wear masks when they think it is appropriate.

What about households at risk of abuse?

Prof Leitch is asked what help is available to households where there is domestic or child abuse?

"This really worries me," he admits.

He said the Scottish government has invested millions of pounds in support like Rape Crisis, Women's Aid and Young Scot.

He urged people who feel vulnerable to "reach out". "Don't tolerate any abuse in your household," he added.

"Seek that help immediately either from a support network, a doctor or the healthcare system, or the police if they absolutely have to."

Will I be isolated for longer than 12 weeks?

Richard asks whether he will be isolating for longer than 12 weeks.

Prof Leitch says the restrictions will not be lifted all at once - they will be gradually lifted over a period of time.

The people in the highest risk group - those who are being shielded and asked to isolate for 12 weeks - will be protected for the longest.

Jason Leitch answers your Covid-19 questions

Scotland's national clinical director Jason Leitch is answering questions on BBC One Scotland's Coronavirus: Scotland's Response.

Marion asks: If you've had the virus and recovered, can you still transmit it?

Mr Leitch says: "If they're asymptomatic and they've had the disease for sure and they're out the other end, they're.. not a risk to others."

He said they wouldn't be able to transfer the virus through droplets (coughing etc) but there was still a small risk they could transfer it from surfaces to other people, so they still have to be careful.

Journeys down dramatically across Scotland

Coming up on BBC One Scotland later...

'Some time yet' before lockdown measures can be eased

It will be "some time yet" before a decision can be taken on when to ease the coronavirus lockdown, Scotland's interim chief medical officer has said.

Dr Gregor Smith said he was confident the measures that had been put in place were the right ones, but he added he did not yet have the data that would allow him to pinpoint when the restrictions could be lifted.

Speaking to the BBC's Reporting Scotland, Dr Smith acknowledged that the lockdown had been difficult for everyone to deal with, adding: "I think everybody has an understanding of exactly why they are making these sacrifices in their everyday lives.

"But we are not quite at the stage yet where we have got the data which would allow us to be able to pinpoint when these measures are likely to be lifted.

"I think it is going to be some time yet before that data gives us the confidence that we have done all that we can to make sure that this pandemic curve that we have become familiar with is suppressed to the level that we would want to see."

How far can the coronavirus spread?

David Shukman

Science editor, BBC News

Copyright: AAlto/FMI/VTT/UK

New computer models have simulated how people coughing can spread coronavirus in confined spaces like supermarket aisles.

A consortium of Finnish research institutions has developed detailed animations showing how tiny droplets can drift and linger in the air.

The research shows that a cough can produce particles which remain airborne for several minutes.

The scientists involved say their work has not yet been scrutinised by other experts but does highlight the risks of spending time in busy places.

Assistant Professor Ville Vuorinen of Aalto University in Helsinki had this advice for people thinking of visiting supermarkets: "First of all, don't go there if you don't need to go there. If you need to go there, only go as seldom as possible. And number three: stay there as short a time as possible."

The research may reinforce the view among many governments - from the US to Indonesia - that the public should wear face masks to minimise the risks of transmission.

What's Scotland's response to coronavirus?

Coronavirus: Scotland's response

BBC Scotland

Image caption: Coronavirus: Scotland's Response is presented by Martin Geissler and Rebecca Curran

A new programme is looking at the impact of the coronavirus on Scotland.

Rebecca Curran and Martin Geissler present Coronavirus: Scotland's Response on BBC1 Scotland from 8.30pm.

Here's what to expect in tonight's programme:

Scotland's national clinical director, Professor Jason Leitch, will be answering your questions.
A woman who nearly died from coronavirus and has written an emotional letter to thank NHS staff who saved her life.
The BBC's James Cook has the latest on the coronvirus statistics and also the story of a 98-year-old woman who beat the disease.

You can watch on BBC iPlayer or on this page.

Could UK nations leave lockdown at different times?

Andrew Kerr

Scottish political correspondent

Mr Sunak was further questioned about the lockdown ending at different times in different parts of the country, but again wouldn't be drawn.

Further hinting that an end was not yet in sight, the government's deputy chief scientific adviser Angela McLean said they will need to look at the evidence on the impact so far.

She said she suspected that simple strategies might be best – which may hint that lockdown will remain uniform in the United Kingdom.

It will still be assessed next week - although the Welsh first minister Mark Drakeford said it would not be ending in Wales, so as the gains they've made wouldn't be "thrown away".

Cobra emergency committee to discuss lockdown

Andrew Kerr

Scottish political correspondent

The UK government's Cobra emergency committee will meet tomorrow to discuss the continuing lockdown with the devolved administrations.

Scotland, Wales and Northern Ireland will join the conference call. It will no doubt be hosted by Dominic Raab, the First Secretary of State who's standing in for Boris Johnson.

Speaking in Number 10 Downing Street, at the daily briefing, Chancellor Rishi Sunak wouldn't be drawn as to when lockdown could end.

He said he wanted to focus very seriously on the here and now - with the priority being to stop the spread of the virus and that people should follow the advice to stay at home.

New directive on prison hygiene criticised

New guidance could prevent Scottish prisoners from keeping themselves clean during the coronavirus outbreak, say opposition parties.

Changes to the rules around prisoners and young offenders mean they are entitled to showers at least "twice a week", a shift from at least once every other day.

A letter sent to the Scottish Parliament's Justice Committee explains the change is "consistent with minimum requirements of the European Prison Rules", does not apply to recently-built facilities and adds that it will only be implemented "where necessary".

Scottish Labour justice spokesman James Kelly said: "The importance of personal hygiene has been highlighted since the outset of this crisis – yet our government is actively preventing prisoners from keeping themselves clean."

Scottish Liberal Democrat justice spokesman Liam McArthur MSP said: "It's hard to see how preventing prisoners from showering will help slow the spread of this virus.

"Prisons face particular difficulties in terms of containing and responding to the virus, while healthcare provision that was already under stress becomes even more so in the context of over-crowding and self-isolation."

UK 'committed to post-Brexit trade deadline'

The chancellor is also asked whether it is a good time for the UK to leave the EU if the economy is going to be so damaged by the pandemic.

Rishi Sunak says: "We have left the European Union, that has happened, we are now working on the final terms of trading arrangements. That work is carrying on."

He says negotiating teams spoke earlier this week and would hold more talks this month and in May.

"We remain committed to the timeline for concluding talks and negotiations, albeit over video conference rather than in person," he adds.

Rugby hero Doddie Weir's MND message to health secretary

Former Scotland rugby international Doddie Weir has tweeted an appeal to UK health secretary Matt Hancock to include people with motor neurone disease (MND) on the government's high risk list for Covid-19.

Car passenger fined for making non-essential journey

A 25-year-old man has been fined for making a non-essential journey after the car he was a passenger in was stopped by police.

Officers pulled the car over after reports that it was being driven "at significant speed" on the A9 between Inverness and Wick on Tuesday.

The driver - a 20-year-old woman - has been charged in connection with road traffic offences.

She has also been reported in connection with Covid-19 offences.

Hospital's dementia ward closes 'as precautionary measure'

A ward at Murray Royal Hospital in Perth has been closed to new admissions due to coronavirus.

Tayside NHS board said the closure of the Tummel Ward - which treats patients with dementia-related illnesses - was "a precautionary measure and all appropriate infection prevention and control measures have been put in place".

Sunak confirms £750m for charities

Rishi Sunak announces a new £750m pot of cash for frontline charities across the UK - including hospices and charities helping domestic abuse victims.

Mr Sunak says £360m will be directly allocated by government departments, while £370m will go to smaller charities, including through a grant to the National Lottery Community Fund, and £60m of that will go to Scotland, Wales and Northern Ireland.