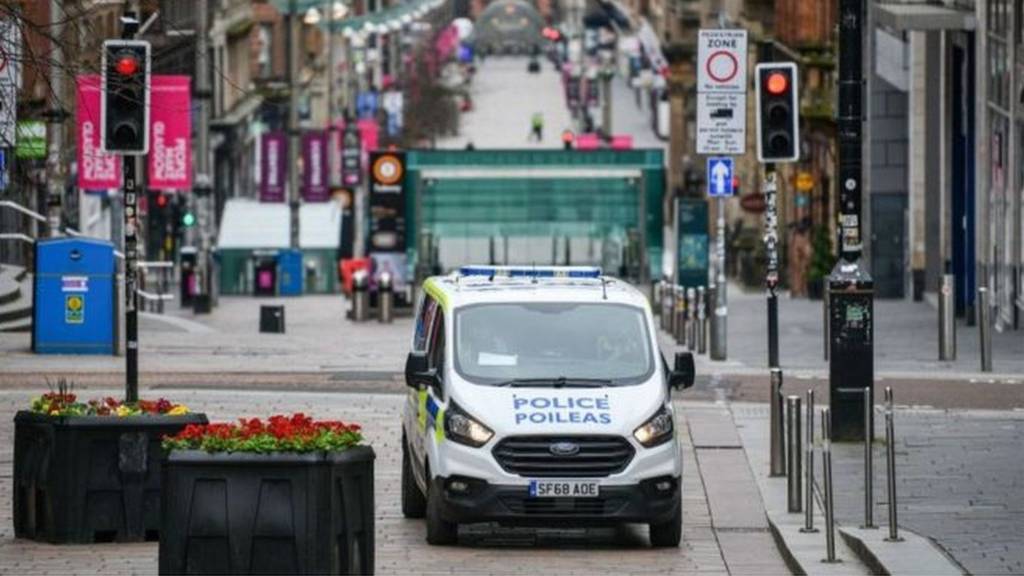 Coronavirus in Scotland - death total now stands at 172
By Chris Morris & Oliver Barnes

BBC Reality Check

Here's a recap of some of the developments on Friday:

Another 46 people were confirmed to have died in Scotland, taking the total to 172
The total number of positive tests for Covid-19 rose by 399 in the past day, to 3,001
The first minister said it was not yet known when the outbreak would peak in Scotland - and she had seen "absolutely nothing" to suggest the peak may come in a week.
The FM insisted Scotland's target to increase testing was just as ambitious as the UK government's plans. If anything, she said, it was more ambitious.
The first deliveries have been made of essential items for particularly vulnerable people who have been advised to "shield" themselves from the virus
Scotland's chief constable revealed that 144 fixed penalties had been issued to people breaching restrictions in the past week
Work has begun on the new temporary hospital at the SEC in Glasgow - the health secretary says it could be available, if needed, in two weeks' time
The Glasgow Mela, the Merchant City Festival and the World Pipe Band Championships in Glasgow are among the latest events to be cancelled
There is some good news for flower growers though - the Scottish government says they can resume operations so long as they can maintain proper social distancing for staff.

We'll be back on Saturday morning with more live updates on what's happening.

The weather is turning warmer - but the advice remains that best thing you can do the help the NHS cope with the crisis is to stay at home. Goodnight

Home deliveries begin for most at risk from coronavirus

People in Scotland who are most at risk of being severely ill if they contract coronavirus have started to receive home deliveries of essentials.

The majority of those 'shielding' have received letters from the chief medical officer, highlighting support and setting out how they can stay safe.

Among the support on offer is a text message service to help organise deliveries of medicine and food.

Those with no access to mobile phones can register through local councils.

First Minister Nicola Sturgeon reported more than 8,000 people - of a new estimate of approximately 120,000 in the 'most at risk' category in Scotland - have already signed up to the text service.

They have been given the option to begin weekly deliveries of essential foods including soup, pasta, rice, fruit and vegetables, tea and coffee and biscuits, as well as toiletries.

Heart of Midlothian FC clarifies its furlough plans

Wipe down food containers

Dr Bauld told BBC Reporting Scotland people should wash their hands before and after touching their post, even though paper is "not a big risk in terms of transmission."

She also urged the public to also wash their hands before and after disposing of food packaging.

Finally, Dr Bauld recommended wiping down containers before they go into their fridge or cupboards with warm water and soap or bleach.

Quote Message: We should all just pay attention to food hygiene even more than we normally would at this time. from Dr Linda Bauld Professor of public health at Edinburgh University

Transport Police grateful for hand sanitiser donation

'Should we wear face masks?'

Quote Message: The masks are important for two groups: NHS workers or for people who are showing symptoms. But now, with social distancing, they should not be outside coming into contact with others anyway. How much it protects the general population, particularly walking around, is very limited. We might see it added as an additional measure in the future but it is not on the cards for the UK at the moment. from Dr Linda Bauld Professor of public health at Edinburgh University

Should there be more flexibility over furloughed workers?

Douglas Fraser

Scotland business & economy editor

More gaps are being plugged today in the wide-ranging measures by both UK and Scottish government to keep businesses afloat and job losses from soaring.

As an indication of the jobs risk, the Irish central bank says that unemployment could hit 25% of the workforce very soon, if you include all the employed being paid through government schemes while there is no work for them to do.

The USA is not offering such a scheme, and has seen nearly 10m sign on in only two weeks. Previously, the highest number of people to register in any one week was below 700,000.

Bank of America reckons the US could be heading for 16 to 20m unemployment, or more than 15%, along with an 11% cut in output.

The UK's furlough scheme for those in staff jobs - offering 80% of pay up to £2,500 a month for March, April and May - includes a requirement that people receiving those grants should do no work. That's not a requirement of the parallel self-employed scheme, which is under criticism for leaving all sorts of other holes in it.

But business groups, and now opposition MPs, are challenging the "no work" rule for those on furlough. What of firms that need some work done, but can't afford to make it full-time?

Are footballers even allowed to train and keep fit, as that is part of their work?

When, eventually, businesses are about to re-open, they will need some people to get back and prepare. Yet the penalty for doing so will be an abrupt halt to any government support for that wage.

And then there's the question of how long this goes on. No-one knows yet, but businesses making plans are already asking if they can assume continued government support after the end of May.

The Scottish Tourism Alliance, for instance, is not expecting a decision on that yet. But it wants to know when that decision will be made and announced.

New ventilator system developed

Police warning over fake websites

Small business support scheme defended

Douglas Fraser

Scotland business & economy editor

The Scottish government is defending its decision to have a less generous grant scheme for smaller businesses than the one being rolled out in England.

Ministers in Edinburgh say their choice allows for more generous business rates relief targeted at sectors that are hardest hit by disruption to the economy during the health crisis.

But those applying for grants of £10,000 or £25,000 cannot get one for each outlet of business - where there is a retail chain, for instance - instead being limited to one grant for the whole firm.

The issue has been raised, with a petition, by two multi-outlet firms in Edinburgh, Kilimanjaro Coffee and Kilderkin pub chain.

Directors of the companies want to extend the scheme to be like the English system, where each property in a retail chain can be eligible for a grant.

Robot teaches children how to wash their hands

Flower harvest to go ahead

Flower growers have been given the go-ahead by the Scottish government to resume operations, so long as they stick strictly to public health rules on workers keeping a distance from each other.

The advice comes from the rural affairs secretary, Fergus Ewing, in response to lobbying from Tory MSP Rachael Hamilton.

The clarification on horticulture allows growers of daffodils, for instance, to harvest them for sale through supermarkets.

Advice for those travelling home from abroad

Postman delivering 50% more parcels during lockdown

Angie Brown

Edinburgh and East reporter

An Edinburgh postman has told how he is delivering up to 50% more parcels during the lockdown but because everyone is at home his shift is taking about the same time to complete.

Darragh Cox, a Royal Mail postal worker, said he had also finally been able to meet his customers (from a distance) as usually they were at work and not at home when he delivered their mail.

The 40-year-old said: "Everyone has been so appreciative and happy to see me.

"One gave me a Lion Bar today and another a homemade mask made of fabric and I've had a lot of thumbs up from windows."

Food delivery demand is 'quite incredible'

It's not just the supermarkets that have been facing increased demand during the coronavirus crisis, local butchers, grocers and farm shops have also seen a massive rise in orders.

David Stein had to close down four bars and a hotel when the restrictions came into force but his butchers in Bathgate has seen orders triple to more than 100 a day.

"It's been brilliant but the best thing has been the response from our customers," he said. "They are absolutely loving it and promising to stay with us once it's all over."

Despite the decline of high streets in recent years, he said this was an opportunity to prove that local, smaller shops were a vital part of the community.

Giving birth without partner being there 'quite daunting'

Image caption: Louise says she is fortunate she has already had her 12 and 20-week scans

BBC Scotland reporter Louise Cowie, expecting her second child, is 28 weeks pregnant and admits she is concerned by the prospect of her partner not being alongside her when she goes into hospital for the birth.

"I am due at the end of June/start of July and the restrictions might be even more strict by then," she told BBC Scotland's Drivetime programme. "At the moment you are allowed to have your partner there during active labour and then they have to leave.

"I go into it with eyes wide open because I had quite a dramatic birth first time round and I really appreciated the support I had from my partner. The prospect of maybe having another tough time and him not being there is really quite daunting."

Dr Mary Ross-Davie, director of the Royal College of Midwives in Scotland, said it was important to reassure expectant mothers that "maternity services are still open throughout this pandemic".

She urged pregnant women to continue to attend scans and ante-natal appointments, even if some were "virtual" appointments.

"The advice is around strict social distancing, not self-isolating during pregnancy," she said. "You can still go out of your house for medical appointments, and that includes ante-natal appointments."

How do social distancing rules affect new or expectant parents?

Partners may currently still be allowed to attend births under lockdown but are restricted in how much support they can provide during the hospital process.

Maggie, who welcomed a baby daughter, Willow, into the world last week, told BBC Scotland's Drivetime programme "it was really sad" her partner could not remain with her throughout.

"I actually went into labour in the house and he couldn't take me in, I had to go in myself," she said. "I was actually quite far gone by that point so they said 'Right, phone your partner' but he had to wait out in the car.

"He was allowed in for the rest of the labour and then for a wee bit before I was sent to recovery. But he wasn't allowed back up after that while I was having checks, so it was hard, especially your first baby, not having your partner beside you. It was really emotional.

"You just feel they should be part of that. He just wanted to see us, wanted to see his wee girl. Finally we got out but even then he wasn't allowed to come in. We had to be escorted out of the hospital.

"He had to sit out in the car outside the maternity ward and wait until I got taken down. It was crazy."

Maggie says her newborn is "absolutely fantastic, a great baby". "It's just a shame the family can't get to meet her just yet," she added.