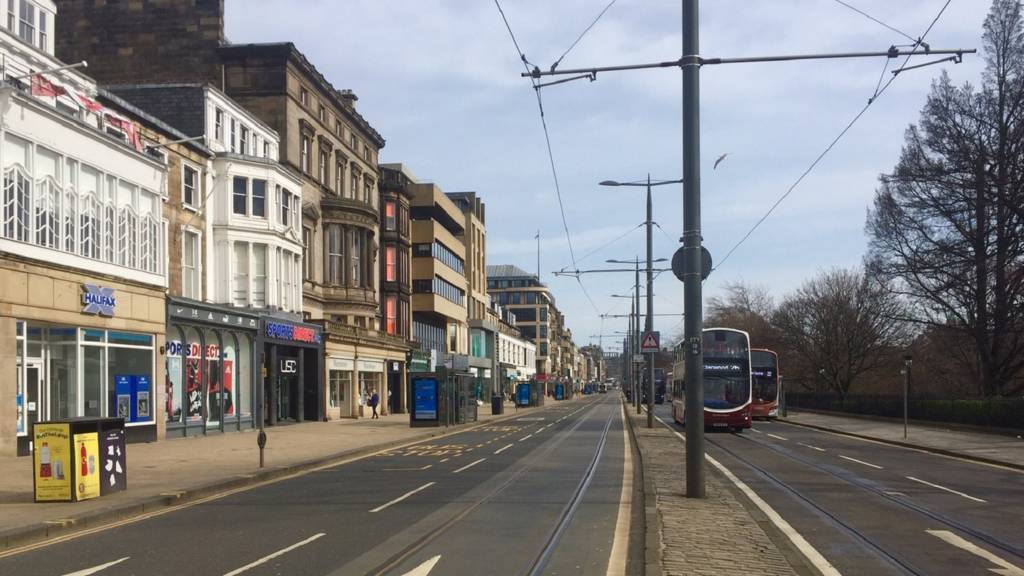 First Minister: This is effectively a lockdown
By The Visual and Data Journalism Team

BBC News

Thanks for joining us on the Scotland Live page in what has been an historic day. To re-cap:

The country has effectively been placed in "lockdown", with restrictions on people leaving their homes.
Some shops will be closed, social events banned and funerals can only be attended by immediate family.
Under new emergency laws, police will be able to issue fines to anyone who flouts the restrictions.
Earlier the first minister announced four more deaths in Scotland - taking the total to 14.

Stay safe tonight and we will back with the latest developments tomorrow morning.

Nicola Sturgeon: 'Please stay at home'

Watch: Nicola Sturgeon outlines 'lockdown'

Police patrols to increase in light of new restrictions

Iain Livingstone, the chief constable of Police Scotland, said the force supported the new measures to increase social distancing and urged and expected everyone to comply.

"We are aware of the proposed legislation in relation to coronavirus and are carefully considering the implications in this very fast moving situation, which presents the gravest of threats to the nation," he added.

"In the meantime, Police Scotland has a clear, positive duty to both protect life and improve the safety and wellbeing of people across Scotland, while supporting the government and health agencies in our fight against this pandemic. "Therefore, until the new legislation is in place, we will be increasing police patrols in key areas across the country to engage with and provide guidance to anyone in contravention of the measures."

People risk fines if they fail to comply

During her statement, Ms Sturgeon said that later this week emergency legislation will give powers of enforcement, which "will be used if necessary".

Ahead of the new powers being introduced, police will give "strong advice" to those in breach of the measures to "cease and do the right thing".

This will be followed by enforcement powers later this week, which will "likely take the form of fines"

Five things that will now be banned

The new measures will see shops closed and groups dispersed in order to fight coronavirus.

A re-cap of the new restrictions

Everybody is being told that is essential to stay at home from tonight to help halt the spread of coronavirus, ease the burden on the NHS and save lives.

Nicola Sturgeon said the only permissable reasons to leave your home were:

to shop for basic necessities and limit that to once a day
to take exercise - once a day - but alone or with your own household
for medical reasons or to care for a vulnerable person
to travel to essential work if that cannot be done at home.

To support this and ensure compliance:

all non essential shops will be required to close
libraries, communal places within parks and places of worship must close
social events must not take place - including weddings and christenings.
funerals are restricted to immediate family only
gatherings of more than two people will be prohibited, unless part of a household or related to essential work.

FM: The restrictions amount to a 'lockdown'

Quote Message: "Let me blunt. The stringent restrictions on our normal day to day lives that I'm about to set out are difficult and they are unprecendented. They amount effectively to what has been described as a lockdown." from Nicola Sturgeon First minister of Scotland

'This is not a rehearsal. This is real life'

Chief Medical Officer Dr Catherine Calderwood said enforcement action would only be necessary if people do not take the restrictions seriously.

She said the more people comply, the less impact there will be on the NHS and the more lives can be saved.

"I stress again, this is not a rehearsal," she said. "This is real life. And lives will be lost unless everyone changes what they're doing from now on."

'Think of it as a set of rules'

Nicola Sturgeon said the public should not see these measures as advice, but "a set of rules" to be followed for the protection of ourselves, the community and the NHS.

She said the majority of people would "do the right thing" but that within days emergency legislation would provide powers of enforcement which "would be used if necessary".

She said "lives depend on all of us complying with these requirements".

Enforcement was likely to take the form of fines, she added.

Boris Johnson: 'You must stay at home'

People face fines if they do not follow government instructions, the PM says in a ministerial broadcast.

No weddings, no christenings, funerals restricted

The first minister said a list would be published detailing what was being imposed.

She said that there should, from tonight, be no celebratory events involving groups of people, therefore no weddings, no christenings.

She expressed her sadness at having to impose a restriction on funerals to immediate family only.

She said: "I know how hard this is, but it is essential'.

'This is a lockdown' - Nicola Sturgeon

Nicola Sturgeon tells the nation that the stringent restrictions are unprecedented and she will not "sugarcoat" the message.

She reiterated the prime minister's announcement urging people to stay at home.

The first minister said that the only permissable reasons for leaving your home are:

Essential shopping - once a day
Exercise - once a day
Medical reasons or the care of the vulnerable
Travel to essential work

FM addresses Scottish people on coronavirus restrictions

Nicola Sturgeon is updating the nation following the prime mininster's speech.

'Stay at home, protect our NHS, save lives'

Boris Johnson said: "No prime minister wants to enact measures like these"

He said that without a huge effort there would come a moment where no health service in the world could cope.

He said: "If too many people become unwell at the same time, the NHS will be unable to handle it."

'Gatherings of no more than two people'

Mr Johnson said gatherings of no more than two people would be allowed.

Police will have the powers to enforce the new measures including fines and dispersal of gatherings.

All shops selling non-essential items have to close.

Libraries, playgrounds and places of worship will close.

And no weddings will take place.

Breaking

PM tells nation: 'Don't leave your home'

Boris Johnson has strengthened measures to stop people from leaving their homes, in a bid to stop the spread of coronavirus.

From Downing Street, he told the nation "It is time to do more" and pleaded with the public to "Please stay at home."

He said increased restrictions were required to slow the spread of the disease.

From tonight, UK citizens should stay at home and only leave for the following reasons:

To shop for basic necessities
One form of exercise per day
To give care
Travel to and from work but only if it is a necessity.

Prime minister due to make statement

Boris Johnson is due to address the nation at 20:30.

It comes after the number of confirmed coronavirus cases in the UK rose earlier to 6,650, up 967 from yesterday's total.

East Lothian play areas to close immediately

Coastal car parks and children's play areas in East Lothian are to close with immediate effect, the council has said.

Chief executive Monica Patterson said the decision was taken to ensure appropriate social distancing and reduce the risk of cross-infection from surfaces.

She said it would also apply to toilet and shower facilities at car parks.

"While we appreciate people will be disappointed, we believe these decisions are in the best interests of everyone's health and wellbeing as we respond to the unprecedented challenges presented by this outbreak," Ms Patterson said.