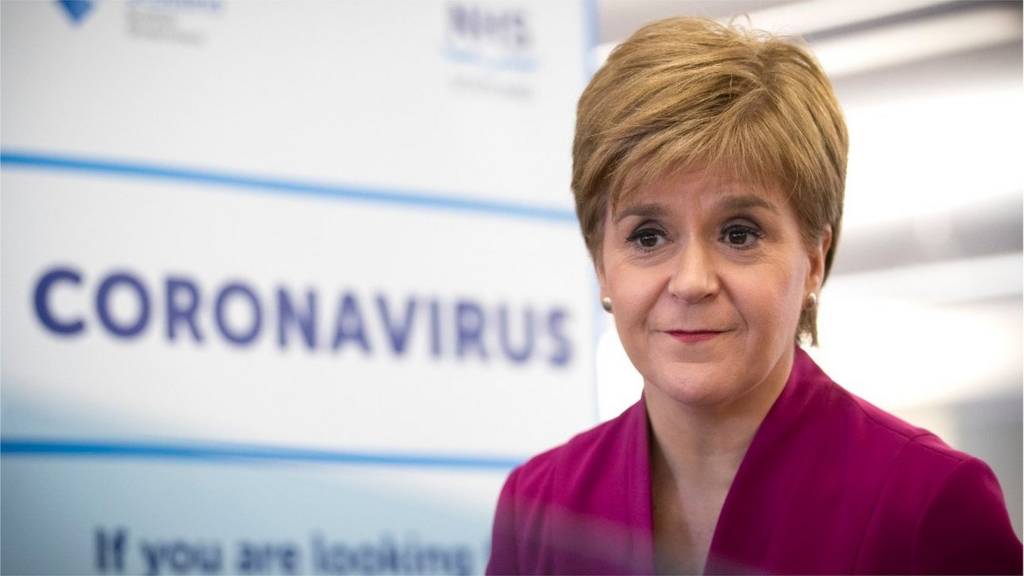 Coronavirus in Scotland - 'These measures will save lives'
That's all from BBC Scotland's live page today - we'll be back again tomorrow to bring you the latest on the impact Covid-19 is having on Scotland. Stay safe this weekend.

Radio stations play You'll Never Walk Alone in solidarity

You'll Never Walk Alone was played simultaneously on over 180 radio stations across 30 countries in Europe, including BBC Radio One, BBC Radio Two and BBC Radio Merseyside this morning in a show of solidarity during the coronavirus crisis.

It was the idea of Dutch radio presenter Sander Hoogendoorn, to play the 1963 hit by Gerry and the Pacemakers at 08:45 (07:45 GMT) as a way "to bring people together".

The song, which feature the lyrics, "When you walk through a storm, hold your head up high, and don't be afraid of the dark" was played at across the continent and, of course, was also tweeted by Liverpool FC.

Another school sends pupils off with a sing-song

Coronavirus: What group am I in?

Copyright: Scottish government

Coronavirus: How long do I have to isolate for?

Copyright: Scottish government

Labour: Chancellor needs to go further and faster

The Shadow Chancellor John McDonnell has criticised the UK government's new job retention scheme, saying it needs to "go a lot further and a lot faster".

The Labour MP says Chancellor Rishi Sunak "has shifted under the pressure we [Labour] put on him" but calls on him to raise statutory sick pay, ensure employers pay towards workers' wages to top them up and increase benefits.

Meanwhile, Labour leadership contender Lisa Nandy says she welcomes the "bold" step the chancellor has taken, adding: "For many businesses it is the lifeline they need and it will bring relief to lots of people".

Former Labour leader Ed Miliband and Labour's Greater Manchester Mayor Andy Burnham have welcomed the chancellor's announcement but said more needs to be done for self-employed workers.

"I am afraid it appears inadequate for the millions of self-employed, gig economy workers. £92 per week UC I make it," Mr Miliband says.

Mr Burnham adds: "That's a weakness in what has been announced and I will press for more for them."

Key points from UK government briefing

Let's recap the main points from the UK government news conference:

Chancellor Rishi Sunak says the government will step in to help pay people's wages through a coronavirus job retention scheme. Read more here
Businesses can apply for a grant of up to £2,500 a month to cover 80% of salary for those retained but not working
He also says VAT for all businesses is being deferred until the end of June and the business loan scheme will now be interest-free for 12 months
Universal Credit allowance increases £1,000 a year and the next tax self-assessments will be deferred until the start of next year
He also announces the self-employed will get full Universal Credit at a rate equivalent to statutory sick pay, and a further £1bn to cover 30% of house rental costs
Mr Sunak promises further measures next week to ensure larger and medium-sized businesses will be able to access the credit they need
Cafes, pubs, bars and restaurants across the UK have been told to close on Friday night and not reopen - although they can offer takeaway services. Read more here
Nightclubs, theatres, cinemas and gyms have also been told to shut their doors
Prime Minister Boris Johnson says people should not go out on Friday night to such venues. He says people should stay at home "to protect the NHS and save lives"
He also rules out shutting down major transport networks, saying it's "too important for the delivery of crucial public services"

The UK government is acting to further enforce social distancing by telling cafes, pubs and clubs to close.

But how do we self-distance?

Work from home whenever possible
Avoid all unnecessary travel
Stay away from pubs, clubs, theatres and other such social venues
Avoid gatherings with friends and families wherever possible

What am I allowed to do when social distancing?

You can go for a walk or run outdoors if you stay 2m (6ft) away from others
You can walk your dog
You can provide essential care for elderly relatives and neighbours if you have no symptoms
You can go to the shops to buy food and groceries.

Sturgeon: 'We are entering stormy waters'

Nicola Sturgeon continued: "We are entering stormy waters.

"I cannot tell you yet when we will reach dry land.

"I can promise you I will do my utmost to lead us safely though

"But I need your help."

She urged the public to follow health and safety advice.

"There's no doubt difficult days do lie ahead," Ms Sturgeon continued.

"But I close on a note of hope and belief - with compassion and kindness, and with the dedication and expertise of our NHS, we can and we will get through this.

"Thank you for all you are doing to help."

'Unprecedented steps' required to deal with pandemic

Speaking from her official residence in Edinburgh, Bute House, the first minister echoed that the measures being taken would save lives.

She said Covid-19 was a health emergency, which required the government to ask the public to take "unprecedented steps".

"To older people, we are asking you to stay away from your grandkids - from the people you love. That's hard, but it's for your protection - so you can stay around to see them grow up.

"To children, I know this is a strange time... the adults around you are probably feeling a bit anxious too."

She continued: "Let's all look out for each other. At times of crisis, we need each other more. Yet we're being told to stay apart.

"Modern technology is sometimes a curse. It can now be a lifeline."

FM: Pubs and restaurants among places to close

The first minister has said she is "now asking restaurants, cafes, pubs, gyms and cinemas to close".

Nicola Sturgeon said "it is vital to reduce our risk of getting the virus".

She said Covid-19 was "the biggest challenge of our lifetimes", but that these measures "will save lives".

"It also gives our NHS the best chance of coping", Ms Sturgeon added.

She acknowledged that it was an anxious time, and said it was key that we reduced the number of people we met and kept washing our hands.

"Strict compliance" with social distancing and self-isolation measures was needed to be effective.

Speaking at his daily coronavirus news briefing the UK PM announced tougher measures to try to ensure social distancing.

Primary pupils sing 'Lean On Me'

A video of pupils at a South Ayrshire primary school singing Bill Withers' "Lean On Me" has attracted praise for putting on a positive spin on the unplanned end of term, as schools across the country prepare to close indefinitely.

On Friday, Scotland's pupils left school for the last time in a while, as ministers warn many pupils may not return to the classroom until after the summer holidays.

David Watson, the head teacher at Forehill Primary School said: "We have been completely blown away by the positive feedback and comments received from around the world.

"It's great that the children have touched the lives of so many with their inspirational message.

"It's a challenging and difficult time but together we can make a difference."

'Far fewer hospitality jobs will be lost than feared'

Scotland executive director for the trade association UK Hospitality, Willie Macleod, has said there will be "many fewer jobs potentially lost" than he first feared.

Before the chancellor's announcement in the last hour, Mr Macleod speculated that over 100,000 hospitality jobs could be lost in Scotland.

However he said that compulsory closures give businesses the clarity they were looking for.

He said: "It will displease some but I think given the advice to stay at home, as unwelcome as this may be, it's probably a sensible step to counteract the virus.

"The job retention scheme, I think that will be very very welcome. Decisions were going to be made to let people go. But I'm pretty sure this will encourage most employers to retain their highly valued staff."

What we are doing is extraordinary, says PM

Boris Johnson says he "doesn't want to get into moral name calling" and accepts that "what we're doing is extraordinary" by taking away the right of British people "to go to the pub".

"I understand how people feel," he adds.

But, he says to those "who go against the clear advice" from experts, that they would not only be putting their lives and their families' lives at risk - but "you're endangering the community" and making it harder to help the NHS and save lives.

Major transport networks 'won't be shut down'

On transport, Boris Johnson says - in response to a question - that the government does not want to impose severe restrictions on major transport networks.

"Transport is fundamental to our ability to deliver vital public services.

"I was pretty clear that we don't want, for instance, to immobilise the Tube or our major transport networks.

"It's just too important for the delivery of crucial public services."