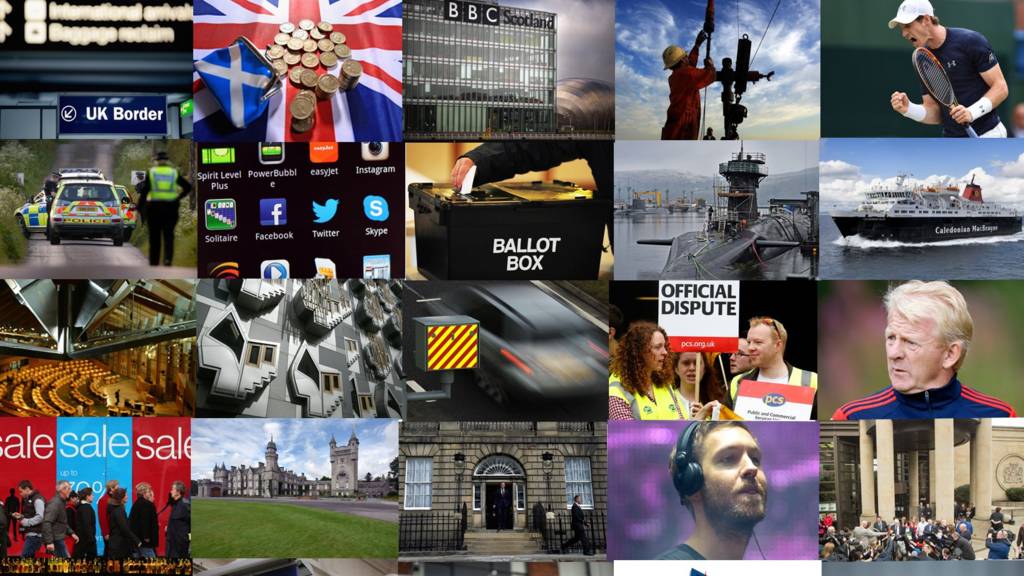 As it happened - Scotland Live on 3 June
Summary
Baby seriously ill after family unit incident
Whyte alone faces Rangers fraud charges
Singing policeman wins star's praise
Police probe after women's body found
Murder victim may have known killer
That's it from Scotland Live for today. Join us again from 08:00 on Monday.

Traffic: Accident on A68 between Dalkeith and Pathhead

Families of British soldier who died in Iraq won't have to pay for Chilcot report

Concerns had been expressed that they would have to pay £767 for a copy of the 12-volume report, due on 6 July.

However, a Number 10 spokesman has now said: "There is no question of families of service personnel who died in Iraq having to pay for copies of the Chilcot report."

Next-of-kin were due to get a free hard copy of the £30 executive summary and the full report is to be made available online.

Traffic: Congestion on M80

Police seek tourist couple in conection with island theft

The pair were captured on CCTV at the Orkney Wine Company in Lambholm at 14:10 on 2 June.

Anyone with information is being asked to contact Police Scotland.

Follow @bbcorkney for updates.

Weather: Temperatures could reach 24 degrees tomorrow

Tonight will be dry and cloudy for most, with some showers affecting Argyll, the central belt, Dundee and Fife.

Temperatures tomorrow will typically be about 15 to 19 celsius.

This will peak at about 23 if not 24 celsius for the Wester Ross and Argyll areas, which may spark off some very isolated showers during the afternoon. 

For more online weather updates, go to BBC Scotland Weather or follow @BBCScotWeather 

Man jailed for sexual abuse of two young girls

Raymond Greenless admitted three charges of lewd and libidinous behaviour between 1969 and 1980.

The victims were aged between two and fifteen years.

Copyright: Scottish Courts

Greenless, 59, pleaded guilty last month and was sentenced by Edinburgh Sheriff Court.    

Scotland's economy predicted to grow further, says new report

The State of the Economy report said independent forecasts anticipated economic growth in Scotland this year and next.

The forecast follows a 1.9 per cent rise in 2015.

Scotland's chief economist, Dr. Gary Gillespie, said the labour market continued to be resilient, despite the latest official data showing a fall in employment.

He said that domestic challenges associated with the oil and gas sector were still a factor, but that there was potential for growth and new opportunities.

Mother of Scots soldier killed in Iraq 'disgusted' by £767 fee for Chilcott report

Rose Gentle, who has campaigned for answers since her 19-year old son Gordon was killed by a roadside bomb in Basra in 2004, said she was "totally disgusted" by the fee.

All families of the 179 service personnel who died will have to pay £767 for a full hard copy of the Chilcott report into the 2003 invasion of Iraq.

Image caption: Rose Gentle outside the High Court on 17 August 2005, where a legal bid was launched to secure an independent inquiry.

Next-of-kin will be given a paper copy of the executive summary with the full 12- volume report made available free online.

Pte. Gordon Gentle, 19, was killed on patrol just weeks after finishing his training. 

Andy Murray takes second set against title holder Stan Wawrinka in French Open semi final

The Scot took the second set against the Swiss 6-2.

Follow all the action live here.

Man in hospital after being pulled from Forth and Clyde canal near Falkirk

The emergency services were called to reports of a man in the water near Lock 16 in Camelon at about 13:30.

Copyright: John Slater/Geograph

Police said the man was rescued from the river after an operation involving police officers and fire fighters.

He was taken to Forth Valley Royal Hospital, where his condition is not thought to be life threatening.

Thieves who stole children's piggy banks jailed for more than eight years

William Christie, 29, and Christopher Smith, 26, took the children's money while ransacking a house in Elgin, Moray.

Christie, from Elgin and Smith from Keith, pled guilty at the High Court in Glasgow to forcing their way into the house on 22 November last year and assaulting 46-year-old babysitter Michael McMann.

The pair also admitted stealing three piggy banks containing copper and silver coins that were inside the property, which was owned by Mr McMann's friend, a taxi driver.

Judge Lord Boyd sentenced Christie to four years and Smith to four and a half years.

Andy Murray takes first set against Stan Wawrinka in French Open semi final

The 29-year-old took the set against the Swiss 6-4.

Scot Gordon Reid beats world number one Stephane Houdet to reach French Open wheelchair final

Reid, 24, recovered from 3-0 down in the second set against the Frenchman to win 6-3 6-4 in Paris.

Australian Open champion Reid, the world number four, will face Argentina's Gustavo Fernandez, the world number six, in Saturday's final.

"It feels like I've got the monkey off my back at the Slams. I can play my own game," Reid told BBC Sport.

Scotland's energy and economy ministers holding talks with industry figures to discuss oil downturn

The talks in Aberdeen have also involved union leaders.

Paul Wheelhouse and Keith Brown said the Scottish government had helped the sector through the Energy Jobs Taskforce and a £12m Transition Training Fund.

The talks come after HMRC said in May that the UK government had incurred a loss from North Sea oil and gas production for the first time since records began nearly 50 years ago.

Police appeal for fresh information three months after 67-year-old man found beaten to death

Police probing the murder of Brian McKandie in Aberdeenshire believe he may have known his killer.

He was dead in his home in Rothienorman on 12 March.

Two men were seen speaking to him the day before, and a burgundy or maroon car was also seen at the time.

Officers say they have seen over 1,000 people in house-to-house inquiries involving the case.

Andy Murray facing Stan Wawrinka in French Open semi final

Follow all the action live here.

Traffic updates: Congestion already affecting M8 and A720

Scots band Travis to play at Barrowlands with BBC Scottish Symphony Orchestra

Minister will consider public opinion as well as science when deciding whether to allow fracking

Energy minister Paul Wheelhouse insisted the Scottish Parliament's desire for an all-out ban on fracking was "non-binding" and that the Scottish government would continue with its moratorium pending the results of scientific research and consultation.

Mr Wheelhouse visited upstream oil firm Nexen in Aberdeen to discuss ways to support the flagging North Sea oil industry.

The visit comes after the Tories questioned how fracking opponents "can look the unemployed oil and gas workers in the eye while refusing them new jobs".

Labour hijacked an environment debate on Tuesday to force an early vote on the divisive gas extraction technology, securing a vote in favour of a ban.