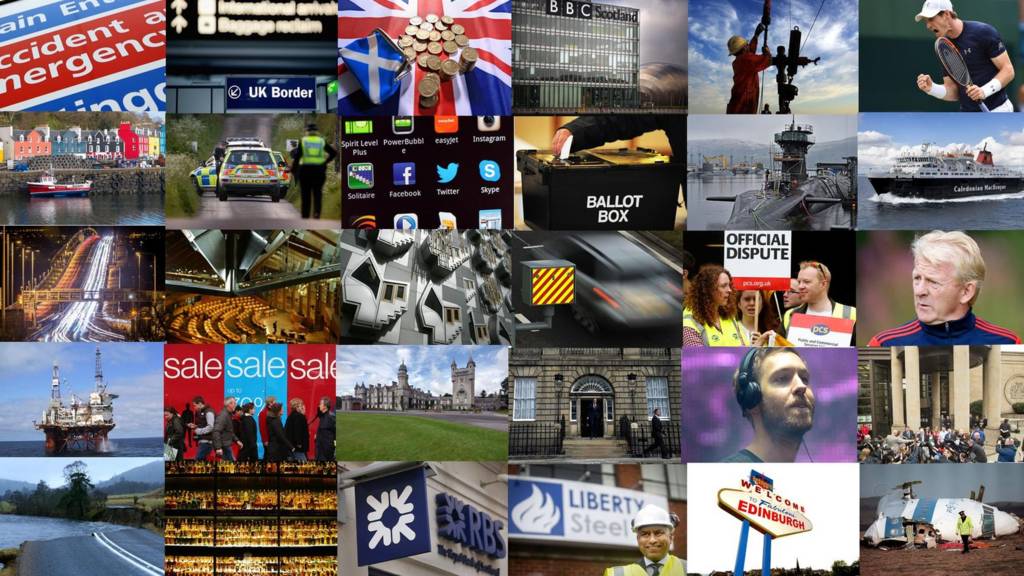 Summary
Paper firm workers get £1.5m payout
Street stabbing may be football related
Death of injured man 'unexplained'
Football club's website deleted
'Despicable act' of dog dumped in bin
Tyre blowout causes massive tailbacks
That's it from Scotland Live for Tuesday. Join us tomorrow from 08:00

Post update

Traffic Scotland latest - Accident closes one lane on M8 eastbound between Jns 18 and 19

Holyrood 2016: Scottish Lib Dems call for a "robust intervention strategy" to support vital industries

While campaigning in Fife, leader Willie Rennie called for support for the 200 strong workforce at the Carron Phoenix sink manufacturing plant in Falkirk,

"We need to make sure we've got a skilled workforce and that's what we've got at the Carron works - some excellent workers there," he said.

"We've got to support them to make sure they're in continued employment."

The company's Swiss owner plans to shut the Falkirk plant and transfer production to a new facility in Slovakia. 

Post update

Latest from BBC Travel Scotland - M90 now clear after earlier broken down lorry

Edinburgh voted top UK city for third year running in Telegraph poll

Former Liberal Democrat MP John Thurso wins by-election to sit as hereditary member of Lords

Lord Thurso lost his Caithness, Sutherland and Easter Ross seat in the Commons at the 2015 General Election.

The by-election was caused by the death of Lord Avebury.

Only the three current Lib Dem hereditary peers in the Lords were entitled to vote in the contest to replace Lord Avebury.

Warmer weather this week - but a cold snap set to return at the weekend

Murder trial told young boy 'made up' story about strangling toddler Liam Fee

In an earlier interview the child said he strangled Liam by putting his hand over his mouth.

Copyright: Police Scotland

But the trial heard details of a later interview in which he said he made that up, and the incident had actually taken place a few days before Liam's death. The child said Liam was talking afterwards and he had been punished for his actions.

Liam's mother Rachel Fee and partner Nyomi Fee deny murdering Liam at a house near Glenrothes and blaming his death on another child. The trial at the High Court in Livingston continues. 

Left-wing alliance Rise launches Holyrood manifesto with promise to 'chart path to independence'

The socialist organisation pledged to support a second independence referendum during the next five-year parliament "with or without Westminster's consent".

Key policies set out by the party include raising the top rate of income tax paid by those earning more than £150,000 from 45p to 60p, replacing the council tax with a new Scottish service tax based on income and introducing a new £10 per hour minimum wage.

At a launch event at the Glasgow Science Centre, Rise also called for the break-up of Police Scotland, a living income for unpaid carers and the phasing-in of free public transport.

The alliance, which was founded in August last year by prominent figures in the Yes campaign, is fielding 40 candidates on Scotland's eight regional lists.

Police name fisherman missing off Orkney as 25-year-old Craig Reid from Inverness

Mr Reid fell overboard from the Apollo about 20 miles off the Orkney coast on Monday.

Det Insp Scott MacDonald said: 'I would like to thank all those who have assisted in the search efforts so far. Sadly, Mr Reid has not been found.

"My thoughts are with his family and friends at this time. A full joint investigation is to be carried out between Police Scotland and the Marine Accident Investigation Branch."

Ross County FC website back online - after web host accidentally deleted it

The site disappeared on Saturday after 123-reg lost a number of websites during server maintenance. 

The loss of the website was affecting ticket and merchandise sales - but it was restored on Tuesday afternoon. 

Holyrood 2016: Tory leader promises to 'hold SNP government's feet to the fire'

The party's Scottish leader Ruth Davidson said she hoped to become the main opposition figure at Holyrood - and said voters did not need to be "dyed in the wool" Tories to support her. 

Campaigning in Perth she also accused SNP leader Nicola Sturgeon of refusing to respect the outcome of the independence referendum. 

"Launching a new campaign in the summer, that's not respecting that clear result, that's not being a first minister for the whole country, that's being a rabble rouser for the SNP," she said. 

Two workers sent ashore after syringe found on BP's North Sea ETAP platform

Update

The entire 447-strong workforce on the platform is being drug-tested following the discovery in the Safe Caledonia Flotel on Friday.

So far, two people have returned a "non-negative" result out of possible options of negative or non-negative in the ongoing tests and have been flown ashore for "more robust testing". 

A BP spokeswoman said the action was being carried out as a precautionary step.

Quote Message: We can confirm that a syringe was found on board the Safe Caledonia flotel, currently located adjacent to the ETAP platform, on April 15. There are, of course, a number of medical reasons why a syringe may be required by personnel offshore, however in line with our zero-tolerance policy for substance misuse we have chosen to take the precautionary step of testing all those onboard. BP is a responsible operator and we place the utmost importance on ensuring the safety of all those who work on our platforms, therefore we feel this is an appropriate response. We can also confirm that two individuals have returned onshore.

Post update

From Traffic Scotland - problems between A92 Crossgates and A909 Cowdenbeath

Watch: Live coverage from the World Snooker Championships where John Higgins is in action

Get all the latest updates from the match against Ryan Day at The Crucible here.

Post update

From Traffic Scotland - A90 update

Holyrood 2016: SNP leader promises clampdown on 'unacceptable work practices'

Nicola Sturgeon told the STUC conference that firms engaging in trade union blacklisting, using zero-hours contracts or evading tax would be forbidden from tendering for public contracts, should the SNP be returned to power.

Ms Sturgeon also said local authorities would be penalised if they delayed implementing equal pay for women.

Her party planned to abolish fees for employment tribunals, she added.. 

Former captain McStay expects Celtic's disappointing record in Europe to be centre of end-of-season review

Paul McStay, 51, deftly avoided criticising manager Ronny Deila but did say that decisions on the club's strategy should be made at the end of the season.

"There's a league to be won and we're on schedule to do that," he said.

"If you come out now and do something drastic it might have some detrimental effect on the team."

Post update

From Traffic Scotland - A90 car fire

Retired Catholic priest appears in court charged with sex offences against three boys

Father Paul Moore, who is 80 and lives in Largs, was charged at Kilmarnock Sheriff Court with lewd, indecent and libidinous practices and behaviour.

He made no plea or declaration during the hearing, which was in private, and was granted bail.

It is understood the charges are of an historical nature.