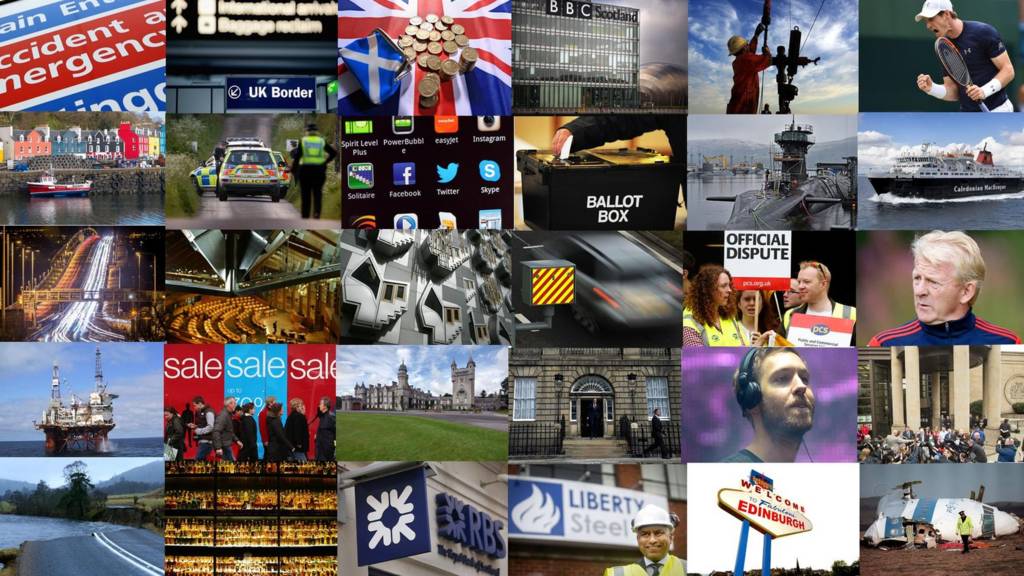 Summary
Thousands of Edinburgh pupils in limbo
Gran tells trial of losing grandson
Survivor speaks about fatal sinking
Passer-by sniffed out pub cannabis farm
Memorial for UK Tunisia victims
Murdered teen's dad unfairly dismissed
Scottish Greens in 200,000 jobs pledge
BBC Scotland Live will be back tomorrow from 08:00

Thanks for joining us today. Goodbye. 

Construction firm at centre of Edinburgh schools crisis responsible for closure of a Glasgow school in 2012

Colin Blane

BBC Scotland correspondent

The structural problem found at Lourdes Primary in Glasgow four years ago was the same as the one discovered last week at schools in Edinburgh. 

Miller Construction was involved in both cases. 

Engineers found header ties were missing - the structures used to fix the top of a wall to the rest of the building. 

The issue led to the temporary closure of Lourdes Primary, with pupils having to be moved to other schools. 

A spokeswoman for Glasgow City Council said the issue was handled quickly and effectively, with Miller Construction accepting all responsibility. She said Miller Construction paid all costs relating to the works. 

Liam Fee murder trial hears 999 call made by the two-year-old's stepmother

During the six minute call, Nyomi Fee sounded distressed as she reported that her baby wasn't breathing and another boy had killed him. 

The operator gave instructions about how to perform mouth-to-mouth resusistation as they waited for an ambulance. 

Copyright: Police Scotland

One of the ambulance crew told the High Court in Livingston that the boy was lifeless when they arrived at the house near Glenrothes but they continued with CPR. 

He said the child's stepmother shouted at another boy saying: "You tell these men what you have done."

Rachel and Nyomi Fee deny murdering Liam Fee in March 2014. The trial continues. 

Post update

Tweet from police in the south of Scotland

Conservatives and SNP sharing platform at Westminster in support of UK remaining in the European Union

Both the Conservative former foreign secretary Sir Malcom Rifkind and the SNP's former first minister Alex Salmond, are appearing before the Commons Foreign Affairs Committee.

They are backing the ''remain'' campaign.

The Labour MP Gisela Stuart and the Conservative MP Dr Liam Fox will be giving evidence on behalf of those who want to leave the EU in June's referendum.

Post update

BBC Scotland's Nick Eardley live on Periscope

Dunkeld osprey lays first egg of the season after 'anxious wait'

The bird, known as "Lassie", has laid her first egg of the season at the Loch of the Lowes nature reserve.

It returned to the Dunkeld reserve on 18 March, two weeks earlier than expected.

Lassie, known officially as Lowes Female 15 or LF 15, hatched three chicks at the site last summer.

Perthshire ranger, Charlotte Fleming, said: "LF15 has given us an anxious wait this year, however we're delighted that she has laid her first egg. With any luck numbers two and three won't be far behind."  

Want to put your questions to the politicians on energy and the environment? Contact BBC Scotland now

Scotland 2016

BBC Scotland's nightly political programme Scotland 2016 will be hosting a series of issue debates in the run up to the 5 May election.

Members of the public with a particular interest in the chosen issues are being invited to put their questions to panellists.

The third issue debate on energy and the environment will take place on Tuesday 19 April in BBC Pacific Quay, hosted by Shelley Jofre.

Details of how to apply to be in the audience can be found here.

'A lot of anxiety' among senior pupils affected by school closures in Edinburgh

Quote Message: I think there's a lot of anxiety about competing coursework because we have got three weeks until exams. There are actual deadlines for assessments which contribute to exam results this week and next week. Children are obviously missing out on this and the learning that would contribute to their revision. from Tina Woolnough Chairwoman of the parent council at The Royal High School in Edinburgh

Estate which was home to former Scotland Secretary George Younger goes on the market

Leckie Estate, near Gargunnock in Stirlingshire, has been owned by the Younger family since 1906. 

George Younger, who died in 2003, aged 71, was the 4th Viscount Younger of Leckie. 

The estate is being sold following the death of his widow, Diana, in November last year. 

Evelyn Channing of selling agents Savills said "I can sense that it is with a heavy heart that all four family members have decided that Leckie should be sold. 

"It is very much hoped that the new custodian of Leckie will treasure and enjoy the estate as much as the Youngers have done".

Dundee manager says there were no bust-ups with Gavin Gunning before the 25-year-old left the club

Mixu Paatelainen refused to discuss the reasons for the defender's exit, which United say was "by mutual consent".

But he insists it was not because Gunning picked the ball up mid-play against Inverness Caledonian Thistle.

"That had nothing to do with it," said the United boss. "There haven't been any fall-outs here." 

Gunning, who was in his second spell at Tannadice, walked off the field with the ball an hour into Saturday's 2-0 defeat.

Edinburgh Council publishes more details about arrangements for primary children affected by school closures

Update

Castleview Primary pupils are expected to be relocated to Castlebrae High School from Tuesday 19 April. The council said the move will be confirmed later this week.

Craigroyston Primary pupils will be relocated to Craigroyston Community High School on a phased basis.

Children in P4-P7 will attend lessons from Friday, while those in P1-P3 will return on Tuesday next week. 

Full details are on the City of Edinburgh Council website. 

Sense of bitterness remains about the way Rangers were treated - Walter Smith

Alasdair Lamont

BBC Sport Scotland

As the club gears up for Premiership football, their former manager maintains there was "no reason" for Rangers to have to re-enter the league in the lowest tier.

"It'll be a massive motivation for Rangers. It would certainly be a motivation for me," said Smith.

He also believes the Ibrox board "have to find a way" to back manager Mark Warburton to compete in the top flight.

With the club mired in debt, Rangers entered administration and then liquidation in 2012 and had to re-enter the Scottish football pyramid in the fourth tier.

Pupils at two Edinburgh primary schools affected by closures will resume lessons tomorrow

Update

However the City of Edinburgh Council has said children at Oxgangs and St Peter's primaries will not be taught in their own buildings. 

Instead, they will be taken to various other schools in the city. 

Full details of the arrangements are available on the council's website. 

Police vow to carry out 'thorough investigation' into sinking of crab boat Louisa

Quote Message: Our thoughts are with the loved ones of the men who sadly lost their lives as a result of this tragic incident. Understandably, the families involved will seek answers and we hope by carrying out a thorough investigation with the Marine Accident Investigation Bureau we will understand the events which lead to the vessel sinking and the loss of life. The dedication and professionalism displayed by local coastguard and lifeboat personnel throughout the incident is to be commended. from Ch Insp Gordon MacLeod Area Commander for the Western Isles, Police Scotland

Police confirm identity of men who died after fishing boat sank off the Western Isles

Martin Johnstone, 29, from Halkirk in Caithness, and Chris Morrison, 27, from Leverburgh, Harris, died when the crab boat Louisa sank off Mingulay on Saturday. 

Copyright: Family photograph

Image caption: Martin Johnstone was one of four fisherman on board the crab boat Louisa

Copyright: Family photograph

Image caption: Chris Morrison also died in the tragedy on Saturday

Another crew member, Paul Alliston, 42, from Lochs, Lewis, is still missing. 

Lachlan Armstrong, 27, was the only survivor of the tragedy. 

Police uncovered £1.66m cannabis farm in a disused Borders pub after passer-by reported smell

Bartosz Gloskowski, 23, of West Granton Road, Edinburgh, admitted growing 1,991 plants at the Queens Head Inn in Selkirk between March and October 2014.

A court heard how a woman phoned police to report the smell from the property.

Sentence was deferred at the High Court in Glasgow until 10 May and Gloskowski was remanded in custody.

Post update

Travel news from ScotRail

Contingency plans in place for S4, S5 and S6 pupils after 17 schools shut across Edinburgh amid safety fears

Update

The City of Edinburgh Council said all primary and special needs pupils will be back in a classroom by 19 April.

However, the authority has still to set out its plans for 2,300 S1, S2 and S3 pupils caught up in the crisis.

The problems were first uncovered in January when a wall at Oxgangs Primary collapsed during high winds.

Further closures were prompted on Friday after workers repairing serious structural issues at the primary found "further serious defects" with the building.

Andy Murray reaches third round of Monte Carlo Masters with win over Pierre-Hugues Herbert

After comfortably winning the first set against the French qualifier, Murray made some unforced errors in the second before breaking early in the third.

He finally won the match 6-2 4-6 6-3.

The British number one faces Frenchman Benoit Paire or Portugal's Joao Sousa next as he begins his clay court campaign before May's French Open.