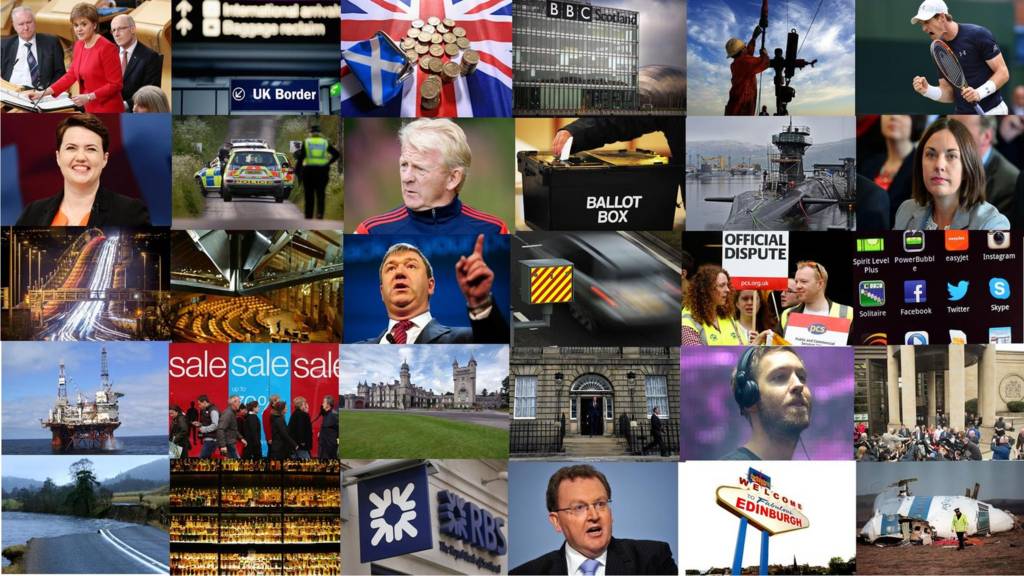 As it happened: Scotland Live on Wed 23 March
Summary
Funds raised for murdered girl's family
Frank Mulholland to step down as Lord Advocate
Hopes for steel mill as taskforce meets
Final day at Holyrood ahead of election
Swan shot with arrow in Fife
Live updates have finished for today

Join us at 08:00 tomorrow morning for more.

Man admits pretending to be a CID officer

Robert Clark, 42, of Miltonfield, Cupar, has admitted impersonating a police officer and assaulting two people at a hearing at Dundee Sheriff Court.

He approached a group of youths at a bus stop in Dundee's Nethergate on 5 December, and demanded they empty their pockets.

Copyright: Alan Richardson

He told them he thought they were pickpockets, grabbed at their clothes and punched one teenager twice.

After being traced by police, Clark said he hadn't reported any suspected crime because: "I'm not a grass".

Sentence was deferred for four weeks for reports and an assessment of Clark's suitability for alcohol treatment.  

The fate of Scotland's beavers will not be decided until later this year

The Scottish government said any decision on the formal re-introduction of the animals will not be taken until later in 2016.

Four years ago, ministers promised a decision on the matter by 2015.

The Royal Zoological Society of Scotland (RZSS) and other groups have warned that delays risk the welfare of beavers already in parts of Scotland.

The government said it and Scottish Natural Heritage were giving landowners advice on managing the animals.

Four cars stolen in two days from Falkirk area

Officers are keen to trace two men both wearing hooded tops, who broke into homes and stole car keys before making off with the vehicles.

A purple Mini Convertible and a blue BMW 1 Series M Sport were taken between 02:00 and 08:00 on Tuesday from the Longcroft area of Bonnybridge.

On Wednesday, a white Vauxhall Insignia and a white Transit van were taken from  the Head of Muir area of Denny.

Doctors criticise trauma care plans

More than 50 doctors in Aberdeen have expressed concern at plans which they claim would see people with the most serious injuries transferred to Edinburgh or Glasgow. 

They said only two of four planned trauma centres were now being proposed, and services would be centralised. 

The 57 clinicians wrote in a joint letter that this would downgrade services at Aberdeen and jeopardise patient care. 

But the Scottish government denied the claims and insisted all options were still on the table.

Grangemouth power plant plans approved

Oil giant BP has been given the green light by Scottish ministers to build a new gas-fired combined heat and power (CHP) plant at Kinneil oil terminal in Grangemouth. 

The terminal processes crude oil sent from North Sea platforms via the Forties Pipeline System (FPS).

Kinneil requires steam for heat energy to drive oil separation processes.

The Scottish government said the site was a "strategic piece of oil and gas industry infrastructure".  

Travel: A84 closed in both directions between Doune and Callander after crash

In pictures: MSPs piped out of Holyrood as parliament's fourth term ends

It was the last chamber session for Tricia Marwick who retired after 17 years as an MSP.

Copyright: Scottish Parliament

Image caption: A piper closed the fourth session of the parliament

Copyright: Scottish Parliament

Image caption: Tricia Marwick has spent five years as presiding officer

Copyright: Scottish Parliament

Image caption: All five party leaders lined up to thank the SNP MSP

Copyright: Scottish Parliament

Image caption: Ms Marwick said she wanted to spend more time with her grandchildren, who were there to watch the proceedings

Police name woman killed in Ayrshire bus crash

A 45-year-old female bus passenger killed in a crash on the A78 in North Ayrshire has been named.

Police said she was Andrea Harris from Ardrossan.

The crash, involving a Stagecoach bus and an Isuzu 4x4, took place north of Ardrossan at 14:15 on Monday.   

Post update

From BBC Scotland's business editor

Mother of murdered teenager Paige Doherty appeals for witnesses

Pamela Munro gave out a new photo and a statement urging anyone with information to text it to police on a dedicated mobile number.

She said: "We are absolutely devastated that we have lost our beautiful little girl and would appeal for anyone with information to come forward and bring justice for Paige." 

The number is 07557 540 848.

The 15-year old's body was found in a wooded area near to Great Western Road, Clydebank, at about 12:45 on Monday. 

She was last seen at about 08:20 on Saturday morning at a shop on Fleming Avenue.

Police are anxious to speak to anyone who may have seen someone acting suspiciously in the vicinity of Great Western Road, near to a wooded area on the A82 on Monday.

Police appeal for dashcam footage in Rothienorman murder inquiry

Brian McKandie, 67, was found dead at Fairview Cottages in Badenscoth on Saturday 12 March.

Copyright: Police handout

Officers investigating his murder have appealed to motorists who were in the area between Friday and Saturday and who recorded dashboard camera footage.

Police Scotland are also keen to speak to two men who may have visited Mr McKandie the day before he was found dead.

Aberdeen doctors express concern over major trauma centre review

Fifty-seven doctors in Aberdeen said the proposals could see people with the most serious injuries transferred to Edinburgh or Glasgow.

The clinicians believe there are plans to centralise trauma care in Edinburgh and Glasgow, downgrading Aberdeen and jeopardising patients.

Video: Tricia Marwick steps down as Holyrood presiding officer

The first female presiding officer of the Scottish Parliament has held the post for five years.

She will not seek re-election as MSP for Mid-Fife and Glenrothes but will return to help install a new presiding officer in May.

Post update

Latest forecast from BBC Scotland Weather

Anaesthetist criticised following death

A consultant anaesthetist has been criticised following the death of a patient who was deprived of oxygen during an operation at Aberdeen Royal Infirmary.

The patient, known as a Mr A, suffered a condition called hypoxia during an operation to have a lung removed in July 2011.

He was transferred to intensive care but did not regain consciousness and died one week later.

NHS Grampian has apologised for lack of communication with the man's family.

First Minister: Income tax rise for top earners 'daft'

Raising the top rate of income tax for Scotland highest earners would be "reckless and daft", the first minister has insisted. 

 Nicola Sturgeon was speaking during the final first minister's questions before the election.

Labour leader Kezia Dugdale had accused her of refusing to "reverse George Osborne's tax cuts for the very rich". 

Tory leader Ruth Davidson used the session to criticise the Scottish government's named person scheme.   

Auditor reveals college concerns

Concerns about the way some colleges have been run have been spelled out in a series of major reports. 

Glasgow Clyde College, Edinburgh College and Glasgow Colleges' Regional Board (GCRB) are the focus of the reports for the Scottish Parliament

They fell short of accepted standards of good governance or financial management, according to the Auditor General.   

Dog fouling penalty to be doubled from April

Dog owners who fail to pick up after their pets will face a fine of £80 from 1 April - double the current fixed penalty rate. 

The change brings the penalty for dog fouling in line with the fine for littering. As well as increasing the fixed penalty, the Scottish government said it was also working with local authorities to consider how more unpaid penalties can be collected.