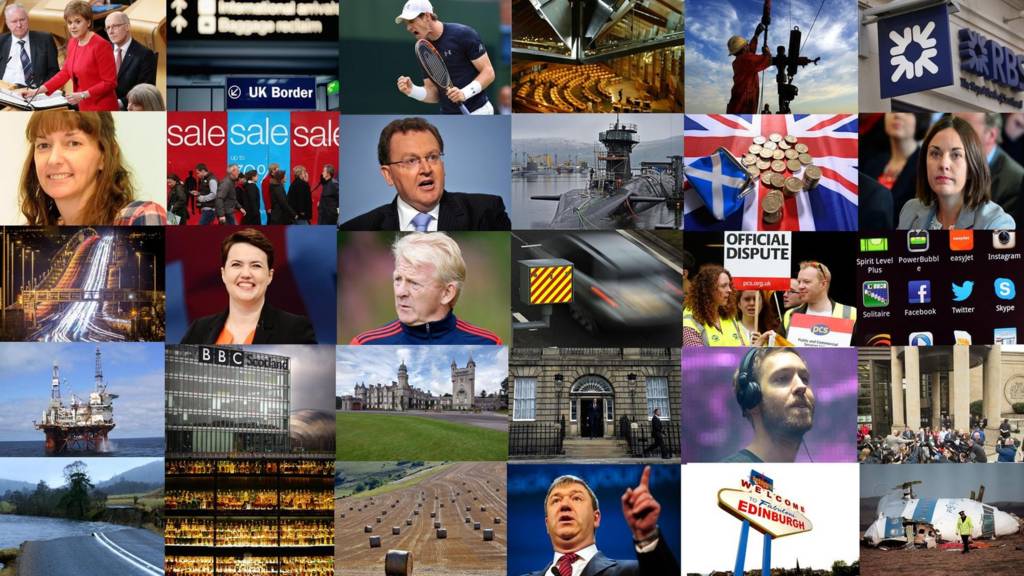 As it happened - Scotland Live on 2 March
Summary
Highest council tax bands to pay more
Dundee teenager on explosives charge
Three charged over 'fireraising' bid
Schools urged to ban tackling in rugby
Edinburgh Airport celebrates 100 years
Scotland Live will be back from 08:00 tomorrow

Nichola Rutherford

BBC Scotland

Thanks for joining us today.

Post update

Cromarty bridge re-opens after earlier accident

School children cast nearly 30,000 votes in Scottish Children's Book Awards as winners announced

Three winning authors, Ross Mackenzie (The Nowhere Emporium), Simon Puttock (Mouse's First Night At Moonlight School), and Philip Caveney(The Piper), who wrote under the pseudonym Danny Weston, triumphed in the 2016 awards.

Copyright: Scottish Children's Book Awards

The competition, run by the Scottish Book Trust, celebrates the most popular children's and young adult's books by Scottish authors or illustrators.  

Councils have 'succeeded' in providing increased free childcare, says Care Inspectorate

In 2014, authorities were tasked with expanding free early learning and childcare from 475 to 600 hours per year for all three and four-year-olds and around 27% of two-year-olds.  

The inspectorate said that between June 2014 and October 2015, more than 2,500 new childcare places were created. 

It found local authorities had "generally succeeded" in making the 600 hours of free provision available for eligible children 

But said that choice of provision varied depending on council and its location.

Increase in women involved in prostitution asking for help following death of escort girl

Police in the north east said there had been an increase in the number of women involved in prostitution coming forward for help in recent weeks - following the death of an escort girl in Aberdeen.

Image caption: Jessica McGraa was found in a flat in Union Terrace in January

The body of 37-year-old Jessica McGraa was found in a flat in Union Terrace last month.

A man has appeared in court charged with her murder.

Police Scotland said there was a range of support services available for women trying to get out of the sex trade, and it is encouraging them to get in touch.

Fifty-six pupils at a primary school in Milngavie fall sick with norovirus

Parents and carers of children at Clober Primary School have been sent a text alert by East Dunbartonshire Council to tell them about the outbreak. 

Copyright: Science Photo Library

They have been told if a child exhibits symptoms they are to be kept off school for 48 hours.

Following the guidance of NHS public health, the school is being deep cleaned this evening and will be open tomorrow.  

Police renew appeal amid 'significant concerns' for missing 70-year-old Robert McLaren

Officers have also issued a new photograph of the pensioner, who was last seen at the Rannoch Road shops in Perth at 08:08 on 20 February. 

He was wearing a black "Donkey" jacket, a beige baseball cap with a white motif on the front, blue jeans or trousers and brown shoes.

Copyright: Police Scotland

Police Scotland said there are "significant concerns" for Mr McLaren and they have carried out extensive searches for the man. They are also carrying out house to house enquiries. 

They have asked local residents to check sheds, garages and outbuildings for signs that someone might have taken residence.

Cromarty bridge closed in both directions by a road accident

Post update

Road reopens after car hit gas main on the A7 in the Borders

Lego fan from Glasgow recreates city's skyline in a bid to have his designs immortalised in plastic

Engineer Peter Johnston has submitted the idea to the Lego Ideas website, which invites suggestions for new sets.

The skyline includes tenement flats, Finnieston Crane, Glasgow University, the Squinty Bridge and the Duke of Wellington Statue, famed for its cone.  

Full story and pictures here. 

Scottish snowsports centres enjoy an 'extremely busy' three weeks

More people took to the slopes during the Scottish and English half-term school holidays, Ski-Scotland said.  

View more photos here. 

Police arrest and charge man and woman after 'cannabis cultivation' discovered

Officers in Midlothian found a substantial quantity of cannabis and a further 22 plants with an estimated street value of around £13,000.

Growing equipment was also seized at an address in Easter Langside Avenue, Dalkeith 

A report will be submitted to the procurator fiscal.

Boy accused of murdering Bailey Gwynne was 'anxious' and 'agitated', court told

update

Cults depute head David Strang, 50, told the High Court in Aberdeen that the accused was brought into his office and was "anxious" and "agitated".

He said the accused put his head in his hands and sobbed.

Mr Strang said the accused wiped blood off his hands with a tissue, and gave him a knuckleduster.

Copyright: Police Scotland

Mr Strang said he remembered the accused used a mobile to phone his father and mother.

He said: "I think he said that he had stabbed someone."

He added: "He said that he had been called fat and that he had retaliated that his mother was fat".

Bailey Gwynne died at Cults Academy last October. 

The accused, who cannot be named for legal reasons, denies murder. 

Post update

The forecast from BBC Scotland weather

In pictures: Penguins at Edinburgh Zoo prepare for the breeding season

Keepers have placed nest rings and pebbles in the enclosure to help the annual courtship display. 

The Gentoos woo their potential partners by presenting them with the stones. 

Penguin keeper Dawn Nicol said: "The start of penguin breeding season is the busiest time of the year for bird keepers, but it is also the most exciting. 

"Once the Gentoos have found a mate and filled their nests with the best looking pebbles, the first eggs should start to appear in April, with the first hatchings in May after a 33-35 day incubation period." 

Watch the Gentoos' nesting activity on the zoo's webcam here. 

Two people in hospital after car hits gas main on A7 in the Borders

update

The men are being treated at Borders General Hospital following the single vehicle crash between Selkirk and Galashiels. 

A spokesman for Police Scotland warned that the road is likely to remain closed for some time. 

He added: "Inquiries into the full circumstances surrounding this collision are ongoing and anyone with information that can assist officers with their investigation is asked to come forward.

"The A7 will remain closed for the time being while a multi-agency response is in place at the scene."

Funding of £1.8m secured to help regenerate Stranraer - but two other Dumfries and Galloway towns miss out

The money will be used to improve links from Castle Square to the marina and enhance links to the West Pier.

Copyright: Billy McCrorie

Dumfries and Galloway Council said it was pleased to secure the Regeneration Capital Grant Fund support.

However, similar bids for projects in Dumfries and Kirkcudbright were not successful.

Scottish government's planned council tax changes branded 'weak reforms' by STUC

The Scottish Trades Union Congress said it welcomed the first minister's commitment to end the council tax freeze.

Quote Message: However, in totality, the measures announced by the first minister today are very disappointing. With over half of all homes in the wrong band, it is scarcely credible that reforms will not be accompanied by a revaluation and, at the very least, the introduction of new, higher bands was surely a prerequisite for persisting with the council tax. These weak reforms could have been implemented under existing powers years ago. The capping of council tax increases at 3% and the hypothecation of revenues does little to further the cause of local democracy. from STUC spokesperson

Paramedic tells murder trial schoolboy was 'gasping for breath' after being fatally stabbed

Update

Paramedic Gary Gillespie told the High Court in Aberdeen that Bailey Gwynne was one of the palest people he had ever seen.

Copyright: Police Scotland

The fast response paramedic said: "He was gasping for breath with an obvious injury to the chest."

He said it was obvious there had been a "huge internal blood loss".

Mr Gillespie, 46, started treating Bailey, but the teenager's heart stopped.

Bailey Gwynne, 16, died after the incident at Cults Academy last October.

The accused, who cannot be named for legal reasons, denies murder.

Main A7 route in the Borders shut for emergency repairs after vehicle hits gas main

The vehicle reportedly left the A7 at Lindean shortly after 14:00 and struck the gas main.

As a result the route has been shut between Galashiels and Selkirk for emergency gas repairs

Emergency crews are warning that the road is likely to remain closed for some time.