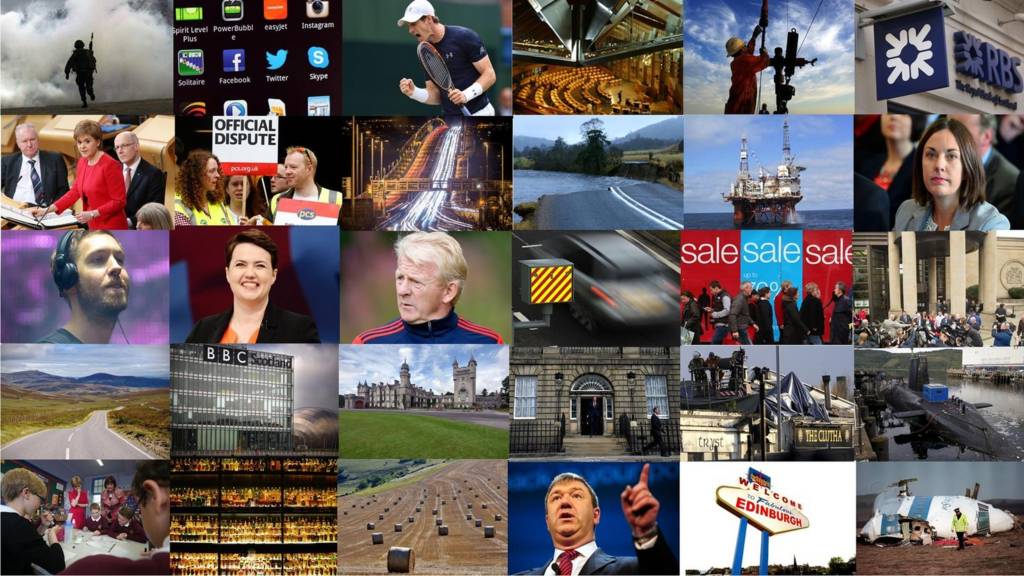 Summary
Life sentence for 'dog row' murderer
Potential buyer for Scots Tata plants
Sea King flight bids Scotland farewell
Driver caution call as snow strikes
Explorer achieves South Pole first
Graham Fraser

BBC Scotland News website

That is all for Scotland Live. Join us again from 08:00 tomorrow.

Post update

Crash on M8 causes delays

Allan Johnston vows to hold on to top players at Dunfermline as he wins manager of the month

Johnston took the Scottish League One award after leading the Pars to four straight victories during December.

"We can't afford to lose any of our best players," said the leaders' manager. "It's too important a season.

"We've got ambitions to win the league and you want to strengthen the team rather than weaken it."

Post update

On Scotland 2016 tonight

One of the first patients to receive a new lung valve speaks of huge improvement in life

Patricia McCall had tiny valves inserted in her lungs to treat her emphysema.

The procedure is an alternative to radical surgery in which diseased parts of the lungs are cut away.

Ms McCall was treated at the Golden Jubilee National Hospital in Clydebank as part of a clinical trial.

Post update

Drivers urged to take care on the A9

Job cuts in oil industry 'having dangerous impact on mental health of workers'

More than 700 job losses in the sector have been announced this week alone.

Industry body Oil and Gas UK estimates more than 65,000 jobs have already been lost as a result of the tumbling price of oil.

Suicide prevention charity Chooselife told BBC Scotland it was vital those affected sought help.

BBC to show live television coverage of East Kilbride or Lothian Thistle Hutchison Vale vs Celtic

The Scottish Cup match will take place on Sunday 7 February at 15:00 GMT.

There will also be live commentary on BBC Radio Scotland and both the TV and radio coverage will be streamed on the BBC Sport website.

East Kilbride and Lothian will play their rearranged tie at K-Park on Wednesday at 19:30.

Priceless prehistoric stone ball stolen from a Scottish museum

The ball - which is about 6cm across - was taken from its display cabinet at the volunteer-run Dunblane Museum while curators' backs were turned.

Museum curator Marjorie Davies said the theft was "shocking" as the ball was irreplaceable.

Known as a petrosphere, the ball was originally found near Dunblane about 100 years ago.

Copyright: Dunblane Museum

Teacher to stand trial charged with sexually abusing two pupils at schools in South Lanarkshire

Ronald Burton, 60, is accused of abusing one boy, who was aged between 11 and 13, from 1994 until 1996.

It is further alleged he raped and sexually assaulted another male pupil, aged 13, in 2014.

At the High Court in Glasgow, Mr Burton denied a total of seven charges against him. Judge Lady Scott set a trial due to begin in July.

Code breaker for Prime Minister Winston Churchill during World War Two dies

Christina Morrison, 96, from Skye, worked in Whitehall in London after first being recruited there because of her speedy shorthand skills.

In an interview for BBC Scotland last month she told of once coming across Churchill in his pyjamas while working late at night.

Mrs Morrison died at Ach-an Eas Nursing Home in Inverness on 10 January.

Post update

Weather Watcher captures beautiful scene on Isle of Harris

First Minister has no sympathy for local authorities considering ditching the council tax freeze

Nicola Sturgeon told MSPs it would be "unfair" to give government cash to those which comply with the freeze, but also give money to those which do not.

She had been challenged by Lib Dem leader Willie Rennie who asked if she intended to hit Moray Council with a "£1m penalty" if it dropped the policy.

The north east council will decide next month on whether to raise bills by 18%.

Three of four Police Scotland officers named in spying probe decline invitation to give evidence to MSPs

The justice committee is investigating after police officers intercepted communications without approval.

The committee wrote to the four named officers despite the force refusing to put them up due to "legal issues".

Via a representative body, three of the officers said they did not believe they could add to evidence already heard.

Police investigate after human remains are found within grounds of a house

A spokesman for Police Scotland said a detailed forensic examination is now under way to establish the full circumstances around the discovery in Edinburgh's Gogarstone Road on Saturday. 

Alan Rickman remembered - Listen to his interview from the Janice Forsyth show last year

Edinburgh locks Ben and Alex Toolis to become first twins to start a competitive match for a Scottish club in the professional era

The pair will team up against Agen in the capital club's penultimate European Challenge Cup pool game at Murrayfield.

Ben Toolis returns in one of 11 changes. Stuart McInally, John Andress, Jamie Ritchie, Hamish Watson and Magnus Bradbury also come into the pack.

Will Helu, Andries Strauss and Sean Kennedy come into the backline.

A farewell to the Sea Kings - Your pictures and videos

Here are some more of your Sea King pictures sent to @BBCScotlandNews.

Man dies following an accident at a sawmill in Falkirk

The 22-year-old died of his injuries following the incident in the Bainsford area yesterday afternoon. 

Police and the Health and Safety Executive are investigating. 

VIDEO: HMS Gannet's search and rescue helicopters make final farewell flypast of Scotland

HMS Gannet's search and rescue helicopters have made a final farewell flypast of Scotland.

Royal Navy Sea Kings have been involved in thousands of rescues since the first unit was established 44 years ago.

But the service was replaced by a civilian team at Prestwick Airport on 1 January, bringing an end to military search and rescue in Scotland.

The Sea Kings flew over the scene of many past rescues and started from Prestwick at 10:00.