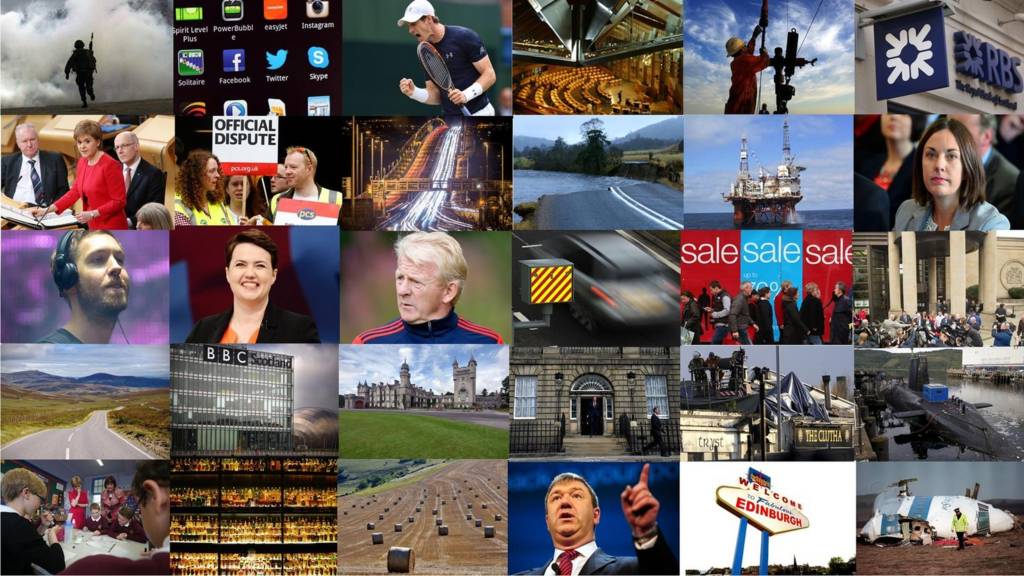 Summary
Hawick couple named as £33m lotto winners
David Mundell announces he is gay
Moray Council proposes 18% council tax rise
Scots economy grows by 1.7% last year
Amber warning of overnight snow
Cyclist sought for kicking toddler
Graham Fraser

BBC Scotland News website

Police say child killer Robert Black may have been charged with another murder in weeks

Copyright: Police collect

Officers say they are "devastated" Black died before he could be charged with the murder of a 13-year-old Devon schoolgirl.  

Genette Tate, a newspaper delivery girl, vanished from a rural lane in the English county in 1978. Her body has never been found. 

Scottish-born Black died in non-suspicious circumstances in Maghaberry high security jail in Northern Ireland. 

He was serving multiple life sentences for the murders of four schoolgirls in the 1980s. 

Post update

Latest snow on the A68 and A7

Alex Salmond says pressure for a second referendum on Scottish independence "irresistible" if the UK votes to leave the EU

Speaking on his LBC phone-in show, Mr Salmond wouldn't be drawn on the exact timescale for a second vote on leaving the UK. 

Any decision would be down to the first minister and the people of Scotland, he said. 

The SNP's foreign affairs spokesman also said the referendum on EU membership should be at least six months after the Holyrood election on 7 May.

Meanwhile, the former SNP leader has said that if England were to be granted its own national anthem, he would vote for 'Jerusalem'. 

The Labour MP, Toby Perkins has been calling for an English national anthem in place of the British national anthem, 'God Save the Queen', for sporting occasions.

Social Justice Secretary says new Holyrood income tax powers will give lowest earners 'better deal'

Alex Neil has indicated tax rises for those who earn more, with the finance secretary John Swinney already hinting at tax increases for the richest by using the new powers from 2017. 

But Labour have accused Mr Swinney of "bottling it" for not making changes to income tax using existing powers in the latest budget.

Post update

Latest on the snow in Dumfriesshire

Met Office issues severe weather warnings for snow for this evening and tomorrow morning's rush hour

The worst of the conditions are expected in Shetland and the south east, with a yellow, be aware, warning in place for much of south and central Scotland. 

Commuters are being urged to take care on the roads and to check with the websites of travel operators before setting out. 

The Transport Minister Derek Mackay says the government is prepared for the first significant snowfall of the year.

Glasgow Warriors' game against Racing 92 to be played in Kilmarnock as Scotstoun is unplayable

BBC Scotland understands the European Champions Cup match between the Warriors and the French side will be moved after the home of the Glasgow men was hit by the recent bad weather.

Sam Hidalgo-Clyne signs two-year extension with Edinburgh Rugby

The Scotland scrum-half will now be contracted to the club until 2018.

John Higgins beats China's Liang Wenbo to reach Masters quarter final

Higgins' 6-4 victory at Alexandra Palace to set up a quarter final against world champion Stuart Bingham. 

Neil Robertson plays Marco Fu tonight for the last remaining quarter final place.

Scottish government confirms bird flu has been confirmed on Dunfermline poultry farm

Laboratory tests have identified a very mild strain of the H5N1 virus and a humane cull of almost 40,000 birds has started. 

Restrictions on the movement of poultry and birds for one kilometre around the affected premises remain in place.

British Athletics hopes to bring 2019 European Indoor Championships to Glasgow

Newest MSP says she will 'get stuck in' despite fears of losing seat at election

Scotland's newest MSP said she would be "getting stuck in" to her new job although she could spend less than three months at Holyrood.

Lesley Brennan, who is a Labour councillor in Dundee, was sworn in as the party's latest representative for the North East of Scotland region.

It comes after her party colleague Richard Baker announced on Monday he would be stepping down with immediate effect to take on a new job with the charity Age Scotland.

Ms Brennan will be an MSP until 24 March, when Holyrood is dissolved ahead of the Scottish election.

Ronny Deila feels a 12-team Premiership is right for Scottish football

Falkirk chairman Doug Henderson will raise the issue of league restructuring at Tuesday's meeting of Scottish Professional Football League clubs.

Henderson wants a larger top flight and favours a model of 16 teams playing each other twice a season.

"It's a tough decision, I think the structure here is good," said Norwegian Deila.

"I have only been here one-and-a-half years so it's a little bit early for me to be very hard on something.

"There are positives and negatives about everything. When you have less teams that gives you higher quality or you should get higher quality. You play others often so the level should be higher."

MPs take part in wide-ranging debate on condition of the UK economy

The SNP opposition day debate on trade, exports, productivity and innovation was led by Treasury Spokesman, Stewart Hosie. 

He told the chamber that the Chancellor had not met a single fiscal target he had set for himself and that the approach of the UK government to boost productivity has been limited. 

The Minister for Business, Innovation and Skills, Anna Soubry, responded by saying the chancellor had to make difficult decisions to control spending and to reduce the deficit to rescue the economy and that productivity in Scotland was 2.5 per cent below the UK average. 

Alex Salmond wants Donald Trump to drop Turnberry for the sake of the British Open golf tournament

Mr Salmond made the comment on his LBC radio show

Willie Limond has got the 'buzz back again for boxing' after new fight is announced

The Glasgow light-welterweight, who is British and Commonwealth champion, has announced he will fight former French champion Christopher Sebire at an event in Bellahouston, Glasgow on 19 March.

The 36-year-old also wants a chance to become world champion.

The injury-hit boxer has been out of the ring for 18 months.

Former First Minister Alex Salmond believes oil prices will recover

"Countries have deficits. The UK has a deficit. Scotland would have a deficit at the present moment. You are far better to have a natural resource. The price of oil will come back. Everyone knows this."

The former First Minister was making his comments on his first LBC radio show.

A listener asked how Scotland would have coped with the drop in the price of oil if the country had voted Yes in the independence referendum.

In his answer, Mr Salmond also pointed to the situation in Norway, and the country's large oil fund it can fall back on.

Mr Salmond said everyone should concentrate at the moment on the people who are losing their jobs, and on stimulating the industry. 

Staggies striker Liam Boyce hopes to return from injury in time for Celtic match

The Ross County player suffered a hand fracture, but would like to be back in action in time for the League Cup semi-final with the Premiership leaders on 31 January. 

The 24-year-old, who is the Premiership player of the month for December, has missed the last three matches. 

"I had another x-ray today and they think it's going to be another two to four weeks," said Boyce. 

"I'm aiming for the Celtic semi-final, it's a big match, but I'll just need to take each game as it comes." 

Smith Commission deal was 'rushed through without full consideration of the practicalities of devolving some taxes'

David Heald, Professor of Public Sector Accounting at University of Glasgow, has been telling MPs on the Scottish Affairs Select Committee that there was great pressure for more tax powers at Holyrood after the independence referendum. 

But because the implications were not fully considered, politicians and officials are now coming late to difficulties with the fiscal framework, he added. 

David Phillips from the Institute for Fiscal Studies also told the committee it would be impossible to design a perfect system, warning principles designed to make sure neither the UK or Scotland lose out as a result of the deal were inconsistent.