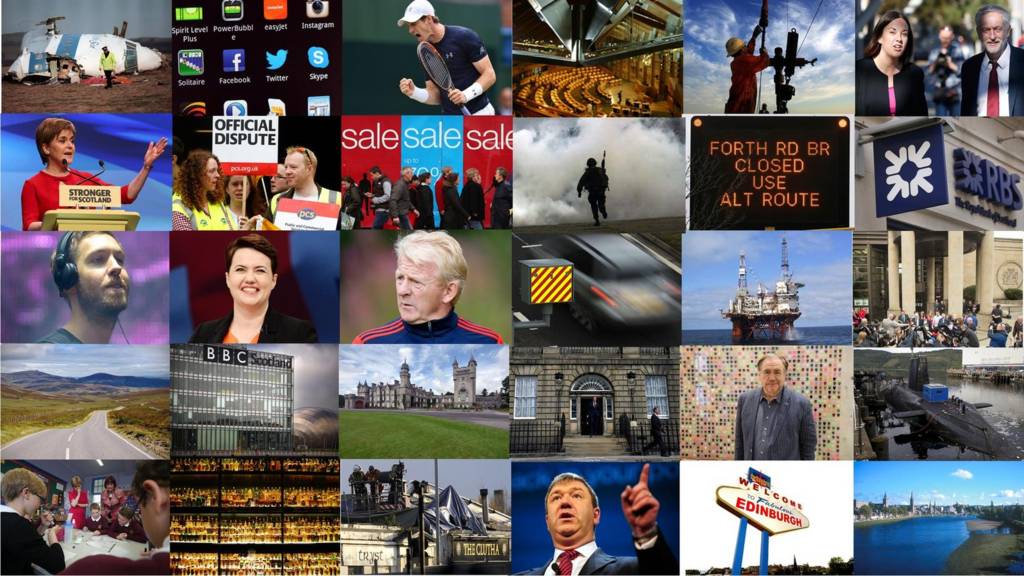 Summary
OECD passes judgement on Scotland's Curriculum for Excellence
MSP ejected from chamber in row over union bill
Welding work begins on Forth Road Bridge repair
IT fault shuts down Bilston Glen police control centre
Body found in bridge search for Dean Wood
That's all from Scotland live

Join us again from 8am on Wednesday

'Order, order' at Holyrood

BBC Scotland political editor Brian Taylor

Was it planned? I refer to James Kelly's protest at Holyrood and subsequent expulsion from the chamber.

Yes, inasmuch as Labour MSPs were spoiling for a fight over the ruling by the Presiding Officer that Holyrood could not block the Westminster Bill to curb trade union rights.

Mr Kelly was simply the most persistent of a long list lining up to challenge that ruling. Plus, as the Business Manager, he took precedence when it comes to discussing procedure in Parliament.

But he is adamant that he did not intend to get expelled. He is adamant that he was not courting such a response.

I asked him whether the "red mist" had descended. His response was indignation. The issue of mist had not arisen. He had been perfectly calm and collected. The fault, he argued, lay with the chair.

MSPs pass government motion on retaining GPs

MSPs have backed by 104 votes to five a Scottish government motion recognising the challenges being faced in the recruitment and retention of GPs, supporting the current work to agree a new GP contract for Scotland from 2017 and welcoming Sir Lewis Ritchie's review of out-of-hours primary care and the planned increase in GP training places. 

A Labour amendment noting that "while there has been some shift in the balance of care from secondary to primary services, there has been a reduction in the primary care share of the overall health budget" was rejected by 63 votes to 46. 

A Liberal Democrat amendment stating "there is a GP crisis, caused in part by the failure of the Scottish government to invest in primary care" was voted down by 73 to 36. 

Primary schools 'find Curriculum for Excellence more welcome'

Prof Maitles,from the University of the West of Scotland, told BBC Scotland Newsdrive: "There is some evidence that in primary schools the curriculum for excellence and the inter-disciplinary and active learning that goes with it has been well-advanced and teachers are, I think, are liking some of the freedom that the CfE was designed to give them.

"In secondary schools I think there has been less positivity and less general understanding of inter-disciplinary learning, which means that primary schools are generally finding the Curriculum for Excellence more welcome."  

Fife body find confirmed as missing woman Maureen Bannister

Police have confirmed that a body discovered on a Fife beach was that of a missing 43-year-old woman.

 They say Maureen Bannister's death is currently unexplained. 

Copyright: Police Handout

A coastguard helicopter was involved in a large search operation after she went missing while walking her dog at Tentsmuir forest on Sunday. 

A member of the public found her body last night.

Report on Scottish education 'generally favourable'

Henry Maitles, professor of education at the University of the West of Scotland, told BBC Scotland Newsdrive that the OECD report on Scottish education was "generally favourable".

He said: "Particularly when you put it in the light of the OECD report from two weeks ago which suggested Scottish teachers had some of the largest classes and least preparation time of any teachers across Europe."

"To read that there is a great deal to be positive about in such a review: that our teachers are motivated; that the parents are involved in the schools; and more importantly that the young people seem to enjoy going to school. There is quite a lot to be positive about."

Public warned against handing over cash to bogus workmen operating in the Perth area

The public have been warned to be wary of bogus workmen operating in the Perth area.

Police Scotland are urging people not to hand over money up from in exchange for claims that work will be carried out around your home or garden.

There have been three incidents in the last few days of rogue traders offering roof repairs or gutter cleaning in exchange for cash. 

NHS board now to allow the use of electronic cigarettes within hospital grounds

Scotland's largest health board is to allow the use of electronic cigarettes within its hospital grounds. 

Tobacco smoking was banned in all health grounds in Scotland in April, but health boards were given discretion over the use of vaping devices. 

NHS Lothian was the only one of the country's 13 health boards at the time to allow restricted use of e-cigarettes. 

NHS Greater Glasgow and Clyde says it will now do so and cites new evidence that e-cigarettes help tackle tobacco smoking.  

Rush hour travel update

BBC traffic and travel with Zoe Diamond

In Glasgow on the M8 - WESTBOUND One lane closed and slow traffic because of a broken-down car on between J16 Craighall and J17 Great Western Road. 

On the M77 - SOUTHBOUND - there is slow traffic because of an accident - now on the hard shoulder on between J1 Dumbreck Road and J2 Barrhead Road. 

Congestion on M77 to M8 J22 (Plantation). 

I have a had a couple of calls about the CLYDE TUNNEL. Very slow traffic northbound because of an accident earlier on between Moss Road and Victoria Park Drive South, congestion to M8 J25 (Cardonald). I'm told it's taking around 20 minutes to get through. 

In Aberdeenshire - there is slow traffic on the A90 in BOTH DIRECTIONS because of an accident involving two vans near Trump Golf Course. 

In Dundee - the A90 FORFAR ROAD has queueing traffic SOUTHBOUND because of a broken down lorry on the Kingsway at Old Glamis Road on the roundabout.  

There is slow traffic on the A876 CLACKMANNANSHIRE BRIDGE - SOUTHBOUND because of the closure of the Forth Road Bridge. 

Buses are still replacing trains between Carlisle and Dumfries because of flooding ON THE TRACKS. 

Alterations to services between Glasgow Central and Lanark because of a fault with the signalling system between Carluke and Lanark.   

Caledonian Sleeper services before Christmas cancelled due to strike action

Industrial action has led to the cancellation of Caledonian Sleeper services linking Scotland and London on the evenings of Tuesday 22 and Wednesday 23 December. 

Any passengers booked on those services can request a full refund. 

Serco, who run the Sleeper, say services will return to normal on Sunday 27 December.

In the ballot, 91% of RMT union members working on the Caledonian Sleeper rail service voted in favour of the industrial action. They also backed action short of a strike. 

Ejected MSP says Presiding Officer was 'completely unreasonable'

A Labour MSP has said Holyrood's Presiding Officer was "completely unreasonable" when she threw him out of the Scottish Parliament's chamber. 

Tricia Marwick ordered James Kelly be removed from the main debating chamber after the pair clashed when he tried to raise a point of order after she had blocked a Scottish government bid to prevent controversial reforms from applying north of the border. 

Image caption: Labour MSP James Kelly says he was continually interrupted in trying to make his point of order

 Mr Kelly has now been barred from taking part in proceedings at Holyrood on the rest of Tuesday and Wednesday.   

Post update

BBC Scotland's Lisa Summer climbs to the top of the new crossing

More than a quarter of the bridge deck is now in place on the new Queensferry Crossing over the Forth, with a year to go before opening. 

Lifting the 750-tonne deck sections into place began in September - and 36 are now installed out of 122. 

Infrastructure Secretary Keith Brown visited the bridge earlier and our reporter Lisa Summers climbed 206 meters, right to the top to speak to him.... 

Ambulance service apologies over three-hour response

The Scottish Ambulance Service has apologised after it took three hours for paramedics to respond to an elderly man in Shetland, who slipped on ice outside his home in Vidlin on Sunday. 

The 78-year-old - with a suspected broken hip - had to be cared for by fire crews, as no ambulances were available. 

He was eventually taken to hospital in Lerwick.  

Education report says 'there is a great deal of positive'

BBC Scotland education correspondent Jamie McIvor

"The OECD report on Scottish education, commissioned by the Scottish government, looks at what has happened since the Curriculum for Excellence started to be introduced in 2010.

"The report focuses on primary schools and the early years of secondary schools. It does not really look at the new exams.

"The broad aim of Curriculum for Excellence was to give teachers more freedom over what to teach and how they should teach it. Then judge by the long-term results.

"The underlying changes enjoyed broad support in the profession and any rows that there have been tend to have been over the details.

"Today's OECD report says there is a great deal to be positive about and overall it is quite a ringing endorsement of the changes but it also draws attention to problems and challenges, including declining achievement in mathematics."

"It also says CfE needs to managed less from the centre. On the other hand the OECD does say it applauds Scotland for having the foresight and patience to put such an ambitious reform programme into place."

Welding work begins on the temporary fix for the Forth Road Bridge

Welding work has begun on the temporary fix for the Forth Road Bridge.

The bridge has been closed to all traffic since 4 December after a crack was discovered in a truss under the carriageway.

Engineers are working towards having the bridge open by the first Monday in January.

Campaigners backed in call for review over Skye hospital downgrading

People in Skye campaigning against the downgrading of Portree Hospital have won a victory in their fight against the plan.

NHS Highland's proposal to build a new hospital in Broadford and turn Portree into a smaller "spoke" unit has Scottish government approval.

But Holyrood's petitions committee is to ask Health Secretary Shona Robison to review the decision-making process.

This follows MSPs' consideration of a petition opposed to the hospitals plan.

MSPs will write to Ms Robison to seek the review by an independent scrutiny panel.

MSP calls for police control rooms in Aberdeen and Inverness to remain open

Rhoda Grant, MSP for the Highlands and Islands, said in a post on her Facebook page that this morning's shut-down of the Bilston Glen call centre was a reason why it was important to keep police control rooms open.

She said: "This latest incident clearly demonstrates the advantages of keeping the Control Rooms at Inverness and Aberdeen for dealing with all calls open.

"This latest incident at Bilston Glen just emphasises the point my colleagues and I keep making. 

"Why put all your eggs in one basket. If it 'aint broke why fix it. Clearly Police Scotland have not made sure of the resilience of their future plans going forward."

Scottish referee Willie Collum to officiate at the Euro 2016 championships in France

Scottish referee Willie Collum and England's Martin Atkinson and Mark Clattenburg have been picked for the Euro 2016 football championships.

All three will officiate in their first major international tournament.

Each refereeing team will consist of a referee, two assistant referees and two additional assistant referees.

The majority of assistants and additional assistants will come from the same country as the referee, with the full list of officials to be announced in February.

Collum, Atkinson and Clattenburg were all additional assistants at Euro 2012.

Boy aged 14 charged in connection with fireraising at Aberdeen school

A 14-year-old boy has been charged in connection with fireraising at Harlaw Academy in Aberdeen. 

The school was closed on Monday after an incident at the weekend, and re-opened on Tuesday.

Fire crews were called to the school on Albyn Place at about 01:30 on Saturday after a member of the public spotted smoke and heard the school's alarm.

Police Scotland said the teenager was the subject of a report to the Children's Reporter.

Trains to run between Dumfries and Carlisle from Sunday

Trains will run between Dumfries and Carlisle again from Sunday - two weeks after the route was hit by floods.

Buses have replaced the Scotrail service across the border since Storm Desmond caused devastating flooding in the Cumbrian city.

A spokeswoman for the train firm said engineers have been working to repair damage to signalling on the route.

She said repairs are expected to be completed at the weekend and the normal service will resume on Sunday.