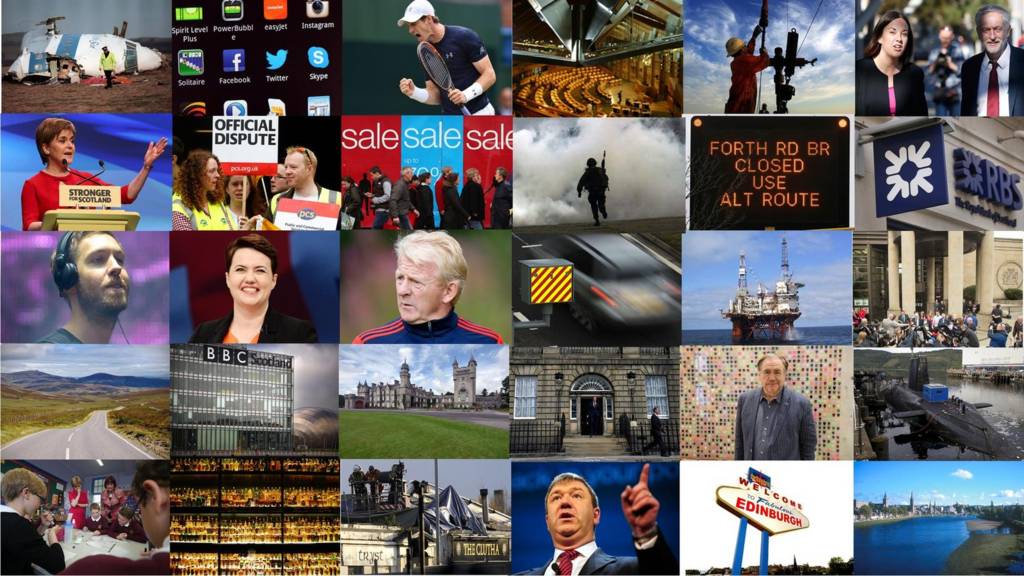 Summary
Welding plan to fix Forth Road Bridge
Trump hits back after Scottish snubs
Sturgeon to join Corbyn at rally
Health concerns over junk food marketing
That's it from us for Thursday.

Scotland Live is back to do it all again from 08:00 on Friday.

Follow all the action from Celtic's final European tie of the season online

Celtic manager Ronny Deila: "It's a tough game. It's a good football team and it's a good atmosphere, it's harder to get points from. It's a good opportunity as well to make a good performance and fight really hard for getting a result. We need to cause them problems when we get the ball..."

Follow all the action live online.

In video: What is a pre-nuptial 'blackening' ritual?

Research is being carried out into an unusual pre-nuptial ritual.

Engaged couples in Scotland face 'the blackening' where the bride and groom are coated in treacle, flour, sauce, coal dust; and then paraded in public for maximum embarrassment.

Watch the video here.

Partick Thistle boss Alan Archibald sees signs of hope for the Glasgow club

Partick Thistle boss Alan Archibald sees Saturday's clash with Dundee United as a chance to pull away from the foot of the Premiership table.

Thistle were unbeaten last month, and are eight points clear of bottom side United in ninth place.

"It's a great chance for us to start looking up the way," said Archibald.

A woman has been taken to hospital after a crash on the A84 near Callander

The road has been closed at Doune, and police have advised drivers to avoid the area.

Two cars were involved in the crash, which happened at about 12:30 , two miles east of Callander.

The 55-year-old woman was taken to Forth Valley Royal Hospital, but her injures are not believed to be life-threatening.

Police warn M8 motorway remains closed eastbound on very busy Glasgow section

A man has been convicted of killing his ex-girlfriend after stabbing her 19 times

A jury has found a man guilty of murdering his former lover at the house they once shared in Perthshire. 

The High Court in Edinburgh heard Mohammed Ali Abboud inflicted 19 knife wounds on his ex-girlfriend. 

Abboud claimed he'd been acting in self defence after Ms Szelfer came at him with the knife. But the jury didn't believe him and took just two and a half hours to find him guilty of murder. 

The trial judge Lord Uist urged Abboud to explain what led to the killing before he returns to court to be sentenced in January.

Rangers manager worries what new League Cup format will mean for bigger clubs

Mark Warburton says the new League Cup format "is not the ideal scenario" for Rangers' pre-season.

The Ibrox manager would prefer to test his side against English or European opposition before the start of the league campaign.

"I'm not sure it suits the bigger clubs," said Warburton.

Traffic Scotland warns of car on fire at very busy stretch of M8 in Glasgow

Big day for Sir Danny and Lord Darling

Former Lib Dem MP and chief secretary to the Treasury Danny Alexander has been given a knighthood.

Sir Danny said it was an honour being recongnised for "turning the economy around and getting the country on the right track".

Meanwhile, former chancellor of the exchequer and head of the Better Together campaign Alistair Darling has taken his seat in the House of Lords.

Lord Darling of Roulanish was chancellor between 2007 and 2010.

Forth Road Bridge has put out a picture of its maintenance workers heading for the heights

Man dies after his car and a lorry collide on the A7 south of Hawick

A 64-year-old man from Hawick has died after his car collided with a lorry on the A7 south of the town.

Police said the car caught fire after the crash at 09:25.

The road between Langholm and Hawick has been closed to allow for investigation work.

Traffic Scotland warns of lorries stuck in the snow on the A9 at Dalwhinnie

Reporter Chris McLaughlin preparing for Celtic's Europa League game

Bear NW Trunk Roads not going into hibernation in wintry conditions

Edinburgh's Evening News has been sent a stunning picture of a double rainbow

Forth Road Bridge engineers have now put a barge in place to help them with emergency work on the structure

A barge has been put in place under the Forth Road Bridge to help engineers carry out repairs.

The bridge is likely to be closed to traffic until January.

Scottish government looks at case for relaxing ban on the docking of dogs' tails

The Scottish government says its considering relaxing the ban on the docking of dogs' tails, following complaints that the legislation is flawed. 

Since the law took effect in April 2007, opponents have been arguing an exemption for certain working dogs, Spaniels and Hunt Point Retrievers. 

Scottish ministers will consult on the issue next year.

Traffic Scotland posts latest journey times in and around the surviving Forth crossings

Police appeal for witnesses after middle-aged man found dead in Aberdeen

Police have appealed for information after a man was found dead in the Foresterhill Road area of Aberdeen.

The man, who is aged in his fifties, is thought to have walked down Foresterhill Road from the Anderson Drive area and police are appealing to anyone who may have seen him.

He was found by a member of the public at around 03:00.