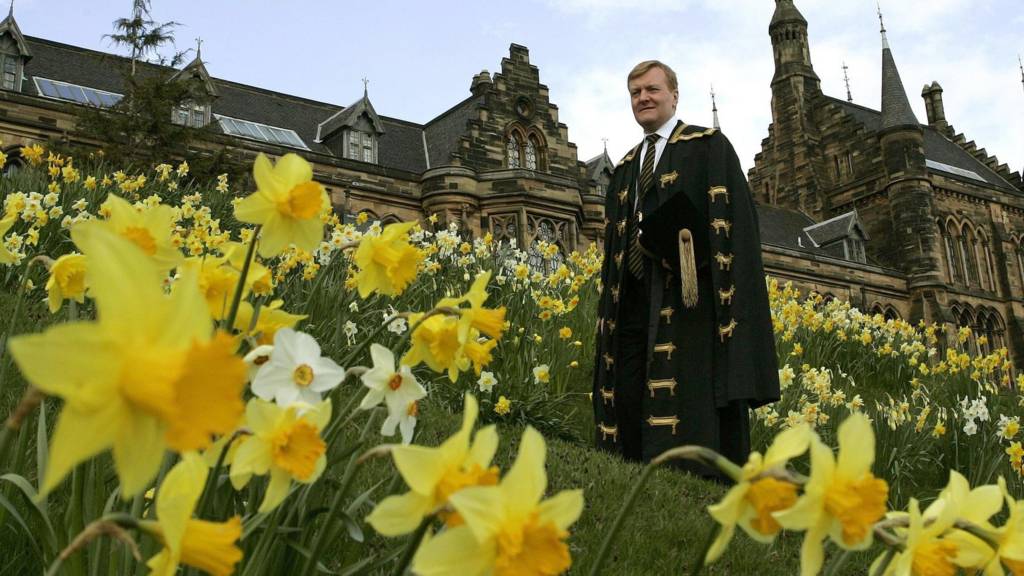 Charles Kennedy thanksgiving service
Summary
Charles Kennedy thanksgiving service is held at Glasgow University
Mr Kennedy's family and senior political figures were in attendance
The former-Liberal Democrat leader died earlier this month aged 55.
The politician was an alumnus, and served two terms as rector of the University.
We now end our live online coverage, as the thanksgiving service for Charles Kennedy comes to a close.
Procession leaves Bute Hall
The academic procession is now leaving Bute Hall and proceeds around the East Quadrangle led by Pipers Donald and Alastair Campbell.
Latin Blessing 'Gratia' is read.
"Gratia Domini nostri Iesu Christi et caritas Dei et communicatio Spiritus Sancti sint cum omnibus vobis."
Charles Kennedy's favourite hymn: I Vow to Thee My Country
Rev Stuart McQuarrie is now bringing the service to a close.
He says: "And to conclude one of Charles's favourite hymns. I believe it was sung at his and Sarah's wedding. In many ways it sums up Charles's life of dedication, of service, of commitment to others, and of faith.
"And once the Benediction - in Latin of course - has been pronounced, we remain standing as the Mace leads the Chancellor and Academic Procession, and please join us as we go out of the Bute Hall around the quadrangle in the traditional procession."
Those gathered stand to sing the hymn I Vow to Thee My Country.
Traditional Scottish song
Rev Stuart MacQuarrie says: "As our journey through this Service reaches its end, drawing together several of the strands of Charles's life, The Chapel Choir will sing a traditional Scottish song which accompanied the Kings and Queens of Scotland as they made their final journey from Lochaber to the sacred Isle and Abbey of Iona.
"Let us accompany Charles on that journey, perhaps reflecting on our own life's journey and how we were accompanied at different times by Charles, and what he meant to us, and will mean to us in the days ahead."
Arrangement by Katy Lavinia Cooper (Verse 3 Harmony after John L Bell b 1949)
"Softly glide we along,
Softly chant we our song
For a king who to resting is come.
O, beloved and best
We are faring out West
To the dear isle Iona, my home.
Calmly there shalt thou lie,
With thy fathers gone by,
Their dust mingled deep with thine own,
Ne'er again to awake,
Till the last dawn shall break
And the trump of the judgement is blown.
Softly glide we along,
Softly chant we our song,
For a king who to resting is come.
O, beloved and best
We are faring out West,
To the dear isle Iona, my home."
Brian McBride, President of Glasgow University Union 1975, pays tribute.
He talks of how "Charles could natter as if he had known you forever".
Mr McBride says even at an early age they could recognise his prolific debating talent, and could foresee that he would one day be president of the university union.
But he recalls, "Charles, he never forgot his roots".
Rev Stuart Macquarrie says that when Rector, Charles stated that he wanted an Inter Faith Service.
He says: "The Chaplaincy at the University is one in which all faith and beliefs are treated equally and respectfully. The first university in Britain to have a Humanist Celebrant as part of the Chaplaincy team.
"We have a team of Honorary Chaplains drawn from across the Buddhist, Christian, Jewish, Muslim, Sikh and humanist communities and enjoy excellent relations with other faith communities."
Several of the Honorary Chaplains will now offer short blessing or reflection as part of their tribute to Charles.
'Our thoughts are with Kennedy family'
Vice Chancellor Professor Muscatelli speaks of Mr Kennedy's commitment that students should always have the ability to learn, despite their ability to pay.
He says the University's thoughts are with those of Mr Kennedy's close friends and family. "Whatever the University's loss, I'm sure they are feeling that loss much, much more."
The University's Vice-Chancellor and Principal, Professor Anton Muscatelli is now paying tribute.
Professor Muscatelli says that everyone has their story of Charles Kennedy that they want to tell.
He says "we could recognise that Charles was Glasgow, through and through".
The professor adds that Charles had a loyal commitment to his brief during his time as rector of the university, with the interests of the students at heart.
Chapel Choir: 'Ae Fond Kiss'
The University's Chapel Choir now sing a song with words by Robert Burns 'Ae Fond Kiss', arranged by Rory Boyle (b 1951)
"Ae fond kiss, and then we sever;
Ae fareweel, and then for ever!
Deep in heart-wrung tears I'll pledge thee,
Warring sighs and groans I'll wage thee.
Who shall say that Fortune grieves him,
While the star of hope she leaves him?
Me, nae cheerful twinkle lights me;
Dark despair around benights me.
I'll ne'er blame my partial fancy,
Naething could resist my Nancy:
But to see her was to love her;
Love but her, and love for ever.
Had we never lov'd sae kindly,
Had we never lov'd sae blindly,
Never met - or never parted,
We had ne'er been broken-hearted.
Fare-thee-weel, thou first and fairest!
Fare-thee-weel, thou best and dearest!
Thine be ilka joy and treasure,
Peace, Enjoyment, Love and Pleasure!
Ae fond kiss, and then we sever!
Ae fareweel alas, for ever!
Deep in heart-wrung tears I'll pledge thee,
Warring sighs and groans I'll wage thee."
Rev Stuart MacQuarrie talks of how proud Charles Kennedy was of his Scottish culture.
He says: "His parents were accomplished musicians, his mother played the organ in St John's Church.
"The great stories of Ian his father accompanying Charles around the constituency and getting out his fiddle to play a few tunes while the crowds gathered for a hustings.
"The politicians and political people here would understand the value of that - setting the feet tapping, the tune being hummed along to, people smiling whilst you can only stand and watch clutching a handful of dog eared campaign leaflets. Beat that.
"As the Chapel Choir sing a wonderful song of Robert Burns, let us think of Charles and how his understanding and knowledge of Scottish music, poetry and literature inspired him and others."
Lord Wallace concludes: "Charles, we love you very much, we will miss you. Will we ever see your like again?"
'Passionate and transparent honesty'
Lord Wallace says Charles Kennedy was "a natural" at Westminster, showing "mastery in the House of Commons in the face of great opposition".
He says Mr Kennedy's opposition to the war in Iraq was "articulated with clarity, and a passionate and transparent honesty".
Lord Wallace recalls that Mr Kennedy was never vindictive about his opponents and never spoke ill of those with whom he disagreed.
He also speaks of the former-Lib Dem leaders dedication to the Highlands and to his party.
"He could walk with kings, but never lose the common touch. He knew what was important to people and not just to politicians."
Lord Wallace of Tankerness speaks of his "close political friendship" with Charles Kennedy.
He recalls Mr Kennedy taking up his seat in the Houses of Parliament 1983, and giving his maiden speech on "the new generation", and how he sometimes found his youth in the Commons a disadvantage.
Elected for the SDP at the age of 23, he was the youngest MP in parliament at the time.
Scottish Liberal Democrat leader Willie Rennie reads the poem Thankful I Am, by Leslie Scrase
"Thankful I am that I have lived in this great world and known its many joys,
The thrill of mountains and the morning air,
Hills and the lonely covered moors,
Harvest and strong sweet scent of hay.
A rock strewn river overhung with trees, shafts of sunlight in the valley leading to the sea,
The beat of waves on rough and rocky shores,
And the wild white spray flung high in ecstasy.
The comfort of my home and treasured things, the love of kin and fellowship of friends,
Firelight and laughter and children at their play with hopes
And dreams as their future beckons.
The faithful eyes of dogs, companionship of cats,
My garden rich from toil and all things dear and beautiful.
The tapestry of life, joy and pain is ours to live but once, and not again.
When I look back upon my richly varied years, I crave no more, thankful that
I have lived ... so shed no tears."
The hymn "Will you come and Follow Me" is sung.
Rev MacQuarrie introduced it, saying: "Our hymn, sung to the tune Kelvingrove, the valley which sits below us here, speaks of Jesus calling to our shared humanity, and welcoming us when we see Him in other people, and see ourselves as loved and valued.
"One of the writers of this hymn, John Bell, was one of Charles's predecessors as Rector of the University."
'Hurtful and offensive' comments
Rev Stuart MacQuarrie talks about "hurtful and offensive" comments made about Charles Kennedy.
He says: "The dignity of human beings was very important to Charles, and that is one reason why some of the things that were written and spoken about Charles and alcoholism were hurtful and offensive.
"The reality is alcoholism is a condition which touches people beyond the person who suffers it, and there will be a significant number of people here tonight who will have in the family, their circle of friends, someone or possibly several people perhaps even themselves who suffer from alcoholism.
"Those who judge others by name calling, by abuse are, in fact judging themselves. They are more inadequate and weaker people than the people they abuse. As a society, as communities, as families we need to see the person, the human being.
"Charles was first and foremost a son and father of Donald, in his life he was also a brother, husband, partner, friend. A warm, generous, humorous, at times troubled human being - as we all are."
Breffni O'Connor says Mr Kennedy had "the University of Glasgow in his blood", but "most of all he had passion in his blood".
She says: "We have the chance to uphold his legacy and hope to follow in his footsteps."
President of the Students' Representative Council, Breffni O'Connor, says she remembers Charles Kennedy giving up his time to welcome students at each Fresher's Address.
She says "he was one of us" and encouraged students to make the most of every experience at the university.
"His passion for student permeated every level."
'Lifelong bond with the university'
Rory Slater speaks of Mr Kennedy's "sense of humour and wit" in his early debating career, which he began at Glasgow University.
Mr Kennedy was President of Glasgow University (Students) Union from 1980 to 1981 and won the British Observer Mace for university debating in 1982.
Mr Slater says Charles Kennedy has a "lifelong bond" with every student at the University, and he had a willingness to help them in every way that he could.
Former Liberal Democrat MP Charles Kennedy died on 1 June and his funeral was held on Friday 12 June in the Highlands.
Rory Slater speaks of Charles Kennedy as a "distinguished, approachable and, above all, friendly man".
He describes Mr Kennedy as a "true friend and ally to the students of the university".
We are now hearing tributes from Rory Slater, President of Glasgow University Union and Breffni O'Connor, President of the Students' Representative Council.
The University's Chapel Choir are now singing 'O Sacrum Convivium'.
Importance of Charles's Catholic faith
Rev Stuart MacQuarrie talks of how important Charles Kennedy's Catholic faith was to him.
He says: "From his faith nurtured within the family home by his parents Ian and Mary, with his brother Ian and sister Isabel, Charles developed values about the dignity of human beings and that in turn inspired his political values.
"His faith was not something which he retreated into, but rather a base from which Charles could set out on his life's purpose to help bring about a more equal, fairer world.
"He often spoke to me of how in our University Chapel at Choral Mass the singing of the University Chapel Choir inspired him back out in the world of Westminster and political life."
David Mundell and Nicola Sturgeon
Secretary of State for Scotland David Mundell read Psalm 8.
He was followed by the First Minister, Nicola Sturgeon, who was a graduate of the University, read St John's Gospel at Chapter 14 which contain the words of the motto of the University.
Nina Macdonald reads the poem When You Are Old by WB Yeats.
"When you are old and grey and full of sleep,
And nodding by the fire, take down this book,
And slowly read, and dream of the soft look
Your eyes had once, and of their shadows deep;
How many loved your moments of glad grace,
And loved your beauty with love false or true,
But one man loved the pilgrim soul in you,
And loved the sorrows of your changing face;
And bending down beside the glowing bars,
Murmur, a little sadly, how Love fled
And paced upon the mountains overhead
And hid his face among a crowd of stars."
'A beloved son of the University'
Rev Stuart MacQuarrie is now addressing the audience.
He recalls: "The Chancellor and I attended the Requiem Mass for Charles on Friday. It was a moving occasion as the community of Caol bade farewell to one of its beloved sons.
"That community some 37 years ago passed that beloved son to the University, where he became one of our beloved sons. Part of our family.
"The Mass on Friday began with a hymn sung by the children from St Columba's Lochyside Primary School. And to show we, with the community at Caol are as one offering thanks for the life of our beloved son, we will sing that hymn.
"The words are known as St Patrick's Breastplate and the tune is an old Gaelic melody called Bunessan, a small village on Mull."
You can watch the service for yourself here via
periscope feed from Glasgow University
.
Those gathered in the hall sing the hymn "Christ Be Beside Me".
The service commences with a Latin Prayer:
"Oremus
Aeterne Deus et clementissime Pater, gratias tibi quam maximas agimus quod nos a fera et agresti vita ad artes ingenuas et scientiarum cognitionem deduxeris, quod domum nostram perpetua largitate et misericordia usque ad hunc diem prosecutus sis, quod viam nobis et veritatem et vitam in Filio tuo indicaveris.
A te, Pater, petimus ut servi tui graduandi, ab his profecti initiis, ad metam perfectionis adspirent, et nobis nostraeque reipublicae laudi et ornamento esse possint.
Tibi, Pater, Filio, et Spiritui Sancto sit laus, honor et gloria in saecula saeculorum.
Amen"