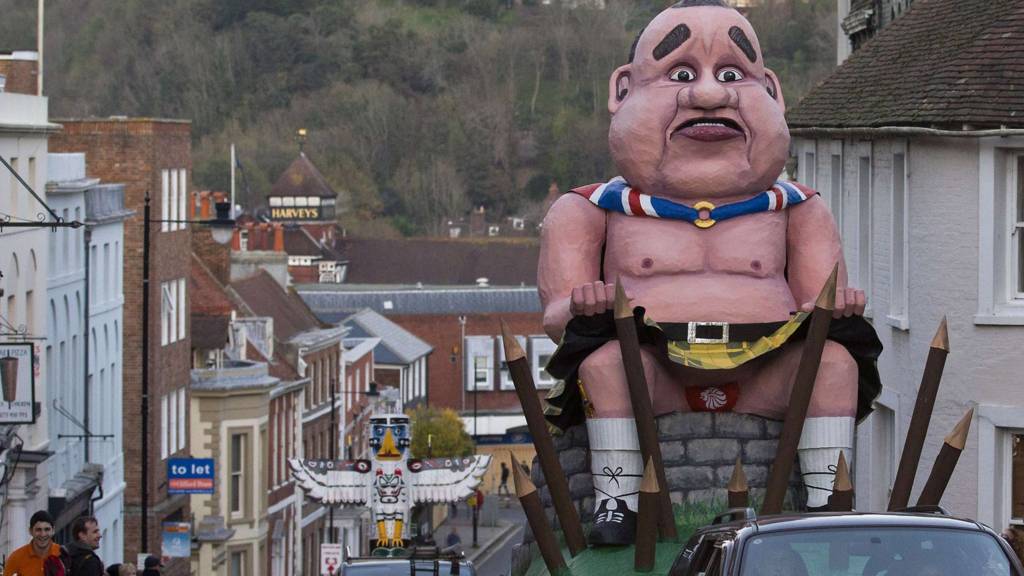 Summary
Alex Salmond bonfire effigy 'was blown up'
Glasgow Games '£25m under budget'
Woman rescued after quarry fall
Gray brothers named in Scotland side to face Argentina
Celtic boss Ronny Deila eyes 'biggest achievement'
Graham Fraser

BBC Scotland

That is it for today's Scotland Live.

Join us again from 08:00 tomorrow.

Have a great night.

Bookmaker robbery attempt

Police are appealing for information after two men in white paper suits and black balaclavas tried to rob a bookmakers in Glasgow.

The incident happened at the Ladbrokes on Woodneuk Road in Nitshill at about 21:00 on Wednesday.

One man was in possession of what appeared to be a firearm and demanded money from a staff member.

Telephone scam in central Scotland

Police have warned the public about telephone scams after a spate of fraudulent calls across Tayside and central Scotland.

Two Perthshire residents were scammed out of £25,000 each on the same day, while in the same week a Bridge of Allan man lost more than £50,000.

Officers have warned of the "vishing" fraud, where scammers pretend to be calling from the victim's bank.

Police are investigating a serious assault after a 29-year-old man was attacked in a Stenhousemuir street.

The victim was walking on Gladstone Road, off Tryst Road, at about 23:10 on Wednesday night when he was assaulted.

He was taken to Forth Valley Royal Hospital with facial injuries.

The World's End trial has heard that the accused's version of events does not fit with forensic evidence.

Angus Sinclair, 69, denies raping and murdering 17-year-olds Helen Scott and Christine Eadie in October 1977.

He is accused of carrying out the attacks along with his late brother-in-law Gordon Hamilton.

Scientist Andrew Davidson said Mr Sinclair's version of events did not fit the DNA evidence on Ms Scott's coat.

Celtic have announced the team that will play Astra tonight in very foggy conditions.

The men who will start for the Hoops are: Gordon; Lustig, Denayer, van Dijk, Izaguirre; Brown, Mulgrew; McGregor, Johansen, Wakaso; Scepovic.

On the bench will be Zaluska, Ambrose, Matthews, Kayal, Bitton, Griffiths and Tonev.

BBC Scotland's Alicia Queiro speaks to paralysed Brian Thompson, who will live as a castaway on the uninhabited island of Fidra in the Firth of Forth for a week to raise money for Children in Need.

Copyright: Brian Thompson

The Scottish SPCA is appealing for information after a dog less than half its ideal weight was taken to an Edinburgh vet and later died.

Scotland's animal welfare charity was alerted when the severely emaciated female terrier crossbreed was taken in on 4 November.

The vet had no option but to put the dog, which was light brown, to sleep.

BBC Sport's Richard Wilson speaks to former Rangers technical director and reserve team coach Tommy Wilson to learn about his new challenge in Philadelphia.

Should 16-17 year olds be allowed to vote in national elections? Over 100,000 registered to put their X in the box for the first time in September's independence referendum. But the law hasn't changed for future parliamentary elections and voters have to be 18 or over.

Laura Bicker has been been talking to teenagers at Bellahouston Academy Glasgow about voting, six months to the day until the General Election.

See her report on Reporting Scotland tonight.

Toddler's injuries extensive

Two-year-old Madison Horn had a head fracture, extensive internal injuries, bruising to her face and some of her hair pulled out, a court has heard.

The youngster also had a potential bite on her leg and blood on her pyjamas.

Kevin Park, 27, denies murdering Madison at the family home in Kelty, Fife, on 20 April.

Aberdeenshire man missing

Relatives of missing Aberdeenshire man Shaun Ritchie have described his disappearance as a "nightmare".

The 20 year-old was last seen with friends at a remote woodland area near Strichen sometime on Friday night into Saturday morning. So far a major search has failed to find him.

He was wearing grey jeans, a white t-shirt and a grey hooded top when he was last seen.

The family said in a statement: "With every passing day we're becoming more and more worried about Shaun."

The World's End trial has heard that the accused's version of events does not fit with forensic evidence.

Forensic scientist Andrew Davidson says he considered potential time frames after he knew what Angus Sinclair said happened the night Christine Eadie and Helen Scott disappeared in October 1977.

Image caption: Christine Eadie and her friend Helen Scott were killed in October 1977

He says Mr Sinclair's claim that he had consensual sex with the girls in his caravanette in Holyrood park in Edinburgh, and then drove to East Lothian where he left the girls alive and unharmed, did not tally with the DNA evidence matching Mr Sinclair that he saw on Helen's coat.

He says it was more likely to have been deposited closer to the time Helen's body was left in a field in East Lothian. The Lord Advocate also said that the court had previously heard evidence that Helen walked in the field.

Angus Sinclair denies murdering and raping Helen Scott and Christine Eadie. He blames his brother-in-law Gordon Hamilton for their deaths.

Newsdrive is getting under way on BBC Radio Scotland. You can listen live here.

Salmond effigy -Your Views

Text us on 80295

Iain, Edinburgh: I think it's great that the good people of Lewes saw fit to burn an effigy of Alex Salmond. It's just a shame nobody up here thought of doing it too.

Catherine: Such a lot of fuss about something that is meant to be a bit of fun. The SNP have split this wonderful country of ours. So much bitterness. No sense of humour any more. Feel embarrassed to say I am Scottish.

Highland Council could end its running of the Corran Ferry in Lochaber because it continues to run at a loss.

The local authority said under European State Aid rules it should not be subsidising the service.

Councillors have been asked to consider three options for the future of the crossing on Loch Linnhe.

The options are increasing fares to meet the running costs, retendering the service or transferring it to government agency Transport Scotland.

Council officers will publish a detailed report on the service in 2015.

Police are investigating after a 23-month-old boy was attacked by a Staffordshire Bull Terrier in Kirriemuir.

The boy suffered facial injuries after being bitten by the black dog at Glamis Road at 13:00 on Wednesday.

He was taken to Ninewells Hospital in Dundee for treatment.

Police are keen to trace a woman, understood to be in her 20s, with light brown or blonde hair, who was wearing a red top at the time of the incident.

As the story of the Alex Salmond effigy continues, BBC Magazine Monitor has looked at other notable effigies from Bonfire Night in Lewes - from David Cameron and the Pope to Muammar Gaddafi and Angela Merkel.

Police name death crash pensioner

An 82-year-old man who died after being struck by a car in Aberdeenshire has been named.

James Lyall, of Inverbervie, was struck by a black Audi A3 on the A92 in the town at about 15:15 on Wednesday.

Pedestrian Mr Lyall was taken to Aberdeen Royal Infirmary under police escort but later died.

The car was being driven by a 36-year-old woman who was uninjured. Police Scotland appealed for witnesses to come forward.

Track laying along the 30-mile route of the Borders to Edinburgh railway has crossed into the Scottish Borders.

It marks the completion of the rail installation process in Midlothian.

Track is now in place over a number of landmark structures including the Lothianbridge Viaduct near Newtongrange and the new Hardengreen Bridge.

A fruit and vegetable salesman from Renfrewshire has been convicted of raping a 14-year-old girl and abusing five others over almost two decades.

George Anderson, 63, from Johnstone, committed the offences between May 1973 and August 1992 at various addresses in his home town and Howwood.

Police investigation for Barras

Police have said the Barras street market in Glasgow is the major location for the sale of fake and counterfeit goods.

In a year-long operation launched in advance of the Commonwealth Games in the city, officers say they've seized goods worth more than £13m.

More than 50 people have been arrested. In the most recent operation, £500,000 worth of CDs and DVDs were recovered last month.

A museum celebrating Aberfeldy's WW1 heritage is to be set up using funds from a local wind farm.

Copyright: Breadalbane Heritage Society

The Breadalbane Heritage Society is developing its first exhibition telling the story of local people and the 6th Black Watch Battalion.

Celtic striker John Guidetti has been named the Scottish Professional Football League Premiership player of the month for October.

The Sweden international arrived at Celtic in the summer on loan from Manchester City and has scored six goals in four games during the month.

The Met Office has issued an amber "be prepared" warning of heavy rainfall affecting many parts of Scotland throughout Thursday and Friday.

It was expected to be most persistent in south west Scotland and the southern Highlands from Argyll to Angus.

The alert also covers parts of Central, Tayside, Fife, Strathclyde and Grampian.

Apology over patient death

Scotland's largest health board has apologised and paid compensation to the family of an elderly man who choked to death in a Glasgow hospital.

Roddy MacDonald, 84, who had Parkinson's disease, was fed goulash instead of soft, mashed up food at Gartnavel Hospital (pictured) in 2011.

A significant incident review later identified major failings in his care.

Oil regulator chief named

The man who will head the government's new Aberdeen-based oil and gas industry regulator has been named.

Andy Samuel is managing director of BG Group's exploration and production in Europe.

Chief Secretary to the Treasury, Danny Alexander, said Mr Samuel would help shape the future not just of the industry, but of the entire UK economy.

'Help us pay for Hogmanay'

Police Scotland want the organisers of Edinburgh's Hogmanay celebrations to help pay towards the cost of policing the event for the first time.

The move to start charging follows the introduction of a new national policy on policing commercial events.

The cost has still to be worked out but Police Scotland deny claims it will be as much as £250,000.

Edinburgh City Council wants the charges delayed until after 2015.

Salmond effigy - Get Involved

Email us newsonlinescotland@bbc.co.uk

Gavin from Scone: Burning effigies of living people can never be appropriate. Regardless of what you think of him, this man has a wife and family and they should not have to watch images of him being burned while people cheer. I'm in no way ultra PC, in fact quite the opposite, but this is just simply bad taste.

Maggie: For goodness sake lighten up everyone! Loads of satirical folk have been 'burned'- it's so typical the Yes lot are offended - why? It's a JOKE !!!

Salmond effigy - Your Views

Text us on 80295

Stuart in Kilmarnock: I find it frightening that you have people who are supposedly seriously outraged at the burning of an effigy. Just goes to show that times are changing and that satire is well and truly dead.

Salmond effigy was blown up...

An effigy of Alex Salmond was blown up during bonfire celebrations in Lewes despite assurances that it would not be burned, it has emerged.

The effigy was one of two which were due to have been burned at the annual celebrations in the East Sussex town.

They were said by police to have been withdrawn after protests on social media.

But photographs have emerged which shows one of them being blown up in a firework display.

The Commonwealth Games in Glasgow was delivered £25m under budget, organisers say.

Lord Smith of Kelvin, chairman of Games organiser Glasgow 2014, said that was the amount of "previously committed public funds" that was not required.

The final budget position will not be finalised until the closing accounts of the organising committee are published early next year.

The total Games budget was £575.6m.

Salmond effigy - Get Involved

Email us newsonlinescotland@bbc.co.uk

Paul Brown, Glasgow: Burning Alex Salmond in effigy wasn't the problem. Politicians are public figures and fair game for even off-colour 'satire'. But adding Yes and 45 badges to the piece meant they were planning to symbolically burn everyone who voted for independence as well - which *is* appalling. Not the best way to heal rifts so soon after the referendum, I'm sure you'll agree.

Jim: Goodness me what a palaver over nothing. Since when did we Scots develop so thin a skin and unable to take a bit of fun poking? Billy Connolly, David Cameron, Oprah Winfrey among others have previously been 'burnt'.

Salmond effigy - Your Views

Tweet us on #ScotlandLive

John Stanners tweets: The effigy burning sensitivity isn't about Salmond, they were also burning the 45% of Scots who dared to vote for independence #ScotlandLive

Alex Salmond effigy - Your Views

Email us newsonlinescotland@bbc.co.uk

Mark, Fife: Massive over sensitivity to this issue. Have we forgotten the irreverent public humiliation dished out weekly on Spitting Image in the 80's and 90's? Would Roy Hattersley's dribbling puppet, or the miniature David Steel survive the tidal wave of social media driven fake outrage? Do we have such a terrible reputation for moaning about everything our southern neighbours just won't bother even poking fun any more?

What do you think? Text 80295, email here, visit our Facebook page or tweet using #ScotlandLive with your views.

A humpback whale has been photographed breaching from the sea off Skye.

Brian Wells took a series of images on Wednesday afternoon while working on a fishing boat near Portree.

Mr Wells said the whale had been in the area for about two weeks and had previously been seen coming up out of the water on Monday.

The humpback is a species known for spectacular breaching, according to the marine wildlife charity Whale and Dolphin Conservation.

Cotter eager for Scotland clash

Scotland head coach Vern Cotter says his side are looking forward to "putting in a good performance" against Argentina at Murrayfield on Saturday.

"There is a genuine desire for this squad and those selected for the Test to play well for the jersey," he added.

Gray brothers given chance to shine

Second-row brothers Richie and Jonny Gray will feature for the first time together after being named in the Scotland side to face Argentina.

The brothers will feature against the Pumas at Murrayfield on Saturday in the first autumn Test.

Jonny Gray, 20, will make his sixth appearance for his country alongside his 25-year-old brother, who has been capped 39 times.

In November 2013, Jonny made his debut for Scotland against South Africa, replacing Richie just after the hour mark.

Glasgow Warriors Mark Bennett and Adam Ashe will make their first and second appearances at outside-centre and number 8, respectively.

BBC Scotland's Kevin Jackson

The cost for the Glasgow 2014 Games in July 2014 was estimated at £575m.

First Minister' Questions

FMQ's is getting under way at Holyrood. Follow our dedicated live text coverage here.

V pleased that Archie MacPherson is coming on the programme today - as a former teacher he will talk school uniforms....good or bad?

Listen live to the John Beattie Show here.

A national conference aiming to tackle fuel poverty gets under way today near Aviemore, with fuel poverty levels in the Highlands among the worst in Scotland.

Norman Kerr, director at the charity Energy Action Scotland, told Good Morning Scotland that more needs to be done to tackle fuel poverty.

"What we're are trying to do in Scotland is to take an area approach - a street by street, door by door approach - so we are tackling fuel poverty on a large scale.

"What we're saying is that scale needs to be larger than it is but we are certainly streets ahead of what's happening in England."

Are you finding it difficult to paying your heating or gas bill? Get in touch and let us know: email here, text 80295 or tweet using #ScotlandLive

Oil and gas industry regulator

The man who will head the government's new oil and gas industry regulator has been named.

Andy Samuel, who currently heads BG Group's European offshore activities, will take up the post at the beginning of next year.

Announcing the appointment, chief secretary to the Treasury Danny Alexander, said Mr Samuel would help shape the future of the industry and the UK economy.

The new regulator - which will be based in Aberdeen - was a key recommendation in industry veteran Sir Ian Wood's major review for the UK government.

Starlings have once again been putting on a spectacular display as they gather in huge murmurations at Gretna.

Copyright: PA/Owen Humphreys

Tens of thousands of the birds are regularly seen around this time of year near the Dumfries and Galloway town.

It is one of the most famous locations for the natural spectacle, the reason for which is not definitively known.

Europe - The Final Countdown

BBC Sportsound tweets: Astra v Celtic in the Europa League LIVE on #BBCSportsound tonight on BBC Radio Scotland 810MW/digital from 5:35pm. Kick-off at 6pm.

"Scott Harrison bears no resemblance to a fairytale figure, but he continues to push his Cinderella story on the public, the kind of comeback tale that only the terminally gullible would believe in."

Read Tom English's take on what is next for the Scottish boxer.

An official bid to win European protected status for Dundee Cake has been launched.

A national consultation is now under way to consider whether the fruit and nut cake should only be produced in the city that bears its name.

Steven McKenzie

BBC Scotland Highlands and Islands reporter

Car ferry sailings between Stornoway and Ullapool are likely to be suspended for six weeks next year to allow for the installation of a new linkspan.

Ullapool Harbour Trust has asked Transport Scotland to replace its 42 year old structure.

A new two-lane linkspan has been proposed so vehicles can move on and off ferries quicker and more quietly.

Ferry operator Caledonian MacBrayne is believed to be considering taking vehicles from Uig on Skye to Stornoway.

Youth Beatz festival keeps free entry

Colin Colthart

BBC Radio Scotland, Dumfries

A bid to introduce ticket charges for an event billed as Scotland's biggest free music festival has been rejected.

Image caption: Conor Maynard headlined at this years Youth Beatz festival in August

Free admission will continue at the Youth Beatz event in Dumfries after the Nithsdale Area Committee agreed in principle to provide a £60,000 grant.

Conservative councillor Graham Bell had questioned the level of funding and suggested a £5 entry fee.

However, the committee rejected that move by 15 votes to two with one abstention.

Scotland are determined to use the autumn Tests to set a benchmark for next year's World Cup, according to winger Tommy Seymour.

Vern Cotter's side entertain Argentina in the first Test on Saturday.

"The main thing about this series is that we start performing as a team on a consistent level," said Seymour.

"We want the wins but what we need to focus on is putting in performances of a very high standard that we can be proud of, and set a benchmark on."

Tennis star Andy Murray has become a global ambassador for the World Wildlife Fund.

The British number one, well known for his love of dogs, has signed up to support the fight against poaching and the illegal wildlife trade.

BBC Scotland Weather

Latest

There are yellow weather warnings for rain in force from the Met Office with a risk of localised flooding and travel disruption, especially in the south west, Argyll and Tayside.

Fire-fighters in Scotland say they responded to more than 1,100 incidents during a busy bonfire night, with the Fire and Rescue Service dealing with up to four times as many incidents than on a normal night.

They say many of the 500 or so bonfires which they dealt with between 4pm and midnight yesterday were unsupervised and could have put homes or other buildings at risk.

In addition, emergency workers were also involved after a car reversed into a building at Renfrew while more than 30 fire-fighters responded to a fire in a wood chipper in Cowie near Stirling.

Ken Macintosh has become the latest MSP to adopt an animal or flower and champion its cause at the Scottish Parliament.

Copyright: Andy Hay rspb-images.com

Seventy politicians have taken on the cause of 85 endangered species through the scheme, which is run by Scottish Environment Link's wildlife forum.

Macintosh is supporting the black grouse while Aileen McLeod (red squirrel), Joan McAlpine (adder) and Rob Gibson (rusty bog moss) are also involved.

A community bid to buy a Borders estate in an attempt to boost the local economy has been unsuccessful.

The Peebles Community Trust (PCT) had hoped to acquire the Kingsmeadows Estate which was on the market at a price of £2.5m.

A deadline for bids closed in July and agents said it had generated "considerable interest".

PCT co-ordinator Crick Carleton said they had been informed this week their bid had not been accepted.

Capital investment in the North Sea could halve by 2017 unless there is urgent reform of the tax regime in light of a big drop in the price of crude oil, according to Oil & Gas UK.

Its warning came after the price of Brent oil hit a four-year low.

It said industry costs were also escalating, while pre-tax returns for the UK sector had fallen to their lowest level for nine years.

The industry body added that the situation was "unsustainable".

Major petrol and diesel distributors are to be called on by Chief Secretary to the Treasury Danny Alexander to drop their prices further in light of recent declines in the cost of oil.

Oil has fallen from about $115 (£72) per barrel in June to about $84 per barrel, a decline of about a quarter.

In comparison, petrol prices in the UK have come down from a high of about 131.7 pence per litre in the summer to 124.22 pence.

That is a decline of about 6%.

Douglas Fraser

Business and economy editor, Scotland

There's both raw commercial interest and significant alarm in the latest statement from Britain's offshore oil industry.

Capital investment was already due to fall from record highs, but the sharp decline in the price of Brent crude - touching $82 on Wednesday before a rally - has focused minds, and made it look like investment will be cut in half within only three years.

Oil & Gas UK said, before the fall accelerated, that an $80 price would mean a third of investment being put on ice, and the acceleration of closure plans for expensive, mature fields. That warning has now become all the more urgent.

The Herald and The Scotsman both lead with the news that Labour leadership candidate Jim Murphy has vowed to get rid of an anti-sectarian football law if he is elected.

The Daily Record's front page is dominated by the news that it is feared that fake cigarettes laced with lethal radioactive chemical - a byproduct of nuclear explosions - are bound for Scotland.

Meanwhile the Scottish Daily Mail brings us 'Patients starving to death in Scots hospitals' - alleging that three patients die every month due to malnutrition.

Other stories making the headlines are the Alex Salmond effigy that narrowly escaped a bonfire in East Sussex, with the Scotsman showing an effigy of Vladimir Putin who wasn't quite so lucky.

The latest in the DJ Suzie McGuire case features on the Scottish Sun and Daily Record front pages.

BBC Scotland Travel

Latest

MV Graemsay has cancelled the 10:00 departure from Stromness - Moaness - Graemsay, and the 17:45 departure from Stromness - Graemsay - Moaness sailings due to weather and tidal conditions.

The sailing to Eday/Stronsay departing Kirkwall at 16:00 is also cancelled.

Police investigate effigy

It has now emerged police are investigating a complaint about effigies of Alex Salmond which were due to have been burnt at bonfire celebrations in an English town.

Copyright: East Sussex Council

The two effigies of the Scottish first minister were withdrawn from the celebrations in Lewes after a storm of protest on social media. Thousands of people attended the bonfire event in the East Sussex town.

The Waterloo Bonfire Society, which produced one of the models, said it had "no wish or intention to offend".

The restoration of a narrow backstreet in the heart of Edinburgh's Old Town has won the UK's richest architectural prize.

Advocates Close was one of 13 projects shortlisted for the RIAS Andrew Doolan Best Building in Scotland Award.

Copyright: Kevin McCollum

The development saw nine listed buildings transformed into commercial, office and residential spaces.

Morgan McDonnell Architecture, who designed the £45m project, received the prize of £25,000 and a gold medal at the awards ceremony in Edinburgh.

East Sussex journalist Henry Holloway who was at the bonfire celebrations in the town last night said local people were very surprised by the deeply negative reaction to the Alex Salmond effigy-burning plans.

Speaking to the BBC he said: "Going through a lot of readers comments on our website they were calling on people to have a sense of humour.

"Each year these effigies are burned as a matter of course, but I think people are also very surprised because I believe its the first year in which an effigy has actually had to be pulled."

Jamie McIvor

BBC Scotland correspondent

Councils are calling for an urgent meeting with the Westminster government to make the case for devolving more power to local communities.

Scottish local government body Cosla - and its counterparts in the rest of the UK - have written to Cabinet Committee chairman William Hague.

They argue councils and communities across the UK need far more powers.

Cosla said the debate should not simply be about what powers to transfer from Westminster to Holyrood.

A young woman has been rescued after falling 30ft (9m) down a quarry in Fife.

The incident happened at 00:30 at Carlingnose Quarry in North Queensferry. A second woman who tried to help her managed to clamber to safety.

Fire crews from Dunfermline and Burntisland attended the scene, along with a line rescue team from Lochgelly.

Neither woman was hurt in the incident.

Deila plots Celtic progress

Celtic boss Ronny Deila believes reaching the last 32 of the Europa League would mark his finest moment as a manager.

Deila's side visit Romania's Astra Giurgiu tonight (18:00 kick-off) knowing a win, coupled with a Salzburg victory over Dinamo Zagreb, would seal qualification.

"I am happy with the position," said Deila.

"If we win we have a very good chance of going through and it would be the biggest achievement of my career."

The Celtic manager led Stromsgodset to the Norwegian top-flight league title in 2013, but says progressing in the Europa League would be a more significant achievement.

"It will be very big. We are talking about Europe now," added the 39-year-old.

BBC Scotland Weather

Latest

Good morning. A wet & windy day ahead for most. Heavy, persistent rain in south-west, Argyll, Tayside and Aberdeenshire. Gales on the west coast. The gales may affect some ferry services. Some drier interludes: Ullapool, Inverness, Moray Coast, Glasgow and the south-east. Highs of 12/13C.

Two effigies of Scotland's First Minister Alex Salmond have been withdrawn from bonfire celebrations in an English town after a storm of protest on social media.

Thousands of people attended the bonfire celebrations in the East Sussex town of Lewes. Sussex Police said the effigies of Mr Salmond would not now be set alight.

Copyright: East Sussex Council

The Waterloo Bonfire Society, which produced one of the models, said it had "no wish or intention to offend".

The row began on Wednesday afternoon when East Sussex County Council tweeted a picture of Mr Salmond's effigy, complete with a "Yes" badge, a sign saying "45%" and the Loch Ness monster looking over his shoulder.

Thomas McGuigan

BBC Scotland News

Good morning and a warm welcome from the Scotland Live team as we bring you a comprehensive round up of news, sport, travel and weather between now and 18:00.