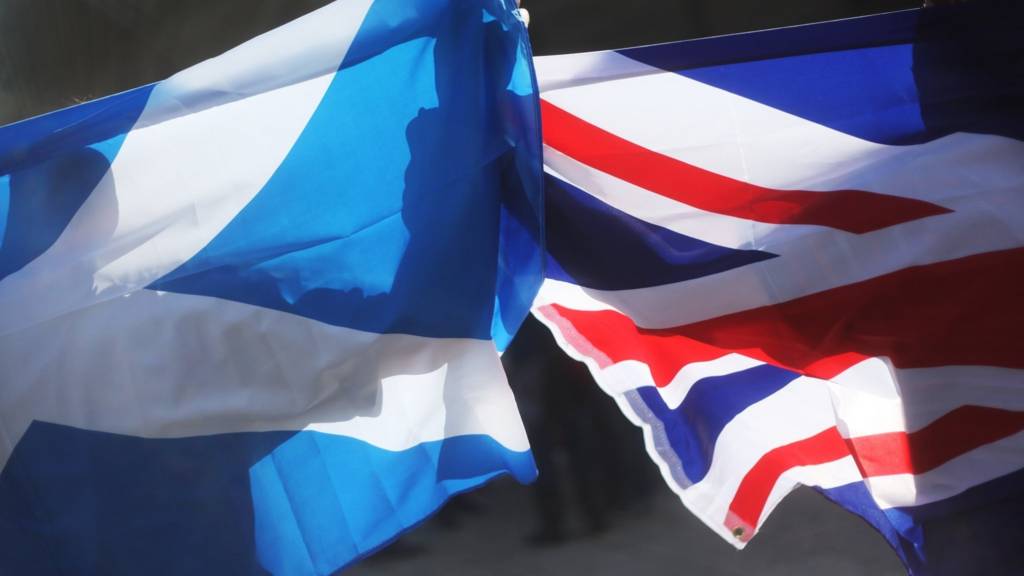 Referendum Live: as it happened
Summary
Civil service boss rejects Alex Salmond 'leak' claims
Scottish independence: Campaigns argue over NHS in BBC debate
Tuition fees is key issue to young voters, research finds
No campaign holds narrow lead, according to latest poll
UKIP leader Nigel Farage urges Queen to intervene
That's all from the Referendum Live team for today. Hope you enjoy your weekend.

John Curtice

Professor of politics at Strathclyde University

This morning's poll said maybe people have become a bit more concerned about the consequences of economic independence. I think we should not make too much in the movement of YouGov's poll. The message that it is still giving us is this is awfully close.

What it was simply saying to us is any idea the Yes side had is that all they had to do was mention the word 'momentum' and they were going to win was clearly too strong.

The Guardian poll this evening picks up another theme of this campaign which is the theme of risk. One of the things we are seeing in the last days of the campaign and which we are expecting to see is the No side trying to persuade people that voting Yes is too much of a risk.

The bad news for them in the Guardian poll is although it is still true that rather more people regard independence as risk than regard staying in the Union as a risk, the gap between these two figures has narrowed very considerably.

Therefore, the No side may need to be careful about presuming that arguments like prices going up, or the banks will disappear, will necessarily have as ready an audience as they might like, and they may still need to worry about the positive message as well as the negative side.

Referendum - Your Views

Text using 80295

Willie, Balloch: OK, thanks RBS, John Lewis and all the others. I've now moved from an 'Undecided ' to a YES vote. Asda, I'll shop at the better supermarkets from now on!

Ross, Monifieth: People accuse the banks and businesses of scaremongering just because they raise their concerns of a Yes vote. Is it not better to have these concerns voiced before we vote rather than after? 

Chancellor George Osborne pulled out of a meeting of the G20 finance ministers because of the "economic risks" of Scottish independence.

Mr Osborne and the Governor of the Bank of England Mark Carney had been due to attend the meeting in Australia next week before withdrawing [see 15:54].

The Chancellor, speaking after a UK-China economic conference in London, said: "I think it is important, given the economic risks of one potential outcome of that referendum, that I'm here in the UK.

"The Governor of the Bank of England has quite independently come to the same conclusion."

Businessman Richard Branson has come out in support of a No vote.

In a blog entitled: 'Why I want Scotland to stay part of the UK', Mr Branson wrote: "I love Scotland. My wife is Glaswegian, I visit family there, as well as many wonderful Virgin staff and companies.

"On a personal basis, I would love to see Scotland stay as part of the UK. As a businessman, considering Scotland's economy, prosperity and security, I think it is imperative it stays in the union."

Earlier this year, British Airways boss Willie Walsh told the BBC that Scottish independence could be a "positive development" for BA - and that it might be marginally positive because he felt the Scottish Government may abolish air passenger duty.

Referendum - Get Involved

Text using 80295

Geoff Earl, Portobello: In Scotland we have PR, so all parties are at the table, unlike Westminster. The Scottish Tories and Liberals would have even more MSPs if it were not for the behaviour and actions of their UK parties at Westminster.

John in Paisley: So prices in shops may go up after independence? So what's the excuse for the increases in past few years, Westminster perhaps?

Gordon, Perth: If it was the will of the Scottish people to have independence, why is there any need for campaigning? We would all rush out and vote Yes if it was what we truly wanted as a nation.

What if I can't vote on the day?

The deadline has passed to register to take part in the Scottish independence referendum, but what if you found yourself unexpectedly in hospital on the big day? Would you lose your vote?

Well, no you wouldn't. Here's the deal...

The deadline for an emergency proxy vote [that means allowing someone you trust to vote on your behalf] is 17:00 on 18 September 2014. Yes, that's right, on referendum day itself.

The rule isn't just about medical emergencies, you can get an on-the-day proxy for ANY reason that might cause you to be "unexpectedly and unavoidably" called away from home. So, for example that could be to do with work or a family crisis.
Remember, though, that the person acting as proxy for you should be over 16, be resident in Scotland and be a British, Irish, European Union or Commonwealth citizen.
If you need the form, go to the About My Vote website.

China's vice minister for finance Zhu Guangyao said stability was vital for foreign investors when he was asked about Scotland's independence referendum.

Speaking after a UK-China investment meeting in London, Zhu said the referendum "is the domestic affair of the UK" and that China "looked forward to a stable investment environment".

He said: "A sound investment environment is the very basis to attract foreign investment.

"Based on our own experience, we are deeply aware that a country's stability is central for a country's economic growth."

Referendum - Your Views

Text using 80295

Peter, Devon: Whatever you think of Nigel Farage and his views at least it shows there are alternative choices in UK politics. What choice will Scots have with independence? Half the nation will be disenfranchised by a Nats/Labour alliance. It's a false claim that the Scots will get who they vote for under independence, just ask Scottish Liberals and Tories. Isn't democracy a wonderful thing?

David, Wishaw: It only takes one supermarket and one department store to "hold their nerve" on prices and rake in the customers. Watch the rest fall back into line.

Hugh, Cambridge: I look forward to an independent Scotland granting a referendum on their independence called for by the people of Shetland and Orkney. "Scotland's oil" might be a rather short-term dividend.

Andrew Mc, Edinburgh: The referendum has changed the political process in Scotland. People are talking about it and wanting to be heard more than ever before. The key thing for me is that the negativity needs to stop. All the scare stories and intimidation won't win over voters. After several tough years people want hope and belief that we can make a more positive society.

Chancellor George Osborne will not attend a meeting of the G20 finance ministers in Australia next week in order to be in Britain for the referendum vote, reports the Reuters news agency.

Copyright: Anthony Devlin

Earlier, it was also reported the Governor of the Bank of England Mark Carney would also miss the meeting.

Meanwhile, Mr Osborne hailed the strength of the UK after £2.4bn of commercial deals were struck between British and Chinese firms.

The chancellor tweeted: "The £2.4bn of new #UKChina business deals we've announced today are only possible because of the economic clout of whole United Kingdom."

Former SNP deputy leader Jim Sillars has said there will be a "day of reckoning" for BP and the banks in the event of a Yes vote.

Mr Sillars - pictured campaigning with Alex Salmond - said: "This referendum is about power, and when we get a Yes majority, we will use that power for a day of reckoning with BP and the banks."

He has also said BP would be nationalised in some form in the event of a Yes vote.

Mr Sillars said: "If BP wants into the 'monster fields' in the areas west of Shetland, it will have to learn to bend the knee to a greater power - us, the sovereign people of Scotland.

"We will be the masters of the oil fields, not BP or any other of the majors. If Bob Dudley thinks this is mere rhetoric, just let him wait. It is sovereign power that counts. We will have it, he will not."

Mr Sillars added: "As for the bankers. Your casino days, rescued by socialisation of your liabilities while you waltz off with the profits, will be over. You will be split between retail and investment, and if your greed takes the latter down, there will be no rescue."

Mr Sillars's comments follow observations by some business leaders over what would happen in an independent Scotland.

Responding to Mr Sillars, Glasgow Labour MP Ian Davidson said: "The Yes campaign's mask slipped today as Jim Sillars revealed their message for the final week of this campaign - vote Yes or else.

"His words are a clear threat to anyone who points out the true costs of separation to the people of Scotland."

How would independence affect Scottish universities?

Jamie McIvor

BBC Scotland education correspondent

One of the major talking points of the independence debate has been what the potential impact could be on Scottish universities.

Critics claim European rules would extend the entitlement to students from the remainder of the UK in an independent Scotland, so the policy may no longer be viable.

Supporters of independence argue that wouldn't be the case.

Get involved

Tweet using #bbcindyref

Tim Reid

Political correspondent, BBC News

tweets: Some light Fri #indyref relief? This amused me.

Thoughts from Wetherspoons

Tim Martin, chairman of pub chain Weatherspoons, has told the BBC there was "no reason in theory why Scotland couldn't be a very successful independent country".

He added: "New Zealand has got the same population, does very well, Singapore, a smaller population, incredibly successful economy, Switzerland does well. There is a lot of nonsense talked, particularly by businessmen, also politicians, to say that it is impossible for Scotland to survive as successfully by itself."

A pupil from each high school in Edinburgh is to be picked to attend the capital's referendum count overnight.

The 23 pupils will be the guest of Edinburgh city council's chief executive and the city's counting officer, Sue Bruce.

Mrs Bruce said: "This will be an exciting, once in a lifetime, opportunity for these first time voters and an experience they will never forget."

Referendum - Your views

Text using 80295

Finlay, Aberdeen: After a Yes vote will the SNP become irrelevant? How do they reconcile a right wing nationalist agenda with the pretence of centre left politics? Who would we be handing power to?

Tom, London: Farage surely can't be foolish enough to think he's actually "helping" the Better Together campaign?

Nigel, Cardiff: Banks have been saying for months what they would do. They don't 'scare' and they don't like uncertainty. What independence do you have if the value of your currency is decided in another country?

Thoughts from Young Scots

Yesterday, about 7,500 Scottish schoolchildren took part in a debate on Scottish independence at the Hydro.

Watch BBC Scotland's Catriona Shearer ask some of them what they thought of the event in Glasgow.

Salmond: Farage is asset to Yes

First Minister Alex Samond has said UKIP leader Nigel Farage could be an "asset" to the Yes camp.

Mr Salmond said there is "huge disillusionment" in Scotland, not just with David Cameron and David Miliband, but with the whole Westminster system.

Speaking on the campaign trail in Aberdeen, Mr Salmond said: "UKIP is trying to influence Westminster with the negative, insular, anti-European brand of politics.

"A lot of people in Scotland have no time for that and therefore Mr Farage is a rival to Scotland and will be an asset to the Yes campaign, and a huge embarrassment of course to the No campaign."

The BBC has learned that key retailers are planning a joint warning of higher business costs should Scotland vote "Yes" as the war of words intensifies.

A letter written by the head of the Kingfisher group is expected to be published in the next 48 hours.

It is thought further signatories will include the heads of John Lewis, Asda and Marks and Spencer.

Others, including Gordon Macintyre Kemp of Business for Scotland, say concerns about price rises are unfounded.

Referendum - Get Involved

Text using 80295

Anonymous: A vote for Yes is for change, No is not no change but more austerity more tax and no say in our country.

Mike, Glasgow: We are in the UK and many of our people are in fuel poverty and using food banks. The shared wealth and pooled resources described in Better Together rhetoric isn't reaching those at the bottom.

Dave, Aberdeen: I was voting No in the referendum until a few weeks ago but the more scaremongering there was the more I was pushed to vote Yes. Now I just feel there is no going back. It may be difficult at first. I have no delusions of wealth or prosperity but at least we can make the important decisions for the good of Scotland if it's a Yes.

Referendum - Get Involved

Tweet using #bbcindyref

On #ReportingScotland, BBC1 Scot, 1330: Lucy Adams reports on the day's campaigning, as the #indyref row over business intensifies.

You can watch the programmehere.

Referendum - Your Views

Text using 80295

Morag, Falkirk: I'm going to remove all my accounts from RBS and will no longer shop at Asda. I refuse to be blackmailed into a No vote!!

Dougie, Dundee: Salmond and Sturgeon keep banging on about getting the Government we want and vote for. If it is a Yes victory will they hold a general election before the year is out so we can decide who we want to take control of the "levers" or is President, sorry, Mr Salmond just going to assume control?

Stephen, Aberdeen: Farage getting involved sums up what staying in the union means and the direction the UK is going. Been swithering for a while but it's now a Yes from me.

Alasdair, Isle of Lewis: I would love to vote Yes on Thursday, but I'm concerned with the left wing dominance that exists in the Yes campaign. The needs of central belt Scotland differ greatly to the needs of those of us in the Highlands and Islands and rural Scotland. Maybe I'm a Highlands and Islands nationalist?

The No campaign has 51% support and Yes 49% once 'don't knows' are excluded, according to a Guardian/ICM poll.

The newspaper says the poll, published today, is based on telephone interviews with 1,000 people which took place between Tuesday and Thursday.

Scottish aid 'goes further' as part of UK

Former Scottish Secretary Michael Moore has told MPs that Scotland's support for the world's poor ''goes further and our impact is stronger'' as part of the UK.

The Liberal Democrat MP was speaking during a Commons debate on his private member's bill to make it a legal requirement for the UK to spend 0.7% of gross national income on aid.

Britain was the first country in the G7 to meet the target last year and, if the bill passes, future UK governments will be bound by law to meet the commitment.

Mr Moore said: "As part of the UK, Scotland belongs to a family of nations which are the world's second largest donors of international aid.

"Scots who want their country to be a force for compassion and relief should reflect on what we have today. That we can do more as part of the UK. Why would we walk away from that?"

The #BigBigDebate certainly had people talking yesterday. Jamie Ross examines the reaction on social media from last night's event at the SSE Hydro in Glasgow.

You can now listen to a podcast with reaction to last night's Big, Big Debate.

Callers phoned BBC Radio 5live to make their points about the Scottish independence referendum to presenters Stephen Nolan and John Pienaar.

Sturgeon positive over polls

Nicola Sturgeon has appeared with actor and director Peter Mullan in Drumchapel, Glasgow as part of the Yes campaign's "Seven cities in one day tour".

The Deputy First Minister said the polls are now "very close" but she believed "things are moving in the direction of Yes".

She also added she found it "odd" that UK Cabinet Secretary Sir Jeremy Heywood had already ruled there was no breach of the ministerial code in relation to reports of the RBS position in the media.

Referendum - Get Involved

Text using 80295

Phil Wylie, Glasgow. Re: last night's Big Big Debate. If I was a 16 or 17-year-old at that debate last night I would be asking the following: where were Labour, where were the Lib-Dems and what the hell was George Galloway doing there? Are you really taking our vote seriously or just paying lip service to the UK voters of the future?

Mike Allison: There will be no currency union. If there is a 'Yes' vote, Scots must be prepared for cuts to public services including the NHS and the BBC; higher taxes, higher mortgage and interest rates, higher prices in the shops, VAT where there is none at present; border controls, endless hassle for at least a decade as systems are realigned and duplicated, fewer opportunities, reduced influence and security. In the words of John McEnroe: 'you cannot be serious'.

Norman Smith

BBC Assistant Political Editor

The No campaign have dismissed Nigel Farage's call for the Queen to intervene in the Scottish referendum as "absolutely preposterous".

Sources in the Better Together team have strongly criticised Mr Farage for suggesting the Queen should make a public statement of support for the Union.

They insist it would not be appropriate for the Queen to become involved.

Better Together have also sought to distance themselves from Mr Farage's intervention in the referendum campaign and are having nothing to do with his visit to Scotland today.

Privately, it is feared the UKIP leader's presence will be seized upon by supporters of independence.

Earlier this week, Alex Salmond said he believed the Queen would be proud to become "Queen of Scots".

Steven Duff

BBC Scotland reporter

Alex Salmond has been campaigning in Dyce, as part of the Yes campaign's "Seven cities in one day" tour.

The First Minister took time to respond to Sir Jeremy Heywood over the row about market information being leaked by saying: "This story has a long way to run."

He also reiterated his view that the actions of supermarkets over pricing concerns was an attempt at "blatant intimidation from Westminster".

Analysis on Nigel Farage's visit

Norman Smith

Assistant Political Editor

I was having a chat with some in the No campaign about Mr Farage's intervention today. You could almost hear their teeth grinding. They don't want to be seen near him, they don't want anything to do with him.

They would rather he didn't come up here because they fear he absolutely plays into Alex Salmond hands, in being able to say 'that's the future if we stay in the United Kingdom. England becomes increasingly a Ukip country. If you stay in the UK, then there will be a referendum we might have to leave the EU.'

Farage is coming up here to campaign to keep the union but the No campaign really would rather he didn't come up.

In our latest Daily Question on the Scottish Independence Referendum, Martin Currie examines whether the price of food would go up in an independent Scotland.

Referendum - Your Views

Tweet using #bbcindyref

James Deen: This issue is exceptional and concerns break-up of our nation There is a precedent 1977 The Queen should express her feelings #bbcindyref

Ian Thomas McLean: Hope over fear. Opportunity over zero hours contracts. Political accountability over moat cleaning on parliamentary expenses.

Davie: The economic case, among others, has not been met! The SNP have had years to prepare and totally failed!

Warning from ex-Sainsbury's boss

The former boss of Sainsbury's supermarket has issued a strong warning about the costs for retailers of doing business in an independent Scotland.

Justin King told the BBC that supermarket prices would rise, retailers would put investment on hold and that Scottish food producers could be hit.

The John Lewis group and Asda have also said their prices may rise on account of the increased cost of trading in Scotland.

However, pro-independence supporters have condemned the "scaremongering".

Referendum - Your views

Text 80295

Billy: If Scotland joins the EU it will be required to accept the Schengen accord as a condition. In such circumstances rUK, which is not a signatory, would establish border controls. So, once again nobody, including the SNP, really knows. It's like signing a contract when you don't know the terms.

Chris, Manchester: If Scotland votes for independence next week and it turns out that Westminster is not bluffing about a currency union, should that register the referendum invalid as many voters will have supported independence under false pretences?

Robert, Glasgow: Mr Darling and his ilk have not grasped that it's no longer about the pound, pensions, etc. It has morphed into whether we want to be ruled by Westminster or the Scottish Parliament.

What price an independent Scotland?

Robert Peston

Economics editor

Clegg: More English devolution

The Deputy Prime Minister, Nick Clegg, is to call for more powers to be devolved from Whitehall to English cities.

Copyright: Stefan Rousseau

In a speech in Sheffield, he will argue that the Scottish referendum debate has re-ignited calls for more decentralisation.

His intervention comes as council leaders from eight cities across England gather in London to call for more local powers.

Farage: Queen should intervene

The UKIP leader, Nigel Farage, believes the Queen should intervene in the Scottish independence referendum.

Buckingham Palace issued a statement earlier this week saying the Queen was "above politics" and it was "categorically wrong" to suggest she would wish to influence the vote.

However, speaking on LBC Radio, Mr Farage said it can be argued that the Queen has a responsibility to speak.

"I completely understand her wanting to keep out of politics and she has done it brilliantly over 60 years," he said.

"But there are times where, if the United Kingdom over which she is the monarch is threatened itself, it might be right for her to say something.

"Let's say we got to this Sunday and it was still 50/50 in the polls, I personally think she should say something."

Mr Farage says there is a precedent for the Queen intervening because she addressed separation in her Silver Jubilee speech in 1977.

"She said very clearly I am the Queen of the entire United Kingdom," he said.

"So she said it before and it might be handy if she said it again."

Deputy First Minister Nicola Sturgeon

"We've seen our budget cut, we know there's more cuts to come and the more the budget is cut the harder it gets for any Scottish government to protect the things that matter, chiefly the National Health Service.

"We are seeing in polls the gender gap close, I think that's positive, and Labour supporters increasingly supporting Yes.

"The reason for that is they want the same as I want - greater social justice, the ability to protect our public services, to invest in the health service not nuclear weapons and to be in charge of the decisions that shape our country."

'We are stronger together'

Labour leader Ed Miliband

"I want to make the case to you from the head, which is that we are stronger staying together because we can better create a more equal, a more just, society.

"I want to make the case to you from the heart, because of the ties that bind us together and which would be broken apart by separatism.

"And I want to make the case to you from the soul, because it was in halls like this that our movement was formed on the basis of solidarity - solidarity that has built, not just our movement's greatest moments, but our country's greatest institutions, like our national health service."

Retain 'family of nations' plea

Prime Minister David Cameron

"Because it's a ballot, I think people can feel it's a bit like a general election, that you make a decision and, five years later, you can make another decision, if you're fed up with the effing Tories, give them a kick and maybe we'll think again.

"This is totally different to a general election. This is a decision, not about the next five years, it's a decision about the next century.

"I would be heartbroken if this family of nations that we've put together - and we've done such amazing things together - if this family of nations was torn apart."

Scotland on 'cusp of history'

First Minister Alex Salmond

"Despite Westminster's efforts we've seen a flourishing of national self-confidence.

"It's this revival in Scottish confidence that tells me we'll make a great success of an independent Scotland.

"After all the case for Yes is based on the firm belief that the best people to take decisions about Scotland are the people who live and work here. Scotland is on the cusp of making history.

"The eyes of the world are on Scotland. Scotland will vote 'yes' next Thursday."

Referendum campaign intensifies

With less than a week to go until the vote on Scotland's independence, the key players in the referendum debate have been stepping up their respective campaigns in an effort to attract, persuade and convince voters.

We'll mark what the key political figures have been saying about the burning issues.

Referendum - Get Involved

haveyoursay@bbc.co.uk

So, is Nigel Farage right to say that the Scottish referendum is not about independence but about separating from Westminster and then signing up to the EU state? And should the Queen get involved in the debate? Send us your views by email, text 80295 or tweet using #bbcindyref.

Referendum - Your Views

Tweet using #bbcindyref

George Gallaghertweets: If it was England deciding on leaving Scotland it would be a resounding No vote because we belong together.

Roy Luxford: It's going to be that close that it's not who wins but how they can bring the losing side back with them.

Kamal Ahmed

BBC Business editor

A group of leading retailers is expected to warn that independence for Scotland could lead to higher prices for customers.

The BBC has learned a letter written by Sir Ian Cheshire, the head of the Kingfisher Group, and signed by other business leaders, will be published in the coming days.

The claim has been challenged by Business for Scotland, which is campaigning for a Yes vote, which argues that prices could also go down if people vote for independence in the referendum.

Kenny, Aberdeen: I hope that those who are disaffected with the intervention of financial institutions and retailers to the debate remember that they can choose where to shop and place their money, regardless of the outcome of the referendum.

Tony Mackin, Ipswich: In response to Adrian, saying there's no border between Northern Ireland and Republic, that's because they're both parts of the EU. This would not be the case with Scotland, regardless of what Alex Salmond says.

Morning Call - Referendum special

On today's Morning Call I'll be asking your views on the final full week of campaigning before the referendum.

Which campaign do you think had the better week? Can anything now change your voting intentions?

Get in touch by calling 0500 92 95 00, text using 80295 or via email. The lines are open now.

You can listen live to the debate here.

Supporters and opponents of independence argued over the best way to protect the NHS during the BBC's Big, Big Debate in Glasgow.

Scottish Green Party MSP Patrick Harvie claimed independence was needed to protect against a "nasty, competitive, profit-driven motive" towards the NHS.

But Respect MP George Galloway argued there would not be an NHS without "a country big enough" to share resources.

The politicians debated in front of an audience of nearly 8,000 young people.

The audience of 16 and 17-year-old first-time voters at Glasgow's SSE Hydro arena was drawn from secondary schools across Scotland.

Referendum - Your Views

Text using 80295

Andrew, Fife: In an independent Scotland we will have less money in our pocket. The money will be worth less and the shop prices will be higher. That's lots of pain.

David, Oban: The winner in last night's debate from Glasgow was Patrick Harvie. Well spoken, articulate responses, polls apart from George Galloway. Scotland needs to vote Yes so we can progress rather than living in the past.

Brian, Inverkeithing: If you look at the back of Aldi and Lidl brand products, there are Registered Offices given for both the UK and Ireland. Similarly with companies such as Cadbury. English companies who deal with Scotland will have to set up HQs here after independence.

D. Buchanan, Dundee: Salmond and Sturgeon and their cronnies are ripping this country apart. Whatever the outcome we have regressed three centuries. I did not ask for this and am heartbroken that a proud nation has turned into a nation of squabbling morons. Can someone with no allegiance to any side just go through the most talked about points and tell us the truth?

Referendum - Get Involved

Tweet using #bbcindyref

Shona Spurtletweets: Do people who have just joined the electoral roll get polled? If not, then that is a huge number of unknowns #IndyRef #bbcindyref

Adrian McElholm: Silly talk re: a border crossing between England & Scotland - rubbish! No border crossing from Rep of Ireland & N Ireland! #bbcindyref yes

Apologies if you can't see the images we've published alongside our text entries on the Referendum Live page this morning.

It's a technical problem across the BBC news and sport sites - our top boffins are on the case...

Today's edition of The Scotsman leads with claims from retailers that prices could rise in Scotland, along with several banks registering their operations in England.

The Scottish Sun claims that Korean dictator Kim Jong-un has backed Scottish independence.

Both papers also report that the latest poll indicates the No campaign holds a narrow lead, six days before the 18 September poll.

Read the rest of our newspaper review here.

Referendum - Get Involved

Tweet using #bbcindyref

Nick Robinson

Political editor

To all tweeting about me saying that @AlexSalmond did not answer me: He DID answer re RBS but did NOT re why trust him not company bosses.

Farage 'to give vote a UKIP voice'

UKIP leader Nigel Farage will hold a rally in Glasgow today - a year after police had to barricade him in a pub after his last visit to Scotland.

Mr Farage insists he has "no intention of being incendiary" but that UKIP needs to have a voice north of the border.

He told BBC Radio Scotland: "I'm going to make a point which is this referendum is being called the independence referendum, Mr Salmond says it's about independence, Better Together says it's about independence.

"But if you actually look at it, it's not, because what Mr Salmond is saying is: 'Let's vote to separate from Westminster and then sign ourselves up to the EU state'.

"Whether you think being in the EU is a good thing or a bad thing, what is absolutely certain is that their courts are supreme; their laws are supreme and you can't be an independent country and a member of the European Union."

Mr Farage added: "If the Scottish people want to separate from Westminster, want to be part of the EU state, want the Euro as their currency, then voting Yes is fine for them. But my job today is to say: 'hold on, you are being sold a false prospectus'."

The "No" campaign is leading by 52% to 48%, according to the latest poll.

The YouGov survey for The Sun and The Times, which excluded those who were undecided, was based on the questioning of 1,268 electors online between 9 September and 11 September.

Politicians on both sides of the independence debate are to ramp up their campaigning today.

Commenting on its poll results, YouGov said although "No" was back in front, the "Yes" campaign had held on to most of its gains since early August.

"These gains have come partly from people switching from No to Yes and partly from don't knows," it said.

"Counting all respondents, 'No' led 'Yes' by 55 to 35% five weeks ago, with 11% saying don't know. Compared with then, 'Yes' is up 10 points to 45%, and 'No' and don't know both down by five points, to 50% and 6% respectively."

Referendum - Your Views

Text using 80295

Rowan: Do folk really want a border crossing between Scotland and England?!

John, Edinburgh: Anybody who says anything against "Yes" is accused of scaremongering. Business issuing warnings of costs and relocations are real issues. Voters need more than ever to use their head rather than heart.

Salmond 'leak' claim rejected

The head of the civil service has rejected claims by Alex Salmond that the Treasury deliberately leaked sensitive information to damage the campaign for Scottish independence.

Sir Jeremy Heywood also denied accusations of scaremongering.

Mr Salmond has called for an inquiry into the alleged leaking of sensitive data involving RBS plans to move its HQ to London if Scotland votes "Yes".

Meanwhile, the latest poll suggests the "No" campaign is leading by 52% to 48%.

Bryan Quinn

BBC Scotland News

Good morning and welcome to our Referendum Live page. We'll be bringing you all the latest from the respective campaigns from now until 18:00.