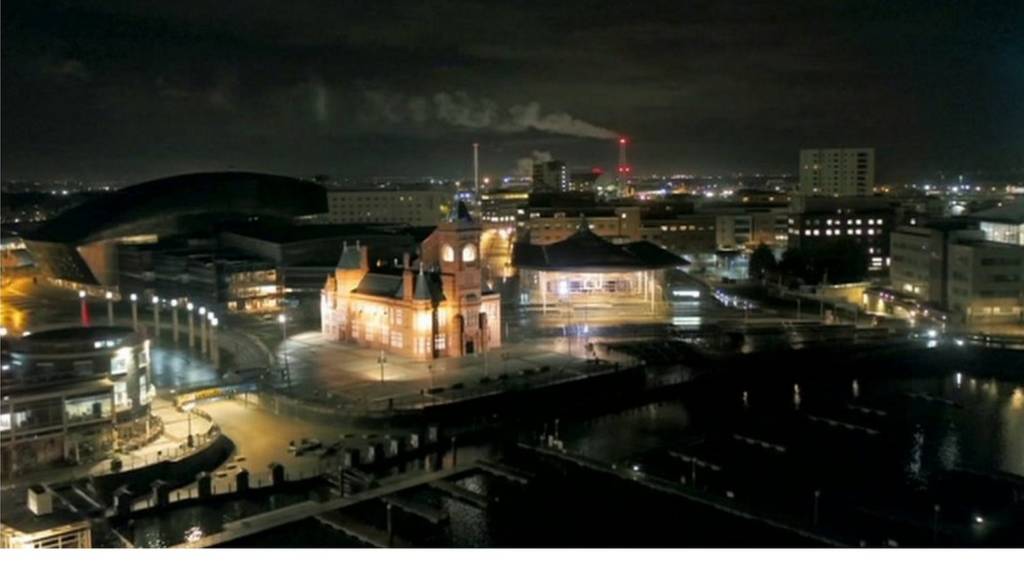 Senedd Live: As it happened on 19 January
That brings the plenary to a close.

Senedd Live returns tomorrow. Take care.

Renters: Eviction ban extended

International travel restrictions approved

MSs approve The Health Protection (Coronavirus, International Travel and Restrictions) (Amendment) (Wales) Regulations 2021.

These Regulations retain the additional restrictions already in place in relation to South Africa and extend them to travellers (and their households) arriving in Wales from other Southern African countries.

There were no objections.

'We need to make more progress'

"We need to make more progress" admits the education minister Kirsty Williams regarding Estyn's conclusion that standards are good in only half of secondary schools.

'Standards are good in eight-in-ten primary schools and in a half of secondary schools'

The final Statement of the day is by the Minister for Education Kirsty Williams, on the Estyn Annual Report 2019/20.

The report states that "prior to lockdown, we had inspected some three-fifths of the providers we had planned to visit during the year. The evidence from these inspections and other visits shows a similar pattern to recent years, with some modest improvements being consolidated and encouraging practice emerging in previously underperforming sectors.

"Standards are good in eight-in-ten primary schools and in a half of secondary schools. An increasingly common feature of our better schools is the way they support pupils to become resilient and independent learners who are given choices about how and what they learn, while other schools have not yet developed a shared understanding among their staff regarding what an independent learner means to them."

Image caption: Most children will be learning from home until at least February half-term, unless there is a big drop in Covid cases

MSs respond to breaking news about drinking on Senedd premises despite booze ban

'New system of identifying, assessing and mitigating the risks of fire'

The next item is a Statement by the Minister for Housing and Local Government Julie James: "The Building Safety Regime White Paper".

She says the White Paper is a "significant step forward in our plans to improve building safety following the tragic events at Grenfell Tower. The changes proposed under the new regime amount to the most extensive building safety reforms in the UK."

She adds "One of the most problematic aspects of the current system is how difficult it can be to identify who is responsible for safety in a building. Our proposals introduce roles during the design and construction of buildings, and when they are occupied, to ensure that those in positions of authority are clear on their responsibilities and can be held accountable.

"At the heart of our proposals for occupied buildings is a completely new system of identifying, assessing and mitigating the risks of fire. This is designed to address the risks that typically exist in blocks of flats, and will replace the current arrangements which were designed for workplaces. It will be easier for landlords to apply and for residents to understand."

A ban on using combustible cladding materials on buildings in Wales came into force on 13 January.

The ban on combustible cladding will apply to all new buildings, and to existing buildings being refurbished. Exceptions will be made if refurbishment work is already under way or due to start within eight weeks of the ban taking effect.

Image caption: The fire at Grenfell Tower killed 72 people

Plaid Cymru's Helen Mary Jones supports the commission's recommendations and says they will be particularly monitoring the recommendations that the Welsh Government has "accepted in principle".

The Brexit Party's David Rowlands also says he is "disappointed" by the use of the term "accepted in principle".

Lee Waters replies there is "no ambivalence" in the use of the term.

'No substitute for an M4 relief road'

Conservative Russell George welcomes the commission's recommendations but says they are "no substitute for an M4 relief road".

First Minister Mark Drakeford scrapped plans to build a £1.6bn relief road in 2019 because of its environmental impact as well as the cost to the public purse.

'Ambitious yet achievable'

The commission, chaired by Lord Burns, described its recommendations as "ambitious yet achievable".

It said its "fast track" recommendations - made in a progress update in December 2019 - were "consistent" with their final recommendations.

This included the introduction of a 50mph average speed control and more lane guidance on the westbound approach to the Brynglas tunnels in Newport.

The report said the cost of the recommendations would be between £600m and £800m:

The majority of the cost would be in developing the rail network on the south Wales main line - costing between £390m and £540m
Developments on the line would include new stations on Newport Road in Cardiff and a new Cardiff Parkway station in St Mellons, plans for which have already been developed by a private company
In Newport, the report suggested creating a Newport West station near Tredegar Park, and a Newport East station in Somerton, as well as stations at Llanwern and Magor
A bike hire scheme, similar to Nextbike in Cardiff, should be established in Newport too

At peak times, between 3,000 and 5,000 vehicles approach the Brynglas tunnels every hour.

Alleviating congestion on the M4 by moving commuters and travellers on to public transport would benefit goods and services traffic which are less able to switch to other modes of transport, according to the report.

Image caption: The majority of journeys through this stretch of the M4 involved Cardiff, Newport and Bristol, the report said

'Better integration and coordination of rail and bus networks'

The South East Wales Transport Commission recommended tripling the number of train stations between Cardiff and the River Severn, from three to nine, as well as establishing bus and cycle route networks in Newport.

If all the recommendations were acted on, it suggested more than 90% of people in Cardiff and Newport would live "within one mile of a rail station or rapid bus corridor".

The report recommended better integration and coordination of rail and bus networks and integrated tickets across all services. Services should run every 15 minutes and stations should be more accessible on foot and for cyclists.

Currently, common M4 journeys are poorly served by public transport alternatives, it said, with Newport served particularly poorly by rail.

It said "flexible office hubs" should be established in major towns and cities, in order to support remote working.

Although most M4 journeys cannot be substituted by walking or cycling because of their distance, the report said active travel had "a key role".

Image caption: Environmentalists had long-opposed the plans for the scrapped relief road

M4 congestion: commission's recommendations endorsed

We move on to a Statement by the Deputy Minister for Economy and Transport Lee Waters: "The Welsh Government Response to the South East Wales Transport Commission's Final Recommendations".

He says the Welsh Government has endorsed the commission's recommendations.

In a line-by-line response to the Commission's final report, the Welsh Government has "accepted in principle all of the recommendations to tackle congestion".

£800m should be invested in public transport to help ease traffic jams on the M4, the report recommended.

The commission was set up after Welsh ministers scrapped plans to build a £1.6bn relief road around Newport.

To encourage people out of their cars, its report suggested considering a "workplace parking levy" and ensuring public transport was "affordable for all".

The panel was told not to consider plans for another motorway.

The M4 around Newport is the fourth most congested stretch of road in the UK.

Image caption: Commission chair Lord Burns said people need alternatives to cars before they are charged for using roads

Erasmus withdrawal 'cultural vandalism'

Withdrawing access to the EU's Erasmus scheme as part of the Brexit deal is described as "cultural vandalism" by the first minister.

Erasmus is an EU programme that helps students study in other countries.

Scotland, England and Wales will no longer participate, but Northern Ireland's access will continue.

Prime Minister Boris Johnson has announced that the UK would not continue to participate in Erasmus and would replace it with a cheaper scheme, named after the mathematician Alan Turing, which would include countries outside Europe.

By Cemlyn Davies

BBC Wales political reporter

Why is Wales behind England and Northern Ireland in terms of percentage of population vaccinated?'

Plaid Cymru leader Adam Price asks why Wales is behind England and Northern Ireland in terms of percentage of the population vaccinated.

The first minister insists the "race is with the virus, not with other countries" and insists the vaccination programme is "on track".

Vaccinations discussed in Cabinet?

Conservative group leader Paul Davies says that in November the Welsh Government held six Cabinet meetings, but "there's not one single item on vaccines or vaccinations tabled or raised for discussion."

The first minister insists it was discussed, even if it was not recorded in the minutes of the meetings.

'Bristol airport will get £8m and Cardiff airport gets nothing'

The first minister is critical of the UK government's financial support scheme for airports, as he points out that Bristol airport will get £8m and Cardiff airport gets nothing.

The Welsh government bought the airport for £52m in 2013 as it struggled with falling passenger numbers.

The aviation sector faces new Covid travel curbs.

Copyright: GEOGRAPH/MJ RICHARDSON

Image caption: The Welsh Government has also invested heavily in the terminal of the airport at Rhoose in the Vale of Glamorgan

Are things being done as quickly as they could?

Conservative health spokesman Andrew RT Davies cites comments from Dr David Bailey, Chair of the British Medical Association in Wales, who said that he was "deeply concerned" with what the first minister said about vaccine doses, and described the Welsh Government's approach as "bewildering".

Mr Davies says there is a need to get the vaccine out as quickly as possible to offer people protection against the virus.

"Public confidence is slipping, and the programme must get back on track to remove the anxiety felt by so many," Mr Davies adds.

'Many people are angry and baffled'

Plaid Cymru health spokesman Rhun ap Iorwerth says "many people are angry and baffled" by the vaccination programme in Wales

He says confidence in the system was very important.

He says there have been a confusing couple of days where the first minister "says categorically they are holding the vaccine back and then, in a few hours, no, we are not holding the vaccine back".

'Seven in 10 people over the age of 80 will be vaccinated by end of the week'

Plenary begins with an Emergency Question by Plaid Cymru's Rhun ap Iorwerth: "Will the Minister make a statement on the COVID-19 vaccination programme in Wales following reports that the Welsh Government's policy is to gradually distribute vaccinations rather than to vaccinate as many people as possible in the shortest time possible?"

Wales' health minister Vaughan Gething denies that Covid-19 vaccines are being held back.

Senedd members are reacting to First Minister Mark Drakeford's comments that the supply had to last until February to prevent "vaccinators standing around with nothing to do".

In a later tweet, Mr Drakeford said "nobody is holding back vaccines".

Mr Gething insists vaccines are being rolled out "as quickly as possible".

He says by the end of the week he is confident that seven in 10 people over the age of 80 will be vaccinated.

He adds he expects the first four priority groups in Wales to be vaccinated by the middle of February.