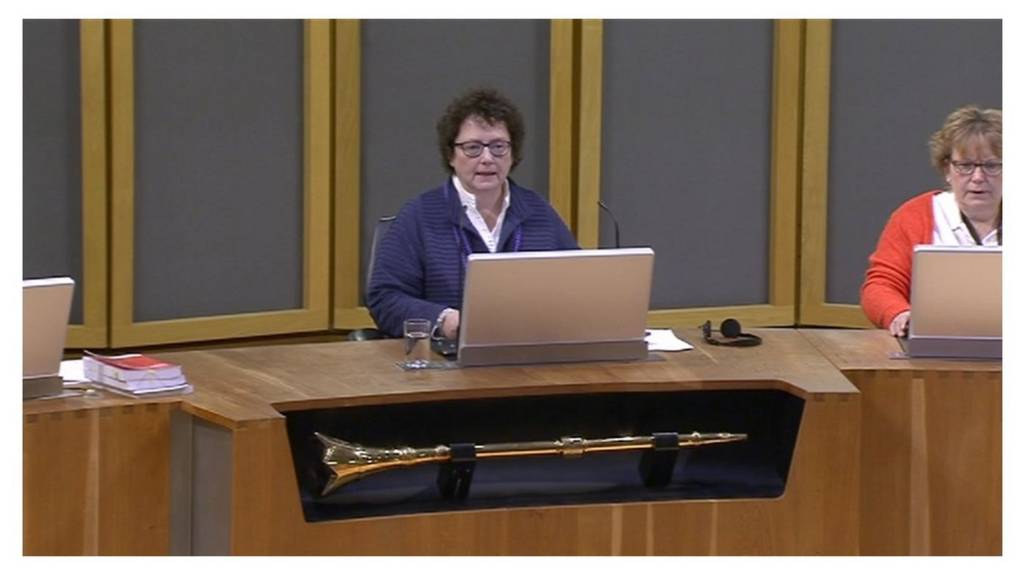 Senedd as it happened: 12 November 2019
That's it from the Siambr for today.

Senedd Live returns tomorrow.

Motion on digital connectivity passed

The amended Welsh Government motion on digital connectivity is passed.

Minimum alcohol price regulations passed

AMs approve the draft The Public Health (Minimum Price for Alcohol) (Minimum Unit Price) (Wales) Regulations 2019.

The law setting a minimum alcohol price in Wales will come into force on 2 March, under Welsh Government plans.

Ministers want retailers and bars to charge a minimum of 50p per unit - meaning a can of cider could cost at least £1 and a bottle of wine £4.69.

There were 38 for, no abstentions, and five against.

'One stop shop' to those who are not connected to the Superfast Cymru programme

The Plaid Cymru amendment moved by Rhun ap Iorwerth is to add a new point calling "on better information to be provided - through a 'one stop shop' - to those who are not connected to the Superfast Cymru programme, about how they can access a fast internet connection".

How do broadband availability and mobile coverage in Wales compare to the rest of the UK?

'Failure of the Welsh Government to deliver on its promise'

Conservative Russell George criticizes the Welsh Government on a number of issues, including "the failure of the Welsh Government to deliver on its promise to ensure that all residential and business premises would have next generation broadband by 2015", and "that some communities have been left with stranded assets following the completion of Superfast Cymru phase 1".

He commends the work of the Conservative UK government, including the "introduction of a universal service obligation (USO) which will give eligible homes and businesses in the UK a clear, enforceable right to request a decent and affordable broadband connection by March 2020", and the "investment to provide superfast broadband coverage and its stimulation for commercial investment in full fibre connections in both rural and urban locations across the whole of the UK".

The final item today is a debate on digital connectivity.

The Welsh Government proposal, moved by Lee Waters, Deputy Minister for Economy and Transport, is that the National Assembly for Wales:

1. Recognises the work undertaken by the Welsh Government since 2012 to improve digital connectivity across Wales through the Superfast Cymru programme, with 733,000 premises now having access to fast fibre broadband.

2. Notes that the Welsh Government has undertaken this work in a non-devolved area owing to the failure of the UK Government at that time to sufficiently invest where the commercial market would not provide.

3. Calls on the UK Government to fulfil its responsibilities and invest in gigabit-capable broadband that meets the needs of homes and businesses in Wales ensuring that:

a) funding reflects the challenges of deploying digital infrastructure in Wales;

b) delivery takes an 'outside-in' approach providing connectivity to those premises in rural and very rural areas; and

c) connectivity is provided first to those premises which cannot receive fast broadband.

259,200 currently active businesses

Of the 259,200 currently active businesses in Wales, 257,600 are micro, small and medium sized.

The final statement is by the Minister for Economy and Transport Ken Skates: The Proposed Future Delivery Model for the Business Wales Service.

Business Wales provides free independent advice to people starting, running and growing a business in Wales.

Mr Skates says, "it's time for us as a Welsh Government to work with you as a National Assembly for Wales to help put Business Wales on a stronger footing for the future....To do that we have focused our work on three key areas:

"The first key area is in creating a future Business Wales service that is a high quality, front end advice and enquiry portal. One that provides everyone that wants it, a 'one stop shop' for digital, helpline and enquiry support.

"The second element has been to focus on the creation of a service that can enhance the capacity and the capability of our regional economies in Wales to support inclusive growth.

"And the third area of our work focuses on inclusive and sustainable growth."

Plan aims for energy while protecting seas

The marine plan area consists of about 12,350 sq miles (32,000 sq km) of sea, as well as 1,300 miles (2,120km) of coastline.

It is designed to work in tandem with the forthcoming National Development Framework, a similar idea but for Welsh land.

It is hoped they will guide new developments over the next 20 years.

Copyright: BBC/Crown Copyright

Welsh National Marine Plan

The next statement is by the Minister for Environment, Energy and Rural Affairs: The Welsh National Marine Plan.

New planning rules for developers wanting to build out at sea have been published by the Welsh Government.

They are designed to help boost renewable energy generation, while also protecting wildlife.

Environment Minister Lesley Griffiths claims the National Marine Plan would put Wales at the forefront of tackling climate change.

But it stops short of setting out specific zones where there is opportunity for development.

This follows criticism from environment groups, who will now be part of the process of deciding where the so-called strategic resource areas (SRAs) will be located.

Copyright: TIRC83/GETTY IMAGES

Image caption: Lesley Griffiths said it was important it was a "living, active plan" not one to be left on a shelf "to gather dust and be forgotten"

Cymru'n Cofio – Wales Remembers

The Cymru'n Cofio – Wales Remembers programme to mark the centenary of the First World War has been extended until 2020.

The first statement of the day is by the Deputy Minister for Housing and Local Government, Hannah Blythyn: Marking Remembrance Day and supporting our Armed Forces community.

Tributes to Wales' war dead were paid at services across the country marking Armistice Day yesterday.

A remembrance service was held at the National War Memorial cenotaph in Cardiff's Cathays Park.

Events were also staged in Aberystwyth, Swansea, Bangor and Wrexham, with a new plaque unveiled in Connah's Quay and Shotton dedicated to a further 23 World War One casualties.

Schoolchildren in Cardiff dressed in period clothing to mark the day.

Image caption: Pupils from Marlborough School in Cardiff wore wartime uniforms and clothing as part of their Remembrance Day events

Trefnydd outlines the Senedd's future business

The next item is the Business Statement and Announcement.

The Trefnydd Rebecca Evans outlines the Senedd's future business and responds to requests from AMs.

'Two AMs have disregarded the authority of the Chair'

Former first minister Carwyn Jones says two AMs have "disregarded the authority" of the Llywydd Elin Jones today.

Firstly, he says Mark Reckless did not properly withdraw the accusation of bias, instead using "weasel words".

Secondly, he refers to this tweet by Neil McEvoy.

He adds the situation is "the like of which I haven't seen in 20 years in this chamber".

Elin Jones says "I'm not angry today, I'm deeply saddened by much of what I have seen and heard".

Accusation of bias withdrawn

The Llywydd Elin Jones asks Mark Reckless to withdraw his accusation that she has been biased.

He responds, "(indistinct) of the truth or otherwise of the accusation, I withdraw it".

Standards Commissioner transcript

Brexit Party leader Mark Reckless refers to a complaint by Finance Minister and Trefnydd Rebecca Evans against him.

He quotes from a transcript of the covert recording made by Neil McEvoy AM of the Standards Commissioner saying "it's clear to me that Rebecca didn't know the full facts of the case before she tweeted this".

The first minister replies that was an "abuse of the opportunity" to question him.

'Cancelled trains, missed stops and overcrowding'

Rhun ap Iorwerth, standing in for Plaid Cymru leader Adam Price, criticizes Transport for Wales over "cancelled trains, missed stops and overcrowding".

The first minister says from January 2020 there will be fare reductions across the Transport for Wales network.

Infrastructure commitments in Welsh Labour's 2016 manifesto

Conservative leader Paul Davies asks the first minister "how many of the infrastructure commitments in Welsh Labour's 2016 manifesto do you actually intend to deliver?"

Mark Drakeford replies, "we will deliver the investment that we promised in our manifesto of 2016".

Mr Davies cites what he sees as lack of progress on the dualling of the heads of the valleys road and on work on the A55 and A40, as well as the scrapping of the M4 relief road.