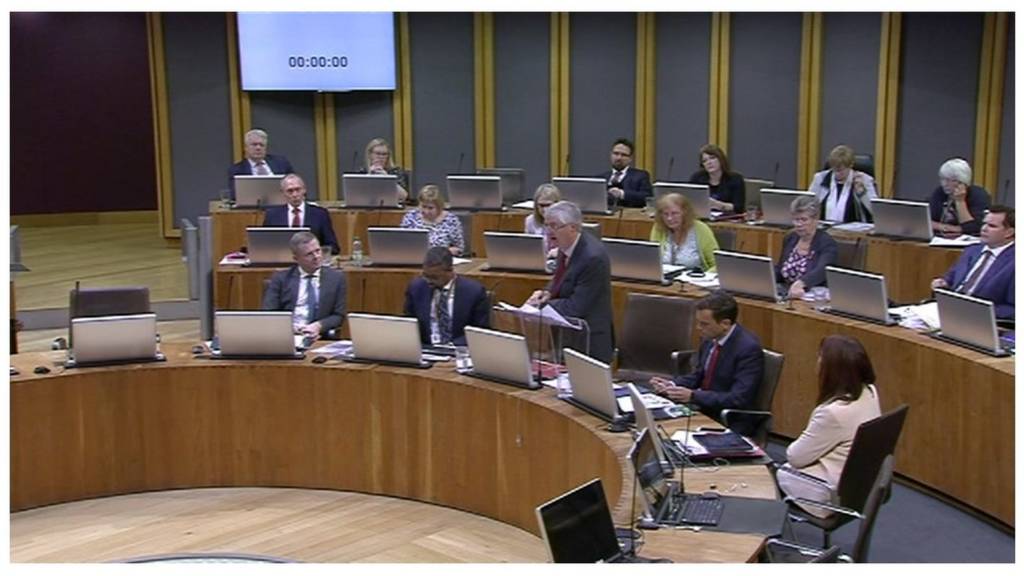 Senedd recalled from recess: 5 September 2019
That's it from the Siambr for today.

Senedd Live will be back on September 17th.

AMs approve a motion by 32 votes to 12, which calls on MPs to use any legal and constitutional means available to prevent the UK Government from pursuing a no deal outcome to the Brexit negotiations, and to ensure that the decision on whether or not to leave the EU in the light of current circumstances should go back to the electorate in a referendum.

"The wheels are off the bus; the driver had no licence."

The First Minister on integrity

"We have a Prime Minister who simply cannot be trusted, whose words cannot be relied upon... but it's not just about integrity at an individual level but at an institutional level as well."

Closing the debate, the First Minister Mark Drakeford

Speaking about the amendments laid down, he told AMs: "Every barnacle that is added to the motion weighs it down.... it runs the risk of diluting the impact that our discussions can and need to have beyond this Assembly."

The UKIP AM Neil Hamilton - "Assembly is posturing"

Pointing to the referendum result in Wales, where most people who voted wanted to leave the EU, he said the Assembly had "gone round the same course we have many, many times before, and so what this Assembly has been doing today is perhaps what it does best, certainly in relation to Brexit, which is to posture impotently and polish it's anti-democratic credentials."

Criticising the Prime Minister, the former First Minister Carwyn Jones, says:

"We know that what he is claiming, that there is a deal to be made, is untrue. It's driven by a desire to see a no-deal Brexit, and when the consequences hit, to blame others."

Rhun ap Iorwerth on Operation Yellowhammer

Referring to his party's amendment calling for documents relating to Operation Yellowhammer to be made public, he said: "Whilst I've always opposed any kind of Brexit, and campaigned against Brexit, the evidence is clear about the particular and acute harm of a no-deal Brexit."

Melding on "liberals" within Tory party

In an apparent criticism of the recent expulsions of Conservative MPs from the party, Mr Melding said: "It's no time to drive the liberals out of the Conservative Party."

Melding: "no part of no deal"

"The truth is, no deal is a high risk strategy, but it is a high risk to be forced on the most vulnerable and I will not be part of that."

The Conservative AM, David Melding, says:

"It is time for Unionists to recognize the peril we are in. It is the greatest peacetime crisis since the Irish crisis. The challenge is to achieve a meaningful Brexit, that does not leave Scotland and remainers in England and Wales embittered."

For Plaid Cymru, Delyth Jewell tells AMs:

"After months of "will he, wont he", now we know the calibre of our Prime Minister, and I do not say it with admiration. Boris Johnson is a man who is without any sense of shame or indeed any care for the weight of history and how wanting it will find him."

Torfaen AM Lynne Neagle tells the Assembly:

"It is absolutely right that we should be debating this today. What should give pause for thought on the Conservative benches is not the validity of this debate, but the validity of their right to look themselves in the mirror tomorrow morning. They know, I know, everyone knows that many in their number simply do not believe the lines they feel forced to parrot in order to give a Welsh veneer of credibility to Boris Johnson's gamble with this country's future."

Leader of the Opposition, Paul Davies says:

"I've asked many questions of the First Minister about Wales' preparedness for Brexit, the ongoing discussions he and his Government are having with UK colleagues and how we can work together to avoid a no-deal Brexit. Sadly, Labour, LibDem and Plaid MP's in Westminster are making the negotiations tougher with their actions."

"The fact now is that the Government in London is being run by right-wing, UK nationalists. Wales can do better. We cannot rely on Westminster, so we must start preparing to stand on our own two feet."

Add as new point at end of motion:

Recognises that a no deal Brexit outcome, and the right wing nationalist agenda being pursued by the UK Government in London, could very soon lead to the full political separation of the nations currently making up the UK state, and, to prepare for this eventuality, resolves to:

a) engage with elected politicians at all levels in Wales to establish a constitutional convention, urgently tasked with mapping out what a future sovereign Wales would look like, setting out its future relationships with the constituent parts of the former United Kingdom;

b) create people's assemblies made up of interested members of the public in Wales, including the Youth Parliament of Wales, to contribute to the work of this constitutional convention;

c) engage the best legal minds in Wales and beyond to write a draft constitution for a future sovereign Wales, to be discussed, amended and ultimately adopted by the constitutional convention;

d) engage the best economists from Wales and beyond, committed to the economically and environmentally sustainable future of a sovereign Wales, to produce realistic pathways to achieve this;

e) constitute a committee of this Assembly comprised of interested AMs regardless of party affiliation, to define the remit and appoint a chair and vice-chairs for the constitutional convention and oversee its effectiveness and progress;

f) task the Welsh Government with providing the necessary resource to fully enable the above.

Adam Price on Plaid amendments

"The amendments we have tabled are in the spirit of trying to create unity across this chamber. They're certainly not an attempt to in any way to divide us unnecessarily."

Adam Price on the state of democracy

"These are the most serious of times. Democracy wanes and dictatorship waxes not in one single moment, but in a series of fatal moments."

Plaid leader Adam Price says: "We see a government in Westminster at the moment that is intent on trying not only to leave the EU in the most reckless manner possible, but willing to carry out their threat to use any means to do so whatsoever."