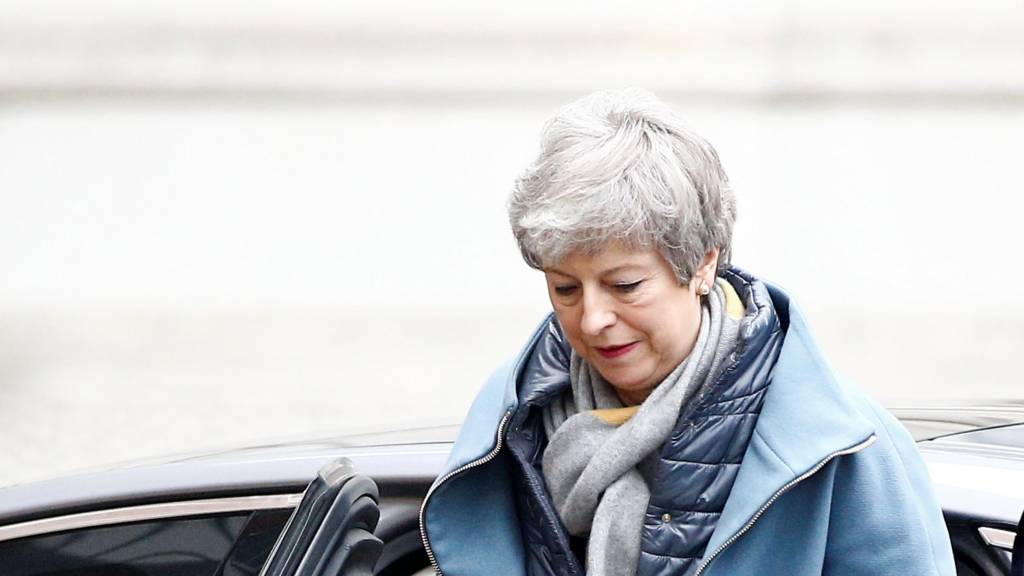 Tusk tells reporter: 'I'm more pro-British than you'

The Sun's Brussels reporter tweets:

Tusk: EU 'determined to achieve best possible deal'

Mr Tusk continues: "We will be also really determined to achieve the best possible deal.

"But almost everything is now in the hands of British Parliament and Theresa May's government."

Tusk: 'Anything could be possible'

Speaking at a press conference on the second day of the EU summit, European Council president Donald Tusk says the Brexit delay plan announced by the EU last night means that until 12 April "anything could be possible: a deal, a long extension if the UK decides to rethink its strategy or decides to revoke Article 50".

"The fate of Brexit is in the hand of our British friends," he says.

"At the EU we prepare for the worst, but hope for the best."

Cable and Lidington 'discussed revoking Article 50'

Sky News Westminster political reporter tweets:

UK formally agrees to Article 50 extension

The UK's ambassador to the EU, Sir Tim Barrow, has written to European Council President Donald Tusk to confirm that the UK has agreed to the extension of Article 50.

The UK's departure date had originally been set for 29 March.

Tony Blair: Years wasted in search for Holy Grail of Brexit

Former prime minister Tony Blair, writing in the Evening Standard, says now is the time for decision-makers need to "step back and think clearly without anger, ego or anxiety".

Quote Message: The route is to do what up to now Parliament has not had the opportunity to: debate properly the genuine Brexit options and decide on one; or decide on one but put the final say with the people. But we must move fast.

Mr Blair called for Theresa May to realise that she can't decide the outcome of Brexit - but that she should facilitate it.

Quote Message: We have literally wasted almost three years on a futile search for a Brexit solution. We have chased the Holy Grail Brexit, the one which will unite the nation. It will never be found.

Nicola Sturgeon 'proud to speak' at march tomorrow

Scotland's first minister tweets:

Are bots gaming the 'Cancel Brexit' petition?

Questions have been asked about whether a government petition calling for Brexit to be cancelled has been swamped by bots.

Bots are automated programmes which can carry out a command thousands of times.

The BBC has spoken to three cyber-security experts about how likely it is that a number of the 3m signatures gathered so far are not genuine.

They all agreed that the petition's email validation process would be a deterrent.

Each signature requires a unique email address to which a verification link is sent before the vote can be accepted. Voters must also share a valid postcode.

While email addresses are easy enough to set up, doing that in real time at high volume is less straightforward. Read more here

'Every outcome is more unpopular than popular'

The Financial Times' John Burn Murdoch tweets:

'MV3 less likely to go through' - Mark Francois MP

Sky's deputy political editor tweets:

'National humiliation imminent'

Former Brexit minister, and leading ERG figure, tweets:

'The roar that will drive the Final Say march'

The former Conservative MP, who joined the Independent Group in February, tweets:

'Panic mode'

Sky's political correspondent tweets:

PM's 'days are numbered'

Evening Standard political editor tweets:

What just happened?

Let's get you up to speed

If you're just catching up with the latest Brexit news - this article on what just happened should help.

MP expresses 'unreserved apology' over false expense invoices

The lawyer for Christopher Davies has told Westminster Magistrates' Court that Brecon and Radnor Conservative MP accepts his responsibility and expresses his "sincere and unreserved apology" for what he describes as a "disastrous accounting episode".

But District Judge John Zani said that although there was no financial gain for his actions, Davies admitted "two very serious offences" which were "absolutely intended to deceive".

Davies entered guilty pleas on Friday to submitting two false expenses invoices.

'Trolled by my own daughter'

Home Secretary Amber Rudd's daughter, Flora Gill, writes a tongue-in-cheek piece on why a no-deal Brexit would be good for millennials.

Nigel Farage back in front-line politics

Former UKIP leader Nigel Farage is re-entering front-line politics as head of the newly established Brexit Party.

Mr Farage is taking over from Catherine Blaiklock, who quit over what he said were "horrible and intolerant" comments on Twitter about Islam.

Mr Farage said the party was currently a "virtual" entity but would mobilise at short notice if the UK ended up taking part in European elections.

Brexit: Will Theresa May try to take back control?

Laura Kuenssberg

BBC political editor

What now?

Theresa May has been granted a little breathing space. The EU has allowed a few more days to try to get her deal through the House of Commons.

But it's not the timetable that she chose.

And as things stand, the expectation that the compromise deal will get through is low.

And, more to the point, the government does not believe that it can hold off another attempt by a powerful cross-party group of MPs who are resolved to put Parliament forcibly in charge of the process to find alternatives.

Ministers are therefore today not just wondering about how to manage one last heave for the prime minister's deal, but what they should do next, when - odds on - the whole issue is in the hands of the Commons, not Number 10.