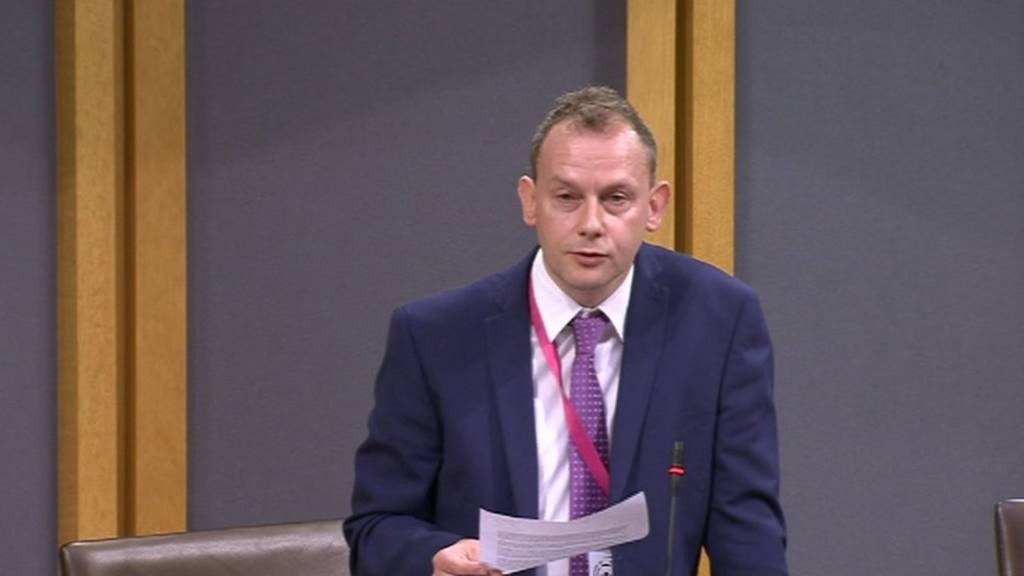 Senedd UKIP leader Gareth Bennett censured
Summary
UKIP group leader in the Senedd, Gareth Bennett officially censured for spending almost £10k on an office that never opened.
Plenary begins at 1.30pm with Questions to the Cabinet Secretary for Finance
Questions to the Cabinet Secretary for Local Government and Public Services
Debate on the Standards of Conduct Committee's Report: Gareth Bennett
Welsh Conservatives debate - Welsh Government Performance
Short Debate: The Neolithic in the Story of Wales
Debate on Stage 3 of the Childcare Funding (Wales) Bill
That brings today's proceedings in the Siambr to a close.

Senedd Live returns on Tuesday 11 December.

The Childcare Funding (Wales) Bill passes Stage 3.

Guide to Public Bills and Acts

There is generally a four-stage process for the consideration of a Public Bill involving:

Stage 1 – consideration of the general principles of the Bill by a committee, and the agreement of those general principles by the Assembly;
Stage 2 – detailed consideration by a committee of the Bill and any amendments tabled to that Bill;

Stage 3 – detailed consideration, by the Assembly, of the Bill and any amendments tabled to that Bill;

Stage 4 – a vote by the Assembly to pass the final text of the Bill.

Janet Finch-Saunders, Conservative spokesperson on social care, children, young people, and older people, says the bill excludes and disadvantages parents in education or those looking for work.

Plaid Cymru to oppose the childcare bill

Plaid Cymru's Sian Gwenllian says the party will oppose the childcare bill because it believes "in the principle of free childcare".

She says the childcare policy will subsidise free childcare for the wealthiest families earning £200,000 a year while excluding those from the poorest households looking to return to work.

However, she says Plaid Cymru's amendments try to improve the bill.

Summary of changes made at Stage 2

Minister Huw Irranca-Davies says he has "responded to calls from scrutiny committees" with his amendment 4 to leave out "may provide funding to any person for the purpose of securing the provision of childcare for qualifying children of working parents" and insert "must provide funding in respect of childcare for qualifying children of working parents".

Amendment 4 is passed.

'Lessons should be learned'

A report published in July into the general principles of the Childcare Funding (Wales) Bill said lessons should be learned from the pilot schemes.

The Children, Young People and Education Committee report said free childcare should be offered to unemployed parents on courses or training linked to finding work.

The limited trial offers working parents 30 hours a week of free childcare.

Restricting it to working parents risked increasing the gap in attainment between the well-off and less well-off, the children's committee said.

Stage 3 of the Childcare Funding (Wales) Bill

The final item today is a debate on Stage 3 of the Childcare Funding (Wales) Bill.

A scheme offering free childcare for parents of three and four-year-olds was first piloted within seven council areas with a plan to extend it to the whole of Wales by 2020 at an estimated cost of £100m a year.

The Neolithic in the Story of Wales

The topic chosen by David Melding (South Wales Central) for the Short Debate is "The Neolithic in the Story of Wales: Valuing the achievements of prehistory. Raising awareness of the importance of prehistory in the cultural life of Wales."

He says "the Neolithic should be properly honoured because it has a special place in the story of Wales".

Image caption: Tinkinswood Burial Chamber, constructed nearly 6000 years ago, held the bodies of over 50 individuals. At around 40 tons, the capstone weighs as much as an articulated lorry and is one of the largest in Britain.

'Thanks the First Minister for his leadership and his work during his nine years in office'

The Welsh Government amendment is to "delete all after Wales and replace with:

1.Recognises:

a) Almost nine out of 10 people are treated within the target time of 26 weeks

b) Investment in the Welsh NHS is at record levels

c) More people are surviving cancer than ever in Wales and receiving treatment within the target time

d) The proportion of pupils awarded the top GCSE grades at A* to A increased to 18.5% in 2018

e) 8.7% of pupils were awarded A* at A-level in 2018 – the best results in Wales since the grade was introduced in 2010

f) Gross disposable household income in 2016 was £15,835 per person, equivalent to 81.5% of the UK GDHI, up from 2015

g) Gross weekly earnings in 2018 for full-time employees working in Wales have increased by 2.1% since 2017

h) 1.5m people were employed in Wales in the three months to September 2018, up 4.2% on the same period a year earlier – the largest increase of any UK country or region

i) Three-quarters of small business in Wales receive help with rates bills and half pay no non-domestics rates at all

j) 20,000 new affordable homes will be built with Welsh Government funding this Assembly term.

2. Thanks the First Minister for his leadership and his work during his nine years in office."

Image caption: Leader of the House and Chief Whip Julie James

'No business sense whatsoever'

UKIP's Michelle Brown says under Labour "the people of Wales have had to endure a crumbling health service, a failing education system, and economic and local government policies that make no business sense whatsoever".

Rhun ap Iowerth says Plaid Cymru will abstain in the vote. He says the list of failures by the Welsh Government could also include child poverty, homelessness, carbon emissions, among others.

He also criticises the way the Welsh Government operates, "with low targets set to make it look as if they are achieving their goals".

'Acknowledge its failures, abandon its failing policies, and to deliver positive change'

The topic chosen by the Welsh Conservatives for their debate is "Welsh Government Performance". The party propose that the National Assembly for Wales:

1. Regrets that since December 2009:

a) referral-to-treatment waiting times in the Welsh NHS have increased;

b) performance against both the 4 and 12 hour targets in Welsh emergency departments has deteriorated;

c) cancer treatment targets have never been met in Wales;

d) the number of beds in Welsh hospitals has fallen;

e) GCSE performance has deteriorated in Wales with attainment of A*-C grades for summer 2018 the worst since 2005;

f) Wales's OECD PISA scores are worse in reading, maths and science with the most recent results being worse than in 2009, placing Wales in the bottom half of the OECD global ranking and at the bottom of the UK rankings;

g) scores of Welsh schools have permanently closed;

h) gross disposable household income as a percentage of the UK average has fallen;

i) Wales has had the poorest average wages growth rate of the UK nations;

j) business rates in Wales have become less competitive than other parts of the UK; and

k) the annual number of new homes being built in Wales has fallen.

2. Calls upon the Welsh Government to acknowledge its failures, abandon its failing policies, and to deliver the positive change that Wales needs.

UKIP group leader Gareth Bennett censured

The next item is a debate on a Standards of Conduct Committee's Report.

Standards commissioner Sir Roderick Evans believes Gareth Bennett breached the AMs' code of conduct when he spent almost £10,000 of taxpayers' money in rent and other costs for a constituency office in Pontypridd that never opened.

Gareth Bennett has fully apologised to the Commissioner and has undertaken to repay the money for the building materials.

AMs endorse the recommendation in the report that Gareth Bennett is censured.

Image caption: Gareth Bennett signed a lease at the Angharad's nightclub building against solicitors advice

'Progress in the secondary sector has not been good enough'

Education Secretary Kirsty Williams acknowledges that "progress in the secondary sector has not been good enough", and refers to the commitments in Education in Wales: Our national mission 2017-21.

Topical Question: Estyn report

Suzy Davies asks :With a recent Estyn report stating that secondary schools in Wales could do better, with only half currently judged as good or excellent, what work will the Welsh Government undertake to ensure that standards are raised across all secondary schools in Wales?

Estyn inspectors said only half of secondary schools were judged good or excellent.

Wales' Chief Inspector of Schools Meilyr Rowlands said those schools "causing concern" needed more help.

Estyn' sannual report, based on a round-up of school inspections carried out in the 2017-18 academic year, said that the proportion of primary schools judged as excellent had doubled since last year, from 4% to 8%.

But the proportion of secondary schools judged to be good or better remained the same.

The analysis also found pupils do not develop knowledge and skills well enough or make enough progress in about half of secondary schools.

The report said that in half of secondary schools:

There are shortcomings in teaching and assessment
Leadership is inconsistent
The majority of pupils do not achieve in line with their abilities by the time they reach the end of compulsory schooling

At secondary level, 13 of the 27 schools inspected in 2017-18 needed some level of follow-up action from Estyn, including two that were placed in special measures.

'Too punitive on drivers for minor driving offences'

UKIP leader Gareth Bennett suggests that "councils like Cardiff are too punitive on drivers for minor driving offences" such as driving in bus lanes.

Alun Davies says it is a matter for local councils, for which they can be held to account by residents at elections.

Drivers have been fined £11m for speeding, stopping in yellow boxes and driving in bus lanes in Cardiff in the last four years, new figures show.

Image caption: The speed camera on Kingsway in Cardiff was the council's biggest earner last year

'First time buyers in Wales do not get as good a deal as in England'

Conservative David Melding says "first time buyers in Wales do not get as good a deal as in England".

Minister for Housing and Regeneration Rebecca Evans says the policy in Wales is "fairer" because "you don't have to be a first time buyer to get relief from land transaction tax".

Stamp duty was replaced in Wales by the land transaction tax in April 2018.