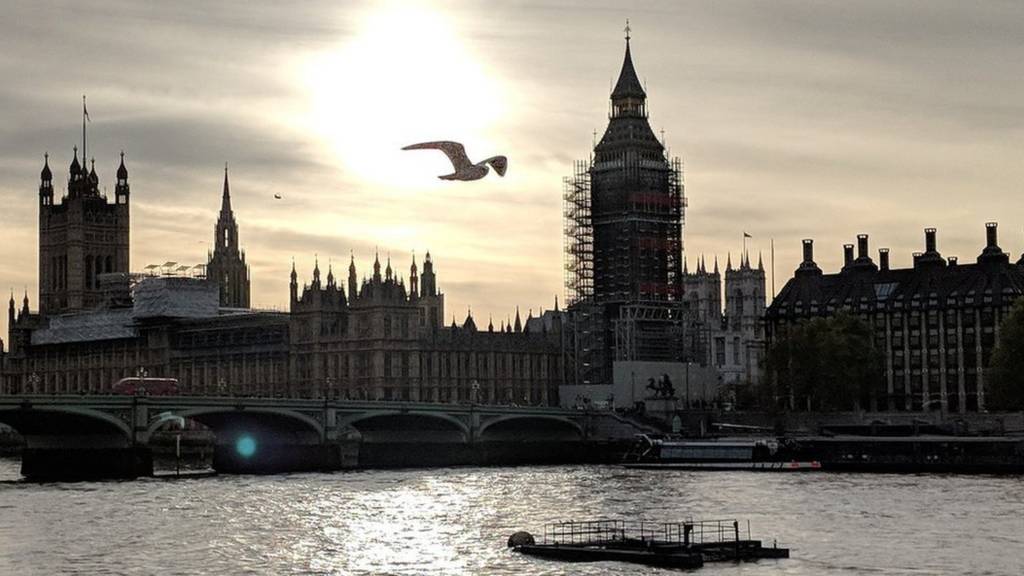 PMQs: Theresa May defends Brexit proposals
PMQs: May defends proposed withdrawal agreement

What happened?

House of Commons

Parliament

At Prime Minister's Questions, Theresa May defended her proposed EU withdrawal agreement, under fire from Labour leader Jeremy Corbyn and MPs from all sides of the House.

Mrs May said the agreement would allow the UK government to take back control of borders, laws and money.

But Labour leader Jeremy Corbyn said the UK would be stuck in an "indefinite half-way house without any real say" over the rules.

He branded the draft agreement a "failure on its own terms", based on what we know about it, that "breaches the prime minister's own red lines" and doesn't protect jobs and industry. He asked: "Does she still intend to put a false choice to Parliament between her botched deal and no deal?"

The PM accused Labour of wanting to "frustrate" Brexit.

Read more about what happened at PMQs here.

Later on in the Commons

After that, MPs held a short debate to celebrate Prince Charles having his 70th birthday.

The Healthcare (International Arrangements) Bill passed second reading and money resolutions unanimously.

A long adjournment debate on police pensions took place, as opposition parties tried to keep the Commons sitting longer in the hope that Theresa May would come back to brief them on the draft agreement. Those waiting for that were left disappointed.

We're expecting a very busy day tomorrow, with proposals that Theresa May will come to the Commons to make a statement on the draft agreement.

Expect it to be a long one.

Statement or no statement?

Point of Order

House of Commons

Parliament

Labour's Gareth Thomas asks for clarification in a point of order on whether or not there will be a statement by the prime minister at the conclusion of Cabinet outside No 10 Downing Street.

Earlier Minister Nick Hurd had said that there would not be a press statement.

Mr Hurd says that what he said before "was what I was authorised to say".

The SNP's David Linden says that while there is no press conference, there is still a microphone outside Downing Street. He asks why the prime minister won't speak to the microphone at the dispatch box.

Deputy Speaker Sir Lindsay Hoyle says that this is not a matter for him.

'One of our priorities is to increase the capacity of the police' - Hurd

Adjournment Debate

House of Commons

Parliament

Home Office Minister Nick Hurd says neither he nor the prime minister want to see any further reduction in police numbers.

"One of our priorities is to increase the capacity of the police," he says.

He says that victims of crime have become more willing in coming forward to the police, something which he says is "a sign of progress" in how seriously the police takes investigating those crimes.

He says the Home Office are aware of the problems of "trust in the police in certain communities", something which he describes as a "real issue".

"The Met is recruiting additional officers at scale," he adds.

"It is always better to support the fence at the top of the cliff rather than the ambulance at the bottom of it," he states.

'Generous, thoughtful and witty'

The Times's sketchwriter tweets

Minister: 'There will be no press statement this evening'

Adjournment Debate

House of Commons

Parliament

Home Office Minister Nick Hurd begins his closing remarks by informing MPs that "there will be no press statement this evening. There was considerable concern in the House about that happening before the PM came to Parliament."

"The cabinet meeting is still on going and therefore the prime minister is not in a position to come to the house," he says.

MPs have been expressing concerns that the prime minister intended to give a press conference on a potential Brexit deal before coming to Parliament to inform MPs.

Opposition demand statement in Commons

Independent newspaper political correspondent tweets

'Police pension issues really about police cuts'

Adjournment Debate

House of Commons

Parliament

Labour MP Rachael Maskell says the issue of police pensions is really an issue of police funding, and her local Police and Crime Commissioner wrote to her only yesterday to express concerns about it.

Police and Crime Commissioners across the country and being put under undue stress while they try and balance the books, she says, with the perception that there is money available to absorb the costs of pensions incorrect.

Police pension costs could lead to further fall in police numbers

Adjournment Debate

House of Commons

Parliament

Labour MP Wes Streeting follows Mr McFadden and is promptly told off by Deputy Speaker Sir Lindsay Hoyle for going off topic, after he expresses frustration at plans for the prime minister to hold a press conference regarding a Brexit deal before giving a statement to MPs.

"The consequences of increasing employer contributions will cost police forces an entirely unexpected and unplanned £165m for 2019-20"," he says, with 2021 "more like £425m".

"Money doesn't grow on trees," he adds, and this could amount to the loss of a further 10,000 police officers right across the country.

He says police cuts are already creating massive problems in terms of fighting crime and building links with communities, while cuts are being devolved to local authorities, with areas such as London seeing increases in council tax to fill funding shortfalls.

Concluding, he thanks the government for their "poor management of the business of the house" so MPs have a long time to consider the issue.

Labour MP: Police pension changes 'will have huge impact on public safety'

Adjournment Debate on Police Pensions

House of Commons

Parliament

Labour MP Pat McFadden says "it is good to see such widespread interest in the House in the matter of policing and pensions".

"This grave issue of police pensions will not only put current officers at risk, but will prevent people from wanting to join the force," he adds.

Mr McFadden says "everywhere will be affected by these police pension changes, and the risk may spread to the fire service as well."

"This affects a lot of public services and is a crucial issue," he adds.

Mr McFadden says "we have seen hugely steep cuts over the last eight years to the police service which is not acceptable and is affecting us all."

He calls on the government to notice the need for more police officers on our streets.

"This will have a huge impact on public safety," he says "communities do not feel safe and public confidence is reducing."

Mr McFadden says "this is an equality issue too" as it is "those on lower incomes and the most deprived areas that suffer the most from police officer cuts".

"Combating this upsurge in knife crime is a national cause of the upmost urgency," he says.

Parliamentary reporters watching with interest...

BBC parliamentary journalists tweet

Details of agreement with EU raised by Labour peer

Lords Questions

Labour's Lord Foulkes of Cumnock asks when the government anticipates it will publish the details of the agreement with the EU on the UK's withdrawal.

Exiting the EU Minister Lord Callanan says a deal is "not just in the interests of the UK but also the European Union," and he adds that the government is working "extremely hard" on the deal, as it will not be agreed at any cost.

Lord Foulkes says this has turned out to be "an extremely topical question", to laughter from the House. He asks if the vote in 2016 was a vote to "start negotiations". He asks for a second vote on the current terms.

Lord Callanan says he is "totally wrong" in this question, he says that people voted to leave.

UK shipbuilding programme questioned

Lords Questions

Labour's Baroness Bryan of Partick asks what assessment the government has made of the process for awarding complex warship building in the UK, and how this will affect the UK shipbuilding industry.

Defence Minister Earl Howe says the Type 31E programme is the "pathfinder" which allows the MoD to work "collaboratively" to work with industry on ship needs.

Baroness Bryan says that there is a "strong case" for issuing all contracts for shipbuilding to UK shipyards. She asks if he agrees that awarding these contracts to the UK will provide "certainty" and "train more apprentices".

Earl Howe says the government believes it is right for some naval ships to be open to competition. He says other countries may only win these contracts if they are competitive.

Labour MP introduces adjournment debate on police pensions

Adjournment Debate on Police Pensions

House of Commons

Parliament

Labour MP Pat McFadden is now introducing his adjournment debate on changes to police employee pension contributions.

The government wants forces to increase the amount they contribute to officers' pensions.

Last month, West Midlands Police Chief Constable Dave Thompson said the "utterly extraordinary" pension changes could put "about 500 police officer jobs" at risk.

The chief constable said it would cost the force over £20m in the next two years.

The Home Office said it was working to understand the impact of the plan.

Mr McFadden says it would be intolerable to ask the public to accept the loss of hundreds more because of pension changes.

Will development co-operation continue with the EU?

Lords Questions

Labour's Lord McConnell of Glenscorrodale asks when the government will publish plans for future development co-operation with the European Union.

International Development Minister Lord Bates says the future relationship with the EU will be "different" and focused on "shared areas of interest".

Lord McConnell says continuity with programmes in the EU "will be essential" during the transitional period. He asks for assurances that those who are poorest "will be at the heart of our decision making" "over the coming months".

He asks for advance plans on how the government will continue aid with the EU.

Lord Bates says this assurance is already in the white paper, both the EU and the UK are "major actors" in humanitarian responses and assistance. He says this is not a political response, but a humanitarian one.

Stroke national plan questioned

Lords Questions

Shadow health spokesperson Baroness Wheeler asks what progress the government has made in developing a national plan for stroke care.

Health and Social Care Minister Lord O'Shaughnessy says a Stroke Programme Board was established in March 2018. The NHS long-term plan will focus on cardiovascular diseases, he adds.

Baroness Wheeler says this is welcome, but there are "thousands of stroke survivors who say they feel abandoned" after they leave hospital, she says. One in four hospitals don't have access to specialist stroke services, she states.

Lord O'Shaughnessy says the NHS RightCare for Cardiovascular Disease is looking at how best to proceed. There is also fewer incidents than there were 30 years ago, and 30 day fatalities have more than halved in that time, he states.