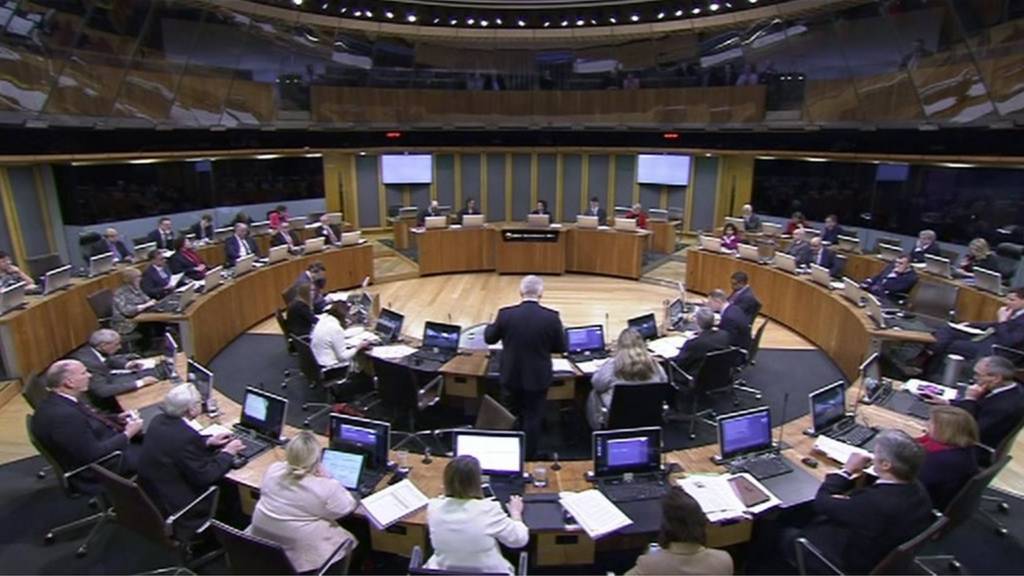 £80m for Superfast Cymru replacement scheme
Summary
Plenary begins at 1.30pm with Questions to the First Minister
Business Statement and Announcement
Reforming electoral arrangements in local government
Statement by the Leader of the House: Superfast Cymru
Statement by the Cabinet Secretary for Education: securing the right to a suitable education for all children
That's is from the Siambr for today.

Senedd Live returns tomorrow for the Economy, Infrastructure and Skills Committee.

Landfill Disposals Tax regulations approved

Land Transaction Tax regulations approved

AMs approve the draft Land Transaction Tax (Transitional Provisions) (Wales) Regulations 2018, and the draft Land Transaction Tax and Anti-avoidance of Devolved Taxes (Wales) Act 2017 (Amendment to Schedule 5) Regulations 2018.

Image caption: Control of stamp duty on property sales passes to Wales in April

'Reasonable under the circumstances'

BBC Wales political editor tweets

AMs are now discussing Landfill Disposals Tax (Tax Rates) (Wales) Regulations 2018.

The landfill disposals tax will replace landfill tax in Wales from April next year.

Like landfill tax, it will be charged on disposals of waste to landfill.

Fly-tippers will be charged twice for illegally dumping waste in Wales when the power is devolved from Westminster.

Fly-tippers can already be fined and prosecuted but will also face a tax on what they dump under the new legislation.

Cleaning-up after fly-tippers in Wales cost an estimated £2.1m in 2015-16, according to official figures.

Land Transaction Tax regulations

Next, AMs will be voting on regulations involving the first Welsh tax in over 800 years.

Stamp duty will be replaced in Wales by the land transaction tax in April.

'Step forward' but also disappointment

Plaid Cymru's Llyr Gruffydd describes the education secretary's plans as "a step forward" but he expresses disappointment that she is not introducing a compulsory register of home educated children, as called for by the Children's Commissioner for Wales Sally Holland and NSPCC Cymru.

A report by the National Independent Safeguarding Board recommended the same thing.

Education secretary's 'balanced approach'

Conservative Darren Millar commends the education secretary's "balanced approach", and seeks clarification about a number of issues, such as the costs that will arise and the timetable for implementation.

Hwb online learning portal available to home educators

Councils do not need to be told if a child is home educated, unless they are removed from school.

The new plans will not change that but will require councils to create a "reasonably complete" database so they can identify children who are not on a school register.

Kirsty Williams will consult on how the database will be managed and look at which partners - such as health boards - will be able to contribute to it and whether independent schools should be required to tell councils about pupils in their schools.

These new plans will outline the arrangements local authorities will be expected to put in place to identify home-educated children and assess the suitability of education.

Support for home educators will include help with exam registrations, the same health offers made to children in school, making the Hwb online learning portal available and support from Careers Wales.

Database to identify children not on a school register

The final statement of the day is by the Cabinet Secretary for Education Kirsty Williams: "Securing the right to a suitable education for all children".

Parents who home-school children will not have to put them on a compulsory register, despite calls for one to be created after a child died in 2011.

Councils will instead have to create a database to identify children not on a school register under plans to revamp home education.

Education Secretary Kirsty Williams also announces plans for a "comprehensive package of support" for home educators, including exams help.

The plans are for statutory guidance -compared with the non-statutory guidance published a year ago, which Sally Holland, the Children's Commissioner for Wales, described at the time as "disappointing".

Ms Holland and NSPCC Cymru both called for a compulsory register of home educated children after Dylan Seabridge - a home-educated eight-year-old -died of scurvy in Pembrokeshire in 2011.

Copyright: WALES NEWS SERVICE

Image caption: The CPS decided not to pursue its case of neglect against Dylan Seabridge's parents Glynn and Julie

'Slippage in the delivery timescales'

UKIP's Neil Hamilton refers to "slippage in the delivery timescales" and "the frustration of people who have been told one thing only to discover the truth is another".

'Great feeling of anger and injustice'

Plaid Cymru's Adam Price "there is a great feeling of anger and injustice among many individuals and communities" about lack of broadband provision.

New scheme 'does not dovetail with Superfast Cymru'

Conservative Russell George points out that the £80 million budget is "only around £900 per premise", including rural areas.

He is critical that the new scheme "does not dovetail with the Superfast Cymru scheme to avoid delay".

'Ultrafast 100Mbps services'

Leader of the House with responsibility for digital, Julie James says the tender is expected to be awarded in late spring /early summer with work beginning shortly after.

She says the new measures, backed by funding of £80m, include "a new rollout scheme currently out to tender which encourages rural delivery, business prioritisation and ultrafast 100Mbps services".

She adds, "under the scheme solutions will be encouraged in areas suffering the lowest download speeds along with lower 4G mobile data coverage.

"It will include safeguards to ensure communities are kept up to date as far as possible on whether they will be included."

Superfast broadband currently available to 94% of premises

We move on to a statement by the Leader of the House Julie James on Superfast Cymru.

Figures show superfast broadband is currently available to around 94% of premises in Wales.

However,Ofcom data analysed by the House of Commons library found that communities in Wales had an average broadband speed of 35.4Mbps compared to a UK average of 44.6Mbps.

One ward in Denbighshire - Llanbedr Dyffryn Clwyd/Llangynhafal - had the highest percentage of lines, 94%, unable to receive "decent" download speeds of 10Mbps, compared to 3% of the UK as a whole.

Ceredigion and Montgomeryshire were among the ten constituencies with the lowest access to 10Mbps broadband.

In 2013, Openreach was hired to expand the reach of superfast broadband (30Mbps or more) to 96% of premises in Wales under a contract with funding from Europe and the Welsh and UK governments.

Shortly before the Superfast Cymru project ended in December, the company said more than 700,000 properties had been connected since it began.

Image caption: The Superfast Cymru scheme aimed to extend the reach of high-speed broadband to 96% of Welsh premises

'Personal and aggressive response'

BBC Wales political editor tweets

UKIP's Gareth Bennett says "there are a few sensible points" in the statement, such as the changes to the remuneration for the role of returning officer.

He raises concerns about fraud involving electronic voting, and warns about giving a vote to prisoners.

Call for more emphasis on political education as part of curriculum

Sian Gwenllian says Plaid Cymru welcomes plans to give the right to vote to 16 and 17-year-olds, but calls for more emphasis on political education as part of the curriculum.

Tackling voter disengagement

Conservative Janet Finch-Saunders warns the Welsh Government to focus on the substance underpinning low voter turnout, and to avoid "gimmicks" to tackle voter disengagement.

Students from Coleg y Cymoedd in Nantgarw, Rhondda Cynon Taf, give their views on plans to give 16 and 17 year olds the right to vote in local elections.