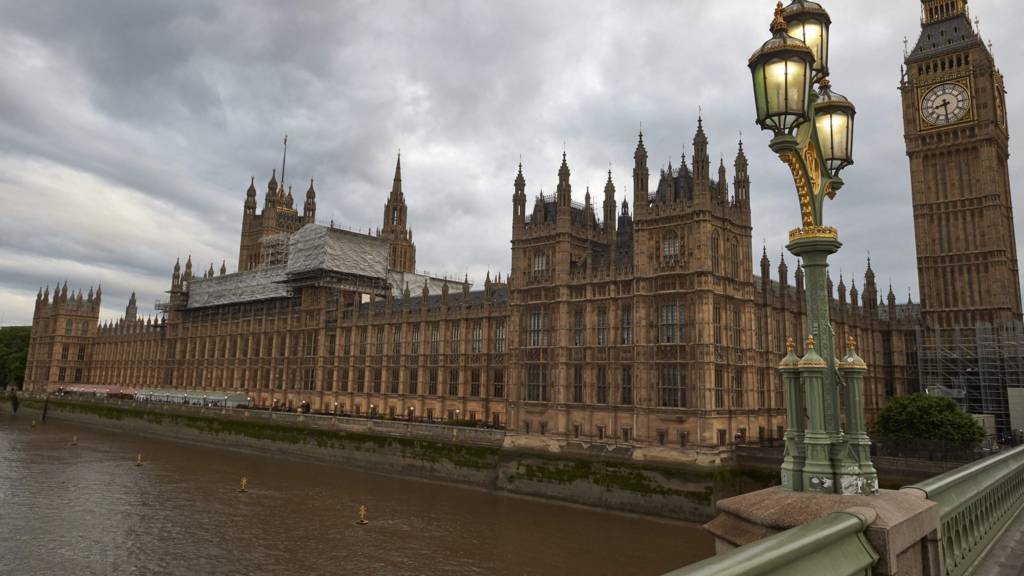 Peers debate private members' bills
You can watch BBC Parliament on Freeview channel 232. Follow us on Twitter @BBCParliament.
Summary
Peers debate Private Members' Bills
A guide to plans for the UK to leave the European Union, after the 2016 referendum.
Read more
As part of Brexit, the government plans to end the supremacy of EU law - here are the key points.
Read more

The question concludes, and there the day ends.
MPs and peers return on Monday.
In the House of Commons, the main item of business will be a second day of debate for the EU (Withdrawal) Bill.
The House of Lords will be debating the Financial Guidance and Claims Bill.
Join us then.
Peers question government about Hurricane Irma support

Conservative Lord Naseby now poses his private notice question about support for the Caribbean following the devastation caused by Hurricane Irma.
Specifically he laments what he considers to be a slow response by the UK and wonders why facilities weren't on standby - "given that this is hurricane season."
He notes that France and Holland had prepared and "were able to act more speedily than the UK".
Government spokesperson Earl of Courtown replies that both France and Holland have military bases in the region.
He tells the House that three transport planes have set off today as part of an MoD taskforce to support the relief effort.
UK took 'world-leading action'
Modern Slavery (Victim Support) Bill

Home Office Minister Baroness Williams of Trafford tells peers that by passing the Modern Slavery Act the UK took "world-leading action" to tackle modern slavery.
She adds that the government offers all potential victims "personalised services" which exceed the requirements of international law.
However, she says the government doesn't accept that all victims should be granted leave to remain for one year.
She says these decisions are made on a case-by-case basis and adds that not all victims want to stay in the UK.
The debate concludes and the bill is given its second reading. It will therefore move on to the next stage: the committee stage.
Ministers say changes will stop "unwarranted delays" - Labour says they want to "rig Parliament".
Read more
Bill 'completes unfinished business'
Modern Slavery (Victim Support) Bill

Both the Lib Dem and Labour spokespersons tell the House that their parties will support the bill.
Labour's Lord Kennedy of Southwark says the bill "completes unfinished business".
The current law, he argues, does not serve victims and "that must be rectified," he adds.
Baroness Cox: Slavery is still tragically widespread
Modern Slavery (Victim Support) Bill

"Slavery is still tragically widespread in this country," Crossbencher Baroness Cox tells peers.
She quotes a friend of hers who was trafficked as saying: "I'm probably broken beyond all repair."
She welcomes the bill, and argues that it will help victims make the transition to survivor.
Could the bill's protections be abused?
Modern Slavery (Victim Support) Bill

Labour's Lord Anderson of Swansea largely supports the bill but admits to having felt hesitant.
He tells peers that he had wondered if there was a danger that the bill could be "abused" for immigration purposes.
However, he says Lord McColl convinced him that the procedures were sufficiently rigorous to prevent such abuses.
Big Ben bongs and other stories
Big Ben bongs, lift woes and other political news this week.
Benjamin: Bill needs to include provision for child victims
Modern Slavery (Victim Support) Bill

Lib Dem Baroness Benjamin tells peers that she will put down an amendment to ensure the bill includes specific provisions for child victims.
"In the long term failing to act will result in a financial and moral cost to our society," she warns.
'You can never say you did not know'
Modern Slavery (Victim Support) Bill

There are real inadqeucies in provisions for surviors of modern slavery, says Baroness Bottomley.
She tells peers that when people escape modern slavery they are often left vulnerable, homeless and susceptible "once again" to traffickers.
Quoting William Wilberforce she says: "You may chose to look the other way but you can never say you did not know."
What's the bill about?
Lords library tweets
What does modern slavery look like?

More than 45 million people are living in modern slavery, with Asia accounting for two thirds of the victims, a new report says.
The 2016 Global Slavery Index, from the Walk Free Foundation in Australia, defines slavery as "situations of exploitation that a person cannot refuse or leave because of threats, violence, coercion, abuse of power or deception".
Modern forms of slavery can include debt bondage, where a person is forced to work for free to pay off a debt, child slavery, forced marriage, domestic servitude and forced labour, where victims are made to work through violence and intimidation.
The BBC looks at five examples of modern slavery.
Peers debate Modern Slavery (Victim Support) Bill

Despite the lack of government support the Age of Criminal Responsibility bill is given its second reading and will move on to committee stage.
Conservative peer Lord McColl of Dulwich now introduces his Modern Slavery (Victim Support) Bill.
The bill amends the Modern Slavery Bill by:
putting into law victims' entitlement to support while the police are deciding if they are a victim of modern slavery
creating a duty to provide "confirmed victims" of modern slavery with ongoing support and leave to remain in the country for 12 months.
The government says it will not support the bill
Age of Criminal Responsibility Bill

Baroness Vere of Norbiton speaks for the government and argues that victims of crime need confidence in the youth justice system.
She says the government has taken steps to make sure young people are not subject to custody except in the most serious cases.
She tells peers that between 2007-2016 only five custodial sentences were given to 10 to 11-year-olds.
The age of criminal responsibility is appropriate, she says and tells peers that the government will not be supporting the bill.
Lib Dems and Labour support the bill
Age of Criminal Responsibility Bill

Lib Dem Baroness Hamwee argues that the current age limit is underpinned by an oversimplification of how children understand the difference between right and wrong.
Shadow Attorney General Baroness Chakrabarti also supports the bill arguing that both "hard science" and "basic logic" should persuade the government to raise the age.
"This is not about excusing bad behaviour," she says "but coming up with the most appropriate response."
Getting committees established
Parliamentary reporters tweet
'A preposterous age'
Age of Criminal Responsibility Bill

"This is really a preposterous age at which to set criminal responsibility," says Crossbencher and psychiatrist Baroness Murphy.
She tells peers that she could make a case for the age to be increased to 25 - the age at which brains usually stop developing.
However she welcomes the bill's attempt to set the age at 12 as "a step in the right direction".
Peers examine age proposal
Age of Criminal Responsibility Bill

Conservative Baroness Bottomley says she is not sure that raising the age of criminal responsibility will be the "magic bullet".
She says there are changes afoot in youth offender management which will have more impact.
Labour's Lord Judd says the Scottish government has promised to raise the age of criminal responsibility and this bill gives the UK government to catch up.
Lib Dem peer Lord McNally tells peers that he has been impressed by the need for early intervention. "The earlier we can intervene, the better chance of avoiding a life of crime for the individual," he says.
He refers to his own experience working at the Youth Justice Board, and says our culture is a "punishment-led concept".
Bill would make the criminal justice system more effective - Lord Dholakia
Age of Criminal Responsibility Bill

Lord Dholakia tells peers that the Royal College of Psychiatrists has said that the age of criminal responsibility is too low.
He argues that children dealt with by the criminal justice system are more likely to offend and those labelled as offenders "feel the need to live up to that label."
He adds that children who offend often come from disadvantaged backgrounds.
If this bill is passed, it would, he says, make the criminal justice system more human and more effective."
Age of Criminal Responsibility Bill

Peers now move on to Lord Dholakia's Age of Criminal Responsibility Bill at second reading.
The bill would raise the age of criminal responsibility in England and Wales from 10 to 12.
Children under the age of 10 cannot be arrested or charged with a crime in the current legal framework.
Children between 10 and 17 can be arrested and taken to court if they commit a crime.
Under-18s are dealt with by youth courts, and given different sentences, and are not sent to adult prisons.
Bill passes first hurdle
House of Lords Bill

The debate comes to an end and the bill passes its second reading stage.
The bill will now move on to the committee stage when peers will be able to debate amendments.
'Get on with it'
House of Lords Bill

Lord Grocott has a chance to respond and tells peers that his bill is not about reducing the size of the house.
That, he says would be "a very small net benefit".
He notes that no one in the debate, apart from Lord Mancroft, provided a positive argument for the by-election.
He suggests that Lord Mancroft is "nostalgic" for the days when peers were hereditary and conservative voting.
He concludes that his arguments for change are "overwhelming" and urges peers to "get on with it".
Bill is premature, says government spokesperson
House of Lords Bill

"It's good to start private member's bill season with a traditional number," begins government spokesperson Lord Young of Cookham.
However he suggests the bill is premature as it "singles out one particualr reform and does little to address size of the house".
He recommends that peers wait for the findings of the committee looking into reducing the number of peers.
Hayter: By-elections give white men a privileged way into Parliament
House of Lords Bill

Baroness Hayter now speaks for Labour.
She suggests those resisting the bill are "more interested in preserving Conservative interests than democracy".
She praises Lord Grocott's bill as a "modest, incremental and reasonable bill" and urges the minister to rise the challenge.
"This is for the government to see if it wants to continue a system where white men have a privileged way of finding their way into Parliament."
Committees coming
Committee tweets
'A discredited, outdated stitch-up'
House of Lords Bill

Lib Dem peer Lord Tyler tells the House that the "two-party fix" reached in 1999 was only meant to last 18 months.
"18 years later, it is long past its sell by date", he adds.
The "discredited, outdated stitch-up does nothing to enahnce the reputation of the Hosue of Lords," he argues.
"It's surely time to go," he says and urges the government to "take the initiative."
Peer attacks colleagues as 'an absolute menace'
House of Lords Bill

Conservative Lord Mancroft argues that the House of Lords has reduced in quality since the expulsion of the majority of hereditary peers.
He argues that the House of Lords has "has increasingly become a retirement home" for former MPs.
"They are an absolute menace," he says adding that they think that being a member of this house is a full time job.
"They think they ought to talk in every debate even when they have nothing to say."
He continues that former MPs' skills lie not in examining legislation but in adversarial politics.
"We don't do that here."
Former Treasury minister Lord O'Neill says a Conservative split continues to dominate Brexit.
Read more
Berridge: System causes racial discrimination
House of Lords Bill

The current system undermines the credibility of the House of Lords, says Conservative Baroness Berridge.
She agrees with Lord Pannick's point that the system excludes women and adds that it also discriminates against ethnic minorities.
She blames the government for maintaining the status quo and asks how "a prime minister who cares passionately about racial injustice can lack the political will to sort out the situation."
By-elections an embarrassment - Lord Pannick
House of Lords Bill

"These by-elections are quite simply an embarrassment," begins crossbencher Lord Pannick.
He asks how by-elections can be consistent with "basic principles of equality" when, apart from some exceptions, women are excluded from inheriting peerages.
He then turns to Lord Trefgarne's argument that hereditary peers should stay in place because of the deal reached in 1999.
Why should Parliament feel itself bound by what its predecessor did "a generation ago"? he asks.
Committees established
Parliamentary reporters tweet
MPs are seeking to 'undermine the UK's negotiations with the EU,' Nicky Morgan says
'Quite wrong for the British constitution'
House of Lords Bill

Another opponent of the bill now speaks.
The Conservative Earl of Caithness tells peers that he intends to put down amendments to the bill which would take up time and makes it less likely that the bill will pass.
He says that if the bill succeeds "we will turn ourselves into a totally appointed chamber".
"That is quite wrong for the British constitution."
Peers poetry please
House of Lords Bill

When peers stand in a by-election they have to produce a personal statement.
When the Earl of Limerick stood for by-election his personal statement took the form of a poem:
The Upper House knows none so queer/ A creature as the Seatless Peer.
Flamingo-like he stands all day/ With no support to hold his sway.
And waits with covert eagerness/ For ninety-two to be one less.
Then on to hustings he must pace/ Once more to plead his special case.
Noble Lordships, spare a thought/ For one so vertically distraught,
And from your seats so well entrenched,/ Please vote that mine may be embenched
He failed to win the seat and in response produced this limerick:
The virtue of genes, I insist/ Should not be too lightly dismissed.
If a poll's on the cards/ For hereditary bards,
My name will be found on the list.
D'Souza: No rational argument for hereditary peers
House of Lords Bill

The next speaker is crossbencher and former Lord Speaker Baroness D'Souza.
She describes Lord Trefgarne's argument as one that "becomes weaker by the day."
She adds that "a rational argument upholding the principle of hereditary peers has yet to be articulated".
She suggest that those hereditary peers wishing to join the House of Lords could apply in the same ways as others - using the "criteria of expertise and willingness to participate".
The government is accused of "lacking ambition" after rejecting recommendations to boost women MPs.
Read more
An 'inappropriate and untimely' bill
House of Lords Bill

One of those opponents, Conservative peer Lord Trefgarne, now has his say.
Turning the clock back to 1997 he tells peers that the existence of the 92 hereditary peers was the result of a deal reached between peers and the Labour government.
Under that deal the 92 peers could remain until House of Lords reform was complete.
Lord Trefgarne notes that such reform is not yet complete.
He therefore describes the bill as "inappropriate and untimely".
That Friday feeling
BBC journalist tweets