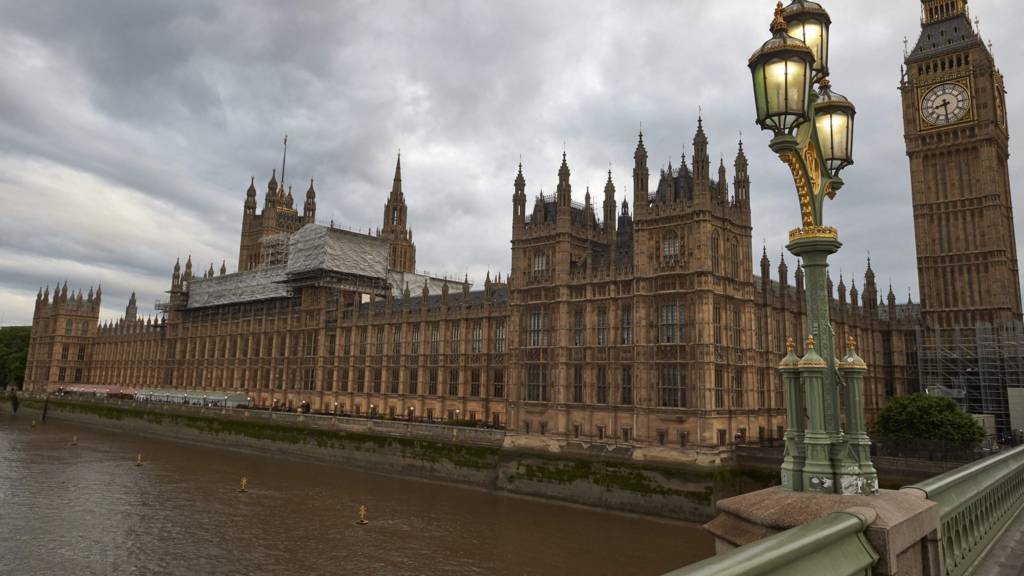 Peers debate private members' bills
You can watch BBC Parliament on Freeview channel 232. Follow us on Twitter @BBCParliament.
Summary
Peers debate Private Members' Bills
Brian Wheeler

Political reporter

The question concludes, and there the day ends.

MPs and peers return on Monday.

In the House of Commons, the main item of business will be a second day of debate for the EU (Withdrawal) Bill.

The House of Lords will be debating the Financial Guidance and Claims Bill.

Join us then.

Peers question government about Hurricane Irma support

Copyright: AFP/Getty Images

Conservative Lord Naseby now poses his private notice question about support for the Caribbean following the devastation caused by Hurricane Irma.

Specifically he laments what he considers to be a slow response by the UK and wonders why facilities weren't on standby - "given that this is hurricane season."

He notes that France and Holland had prepared and "were able to act more speedily than the UK".

Government spokesperson Earl of Courtown replies that both France and Holland have military bases in the region.

He tells the House that three transport planes have set off today as part of an MoD taskforce to support the relief effort.

UK took 'world-leading action'

Modern Slavery (Victim Support) Bill

Home Office Minister Baroness Williams of Trafford tells peers that by passing the Modern Slavery Act the UK took "world-leading action" to tackle modern slavery.

She adds that the government offers all potential victims "personalised services" which exceed the requirements of international law.

However, she says the government doesn't accept that all victims should be granted leave to remain for one year.

She says these decisions are made on a case-by-case basis and adds that not all victims want to stay in the UK.

The debate concludes and the bill is given its second reading. It will therefore move on to the next stage: the committee stage.

Bill 'completes unfinished business'

Modern Slavery (Victim Support) Bill

Both the Lib Dem and Labour spokespersons tell the House that their parties will support the bill.

Labour's Lord Kennedy of Southwark says the bill "completes unfinished business".

The current law, he argues, does not serve victims and "that must be rectified," he adds.

Baroness Cox: Slavery is still tragically widespread

Modern Slavery (Victim Support) Bill

"Slavery is still tragically widespread in this country," Crossbencher Baroness Cox tells peers.

She quotes a friend of hers who was trafficked as saying: "I'm probably broken beyond all repair."

She welcomes the bill, and argues that it will help victims make the transition to survivor.

Could the bill's protections be abused?

Modern Slavery (Victim Support) Bill

Labour's Lord Anderson of Swansea largely supports the bill but admits to having felt hesitant.

He tells peers that he had wondered if there was a danger that the bill could be "abused" for immigration purposes.

However, he says Lord McColl convinced him that the procedures were sufficiently rigorous to prevent such abuses.

Big Ben bongs and other stories

Big Ben bongs, lift woes and other political news this week.

Benjamin: Bill needs to include provision for child victims

Modern Slavery (Victim Support) Bill

Lib Dem Baroness Benjamin tells peers that she will put down an amendment to ensure the bill includes specific provisions for child victims.

"In the long term failing to act will result in a financial and moral cost to our society," she warns.

'You can never say you did not know'

Modern Slavery (Victim Support) Bill

There are real inadqeucies in provisions for surviors of modern slavery, says Baroness Bottomley.

She tells peers that when people escape modern slavery they are often left vulnerable, homeless and susceptible "once again" to traffickers.

Quoting William Wilberforce she says: "You may chose to look the other way but you can never say you did not know."

What's the bill about?

Lords library tweets

What does modern slavery look like?

Image caption: Many trafficking victims are forced to work on fishing boats

More than 45 million people are living in modern slavery, with Asia accounting for two thirds of the victims, a new report says.

The 2016 Global Slavery Index, from the Walk Free Foundation in Australia, defines slavery as "situations of exploitation that a person cannot refuse or leave because of threats, violence, coercion, abuse of power or deception".

Modern forms of slavery can include debt bondage, where a person is forced to work for free to pay off a debt, child slavery, forced marriage, domestic servitude and forced labour, where victims are made to work through violence and intimidation.

The BBC looks at five examples of modern slavery.

Peers debate Modern Slavery (Victim Support) Bill

Despite the lack of government support the Age of Criminal Responsibility bill is given its second reading and will move on to committee stage.

Conservative peer Lord McColl of Dulwich now introduces his Modern Slavery (Victim Support) Bill.

The bill amends the Modern Slavery Bill by:

putting into law victims' entitlement to support while the police are deciding if they are a victim of modern slavery
creating a duty to provide "confirmed victims" of modern slavery with ongoing support and leave to remain in the country for 12 months.

The government says it will not support the bill

Age of Criminal Responsibility Bill

Baroness Vere of Norbiton speaks for the government and argues that victims of crime need confidence in the youth justice system.

She says the government has taken steps to make sure young people are not subject to custody except in the most serious cases.

She tells peers that between 2007-2016 only five custodial sentences were given to 10 to 11-year-olds.

The age of criminal responsibility is appropriate, she says and tells peers that the government will not be supporting the bill.

Lib Dems and Labour support the bill

Age of Criminal Responsibility Bill

Lib Dem Baroness Hamwee argues that the current age limit is underpinned by an oversimplification of how children understand the difference between right and wrong.

Shadow Attorney General Baroness Chakrabarti also supports the bill arguing that both "hard science" and "basic logic" should persuade the government to raise the age.

"This is not about excusing bad behaviour," she says "but coming up with the most appropriate response."

Getting committees established

Parliamentary reporters tweet

'A preposterous age'

Age of Criminal Responsibility Bill

"This is really a preposterous age at which to set criminal responsibility," says Crossbencher and psychiatrist Baroness Murphy.

She tells peers that she could make a case for the age to be increased to 25 - the age at which brains usually stop developing.

However she welcomes the bill's attempt to set the age at 12 as "a step in the right direction".

Peers examine age proposal

Age of Criminal Responsibility Bill

Conservative Baroness Bottomley says she is not sure that raising the age of criminal responsibility will be the "magic bullet".

She says there are changes afoot in youth offender management which will have more impact.

Labour's Lord Judd says the Scottish government has promised to raise the age of criminal responsibility and this bill gives the UK government to catch up.

Lib Dem peer Lord McNally tells peers that he has been impressed by the need for early intervention. "The earlier we can intervene, the better chance of avoiding a life of crime for the individual," he says.

He refers to his own experience working at the Youth Justice Board, and says our culture is a "punishment-led concept".