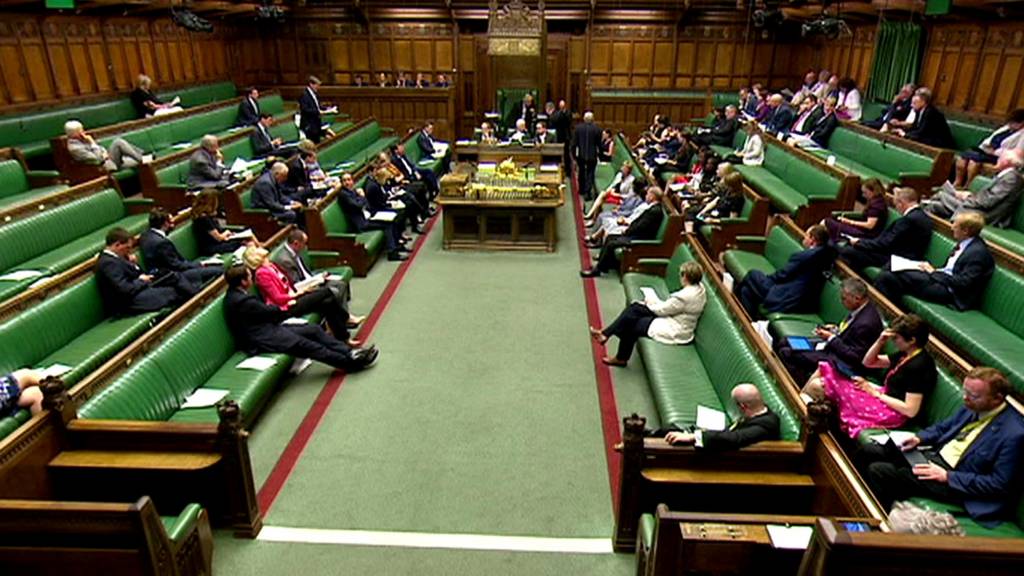 Live
Tower block cladding 'combustible', PM tells Commons
You can watch BBC Parliament on Freeview channel 131. Follow us on Twitter @BBCParliament. For a summary of the Queen's Speech, look at this bill-by-bill guide.
Summary
Statement on Grenfell Tower fire from Prime Minister Theresa May
There were two other statements: the first on terrorism, the second on forthcoming business
The rest of the day's debate was on the Queen's Speech
Focus on cladding during PM's statement

House of Commons

Parliament

Theresa May made a statement to Parliament on the Grenfell Tower Fire, in west London, which killed at least 79 people.

The prime minister told MPs the cladding used on some tower blocks in the UK is "combustible" according to government test results.

Mrs May said that cladding on all relevant tower blocks was being sent for tests.

And she also said she expected to name the judge who will lead a public inquiry into the fire within the next few days.

During the debate on the Queen's Speech later, the new Labour MP for Kensington, Emma Dent Coad, told the Commons the "burnt-out carcass" of the tower revealed the "true face" of her constituency, with poverty, malnutrition and overcrowding existing alongside wealth.

In her maiden speech, she criticised people who think social tenants have "no right to live in an area like desirable Kensington", and called for fire service cuts to be reversed.

End of business in the Lords

The Lords adjourns for the day and will return on Monday at 14:30 BST.

Brexit a chance to 'reset UK's global role' - minister

Queen's Speech debate

Responding to the day's debate for the government, Foreign Office Minister Lord Ahmad of Wimbledon says as the UK goes out onto the international stage we should be mindful of the "values that bind us together".

The UK will seek "peace, stability and prosperity" as we "reset the UK's role in the world" after Brexit, he tells peers.

He highlights the importance of relations with the Commonwealth and the trade bill outlined in the Queen's Speech.

Defence 'run down' - Labour

Queen's Speech debate

Labour spokesman Lord Tunnicliffe says armed forces have been "cut to the bone".

"If Labour had allowed them to become so run-down, there would have been howls of protest," he claims.

He points to comments from the US defence secretary suggesting the UK will not be able to remain a "full partner" to the United States with military resources at current levels, "no matter how many times the prime minister holds hands with Donald Trump.

Daily Mail criticised for aid stance

Queen's Speech debate

Responding to the debate for the Lib Dems, Lord Bruce of Bennachie focuses on international aid.

He says "the enemies or critics of aid do not let go" - holding up a copy of the Daily Mail - and he "welcomes the secretary of state's defence of the international aid department".

"We've got to be with the world, not turn our backs on it," he argues.

End of business in the Commons

House of Commons

Parliament

The Commons has now adjourned and will return on Monday at 14:30 BST for continuation of debate on the Queen's Speech.

'Decisions to be taken by clinicians' over Kent Hospital

Adjournment debate

House of Commons

Parliament

Responding, Health Minister Philip Dunne says: "I don't stand here with all the answers to all the questions" as "many decisions will be taken by clinicians".

He cites "legitimate concerns" raised over training at Kent and Canterbury Hospital, and says staffing has been an "ongoing challenge".

MP sounds warning on Kent and Canterbury Hospital

Adjournment debate

House of Commons

Parliament

Conservative Helen Whately opens her adjournment debate on the future of Kent and Canterbury Hospital.

She says "there are thousands who would not be here today" without it but people are "worried because there is a big question mark" over its sustainability.

Acute heart and stroke services were recently transferred to Ashford and Margate.

Tory peer worries about ability of EU to impose sanctions after Brexit

Conservative peer Lord Suri says that he is concerned about the EU's ability and commitment to impose economic sanctions on countries like Russia after the UK leaves the organisation.

He says that the UK has consistently been the strongest advocate in the commission and that we have experts in targeted sanctions who do a "significant proportion" of the heavy lifting for the EU when it comes to this.

Grenfell Tower residents' benefit claims being handled 'sensitively'

Queen's Speech debate

House of Commons

Parliament

David Gauke is making his Commons debut as work and pensions secretary, and he echoes other members in describing the Grenfell Tower fire as a "terrible tragedy".

He tells the House his department is ensuring survivors' benefit claims are treated with "sensitivity and flexibility".

He says more generally his government is committed to providing "work to those who can and help to those who can't" as part of their objective of "fairness for all".

Labour rails against Conservative 'warm words' on fairness

Queen's Speech debate

House of Commons

Parliament

Shadow work and pensions secretary Debbie Abrahams winds up the day's debate for Labour, paying tribute in particular to her colleague Emma Dent Coad who she says spoke "so movingly about the devastating effect" of the Grenfell Tower fire.

She expresses "profound disappointment" with the Queen's Speech on behalf of all those who "voted against austerity" at the election.

"The government's warm words of making our country fairer ring hollow," she claims.

Labour peer praises 'extraordinary country and extraordinary people'

Labour's Lord Alli reminds peers that it is the 50th anniversary of the start of the process to decriminalise homosexuality, which he says was by no means a perfect piece of legislation but began the process of bringing the lives of gay men from the shadows and into the open.

He says it is easy to forget how extraordinary the UK is and how extraordinary the people are.

"We tolerate and celebrate the diversity of our land."

Lord Alli tells peers that "divided people are a weaker people" and that equality is not just an issue for those affected but speaks to the character of our country.

He also warns that "too often" it is the big corporations who drive the international agenda; "trade for hunger, disease for keeping the medicine prices competitive, supporting oppressive regimes, and selling arms to people who have no business owning them".

Taken by surprise

PA parliamentary editor tweets

Trump is the 'grim reaper of women's lives' - Baroness Tonge

Non-affiliated peer Baroness Tonge says that she is concerned about the future funding of international sexual and reproductive health during the Trump administration in the United States, after the January announcement of a ban on federal money going to international groups that perform or provide information on abortions.

Baroness Tonge says that it is "simply impossible" to work in this field without mentioning abortions at some stage.

She tells peers that 22 million unsafe abortions are performed every year leading to 50-70,000 maternal deaths, and muses "I wonder if Donald Trump will support the existing children of those motherless families."

"He has become the grim reaper of women's lives in the poorest countries."

Maiden speech: MP for Middlesbrough South

Queen's Speech debate

House of Commons

Parliament

The new Conservative MP for Middlesbrough South and East Cleveland, Simon Clarke, is giving his maiden speech.

He says it's fitting that his constituency produced Captain Cook as the UK prepares to go on a journey of discovery after Brexit.

He says he is "passionate about helping people to help themselves" and that's something he wants to pursue on behalf of constituents.

Tory MP condemns 'toxic rubbish' in party manifesto

Several Conservative backbenchers used the first day of debate on the Queen's Speech to pick apart their party's election campaign.

On Wednesday in the Commons, Jacob Rees-Mogg compared the "strong and stable" slogan to Stanley Baldwin's "safety first" message in the 1929 election, condemning them both as "deeply unappealing".

He said Conservatives underperformed at the election because "voters do not feel that we are on their side - they feel instead that it is business as normal" whereas they should be showing "we can help them lead better, more prosperous lives".

Nigel Evans attacked the "toxic rubbish" in the manifesto, including the promise of a free vote on fox-hunting in the manifesto, saying that even in his rural constituency it was seen as "irrelevant".

He added he was "delighted that some of the people involved in putting those things in the manifesto are no longer working at 10 Downing Street and that there is now a change in style of governance".

George Freeman, who was until recently a policy aide to the prime minister, was more conciliatory, but emphasised the government would have to pay more attention to young voters and public service professionals who want a change after "seven years of a particular model of austerity".

Lord Judd warns peers not to overlook their responsibility for Grenfell fire

Labour's Lord Judd begins his contribution by speaking of the Grenfell tower fire, saying that although he is "greatly reassured" by the full public inquiry, he has "one big anxiety" - that in the desire to learn the lessons of the disaster, peers do not overlook "our own responsibility".

He asks what the values are on which our country is operating at the moment - and whether we are too preoccupied with cost and managerial considerations.

Lord Judd also talks of the recent terror attacks in the UK and tells peers that he worries about the "erosion of our values and equalities that make our society worth protecting", saying that it is at the times of the greatest pressures that we must be firmest.

Zac Goldsmith argues for new approach to council housing

Queen's Speech debate

House of Commons

Parliament

Conservative Zac Goldsmith is making his first speech since his comeback - and is reminded by another MP, "you can't be a maiden twice".

He says low-rise, high-density, street-based design is a better solution for council housing and that this issue has taken on a "grim relevance" in light of recent events.

"Now is surely the time to look at a different way of doing things," he argues.