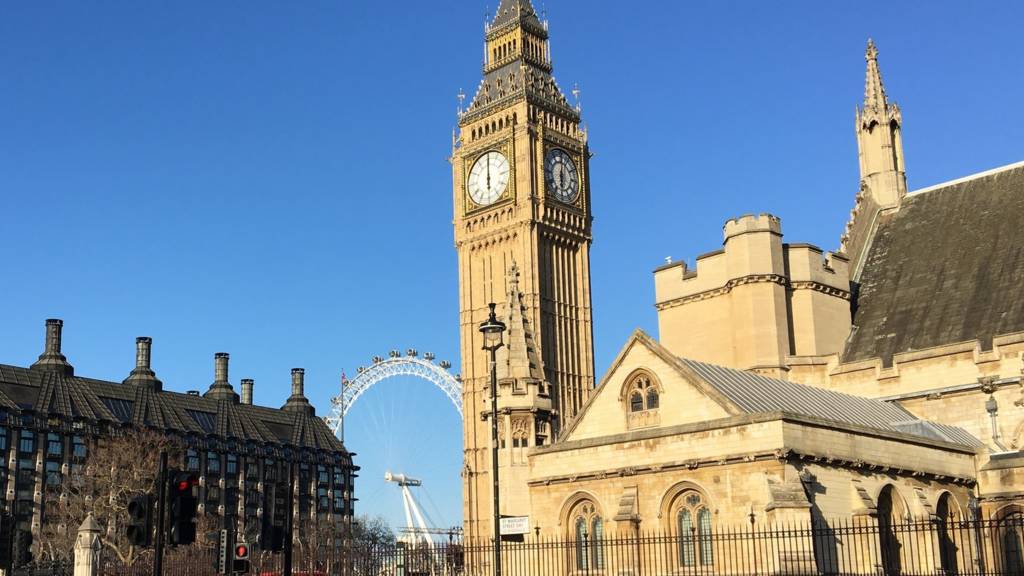 Peers reject Brexit bill single market proposal
Watch BBC Parliament on Freeview Channel 131. Follow us on Twitter @BBCParliament
End of the day in the House of Lords

Lord Warner withdraws his amendment and that concludes the debate for the day.

Peers will return to the bill on Wednesday.

Tomorrow business begins at 2:30pm with oral questions followed by debate of the Neighbourhood Planning Bill. 

'And I enjoyed every minute of it'

Brexit Bill

Brexit Minister Lord Bridges of Headley begins his response by assuring peers that Parliament "will play key role in scrutinising negotiations".

However, he says there needs to be a balance, arguing that scrutiny must not come at the expense of "our negotiating position and the national interest".

He believes the government has been willing to provide information to Parliament, noting that he himself has made six statements, responded to four debates and answered 18 oral questions.

"And I enjoyed every minute of it," he adds.

Ludford: There can't be any objections

Brexit Bill

Baroness Ludford responds on behalf of the Lib Dems.

She supports the amendments and suggests that there can't be any objection to the government agreeing to "these kind of parametres".

Labour spokesman Lord Lennie says the amendments ensure that members of the Houses of Parliament will be as well informed as members of the European Parliament.

The government, he argues, should make use of the expertise available "in this place".

How peers vote...

House of Lords tweets

Warner: There is no crack team of negotiators

Brexit Bill

Crossbencher Lord Warner says there are big question marks over the UK's negotiating clout.

There is "no crack team of negotiators waiting to be helicoptered across the channel", he warns. 

Parliamentary oversight, he argues, will allow warning bells to "sound off" if things are "going seriously off-piste".

Green Party peer Baroness Jones agrees, telling the government that it cannot expect "a respite" from scrutiny during negotiations. 

Conservative Lord Blencathra disagrees suggesting that peers may currently be doing too much scrutiny.

Peers begin debate of amendments on parliamentary oversight

Brexit Bill

Debate on this subject of impact assessments concludes and the amendments are withdrawn. 

Peers now begin the final group of amendments, which deal with greater parliamentary oversight of negotiations. 

Amendment 8 requires the government to produce a progress report on negotiations covering trading relationships with the EU, the movement of UK and EU citizens, cost of the exit charge and the implications for the devolved administrations.

Amendment 18 requires the prime minister to make quarterly statements on the negotiations and seeks to allow members of both Houses to review confidential documents relating to the negotiations.

Amendment 24 calls for reports on how the UK plans to continue co-operation with the European technical agencies. 

Impact assessments 'would expose the UK's position'

Brexit Bill

The Labour frontbench has tabled an amendment requiring the government to publish any existing impact assessments or economic forecasts that have been conducted by certain government departments including the Treasury. 

This, argues opposition spokesman Lord Lennie, would put Parliament on "a level playing field" with the government.

Brexit Minister Lord Bridges replies that this would "expose the UK's negotiating position".

He adds that the bill is "not the vehicle to insert conditions on negotiations". 

In a speech, Sir John Major says that voters are being given over-optimistic expectations about Brexit.

Kramer: Impact assessments will shape negotiations

Brexit Bill

Lib Dem Baroness Kramer disputes the assertion that impact assessments are pointless.

"Let us not hope so," she says adding that it is on the basis of such assessments "that the government is shaping trading negotiations". 

She argues that impact assessments will be improved by being available to the public where problems can be identified early on. 

Peers debate value of making forecasts

Brexit Bill

Conservative Lord Forsyth suggests that the public listened to the government's impact assessments, decided not to believe them and that is why they voted leave in the referendum.

Crossbencher Lord Bilimoria says that it would be "foolish" to give up making forecasts because in the past some forecasts have been wrong.

Another crossbencher, and former head of the civil service Lord Kerslake, agrees: "That way madness follows."

Conservative Baroness Finn says that this bill is "not the place to get in to the detail" of impact assessments.

Government committed to mining, and health and safety

Adjournment Debate

House of Commons

Parliament

Business, Energy and Industrial Strategy Minister Margot James says she hopes for a bright future for the ICL mine. 

She says the company's commitment to new minerals means that there is potential for new jobs in the future. 

She also reaffirms the UK's commitment to health and safety, saying the UK will not turn a blind eye to any violations of health and safety. 

And that ends the day's business. 

The Commons will meet again tomorrow morning at 11.30am for Treasury questions and the final estimates day.

Green peer calls for environmental impact assessments

Brexit Bill

Green Party peer Baroness Jones of Moulsecoomb speaks to her amendment which calls for impact assessments on the effect of Brexit on securing compliance with environmental regulations and regulatory bodies. 

She addresses criticism from some peers that seeking to amend the bill amounts to frustrating the will of the people.

That is complete nonsense, she says; "it is our duty to amend" the bill.

Impact assessments are 'meaningless rubbish'

Brexit Bill

Conservative Lord Blencathra warns the minister that he is "very tempted" to support these amendments provided two conditions can be met. 

Firstly, he wants the impact assessments to be drawn up by "the same geniuses" at the Treasury, the IMF and the Bank of England who predicted that "we would be £4,300 per year worse off" after Brexit.

Secondly, he suggests these assessments should be sent to the EU negotiators 

There would be nothing more likely to completely mislead them, he says.

Or, he adds, we could get PricewaterhouseCooper do it "after their Oscars set when they couldn't add up a few hundred votes properly". 

Ultimately, he argues that impacts assessment are meaningless rubbish and no one takes them seriously, 

Adjournment debate on the ICL mine in Boulby

Adjournment Debate

House of Commons

Parliament

Labour's Tom Blenkinsop opens his adjournment debate on the ICL potash mine in Boulby. 

The mine, which produces potash for fertilisers, announced 140 job losses at the site in North Yorkshire. 

There has also been evidence of the dangerous conditions miners work in, with a man dying last year from a sudden underground accident.  

Mowat: system is 'under-pressure' but adjusting

Estimates day

House of Commons

Parliament

Health Minister David Mowat opens his remarks by acknowledging that if we were to draw up a new NHS today, it would not be the one we currently have. 

He says this in reference to considerable demographic changes since it was established.

He acknowledges that the system is "under-pressure", but that the estimates are adapting to changing needs. 

And he says that comparisons in spending with other EU countries - which had been made throughout the debate - are "unfair" and taken out context. 

What's the difference?

Open University tweets

Amendment calls for Brexit impact on the North East of England

Brexit Bill

Labour's Baroness Quin speaks to her amendment, which would ensure that Article 50 could not be triggered until the government has produced an impact assessment of Brexit on the North East of England. 

She predicts the government repsonse will be along the lines of "yes, don't worry, we will consult".

However, she says she would like something more concrete, for example: who will the government consult and how often.

We need specific answers as well as kind words, she says. 

Greater transparency needed to improve social care

Estimates day

House of Commons

Parliament

Shadow health minister Barbara Keeley says estimates are not enough to "maintain adequate social care".

She says it is a "disgrace" that one in eight of the entire elderly population live with some "unmet needs".

She also highlights the on-going issue of hospitals failing - or being unable - to discharge patients due to lack of social care facilities outside the hospital. 

She calls for an increase in "transparency"  in decision making so that broader conclusions can be made about what changes need to be made to social care.