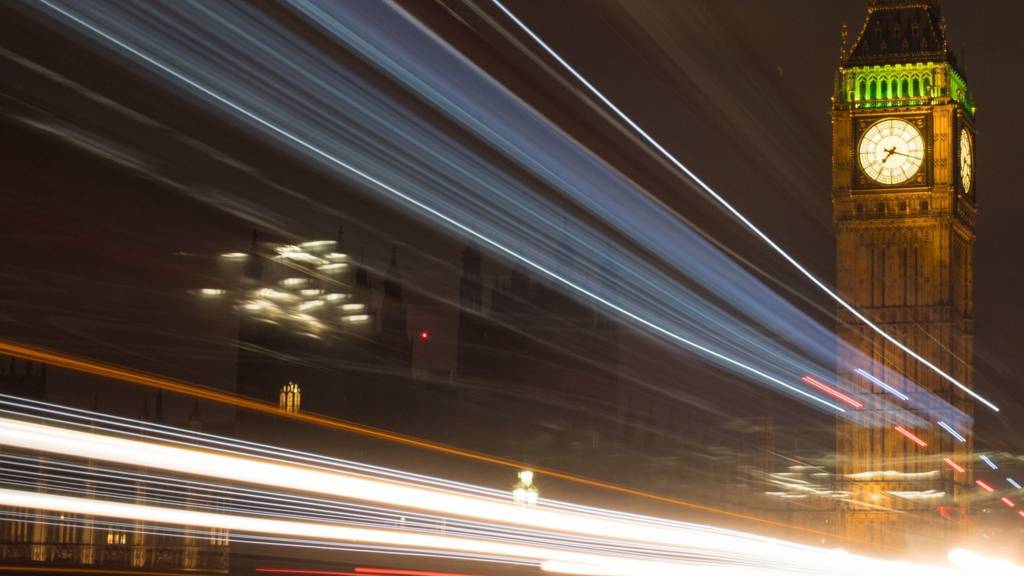 Brexit Bill completes first stage in the Lords
Watch BBC Parliament on Freeview Channel 131. You can watch today's coverage of the House of Lords on the red button. Follow us on Twitter @BBCParliament
Baroness O'Loan warns that leaving the European Union could endanger the Northern Ireland peace process.

And that ends the day in the House of Lords.

Tomorrow peers will get a break from Brexit debating instead the Digital Economy Bill.

Business kicks off at 3pm.

The bill therefore passes its first hurdle in the House of Lords.

Next up is the committee stage which gives peers the chance to table, debate and vote on amendments.

The committee stage will begin next week. A list of the amendments tabled so far can be found here 

Bill passes second reading

Brexit Bill

The Minister concludes his speech by suggesting that after 20 hours of debate "it is time not to remain but to leave this house and go to bed".

The Lord Speaker puts the question of whether the bill should progress to its next stage and peers agree verbally without pushing it to a vote. 

Article 50 process will not be reversed - Minister

Brexit Bill

On the question of reversing the Article 50 process Lord Bridges says that it is "a matter of firm policy" that the UK's notification of withdrawal "will not be withdrawn".

Concerning a second referendum he argues that "we cannot go round and round in circles".

He describes calls for the government to guarantee the rights of EU nationals living in the UK as "well intentioned"

However he says acting unilaterally will not help the "hundreds of thousands" of UK citizens living in the EU.

They could face two years of uncertainty he says.

Government will go 'above and beyond' constitutional requirements

Brexit Bill

Brexit Minister Lord Bridges of Headley begins his speech by seeking to assure peers that he does not dismiss their concerns.

However such concerns, he argues, are not the subject of this bill.

The bill's core purpose is to begin the process of leaving the EU he says.

During the debate some peers asked if a further bill would be needed to approve the final exit deal.

Lord Bridges tells peers that the government would go "above and beyond" constitutional requirements by giving Parliament a vote on a motion. 

Hayter: There is a majority for Labour amendments

Brexit Bill

Labour's Brexit spokeswoman Baroness Hayter now begins her response.

She congratulates peers on adhering to the "just a minute rules" by avoiding deviation hesitation or repetition - although this last one provokes some laughter.

She tells the House that she expects Labour amendments seeking to secure the rights of EEA nationals living in the UK to receive majority support.

She also believes there is enough support to pass an amendment requiring Parliament to have a say on a final exit deal.

The minister can count she says, "if not he has a five year old who can teach him".

Lib Dems have not 'thrown in the towel'

Brexit Bill

Lib Dems are not prepared to thrown in the towel says the party spokeswoman Baroness Ludford.

She welcomes indications of support for Lib Dem amendments "from across the House".

Waiving the bill through the bill would be "a serious abdication of responsibility" she argues. 

Concluding her speech she says that the Tory government needs to be diverted from this "hardest of hard Brexits".

Dobbs: Delaying bill would undermined the Lords

Brexit Bill

"It's a funny old world" muses Conservative Lord Dobbs.

He recalls introducing a bill to the House of Lords calling for a referendum on the EU in 2013.

"I thought it had a snowball's chance in hell" he says.

He warns peers that trying to delay this bill would undermine the reputation of the Lords - "at a time when everything we do is being mocked by the media".

Approaching the home straight

BBC Journalist tweets

Brexit white paper 'insultingly uninformative'

Brexit Bill

Labour's Lord Davies of Stamford describes the government white paper on Brexit as "insultingly uninformative".

"Nothing precise was said about the costs or benefits of Brexit" he says.

He suggests that if someone "put out something like that to shareholders" they would be faced with a criminal prosecution.

Murphy: Peace in Northern Ireland should not be jeopardised

Brexit Bill

Labour's Lord Murphy of Torfaen says he accepts the referendum result but says Parliament should have a role. 

The former Northern Ireland Secretary was involved in negotiations leading up to the Good Friday Agreement.

That agreement, he says, was based on the UK and Irish governments' membership of the EU.

He tells peers that EU membership "permeated every strand" of the agreement negotiations.

He urges ministers to ensure that peace in Northern Ireland is not jeopardised by Brexit.

Viscount Ridley offers 'project cheer'

Brexit Bill

The House of Lords prides itself on scrutinising legislation says Conservative Viscount Ridley.

But what is there to scrutinise in such a simple bill? he asks.

He uses the rest of his speech to provide some optimisim or "project cheer" as he labels it. 

He sets out a vision of Brexit that is "a global outward advance, not an isolationist retreat". 

Britain, he says, is a great country with a great history "but we've hardly started". 

'Don't push it'

Brexit Bill

Conservative Lord Cormack says his heart is with those who want to vote down the bill but his head is telling him to let it pass.

The House of Lords, he argues, must recognise that supremacy lies with the elected house. 

He accepts that peers may want to vote on some amendments but he warns them "don't push it".

EU needs the 'electric shock' of Brexit

Brexit Bill

Conservative peer Earl of Caithness says voices in the debate warning about leaving were delivering the same warnings in 1971 and 1972. 

He says enough of the British people have changed their mind of the benefits of staying in the EU - and peers must respect that decision. The EU "is in a mess", he says, and although Brexit is "our top priority" it is not the EU's top priority.

He quotes friends from France, saying Brexit is the shock the EU needs in order to change, likening it to an "electric shock". 

Budgets will have to change, he says, as one of the biggest contributors (or "milch cows") is leaving.

Wales's reasons for voting out examined by Lib Dem peer

Brexit Bill

Lord Wigley, a Plaid Cymru peer, says he hopes the House will not be rushed into a decision against its better judgement, based on an "arbitrary timetable".

He says that people in Wales voted out because they were told EU funding would be matched. And he says he does not believe that people in Wales voted to halt immigration.

Wales needs unfettered access to the single market, he says.

He says he appeals to the government to step back from "mindless threats" to the Chamber, and asks if the Lords cannot change a thing in the bill, what is the point of the Chamber?

Brexit and bendy bananas

Brexit Bill

"Bananas," begins Labour's Lord Giddens.

He admits he is trying to get attention of the Lords but also says he wants to address the subject of EU regulations on "bendy bananas".

Such regulations, he says, are often held up as a reason for leaving the EU.

He suggests that when the UK leaves the EU it will still need similar regulations in order to trade bananas.

However, he adds, that without EU membership the UK will have "less clout" in negotiating these regulations. 

Ours not to reason why...

Brexit Bill

Lib Dem Lord Thomas of Gresford notes that the Conservative peer Lord Forsyth used his speech to attack the Liberal Democrats for seeking to amend the bill.

"He is a latter day Lord Cardigan," he says and quotes from the poem The Charge of the Light Brigade - "Ours not to reason why, ours but to do and die."

He adds that the Russian gunners thought the Light Brigade charged the guns at Balaclava "because they were drunk".

Brexiteers are intoxicated by their success, he says, but others will "share the depths of their hangover".