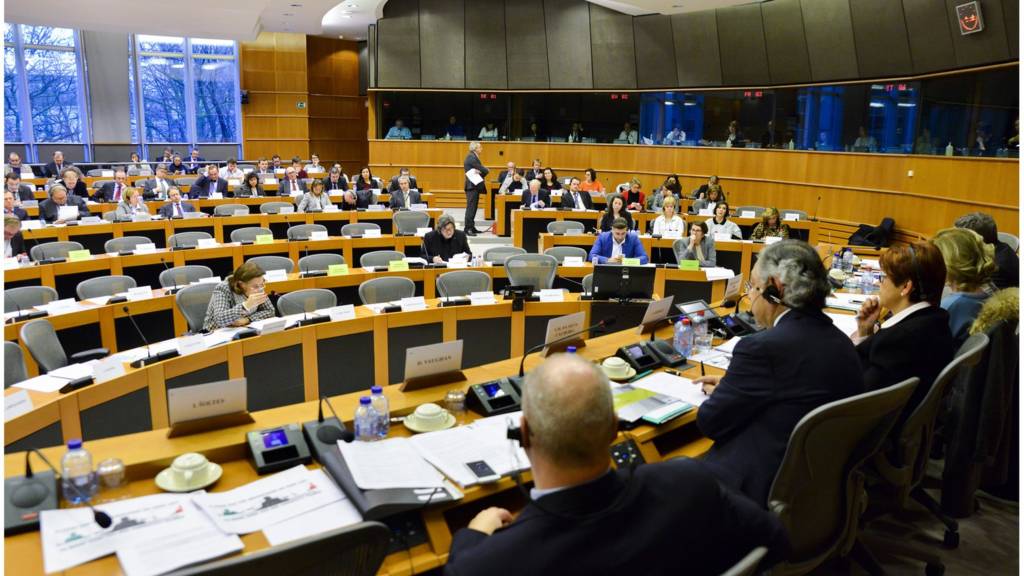 European Parliament as it happened: 15 February 2016
A guide to the different political groups in the European Parliament is available here.
Summary
European Central Bank (ECB) President Mario Draghi gave evidence to the Economic and Monetary Affairs Committee.
The hearing was the first of this year's four hearings that Mr Draghi has to hold with this committee according to the EU treaties.
MEPs asked him about the Bank's assessment of economic growth in the Eurozone, the future direction of the Bank's monetary policy, and the implications of the UK's EU renegotiations.
That's all from our coverage of today's "monetary dialogue" with Mario Draghi. 

Draghi will 'forward' ECB stance on Brexit talks to leaders

German social democrat Jakob von Weizsacker keeps going on the topic of the UK's renegotiations. He asks Mr Draghi again whether there is a need to pay "very close attention" to potential "conflicts" between the final settlement with the UK and the integrity of the EU's single market. 

Mr Draghi again repeats his position that the deal must not threaten the single market, or the ability of the Eurozone to continue political integration, and says he will "forward this stance" to the leaders conducting the talks. 

He goes a bit further in his language on the matter, adding that any weakening of the two will have "bleak systemic consequences", both for the Eurozone and the EU as a whole.

UK deal should not threaten 'right' of Eurozone to deepen politically

Spanish centre-right MEP Pablo Zalba Bidegain asks Mr Draghi whether he thinks the EU's single market is indeed "in any danger" due to the UK's EU renegotiations. 

Mr Draghi repeats his assertion that the ECB is "not a party" to the negotiations.

He again spells out the ECB's two main "guidelines" for the talks: that the eventual deal should not threaten the single market or the Eurozone countries' "right to deepen" their economic integration. 

Euro 'not source of permanent unemployment'

Italian Five Star movement MEP Marco Zanni says that "17 years of empirical evidence" has shown the Euro to be a failure. 

He adds that the bloc's fixed exchange rate has brought certain countries "to the verge of collapse".

He asks whether Mr Draghi agrees with the assessment of some economists that preserving the single currency requires some countries to maintain very high unemployment rates.  

Mr Draghi replies that the Euro is "not a source of permanent unemployment" - adding that high rates of joblessness have been an "effect of the crisis" and the economic policies that preceded it. 

UK talks 'opportunity' to further integrate Eurozone

French Liberal Sylvie Goulard asks whether Mr Draghi agrees that the UK's EU deal could set a "dangerous precedent" that will have consequences for the market.

In response, Mr Draghi says he would agree that a "less than clear" agreement would "have implications of a systemic nature" that would be negative for the Euro and the Eurozone.

"The clearer the agreement, the better", he adds. 

He also says he agrees with Ms Goulard's contention that the renegotiation of the UK's membership presents an "opportunity" to further economic integration in the Eurozone. 

QE programme 'has worked'

Belgian Conservative Sander Loones says that there has been "more and more criticism" of ECB policy in recent times, from experts and academics. 

He adds that ordinary people are now becoming more critical of the fact that they "get practically no interest on their savings any more". 

Mr Draghi defends ECB policies, particularly its quantitative easing programme, which he says "actually has worked" - and contributed towards Eurozone economic growth. 

Draghi: UK-EU deal must respect need for further Eurozone integration

German Christian democrat Burkhard Balz asks Mr Draghi whether there is a danger that financial regulation might be hampered by an international agreement emerging from the UK's EU renegotiations. 

Mr Draghi replies that the ECB is "not a party" to the talks, which is going on between the different national governments. 

He says, however, that the Bank would offer "guidelines" that any eventual deal must not endanger the single market, or hamper the ability of the Eurozone countries to have further economic integration. 

Such integration, he adds, is "essential" for the long-term future of the Eurozone. 

He repeats his assertion - first made to MEPs last month - that the "ideal" outcome of the renegotiation talks would be to "anchor" the UK's place in the EU. 

'Geopolitical risks' hampering Eurozone investment

Mr Draghi adds that the economic recovery in the Eurozone is continuing at a "moderate pace", supported by the ECB's monetary policy. 

He says that investment, however, remains "weak" because of increased uncertainty among investors, as well as "broader geopolitical risks". 

He repeats his commitment made last month to "review and possibly reconsider" the Bank's monetary policy at the meeting of the Governing Council next month. 

He adds that fiscal policies should "support the economic recovery through public investment and lower taxation". 

He also says that compliance with Eurozone debt and deficit rules - known as the Stability and Growth Pact - is "essential to maintain confidence in the fiscal framework".  

Draghi: Eurozone and EU face 'significant challenges' in 2016

Mario Draghi begins his opening speech to MEPs by telling them that policymakers will need to make "strong efforts" this year to overcome "significant" economic challenges, both in the Eurozone and wider EU. 

He says that there have been "increasing concerns" in recent weeks about market volatility, and that slow growth in emerging economies has contributed to continuing falls in the price of oil.

He tells MEPs that the Bank's policies since the financial crisis have "laid the foundations" for increasing the resilience of the financial system.

He adds that European banks have "significantly strengthened" their capital positions over last few years. 

Mr Draghi recently indicated that the ECB will "review and possibly reconsider" its monetary policy position at the next meeting of its Governing Council next month.

He added that Eurozone interest rates are likely to stay at "present or lower levels" for "an extended period".

He made the comments following the ECB's last meeting, where it kept the Bank's benchmark rate unchanged at 0.05%.

The ECB also decided in December to extend its €60bn-a-month stimulus programme by six months to March 2017. 

Copyright: AFP/Getty Images

Image caption: The ECB is headquartered in the German financial centre of Frankfurt

Hello and welcome to coverage of this meeting of the European Parliament's Economic and Monetary Affairs Committee.

In a few minutes, the committee will be taking evidence from Mario Draghi, the President of the European Central Bank (ECB).

Today's hearing – officially called a "monetary dialogue" – is the first of this year's four hearings that Mr Draghi has to hold with this committee according to the EU treaties.

It is usually seen as an opportunity for MEPs to question the ECB chief over economic developments in the Eurozone, as well as the future direction of the Bank's monetary policy.

Image caption: Mario Draghi became President of the ECB in November 2011