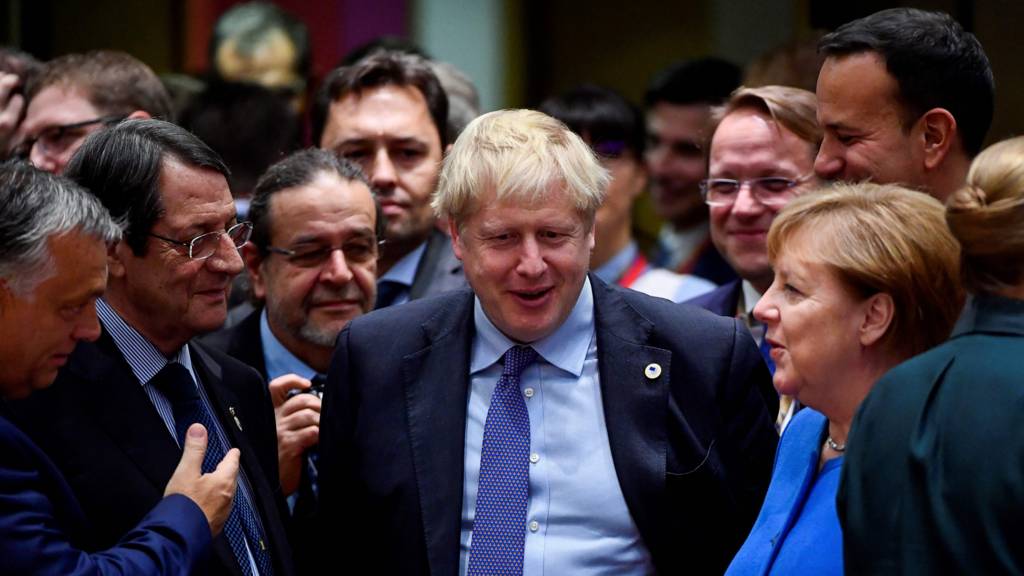 Labour MP questions Raab's 'smart' legislation pledge

Jess Phillips tweets...

Raab: Smart legislation will ensure high standards

Mr Raab says it is right to have "smart" legislation to ensure the strongest standards after Brexit.

He says that these issues should be the democratic responsibility of politicans who are responsible to the voters at home.

"That's what Brexit was all about," he says.

Raab: Labour's second ref plans 'astonishing'

Foreign Secretary Dominic Raab tells the BBC's Andrew Marr that viewers will be "astonished" by Labour's backing of an amendment for a second referendum on Brexit.

He describes the pledge as a breach of faith with voters.

Gove: Yes, I can guarantee Brexit on 31 October

Senior cabinet minister Michael Gove is asked by Sky's Sophy Ridge if he can guarantee the UK is going to leave the EU on 31 October.

"Yes, that's our determined policy," he replies.

Challenged on why then the PM has sent a letter to the EU requesting that Brexit be postponed, Mr Gove says: "That letter was sent because Parliament requested it to be sent.

"As David Davis pointed out, Parliament can't change the prime minister's mind."

And Parliament "can't change the government's policy or determination", he adds.

Watch: Rudd will back PM's 'less good' deal

Starmer: 'Our door is open' to DUP

Sir Keir says he is openly inviting the DUP to talk to Labour about backing a second Brexit referendum.

"If you want to work with us on this, to improve the situation we are in, our door is open," he says.

Starmer: Strong case for next Labour leader to be a woman

Sir Keir says that there is a "very strong case" for the next leader of the Labour Party to be a woman.

He says he is "not even discussing" whether he should run to succeed Jeremy Corbyn in a future leadership race.

Watch: Starmer says Labour will back second ref amendment

Brexit mistakes? 'We discussed EU's issues before ours'

Asked about what mistakes the UK made in the Brexit negotiating process, former Brexit secretary David Davis - who served under Theresa May - says: "We talked about the EU's issues before talking about ours.

"We conceded too much at every turn," he tells Sky's Sophy Ridge. "We were not tough enough... we were simply not tough enough."

He says the EU did not believe that Mrs May meant it when she said no deal is better than a bad deal.

EU ambassadors spend 15 minutes on Brexit

Adam Fleming

Brussels reporter

EU27 ambassadors met for around 15 minutes in Brussels this morning.

They continued the legal process of ratifying the Brexit deal on the EU side.

They received a short update from the EU chief negotiator.

Leaving the meeting, Michel Barnier said that the European Council President Donald Tusk would consult with EU leaders about a potential extension to the Article 50 process.

He told diplomats that the passage of the Letwin amendment did not mean that the deal had been rejected.

Starmer: PM being 'childlike' over delay

Shadow Brexit secretary Sir Keir Starmer tells the BBC's Andrew Marr the PM is being "childlike" and will bear "personal responsibility" if the UK crashes out of the EU without a deal because of his letters.

He adds that things will "very probably" end up in court.

Letwin: I had 'friendly' conversations with PM

Sir Oliver says the PM is a "perfectly charming man" and that his conversations with Mr Johnson and Downing Street in the run up to Saturday were friendly, despite their disagreement.

Letwin: EU will 'probably' grant extension to avoid no deal

Sir Oliver says that now the letter requesting a delay has been sent by the PM his instinct is that "very probably" the EU will grant an extension to ward off a no-deal.

Letwin: PM's deal 'not perfect' but I'll vote for it

Sir Oliver says he has been seeking compromise for 18 months and that he will vote for the PM's new deal.

"It is not perfect, but it will do," he says.

Davis: Deal will get through next week

"It'll get through next week I think," says Tory MP David Davis, of Boris Johnson's deal which is expected to be put to a Commons vote.

"I think it will," although he adds "there may be attempts to tack delays onto it", or "attempts to tie his hands on the next stage".

Asked whether any Conservative Eurosceptics who vote against the deal should have the whip removed, Mr Davis says: "I'm not a great believer in withdrawing the whips."

Letwin: No charge for legal advice

Sir Oliver says that lawyers sitting in the House of Lords who provided "professional" advice on his amendment did not charge for their time.

Letwin: No new amendments from me

Sir Oliver says he has no new plans to cause problems for the government.

"I am behind the government now," he says. "There will be no new Oliver Letwin amendments next week."

Parliament 'can't make you change your mind'

Ex-Brexit Secretary David Davis tells Sky's Sophy Ridge that Boris Johnson "had no choice" to send the letter, as "that was the law".

But he adds: "Parliament can instruct you to do something, they can't instruct you to change your mind."

Letwin: I'll support PM's deal

Sir Oliver Letwin, author of that controversial amendment to the PM's deal, tells the BBC's Andrew Marr that he nonetheless will support the deal through its second reading.

Sir Oliver says he tabled the amendment to avoid a no-deal Brexit. "We need the safeguard, the insurance policy that if we do not get it passed by 31 October we do not crash out without a deal," he says.

McDonnell: We'll win a general election

Mr McDonnell says the public faces a fundamental choice between Labour and a Boris Johnson government that "undermines" workers', consumers' and environmental rights.

"This is about the future of our economy," he says.

On a future poll, the shadow chancellor says Labour "will win that election".