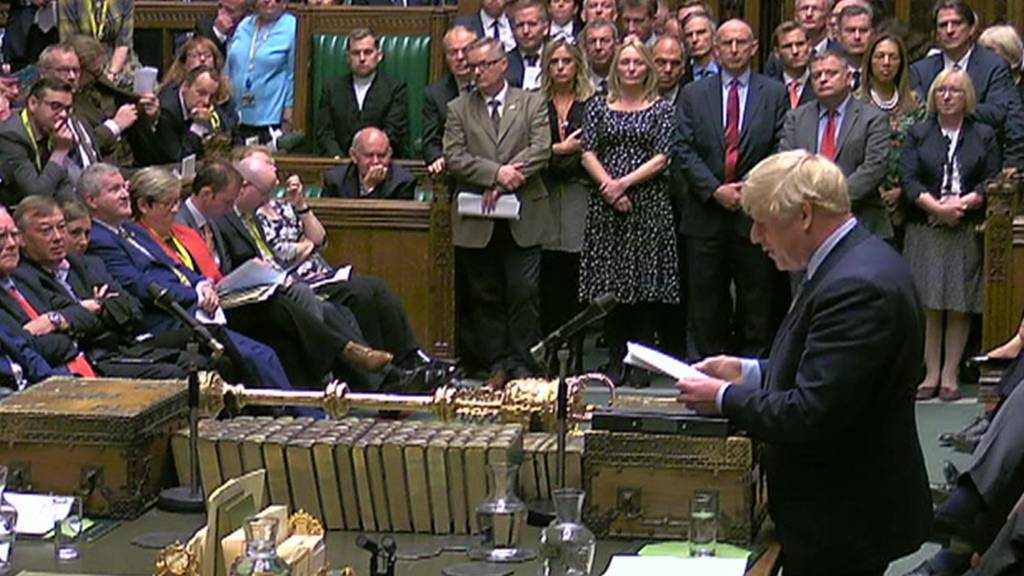 Opposition furious as defiant PM demands election
Read our main story | Follow us on Twitter @BBCPolitics
Labour shadow cabinet minister resigns

PM's tone has been 'utterly shameful'

Gavin Newlands - SNP MP - says Mr Johnson's tone tonight has been "utterly shameful".

He suggests the person behind the approach could be Dominic Cummings, the PM's adviser, who Mr Newlands calls "irresponsible".

Questions over Johnson's 'dangerous' language

BBC political editor Laura Kuenssberg tweets:

It could be a long night...

Boris Johnson tells MPs he's going to keep his answers "pretty staccato" from now on, adding "I've answered these points quite a lot".

But Commons Speaker John Bercow replies that "repetition is not a novel phenomenon in the House of Commons" - although of course the PM can answer how he likes, long or short.

Mr Bercow adds: "The hour is still quite early.

"I've been in the chair since 11.30 but I feel I'm just getting started. We've got a lot more energy left, I'm not remotely perturbed.

"I'm sure the prime minister is not running out of energy, I'd be very worried if he were."

Responding to a concern from the floor of the House, Mr Bercow adds: "Don't worry about me. I can more than hack it".

Another Scottish independence vote?

Angus Brendan MacNeil MP asks the PM whether he will agree to a new Scottish independence referendum?

The PM responds: "Scotland was promised it was a once in a generation referendum and we must respect that promise."

'What would it take for you to apologise, PM?'

House of Commons

Parliament

SNP MP Carol Monaghan says Boris Johnson has "some brass neck" to stand at the despatch box "without a shred of humility".

She asks: "What would it take for him to apologise for his actions?"

Mr Johnson responds: I've tried to show every possible humility today... but the best way we can all collectively show humility is to deliver on the will of the people."

Lib Dem MP offers PM 'true compromise'

House of Commons

Parliament

Liberal Democrat MP Wera Hobhouse tells the PM she is offering him a true compromise.

"I will vote for his deal", she says, if he promises to put the deal back to the people in a referendum.

She says doing that will "guarantee him" a majority.

The PM replies: "What that shows is you can't trust the Lib Dems because she wants a second referendum but her party leader... wants us to revoke the whole thing."

'Has the PM stocked up on enough Brasso for his neck?'

House of Commons

Parliament

SNP MP Mhairi Black tells the PM that Scotland voted to remain in the UK on the promise that it was the only way to ensure its EU membership.

"I was going to ask the prime minister, since he's brought us towards this no-deal chaos, I was going to ask him if he's stocked up on enough Brasso for his neck," she says.

She adds: "Just where does he even begin to justify the absolute hell he's about to put on my constituents, and more so, just how gullible does he think they are?"

'Maybe he should be the sun king and not the king of wind'

House of Commons

Parliament

Tory MP Jeremy Lefroy tells the PM that with freedom of speech - which they both agree with - "comes responsibility".

"And sometimes that responsibility means not saying what perhaps one might like not to say," Mr Lefroy suggests, citing words such as "surrender".

He also refers to Aesop's fable of the wind and the sun - which suggests persuasion is often more effective than using force.

"Maybe he should be the sun king and not the king of wind," suggests Mr Lefroy.

Plea to PM to 'moderate his language'

House of Commons

Parliament

"Please, please will he, going forward, moderate his language so that we will all feel secure when we are going about our jobs," Labour's Tracy Brabin asks, who replaced Jo Cox in the Commons.

Mr Johnson replies: "The best way to honour the memory of Jo Cox, the best way to bring this country together, is to get Brexit done."

Watch: The court was wrong, Johnson tells MPs

And here's the PM as he asked opposition parties to "finally face the day of reckoning" in an election.

Watch: 'The PM fought the law but the law won'

If you missed it earlier, here's the SNP's Ian Blackford telling the House that Boris Johnson's refusal to resign is "an embarrassment".

Prime minister's statement reaches two hours

House of Commons

Parliament

MPs are still questioning the prime minister.

But we are expecting to hear from Commons Leader Jacob Rees-Mogg this evening too.

He will make a business statement to the House.

Speaker tells MPs: 'Weigh your words'

House of Commons

Parliament

Speaker John Bercow interrupts proceedings to remind MPs to refrain from using offensive language towards one another.

Mr Bercow says: "Members must say what they think - and they do and that's right - on both sides of the House and on different sides of this argument, but I would like to emphasise that I am keenly conscious of the fact that there are members on both sides of the House and indeed on both side of the argument that have been threatened.

"And I have stated very publicly my revulsion at such behaviour, whether it has affected members on one side or the other, people who are anti-Brexit, or members are pro-Brexit whose families have been wrongly threatened or whose parents have been abused in their presence.

"I would simply appeal to responsible colleagues in all parts of the House to weigh their words."

From 'Surrender Act' to 'Humiliation Act'

House of Commons

Parliament

Boris Johnson has faced a wave of criticism this evening for his use of a nickname for the law passed by MPs that seeks to prevent a no-deal Brexit.

The prime minister has described the law as the "Surrender Act" but has been criticised by several opposition MPs who said it risks increasing division.

When challenged by the SNP's Stephen Gethins, Mr Johnson said: "If he does not want to call it [the Surrender Act]... what about the Humiliation Act? That is what it is intended to do."

Watch: Johnson v Corbyn on a possible election

If you're just joining us, here's a clip of a key exchange - on a general election - between Jeremy Corbyn and Boris Johnson earlier.

More reaction to PM's 'humbug' comment

Boris Johnson's description of a speech by the Labour MP Paula Sherriff as "humbug" has begun to generate reaction online.

Isabel Hardman, of the Spectator magazine (where Mr Johnson was editor), says she is "genuinely quite shocked" by the PM's response.

"You aren't the only one," says Labour's Angela Eagle.

Lib Dem leader Jo Swinson says the comment is an "utter disgrace".

Sherriff: 'We should not resort to offensive, dangerous language'

House of Commons

Parliament

Labour MP Paula Sherriff criticises the prime minister's language.

"We should not resort to using offensive dangerous language for legislation we do not like," she says, referencing the prime minister's use of the "Surrender Bill".

"We stand here under the shield of our departed friend, with many of us in this place subject to death threats and abuse every single day."

She says they "often quote" the PM's words of "surrender act, betrayal, traitor".

"I for one am sick of it," she says.

"We must moderate our language... he should be absolutely ashamed of himself."

Mr Johnson replies: "I've never heard such humbug in all my life."

Lucas: 'Why not allow the people to have a say?'

House of Commons

Parliament

Green MP Caroline Lucas asks: "If he trusts the people as much as he says he does, why will he not allow them to have a final say on his deal?"

Mr Johnson says: "I would like Parliament to have a say.

"The best way to have people to have a say is to have a general election."

PM's 'humbug' response generates 'fury'

HuffPost UK political editor tweets...