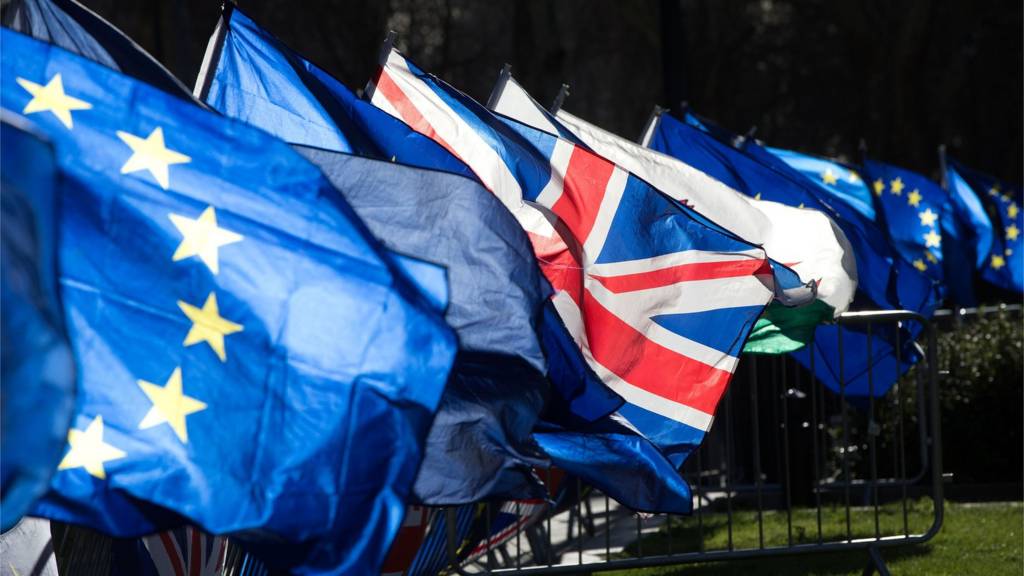 Recap: What's been the reaction to the Commons Brexit votes?

The Brexit train has trundled on today, with reaction across Europe to the decision by Theresa May to return to Brussels and seek "alternative arrangements" to the Irish backstop.

In the Commons at Prime Minister's Questions, Jeremy Corbyn and the prime minister battled over what was next, as the Labour leader sought further detail on what would change and where Mrs May was willing to compromise.

Following PMQs, the two party leaders met for talks on what was next for Brexit. Labour described the talks as "serious and engaged", suggesting the prime minister was "interested in exploring details" around a customs union.

Politicians in Ireland criticised the backstop rejection, with Deputy Prime Minister Simon Coveney urging the prime minister to seek consensus before negotiations "ran out of road" and others accusing the prime minister of acting in bad faith.

In the European Parliament, European Commission President Jean-Claude Juncker and many MEPs were also critical - suggesting the withdrawal agreement would not be open for renegotiation and calling for a clearer direction of desire travel from Westminster.

And the EU's chief negotiator Michel Barnier says the Irish backstop is "part and parcel" of the UK's Brexit deal and will not be renegotiated.

UK now 'elected dictatorship' under Theresa May - Beckett

Brexit

Speaking to Radio 4's PM, Labour's Margaret Beckett says that there a lot of MPs who are "nurturing the view...that as long as they are seen to have facilitated Brexit, even if it is a disaster, their constituents will be grateful to them".

"We are not the government, and we are not the biggest party" in the Commons, she says, adding that if people complain about Brexit, they will blame the Conservatives.

"The House of Commons must accept some level of culpability," adds political journalist and commentator Steve Richards.

Ms Beckett continues that MPs are being "driven to" take control of the process as the government has "mishandled" the process.

But, she warns that the PM "is driving a coach and horses through our unwritten constitution".

She says the UK now has "an elected dictatorship".

'Some years' needed to make Irish border workable

Speaking to the BBC News Channel, former director general of the UK Border Force Tony Smith says technological solutions to the Irish border are "available" and "in theory all possible".

However, the border on the island of Ireland is "an enigma", with no workable solution being used elsewhere in the world. Working out how a necessary system could operate and setting one up would take "some years", he says.

The border force don't currently know what checks would be required on goods, nor what regulatory or policy framework would exist. Once that can be agreed, the technology to make it work can be bought forward.

"Smart borders" can meet some of the requirements, he says, "but it's hard to know what technology and what context."

There is currently "no presence" from the border force in Northern Ireland, he adds, and this would most likely change, whilst there would be a lot more data that needed to be analysed.

On a potential no-deal Brexit, the former head of UK Border Force says that whilst he "doesn't share the doom", what is needed is clarity on what checks would be required, and how other countries would handle their side of the border.

"We've shut borders before and they've opened again quite quickly."

May speaks to Irish PM

ITV political correspondent tweets...

'In theory' all options are on the table for the UK

Carolyn Quinn, speaking from the Commons, says that "in theory" all options are still in the table - although in law the UK is supposed to leave the EU on 29 March.

She adds that "if [Theresa May's] revised or unrevised deal fails to pass...then she may be forced to turn to a more cross-party approach" and look at a "customs union" model for leaving the EU.

Again, "in theory", it may not be possible for MPs to be asked to agree to the same deal again, as convention is that Parliament should not be asked to vote on the same matter twice.

EU and Ireland playing hardball?

BBC Today programme presenter tweets...

EU 'does not recognise' two week renegotiation timetable

Brexit

Katya Adler, the BBC's Europe Editor says that the EU "does not recognise" the timetable of two weeks for renegotiations, but is willing to extend the timetable for leaving in order to allow the UK to agree the withdrawal treaty.

She adds that in Norway and Switzerland the land borders have "some kind of physical infrastructure", but because of the historical peace process in Northern Ireland, this raises problems there.

The EU and Ireland are trying to "avoid talking about" having to erect a hard border if the UK leaves without a deal, she states.

She points out that this is just the UK's "phase one" of negotiations as the country is not yet negotiating its future trade deal with the EU.

A heavily pregnant MP who voted from a wheelchair a few weeks ago, is allowed to vote by proxy for the latest round of Brexit votes.

Corbyn reflects on talk with May

'No suggestion we are changing position on a customs union'

Daily Telegraph chief political correspondent tweets

Corbyn says May 'listened' to backstop concerns

Image caption: Labour leader Jeremy Corbyn and the party's chief whip Nick Brown walk through Portcullis House in Westminster on their way to meet Theresa May

Labour Leader Jeremy Corbyn says his last words to Theresa May at their meeting this afternoon were "don't bring no-deal back to the Commons".

"I'm suspicious she is running down the clock," he says, "it is quite possible she'll come back on February 13 with absolutely nothing."

He describes his meeting with the prime minister as "serious and exploratory on the issues", adding that he put forward Labour's case "for a comprehensive customs union with the EU", and says on the issue of the backstop "she listened".

He says he is willing to meet the government again "on the principle...there isn't a cliff edge exit from the EU at the end of March".

Mr Corbyn adds that he is "very disappointed" some Labour MPs voted in favour of the Brady amendment or abstained in the vote last night, adding that he will be "having discussions with them".

He reiterates that the Labour position is for a customs union, a strong relationship with the single market and to ensure the protection of jobs.

Not much progress 'inevitable' - Times deputy political editor

Sam Coates, deputy political editor at The Times, says the meeting between Jeremy Corbyn and Theresa May lasted 45 minutes, but no conclusions have been reached.

He says it was "inevitable" that "not much progress was going to be made" because of their own opinions on how Brexit should be carried out.

"I don't think a great deal was done," he adds, "this is about showing that you're doing everything you can, rather than trying to change the facts on the ground."

It is up to the EU 'to come up with an alternative' - Tory MP

Brexit

Conservative Brexiteer John Whittingdale says that last night "sent a very clear message" that there is a Parliamentary majority for a deal if the backstop can be altered.

He says he wants to see a "legal assurance" that the UK will not be held in the backstop after the transition period.

He adds that there are some "other voices in Europe" saying that they may be willing to look again at the backstop.

"It is up to the European Union, and particularly the Irish government, to come up with an alternative," he says, "I think realism will break out."

"I don't want us to leave without a deal," he adds. "I think there are going to be problems attached to a no deal."

MPs vote to allocate three more days to backbench bills

Private Members' Bills Motion

House of Commons

Parliament

MPs have passed a motion allocating an extra three days to discuss legislation proposed by backbenchers.

The vote means that private members' bills (PMBs) will take precedence over government business when the Commons sits on Friday February 8, March 15 and March 22.

Conservative MP Sir Christopher Chope had tabled an amendment to prevent PMBs having precedence on any other day of the current parliamentary session, although this was not selected by the Speaker John Bercow.

The motion was approved unopposed.

David Cameron's post-referendum earnings revealed

Observer policy editor tweets

Irish foreign minister urges May to seek consensus with Labour

Speaking to the Irish broadcaster RTE, Ireland's Foreign Minister (and deputy prime minister) Simon Coveney, has criticised Theresa May's approach of narrowing the choice over Brexit to either granting the concessions she's seeking or going forward with no deal at all.

"That's like saying in a negotiation, 'Well, either you give me what I want or I'm jumping out the window'. We have a deal. The British government was part of that."

Describing the situation as "extraordinary", Mr Coveney suggested realistic alternatives lay in reaching out to the opposition "in a real way" and seeking a consensus across Westminster.

"She hasn't done that," he said.

Breaking

Barclays 'cannot wait any longer'

Barclays is preparing to move £166bn worth of assets from London to its Irish division, a High Court judgement has revealed.

The reason for this is that the bank is concerned that City financial services firms could lose their special "passporting" rights that enable them to provide services across Europe, in the event that a no-deal Brexit comes to pass.

"Due to the continuing uncertainty over whether there might be a 'no-deal' Brexit, the Barclays Group has determined that it cannot wait any longer to implement the scheme," the judgement says.

"The overriding requirement, however, is that Barclays Bank Ireland must be legally and operationally ready to conduct all relevant regulated business with the in-scope clients by no later than 29 March 2019, which is the date currently set for Brexit."

Shifting ground on customs union?

Guardian associate editor tweets...