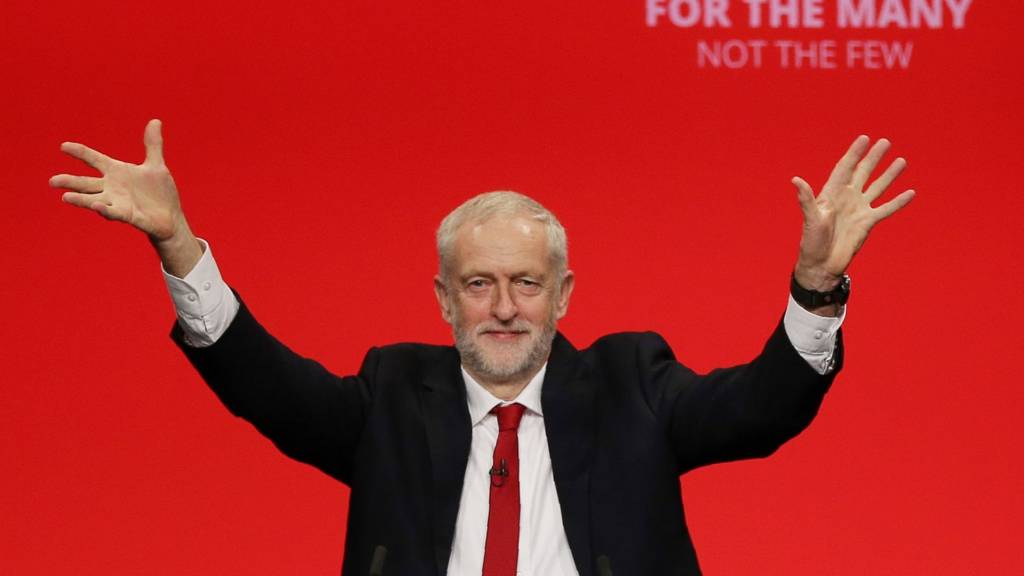 Reaction to Jeremy Corbyn speech
Labour recap: Corbyn's big speech

As our coverage winds down, here's a recap of the final day of the Labour Party conference, dominated by Jeremy Corbyn's address to activists.

In his keynote speech, Jeremy Corbyn told his party that it is the political mainstream now and stands "on the threshold of power"
The Labour leader promised rent controls, attacked "forced gentrification" and said only Labour could unite the UK after Brexit
The Conservatives said Labour was unfit to govern and the Lib Dems called Mr Corbyn "one of Brexit's biggest cheerleaders".

Scottish Labour MSPs embroiled in row over leadership 'plot'

A war of words has erupted at the top of Scottish Labour over claims of a "plot" to undermine former leader Kezia Dugdale.

Ms Dugdale told the BBC there had been a "lot of internal problems" in the party ahead of her sudden resignation.

Her allies have claimed there was a "plot" against her after interim leader Alex Rowley was caught on tape backing leadership candidate Richard Leonard.

The row unfolded as Jeremy Corbyn spoke at the Labour conference in Brighton, saying that the party was "on the way back in Scotland" and thanking Ms Dugdale for her work.

Supporter wants 'Corbyn posters everywhere'

Guardian reporter tweets...

Scottish Labour leadership candidate backs rent controls

Richard Leonard, a candidate for the leadership of Scottish Labour, calls Jeremy Corbyn's speech "inspiring".

Mr Leonard says the Labour leader was "right to highlight that tenants aren't being listened to and we need to control rents" - and is proposing rent control legislation in Scotland.

"The market has failed in housing – we need a law that will control rents rather than the current free-for-all, and link any proposed increases to an affordability index," he says.

"I was particularly impressed with Jeremy Corbyn's statements on the need to tackle the housing crisis that we have in every part of Britain."

Former leader Miliband praises 'excellent' speech

"I think it was an excellent speech," says former Labour leader Ed Miliband of his successor's turn before the party faithful.

"I think the most important thing about the speech was he's right: there is a new centre ground in politics."

"Jeremy is right that he is shaping that centre ground and I think he laid out a vision for what a fairer country looks like, whether it's in housing or public services or the economy, and I think it's a great platform on which to build."

Is there a cult of leadership around Jeremy Corbyn?

"I don't think so," Mr Miliband tells the BBC.

"I think we've always taken the view we should respect our leaders and support them and I think what Jeremy did at the election frankly it surprised a lot of people."

Conservatives say Labour is 'not fit to govern'

Copyright: AFP/Getty Images

Image caption: Liz Truss said Labour were 'planning for financial collapse'

First Secretary of State Damian Green said: "Jeremy Corbyn's speech summed up the problem with Labour: lots of big promises, but no explanation of how they would deliver them.

"Labour say they are ready for power, but everything we've seen this week suggests they're not fit to govern - and it's ordinary working people who would end up footing the bill."

Chief Secretary to the Treasury Liz Truss said Labour had racked up spending promises totalling more than £300m since their manifesto launch.

"No wonder they're planning for financial collapse if they get into power," she added.

Former Blair adviser: Labour has 'a huge task' to win an election

Lance Price, a former adviser to Tony Blair, tells BBC News that Jeremy Corbyn has seemed "unsure of himself in the past but he was much more confident today".

However, he professes himself "disturbed" that the conference was "a bit like a pre-election rally... rather than the introspection of a party that has just lost an election".

He argues that the Labour leadership seem to believe that the Conservative government is about to collapse and usher in a general election but this is actually "very unlikely to happen".

Labour needs to win 60 more seats, which Mr Price says is "a huge task". He thinks there might have been too much "self-congratulation" this week.

Watch: Jeremy Corbyn's full speech to conference

Corbyn is one of Brexit's biggest cheerleaders, says Cable

"Jeremy Corbyn has once again confirmed he is one of Brexit's biggest cheerleaders," says Liberal Democrat leader Sir Vince Cable.

"Corbyn and the Labour leadership have clearly decided they don't want to discuss Brexit, which is an appalling abdication of responsibility on the major issue of the day.

"It's all very well for them to talk about properly funding our NHS, but the fact is our public services are going to seriously suffer if the public finances continue to deteriorate due to the Labour and Tory vision of Brexit, ripping us out of the single market and customs union."

'No need to cling to the centre ground'

"Jeremy Corbyn declared Labour to be the 'new mainstream' of British politics in his keynote speech to Labour Party conference in Brighton," says the Labour-supporting Daily Mirrror.

"In the 75-minute address, he backed the Mirror's organ donations campaign, took aim at greedy property developers - and challenged Theresa May to another general election.

"And he made clear he sees the party as a 'government in waiting', insisting there's no need to cling to the centre ground to win elections."

'Corbyn's hard-left plans to take Britain back to the 1970s'

The Sun, which has never been a fan of Jeremy Corbyn's Labour Party, says: "Jeremy Corbyn pledges to 'infect' the country with Corbynism as he outlines hard-left plan to take Britain back to the 1970s in Labour conference speech."

"Speaking at the end of a chaotic Labour conference overshadowed by rows over Brexit and anti-Semitism, the party boss insisted he is ready to enter Downing Street and impose his programme of nationalisation and tax hikes."

The speech was heard by a "fanatical" crowd, the paper adds.

'Rent controls and a clampdown on gentrification'

"Jeremy Corbyn promises rent controls and clampdown on gentrification," says the Guardian.

Mr Corbyn was "invoking the memory of the Grenfell Tower fire" and saying "regeneration schemes had often been cover for 'social cleansing'.

"Corbyn attacked the failures of government and management surrounding the Grenfell Tower fire disaster.

"'It was not just the result of failed political decisions, it stands for a broken system that Labour must and will replace,' he said, quoting a poem from one of his favourite writers Ben Okri, written after the deadly fire in the Kensington tower block."

'Major shift in Labour's Brexit policy'

The Telegraph focuses on Jeremy Corbyn's claim that his brand of Labour politics now represents "the political mainstream".

It's article continues: "Meanwhile, he signalled a major shift in the party's Brexit policy as he said Labour would 'guarantee unimpeded access to the single market'."

Watch: Jeremy Corbyn proposes rent controls

Watch: Labour the 'antidote to apathy and despair'

Labour is "campaign-ready" but needs to be "government-ready too", Jeremy Corbyn said.

Free market think tank says rent controls will make things worse

"While we were never going to come out batting for Jeremy Corbyn, his speech this afternoon ending Labour's annual conference in Brighton marked a new low with his promise for rent controls," says the Adam Smith Insitute.

Head of research Ben Southwood adds: "Rent controls will lead to smaller properties, shoddier upkeep, and long waiting lists to get a flat. What's more, it risks cronyism if councils get a role in deciding who jumps to the front of the queue.

"It may come as no surprise that the Adam Smith Institute disagrees with hardline socialist Jeremy Corbyn - but rent control is a rare case where economists almost all agree, left and right. 95% of top economists agreed rent controls in San Francisco and New York had worsened the amount and quality of affordable rental quality there.

"And you can see why: prospective tenants in rent-controlled Stockholm languish on waiting lists for 15 years on average. Expensive is one thing, but impossible is quite another."