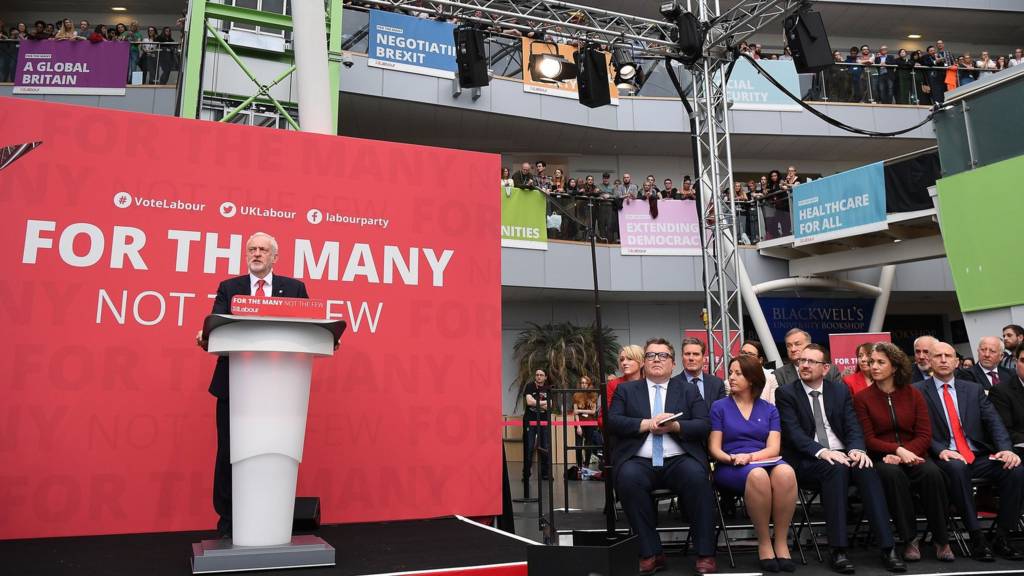 By Alex Hunt & Brian Wheeler

BBC News

The Guardian: Labour won't win, says top union backer

Daily Mirror: Scatter my ashes over Moors with my victims

Daily Mail: Corbyn plan to bankrupt UK

If you're still with us (well done!). Now's the time for a late-night recap. 

It was a day that brought a glimpse of summer as Labour bared to us their plans, should they be elected to power. The headline-grabbing lines were:

There was also a 45p tax rate for £80,000-plus earners, and 50p for those on £123,000 or more
The Conservatives dismissed Labour's plans as nonsensical
It was Plaid Cymru's manifesto day too, and they promised to give Wales a strong voice during Brexit and to get the best deal for Welsh agriculture and industry
The Lib Dems - who launch theirs tomorrow - promised budding entrepreneurs a £100-a-week living allowance
And the Conservatives  - who'll put theirs out later this week - will scrap the Severn Bridge tolls
But the news that surprised us most? Theresa May has read all seven Harry Potter books. Who'd have guessed?

Who's behind Corbyn's Momentum?

Writing in the New Statesman, Anoosh Chakelian, looks at whether Jeremy Corbyn's supporters are actually out and about campaigning for their man and picking up the phone to encourage people to vote Labour. 

And she looks at who in the Labour Party - newbies or long-time supporters - are the one's openly giving the Labour leader their backing. 

Aslef's Tosh 'waited lifetime' for Corbyn's manifesto

The Sun: Too brainy to be jailed

Labour's Burgon grilled on Newsnight

Labour's Richard Burgon, who is standing for re-election in Leeds East, is given a grilling by Newsnight presenter Kirsty Wark over his party's manifesto. 

He goes on to say he "makes no apologies" for plans to scrap university tuition fees.

The policy is "a massive step forward - people feel they are being priced out of going to university and we'll put a stop to that", he adds.

He concludes the interview by saying the polls have narrowed. 

"We want to win this general election. We're up for the fight."

Corbyn 'speaks for the working people'

Independent: We'll keep Tory benefits freeze, Labour admits

Daily Telegraph: Family of shot WPc are denied justice

Corbyn's gamble: Could policies win Middle England's votes?

Laura Kuenssberg

BBC political editor

Manifesto moments are those times in any election campaign when voters think now I'm going to sit up and listen. 

They would have heard a very clear choice between him and what the Conservatives are putting on the table.

His 21st Century brand of Old Labour, if you like - more tax, more spending and more borrowing.

The question is how many people will believe him when he makes that offer? How many will find that appealing when it is a real departure from the direction Labour has been travelling in in recent years.

In his view, the irritations, the anger and the anxiety of Britain in 2017 do mean that voters are ripe and ready for something that sounds very different.

He's encouraged and enthused by the crowds that seem to greet him almost wherever he goes, but there's a gamble in all of this. Crowds don't always translate into huge votes at the ballot box. 

And remember, not so long ago, in 2015, Ed Miliband made a few little tiptoes to the left of where Labour had been, and he lost that election. Jeremy Corbyn is making a much bigger step in the same direction.

It's a gamble whether the voters of Middle England are really ready for the policies he believes will be popular.

And if you need a reminder of how big the challenge will be, one of his biggest supporters - Len McCluskey, the boss of Unite union - suggested to a website tonight it would be extraordinary if Labour was able to do it.

The Times: Labour's tax raid in tatters

Express: Why was £10.4m wasted keeping monster Brady alive?

Metro: Brady ashes are BANNED on the moor

Financial Times: Labour pledges £49bn tax rise to fund huge spending pledge

i front page: Corbyn's sharp left turn

Are you being targeted by political ads?

How is social media being used by the political parties in this election? We need your input!