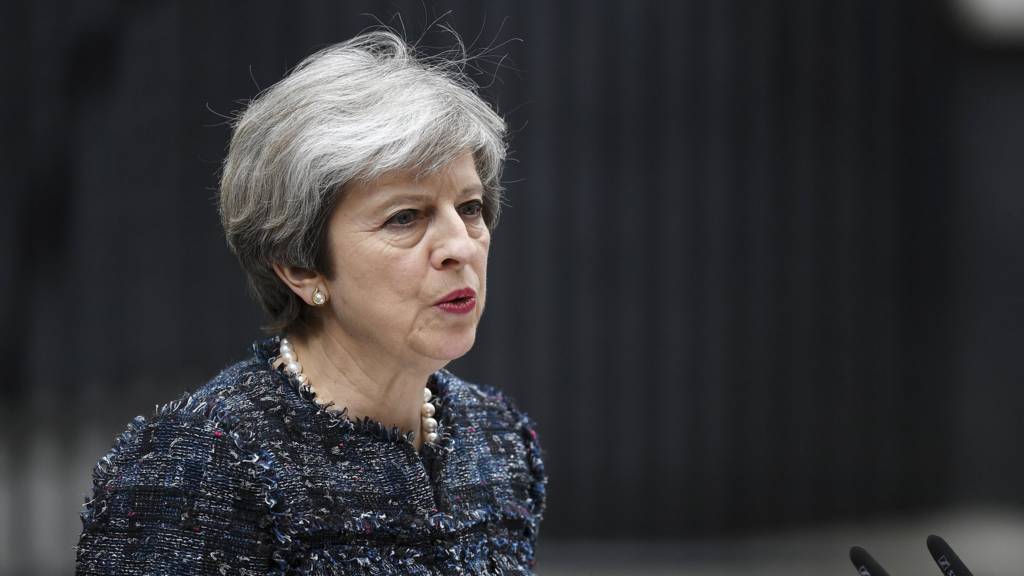 By Alex Hunt & Brian Wheeler

BBC News

No desire to punish UK says Ireland's foreign minister

Making EU the enemy a 'dangerous game'

The EU is 'not so far off' UK aims says Hannan

Everyone's talking about the Brexit bill - here's how it might be worked out.

A look at Thursday's newspapers

Laura Kuenssberg

BBC political editor

Forget for a minute the bombast of Theresa May's claim this afternoon - her claim based, Tory sources admit, on the existence of anonymous briefings thought to come from the EU Commission - that Brussels is trying to interfere in our election.

Look more broadly at the lines of her high voltage statement this afternoon - have we just witnessed the birth of Project Fear 3.0?

Not just her "trust me, not him" line, not just her "coalition of chaos" line, not just "who do you want around the negotiating table".

But a Lynton Crosby mash-up of suggested risks to voters, all packaged up in a matter of moments.

The message screamed out, in essence: Vote May, or Brexit will be a disaster, because that Jeremy Corbyn will simply roll over in the face of those nasty Brussels bureaucrats, and guess what - your children will pay.

A summary of the day's top stories...

Lord Ashdown warns PM against 'picking a fight with our friends'

Former Lib Dem leader tweets...

Cooper accuses May of 'whipping up hostility' with her EU comments

Former Labour leadership contender Yvette Cooper says Theresa May's attack on the EU from the steps of Downing Street "is paranoid if she believes it - and cynically short termist if she doesn't".

Writing in the Huffington Post, the Labour chair of the influential Commons home affairs select committee, said:

Quote Message: The idea that the EU could try or succeed to influence our election result is a joke. No-one here would fall for it, and frankly anything the EU tried would be counter productive anyway. If anything, the behaviour of EU officials in the last week or so is a political gift to the prime minister in the middle of an election campaign."

Ms Cooper, who entered the Labour leadership race following the resignation of Ed Miliband in 2015, accuses Mrs May of pursuing "the short term interests of the Tory party rather than the long term interests of the country", adding that "both sides should get a grip and calm down".

"There is too much at stake for anyone to play games," she writes. "Instead of calmly and confidently dealing with the EU's opening gambit from a position of strength, the prime minister is whipping up hostility on all sides with no real plan behind it.

"She's all hot air without any serious substance to deliver. The result is that she is weakening the country's position for when the real negotiations start. And she is increasing the chance of getting no sustainable deal at all - putting jobs and livelihoods at risk."

Are Theresa May's interference accusations 'a gamble'?

Theresa May has "ramped up the rhetoric" around the Brexit negotiations by accusing European politicians of trying to influence the UK general election, BBC political correspondent Alex Forsyth has said.

She said the PM's words "might play well with some voters who supported Brexit" - but the claims are also "a gamble" because not everyone wanted Britain to leave the EU.

Mrs May's political rivals have already accused her of "playing politics", Alex said.

She added that Mrs May's language "will cause some anger in Brussels" among the very people she will have to sit down and negotiate with, should she win the general election on 8 June.

In pictures: Party leaders on final day of campaigning ahead of local elections

Image caption: Conservative PM Theresa May accuses EU politicians of trying to influence the UK general election

Image caption: Labour's Jeremy Corbyn boards a train following a campaign stop in Bedford, north of London

Image caption: SNP's Nicola Sturgeon meets meets Lexi Adams, aged four, and her uncle outside her Glasgow home

Image caption: Lib Dem Tim Farron meets pensioner Malcolm Baker who voted for Brexit in Kidlington, Oxford

Lord Lamont: Putin 'would blush' over EU warnings on Brexit

Image caption: Lord Lamont was chancellor from 1990 to 1993

Russian president Vladimir Putin would "blush" at the European Union's attempts to "pressurise" British voters over Brexit, a Conservative former chancellor has said.

Norman Lamont, now known as Lord Lamont of Lerwick, hit out at European Commission president Jean-Claude Juncker and chief negotiator Michel Barnier for their warnings on EU withdrawal.

Prime Minister Theresa May railed against "threats" being issued by European politicians and officials hours after Mr Barnier said Brexit will not be quick or painless for the UK.

Referring to the Russian president, Lord Lamont said:

Quote Message: The prime minister is absolutely right to speak out and reject Brussels' attempts to interfere in the British election and pressurise the British people. The efforts of Mr Juncker and Mr Barnier would cause Mr Putin to blush. It's not for Mr Barnier or Mr Juncker to keep telling the British people they will be worse off after Brexit. The British people are perfectly capable of making up their own minds and it's their decision."

Reality Check: What do we know about 100bn euro Brexit bill?

An estimate of the likely "divorce bill" for the UK to leave the EU has risen sharply from 60bn euro to 100bn euro (£50.7bn-£84.5bn), according to a report in the Financial Times on Wednesday.

But how has this figure come about? What will the money be used for? And what happens if the UK decides not to pay? 

BBC Reality Check correspondent Chris Morris answers your questions on the EU Brexit bill here.

Clegg accuses PM of 'scaremongering' over EU influence on UK election

Former Liberal Democrat deputy prime minister Nick Clegg accused the PM of making a "desperate, bizarre statement" that "could have come word for word from [ex-UKIP leader] Nigel Farage".

He claimed Theresa May was "either scaremongering or being paranoid" by claiming European officials had interfered in the election.

He added:

Quote Message: The coalition of hard Brexit between the Conservatives and UKIP is now complete - and it will be hard-pressed families up and down the country who will suffer most."

Why May 'wouldn't play down' a row with Brussels

Quote Message: I've been speaking to EU officials who don't talk in public but do want the EU's opinions known.

Quote Message: They're describing Theresa May's assertion that Brussels is interfering in the election campaign as "pure fantasy". They say the EU is in favour of this election, they want a British government with public backing so they can start those Brexit negotiations.

Quote Message: Their interpretation of Theresa May's comments is that she is in the middle of an election campaign, so they don't believe she would play down a row with Brussels if she thinks it can get her public backing.

Quote Message: But none of this helps the process of Brexit get off to a favourable start, even though both sides say they want a good outcome

Cartoonist Matt's take on Theresa May's Brexit negotiations

The Telegraph tweets...

Thursday's Question Time line-up unveiled

BBC Question Time tweets...

Who is the official election artist?

Newsnight's culture correspondent Stephen Smith goes on a tour of the House of Commons with Cornelia Parker.