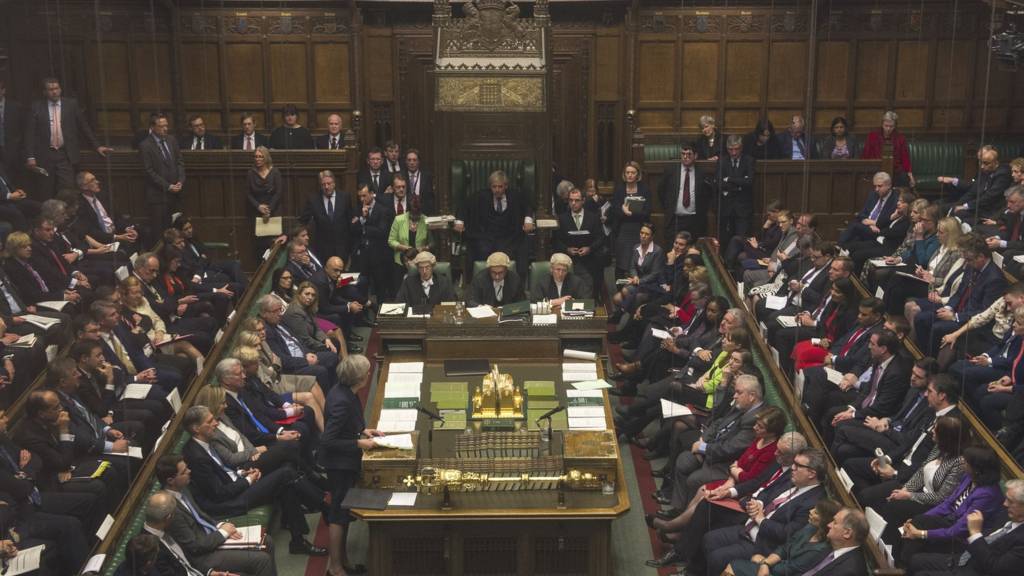 Recap: Prime Minister's Questions
Prime Minister's Questions clips

Here is the pick of the action from PMQs - Theresa May offering assistance to companies hit by the business rates changes, Jeremy Corbyn on the attack over the NHS - and Labour's deputy leader Tom Watson performing a surprise dance routine.

The debate continues at Westminster, where MPs are discussing local government finance - follow it with BBC Parliament here.

You can also catch up with the whole of today's session by clicking on the video icon above.

Opposition says local services at 'tipping point'

Local Government Finance Report

House of Commons

Parliament

Shadow communities and local government minister Gareth Thomas questions how business rates for multi-national online retailers can see business rates decrease whilst local, family-owned small businesses see theirs increase. 

He welcomes the review into limiting the impact of business rates, but questions how the policy was decided on. 

On funding, he criticises the 40% reduction in government funding of local councils since 2010 at a time when local services were at "tipping point" and that "not a single extra penny of new money had been found" for social care. 

He says that the extra money proposed by Sajid Javid in his statement was not sufficient. 

He says that funding figures produced by Communities Secretary Sajid Javid were "sloppy" and based on "distortions and half-truths".

Breaking

Government defeated on broadband speeds

Digital Economy Bill

Peers defeat the government 250 votes to 206.

The amendment states that everyone has a legal right to broadband with download speeds of at least 30 megabits per second by 2020.

The amendment also calls for rural areas and SMEs to be prioritised when rolling out the minimum broadband requirements. 

Council: our Dubs offer met 'resistance' from government

Home Affairs Committee

Select Committee

Parliament

Image caption: Stephen Cowan, leader of Hammersmith and Fulham council

Stephen Cowan is the Labour leader of Hammersmith and Fulham council in west London. 

He tells the committee that the council publicly committed to taking 10 unaccompanied children as part of the Dubs scheme, an offer which they later upped to 15.

He says they still have two empty slots, and have been "pestering" the Home Office to get some children to fill them since October. He admits that there is a "funding issue" of "about a third of £1m" for the council, but given guarantees from the government he could "confidently say we can take an extra 100 children over the next 12 months". 

He says that'd be a "significant dent" into the 3,000 figure originally proposed for the Dubs scheme.

He raises questions about the government's commitment to the scheme. He says the Home Office were initially "not pleased" at H&F's public offer to take Dubs children even though the offer was an expense to be covered by the borough. Even then they experienced "resistance", he claims.

He says there should be a "comprehensive review" of how the government has approached the Dubs amendment and still thinks the UK needs to "step up and do its fair share".

Broadband amendments 'not outlandish'

Digital Economy Bill

Labour's Lord Mendelsohn defends his party's amendment (supported by the Lib Dems) - "it is not outlandish but a defence of government goals".

He says the targets set by the amendment would make the bill "fit for the future".

The debate on these amendments conclude and peers push the matter to a vote. 

Peers seek to introduce minimum broadband standards

Digital Economy Bill

The first amendments seek to set a minimum broadband speed that companies should provide. 

The amendments would also require the government to prioritise small and medium-sized enterprises when rolling out the universal service broadband obligation (USO). 

Minister Lord Ashton of Hyde tells peers that Ofcom is currently looking at what should be included in the USO.

He says there will then be a public consultation and argues that this amendment would mean by-passing this consultation.

We may go home satisfied, he says, but warns that the amendments may delay the implementation of the USO and leave people "more frustrated". 

Want to be in the audience for Newsnight special?

Javid promises change to business rates

Local Government Finance Report

House of Commons

Parliament

Communities Secretary Sajid Javid notes the "unfair" impact of proposed business rate increases. 

He said that "more needs to be done to level the playing field and to make the system fairer" and promised to soften the blow in time for the Spring Budget next month. 

The updated business rates - which are due to come in on 1 April - were increased (or decreased) in line with how much rent could be charged on property, the first such reevaluation since 2010. 

This caused shock as some areas have seen property values increase considerably in recent years, particularly in southern urban areas, but decreased in others. 

Debate on Digital Economy Bill begins

Peers now begin debate of the Digital Economy Bill. 

The bill:

Introduces a new "Universal Service Obligation" entitling consumers to a minimum broadband speed
Updates intellectual property rules for digital industries
Makes Ofcom responsible for regulation of BBC activities and gives the BBC the power to maintain or remove concessions on TV licences relating to age.
Introduces age verification for online pornography with penalties for non-compliance
Establishes a new statutory code for direct marketing to strengthen enforcement action

Votes are expected on minimum broadband speeds and capping mobile phone bills.

Traffickers 'not being brought to book'

Home Affairs Committee

Select Committee

Parliament

Copyright: AFP/Getty Images

Image caption: Britain contributes money to pay for security measures at the French port of Calais, including this fence surrounding the entry to the Eurotunnel

Conservative Tim Loughton asks why people traffickers are "not being brought to book". Smugglers operating in northern France offer to get people into Britain illegally, charging hundreds or even thousands of pounds.

George Gabriel of Safe Passage UK says that in the Dunkirk area "if we act publicly children we work with are at risk of reprisals...and we cannot guarantee the safety of our staff". 

He says that some of the money Britain contributes to France to help it deal with immigration enforcement should be earmarked for cracking down on people traffickers.

The UK has a series of agreements with France, most recently committing £17m for joint security measures including a £1.9m wall to protect the main approach road to the port of Calais.

Confusion over Dubs scheme: is it actually 'closed'?

Home Affairs Committee

Select Committee

Parliament

Conservative MP David Burrowes says the scheme isn't closed and that the law hasn't changed. He says that instead there is a "time lock" on Dubs children for the moment.

Save the Children's Martha Mackenzie says they've had "mixed messages" and they'd like some "clarity". 

She says government language about the scheme being a "pull factor" led the charitable sector to think the scheme had been cancelled completely.

She says that if the Dubs scheme isn't closed she would "strongly urge the government to keep it open".

Sajid Javid outlines Local Government Finance report

Local Government Finance Report

House of Commons

Parliament

Communities and Local Government Secretary Sajid Javid is presenting the Local Government Finance Report for 2017/18.

He also announces that local government will retain 100% of taxes raised locally, something that will make local government "more accountable to their electorate". 

On social care, Mr Javid says that there will be an additional £900m of additional funding for adult social care over the next two financial years. This will be allocated on "relative needs".

Similar to the policing grants, he has promised to implement a "fair funding review". This will take into account the changing demographics, populations and needs of local governments. 

Council leaders have already warned of cuts to services, despite increases in council tax rises and the Commons Library says that the spending power of local authorities will fall by 1.1% in 2017/18.

Policing minister admits need for new funding formula

Police Grant

House of Commons

Parliament

Summing up for this motion, Police Minister Brandon Lewis asked MPs to support the police grants motion calling it "stable" in a time of "transformation" for police funding. 

He acknowledged that the funding formula, which has been criticised for being outdated, needed updating and that the government was working on it. He also asks why the Labour government had not developed a formula during their time in power.  

A number of MPs used the debate to criticise the formula which was based on decade-old population and demographic figures, but also failed to take into account the changing nature of crime. 

The government had previously attempted to change the formula in 2015, but its proposed measure was lampooned for using "flawed figures". The government hopes a new formula will be in place for 2019/20.

Plaid Cymru: Wales police power transfer a 'no brainer'

Police Grant

House of Commons

Parliament

Plaid Cymru's Jonathan Edwards says that the policing funding formula "has not been historically kind" to Welsh policing.

He argues that, if power were devolved to the Welsh government, Wales would be £25m better off as the spending would be ring-fenced.

It is, he says, "a political and financial no-brainer".

He also raises the point that Wales's vast rural areas are the victim of police funding formulas, a point also raised by some English MPs. Police response times are 25 times longer in these areas than urban ones.

He says there "no operational reason why policing is not devolved to Wales", arguing that it is already happening with large UK cities such as Manchester, and that the local, unique conditions of Wales would be better served in Cardiff. 

Labour 'deplores' police funding cuts

Police Grant

House of Commons

Parliament

Labour's shadow home office minister Carolyn Harris is speaking for the opposition. 

She says the Labour party "deplores" the approach taken to police funding by the government. She says the Conservative Party have "broken their promise" that they would protect frontline policing and are engaged in another round of "salami slicing" of their budget.

She says she believes that the budget the House is being asked to endorse today will reduce the money available for neighbourhood policing, which she says is clearly a "price the minister is willing to pay".

She finishes by calling the government's attitude to the police an "insult to brave and hard working police officers all across the country".

Minister makes case for police budget

House of Commons

Parliament

Policing Minister Brandon Lewis introduces the Police Grant motion which outlines how funding will be distributed across England and Wales.

The government has allocated:

£7.3bn in total funding for England and Welsh police forces
£633m resource and £42m capital funding to support counter-terrorism policing
£32m on armed policing.

The allocation of police funding could cause a stir among MPs, especially after an intervention by outgoing Metropolitan Police chief Sir Bernard Hogan-Howe stating resources were not matching demands.

The Welsh government stated that all four of its police forces face a 1.4% cut in government funding.

The policing minister will therefore need to convince MPs that their constituencies are getting sufficient funding.